You don't need any special equipment for this juicy brined turkey breast with olive oil. Start it on Wednesday so you can cook it on Thursday for Thanksgiving!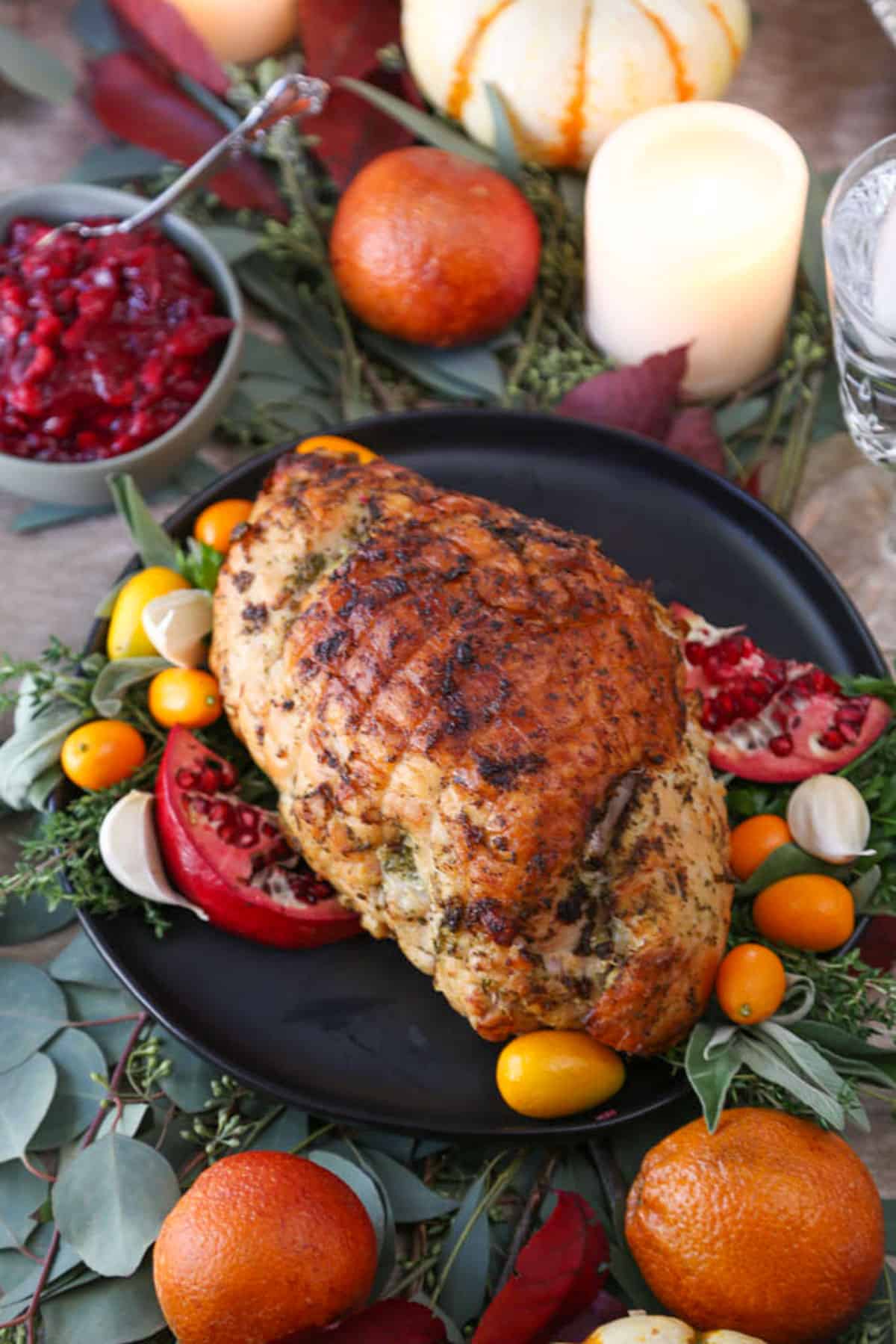 Are you a white meat person or dark meat person?
I'm a dark meat person. But that changed after I got a taste of this Brined Turkey Breast with Olive Oil and Herbs. It was so incredibly juicy. And melt-in-your-mouth tender!
So how did this turkey breast get so tender and juicy? Two reasons:
1. A simple brining process.
2. An herb and olive oil mixture that gets rubbed all over before it bakes.
This post contains affiliate links. Affiliate links support Gift of Hospitality at no additional cost to you. I receive a commission if you choose to make a purchase through these links.
Jump to:
How to brine a turkey breast
After some research, I discovered that adding spices and herbs to your brine doesn't add much (if any) flavor. So I skipped them and opted for a simple brine of water and salt.
Since the turkey breast is so small (4–5 lbs), it doesn't need a whole day. 10–12 hours of brining is the sweet spot. I don't recommend any more than that to prevent the turkey from becoming too salty.
In order to cook the turkey breast on Thanksgiving Day, you'll want to start this process on Wednesday morning.
Thankfully, a boneless turkey breast is small enough that you won't need a brining bag. I brined my turkey breast (which was 4¾ lbs) in the bowl of a KitchenAid mixer. A large pot would work, too!
Here's how to brine a turkey breast:
Fill a large bowl or pot with ¼ cup of kosher salt and 8 cups of water. Stir to combine.
Add the turkey breast. Add additional water until the turkey breast is covered.
Place plastic wrap over the bowl and pull a rubber band around the top to prevent any accidental spills on the way to the fridge.
Let the turkey breast sit in the fridge for 10–12 hours.
Start the brining process on Wednesday morning, and take it out of the brine on Wednesday night. The turkey will need Wednesday night and Thursday morning to dry out in the fridge—more on that below!
How to get crispy turkey skin
There are two parts to getting exceptionally crispy turkey skin:
Drying out the brined turkey.
Rubbing the turkey with olive oil.
The brining process adds a small amount of water to the turkey. Similar to how you pat meat dry before searing it (to get a nice crisp crust), the turkey needs the same process.
Just patting the turkey with paper towels doesn't quite do the trick, so I let the turkey sit overnight in the refrigerator, uncovered. I used a baking rack set on a sheet pan for this (mine came in a baking rack/pan set—also perfect for chicken wings and bacon!).
The cold air circulating around the turkey dries out the outside of the breast. Otherwise, the skin won't crisp up very well.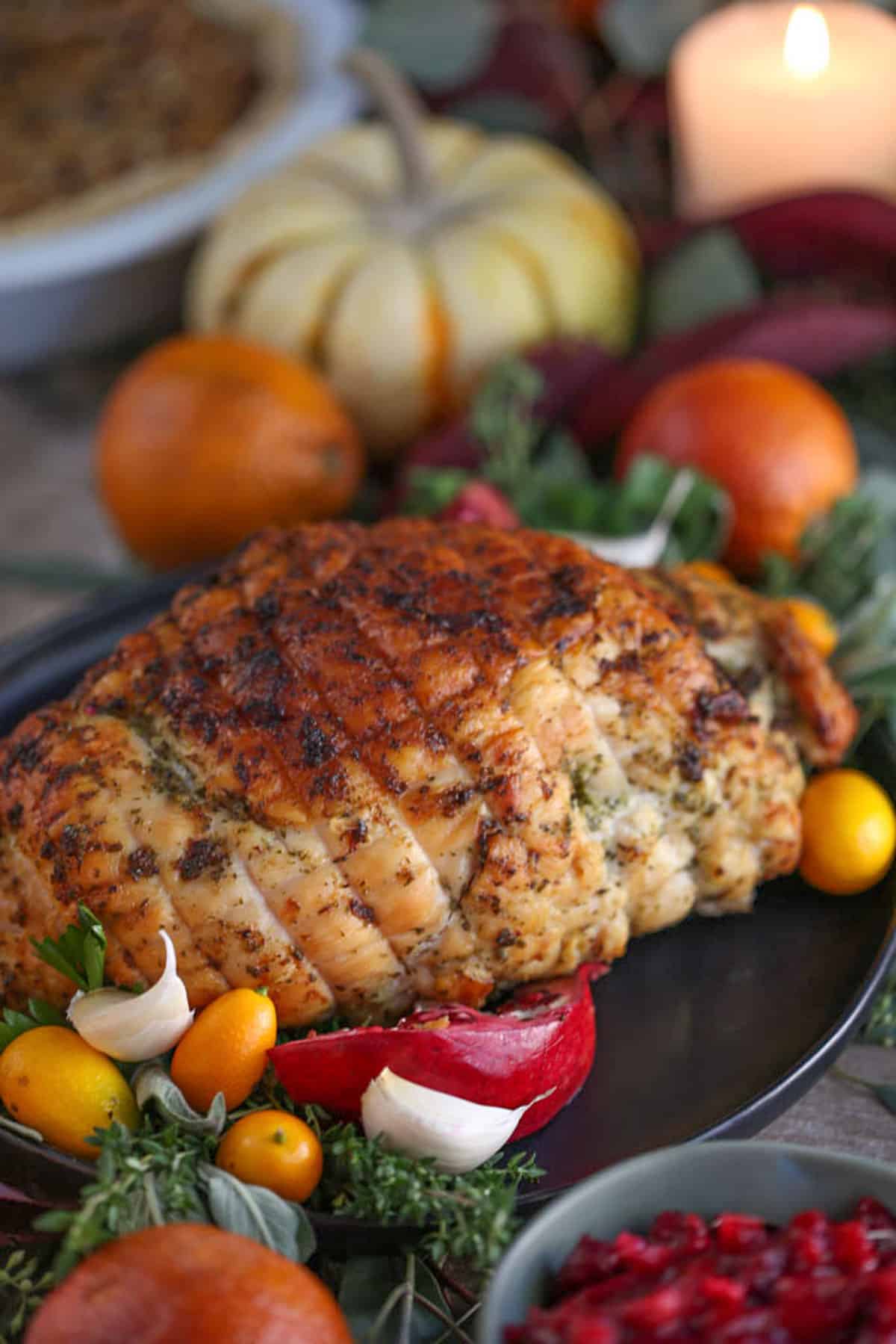 The olive oil and herb rub
The second step to a tender and juicy herb roasted turkey breast is the olive oil "rub". It's less like a spice rub and more like a wet rub. Best of all, it's really easy to make.
In a food processor, combine the garlic, shallot, parsley, sage, and thyme.
Pulse it several times until everything is chopped finely, the stream in the olive oil. If you don't have a food processor, you can chop the herbs, garlic, and shallot very finely with a knife instead.
There's no salt in the rub—the turkey breast will have enough seasoning from the brine.
Then, rub half of the olive oil mixture into the turkey as it starts to cook. The other half will be poured over the turkey breast mid-way through cooking.
This process keeps the turkey nice and juicy, and the olive oil encourages the skin to brown nicely.
Turkey drippings and gravy (or lack thereof)
The bad news about turkey breasts is that they don't create drippings to make gravy. If they do create any drippings, it's a very small amount. The turkey breast that I bought actually came with a bag of gravy inside the package.
But can I suggest something else? Instead of trying to create turkey drippings by roasting turkey parts (or whatever other lengths people go to when they want to make gravy), you should just go to the grocery store.
Walk up to the Deli and ask for their pre-made gravy. Chances are, it'll be good. They're used to making it, after all!
If you're set on making your own gravy, I'd recommend this Make Ahead Turkey Gravy. It's made from turkey wings and can be made up to two days in advance.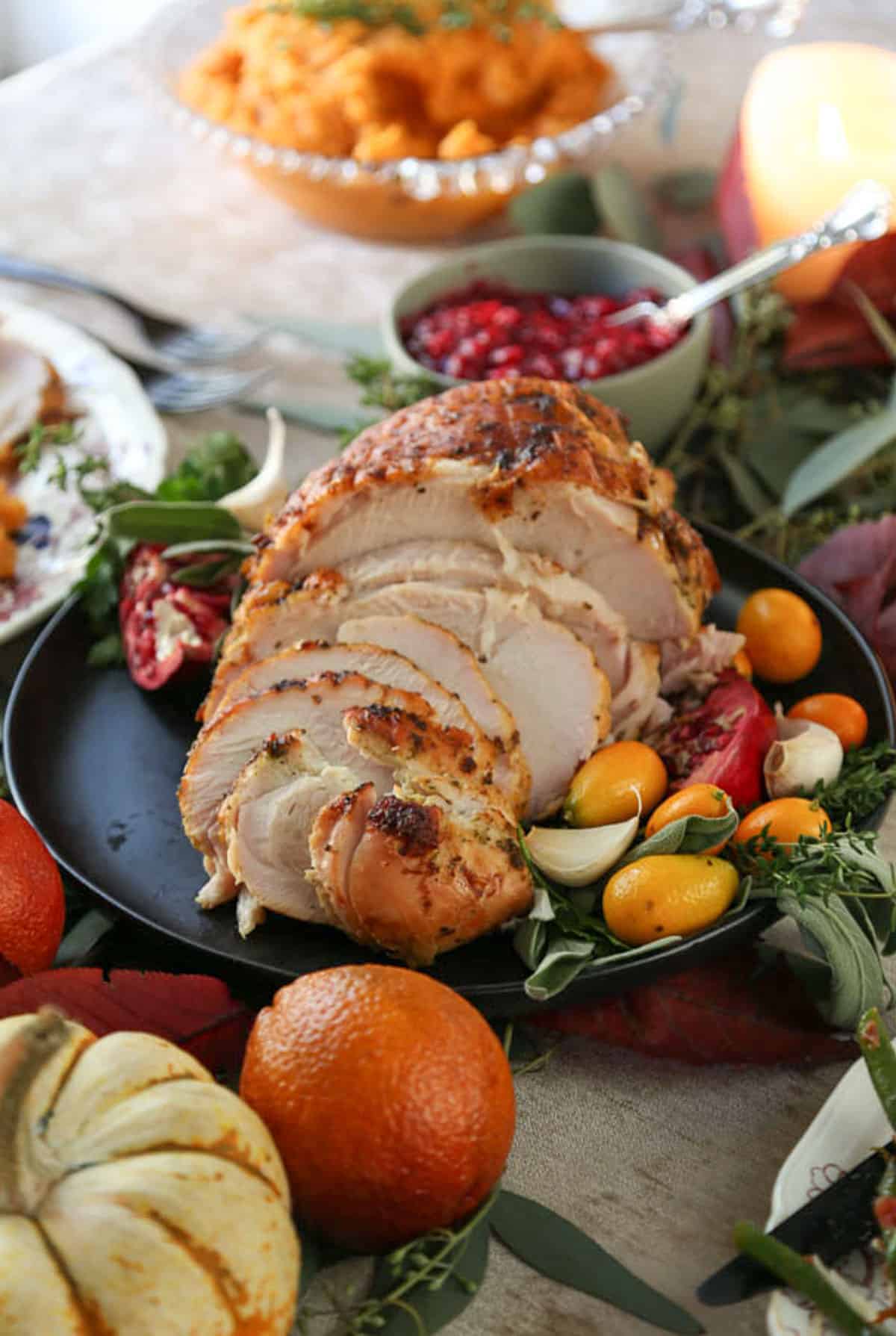 Carving the turkey breast
My favorite part of cooking a boneless turkey breast? It is SO easy to carve!
If your turkey breast came with netting on the outside, just snip that off with kitchen shears after cooking.
Since there are no bones, the final step is to grab a sharp kitchen knife and cut the turkey breast into thin slices. You can even do this at the table, since it's so simple.
Storage and reheating
Leftover turkey breast can be stored in the refrigerator for 3–4 days.
You can also freeze leftover turkey in a resealable freezer bag or freezer-safe storage container for 1–2 months. Defrost in the refrigerator overnight before reheating.
To reheat, place in a covered dish in the microwave, and microwave on high until warm.
Frequently Asked Questions
Why use olive oil on a turkey?
Olive oil is key to creating a crispy skin on the turkey. You can use regular olive oil or extra virgin—either will work well for this recipe.
What temperature do I cook a turkey breast to?
The final temperature for a turkey breast should be 165°F. Take the turkey breast out of the oven when it reaches 155–160°F. It will continue to rise in temperature as it sits, ultimately reaching 165°F, which is considered safe for white meat.
What's the best temperature for cooking a turkey?
Start cooking a turkey at 425°F. The initial blast of heat will create a beautiful crispy, browned skin. Then, reduce the oven temperature to 375°F to finish cooking the bird.
An Italian-inspired Thanksgiving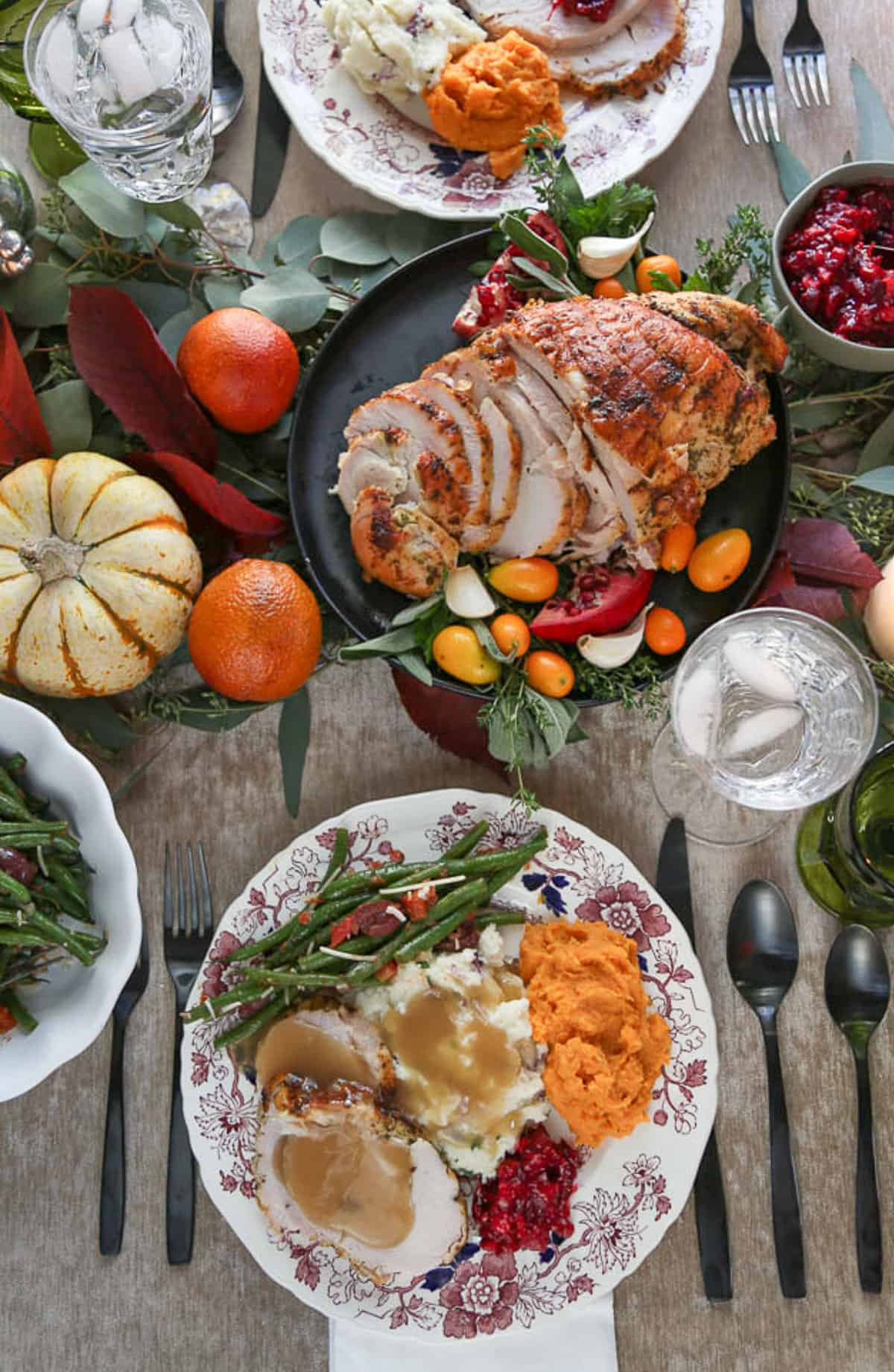 I served the Brined Turkey Breast with Olive Oil and Herbs as part of an Italian-inspired Thanksgiving.
My friend Kelley of Haviland Events supplied the table decor and dishes. It's amazing how she can take a blank table and add a few things to make it pop!
She used a combination of eucalyptus, blood oranges, candles, miniature pumpkins, and a few branches of red leaves plucked from a tree in the yard (ok, the neighbor's yard—lol!).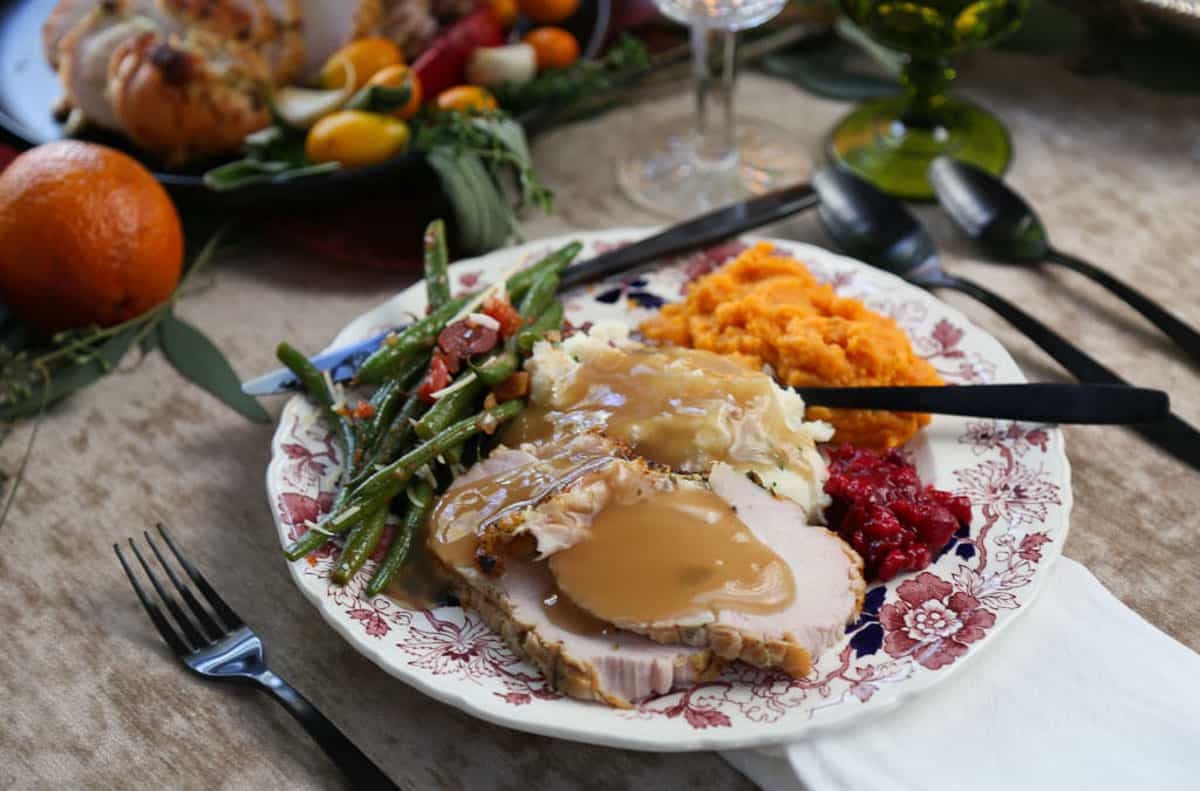 The rest of this Italian-inspired Thanksgiving menu for 4–6 people includes the following:
And while it isn't Italian-inspired, this Creamed Corn Casserole is a classic side dish that everyone loves.
Have leftover turkey? Make this Turkey a La King!
Have you tried this recipe? Please leave a ⭐️⭐️⭐️⭐️⭐️ rating and/or comment below!


📖 Recipe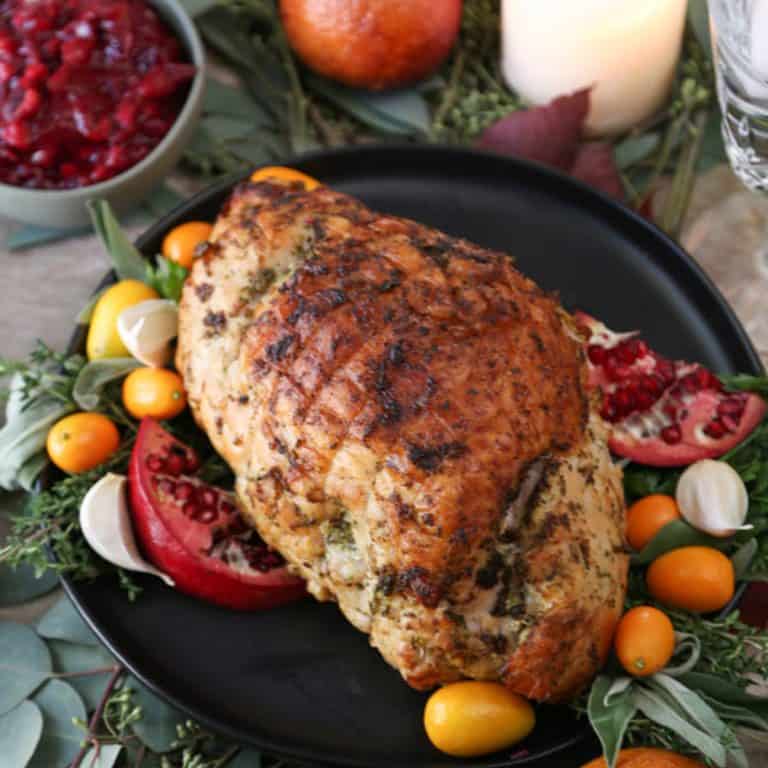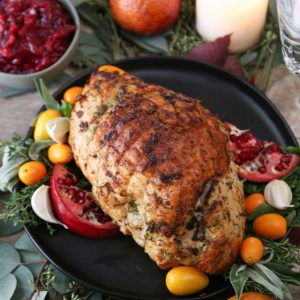 Olive Oil & Herb Roasted Turkey Breast
This juicy brined turkey breast recipe will be the hit of your Thanksgiving table.
Ingredients
4–5

lb

boneless turkey breast

8–10

cups

water

¼

cup

kosher salt

3

garlic cloves,

peeled

1

small shallot,

peeled

¼

cup

fresh parsley

4

large fresh sage leaves

1

tablespoon

fresh thyme leaves

½

cup

olive oil

For garnish: kumquats, a pomegranate (cut into eighths), fresh herbs (sage, thyme, parsley)
Instructions
Wednesday morning
Bring 2 cups of water to a boil over high heat. Add the salt. Stir to dissolve. Let cool for 15 minutes.

Meanwhile, place the turkey breast in a large bowl. Add 6 cups of water. Pour in the cooled salted water. Add additional water to cover, if necessary. Refrigerate for 10–12 hours (but no more).
Wednesday evening
Remove the turkey breast from the brine and pat dry. Place on a small sheet pan fitted with a baking rack. Refrigerate for at least 12 hours (or up to 24) to dry out the surface (this will create a nice brown crust).
Thursday
Heat oven to 425°F. Place the garlic, shallot, parsley, sage, and thyme in a food processor. Pulse until finely ground. Add olive oil and pulse until combined.

Spoon half of the mixture over the turkey and rub it in with clean hands.

Place the turkey breast (still on the sheet pan/baking rack) into the oven for 30 minutes.

Reduce the oven to 375°F.

Pour the remaining olive oil mixture over the top and bake for an additional 45–75 minutes, or until a thermometer inserted into the thickest part of the turkey breast reads 160°F.

Remove from the oven. The temperature will rise to 165°F as it sits. Let sit for 15 minutes before slicing.
Notes
A thermometer is key to not overcooking the turkey breast. This leave-in thermometer is well worth the price, in my opinion. I've had it for years.
A baking rack set on top of a sheet pan works best for this recipe. I used a baking rack/pan combo set.
Don't have a food processor? Use a kitchen knife to finely chop the shallots, garlic, and herbs instead. Chop them as small as you can!
Want gravy for your turkey breast? Unfortunately turkey breast is so lean, that it won't create many pan drippings for gravy. I suggest purchasing a high-quality gravy from a local grocer, or making a Make Ahead Turkey Gravy.
Store leftover turkey in the refrigerator for 3–4 days or in the freezer for 1–2 months.
Nutrition
Calories:
467
kcal
Carbohydrates:
1
g
Protein:
65
g
Fat:
23
g
Saturated Fat:
3
g
Cholesterol:
163
mg
Sodium:
5356
mg
Potassium:
753
mg
Fiber:
1
g
Sugar:
1
g
Vitamin A:
327
IU
Vitamin C:
5
mg
Calcium:
63
mg
Iron:
2
mg
Related recipes