These Sweet and Spicy Baked Wings with Everything Bagel Seasoning are the perfect appetizer for watching sports or just hanging out!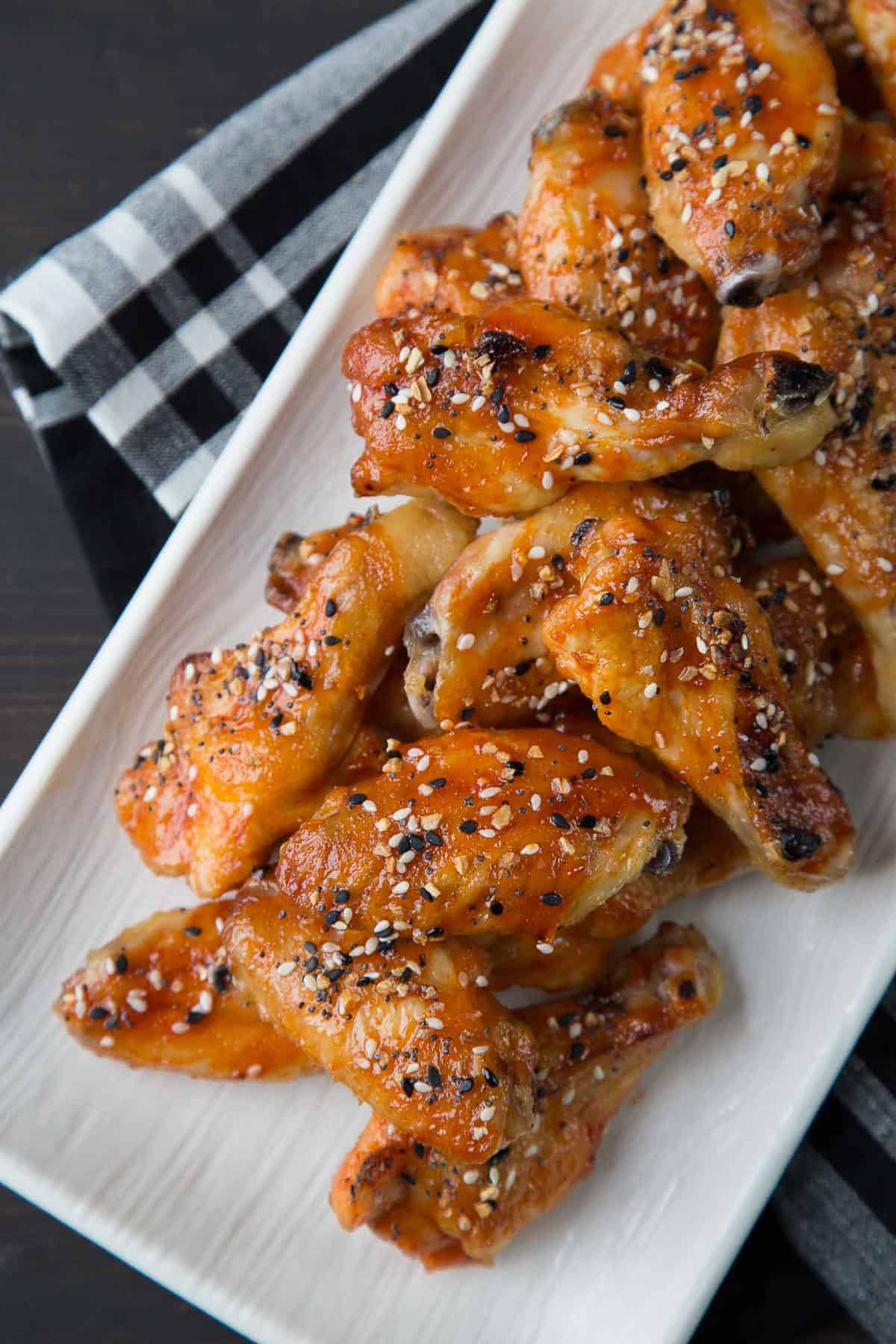 I once made these Sweet and Spicy Baked Wings for my husband's guys' night. Word to the wise: three pounds of wings for six guys is NOT enough.
I figured that since I made a huge pot of chili and some veggies/dip, that four wings per person would suffice. I arrived home and everything was decimated. There were a few lonely carrots left, but the chili was wiped out and these wings were long gone.
I made the Sweet and Spicy Baked Wings again to try for myself, and it was easy to see why they disappeared so quickly. The sweet and spicy combination of honey and sriracha is irresistible. The addition of Everything Bagel Seasoning adds a nice onion flavor and a little texture thanks to the poppy seeds, sesame seeds, and garlic & onion flakes.
They truly are irresistible. I love them for chilly days since they're baked entirely in the oven. For the warmer months, I turn to these Grilled Wings with Garlic & Herbs!
This post contains affiliate links. Affiliate links support Gift of Hospitality at no additional cost to you. I receive a commission if you choose to make a purchase through these links.
Jump to: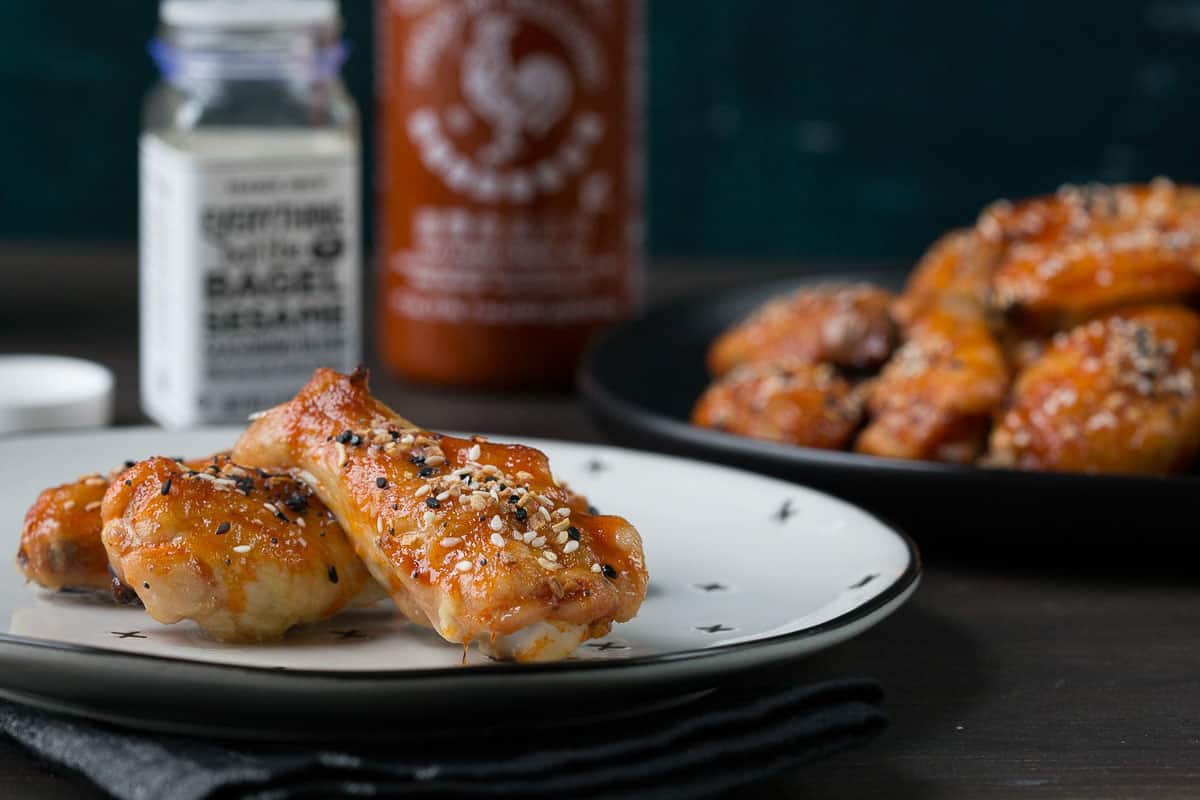 Ingredients
You can either purchase chicken wings or "party wings." Chicken wings are whole (more on that below) and party wings have been separated into drumettes and flats.
A mixture of honey and sriracha makes the sweet and spicy glaze.
Everything bagel seasoning goes on top. You can purchase it in a jar (Trader Joe's sells one) or you can make your own—scroll down for the recipe!
How to separate chicken wings
Each chicken wing has three parts: the flat, the drumette, and the tip. Use your fingers to locate the joint in between each part, and run a sharp knife through each joint.
The video on this blog post on separating wings is super helpful if you're looking for direction. I discarded the tips (you can also save them for stock) and kept the flats and drumettes.
If you want to skip the step of separating wings, look for "party wings" at your local grocery store. They are already separated, making this recipe even easier. My local grocery store only has party wings occasionally, but I can reliably find them year-round at Whole Foods Market.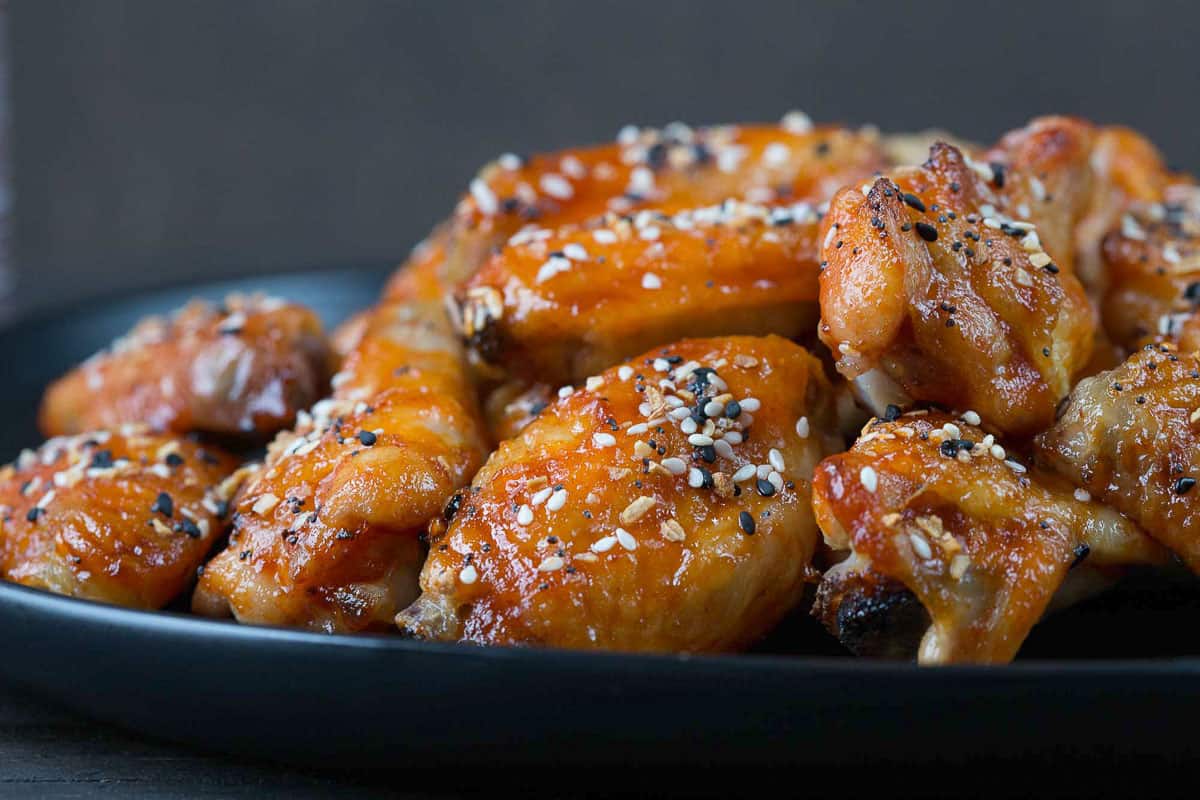 Tips for making crispy wings in the oven
The goal is to get the skin of the wings extra crispy—that's what makes a good chicken wing! There are three techniques for that:

1) Place the wings on a sheet pan with a wire rack. This allows the air to circulate around the wings, making them crispy on the top AND the bottom.
2) Toss the wings with canola oil and bake at 400°F. The high heat helps them crisp up.
3) Wait to add the seasonings until the wings are crisp—otherwise the seasonings will burn!
How to make sweet and spicy chicken wings
Toss the wings with canola oil and salt.
Place the chicken wings (flats and drumettes) on a sheet pan fitted with a wire rack. I also place foil on the bottom of the sheet pan for easy clean-up.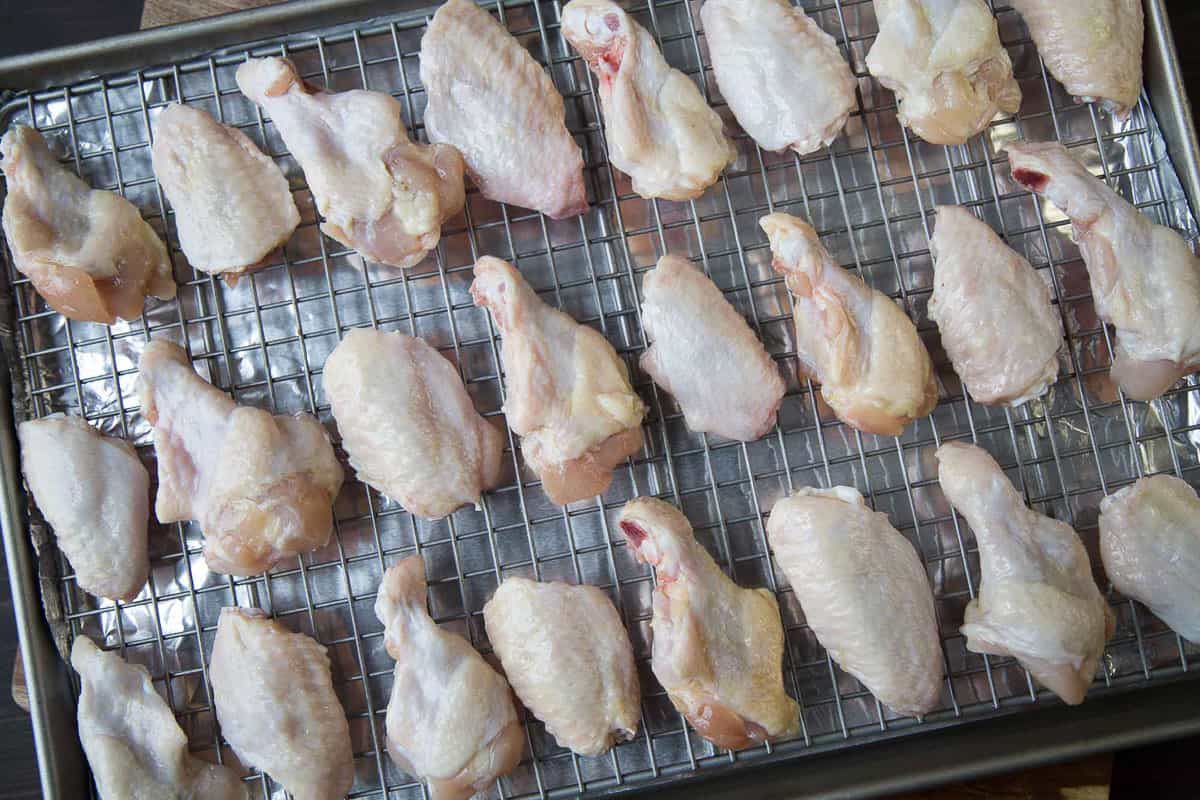 Bake for 40 minutes at 400°F.
Meanwhile, whisk together the honey and sriracha. Pull the wings out of the oven, and brush the wings generously on both sides with the honey mixture. Sprinkle with the everything bagel seasoning, and bake for 10 more minutes, or until the glaze is sticky and the wings are crisp.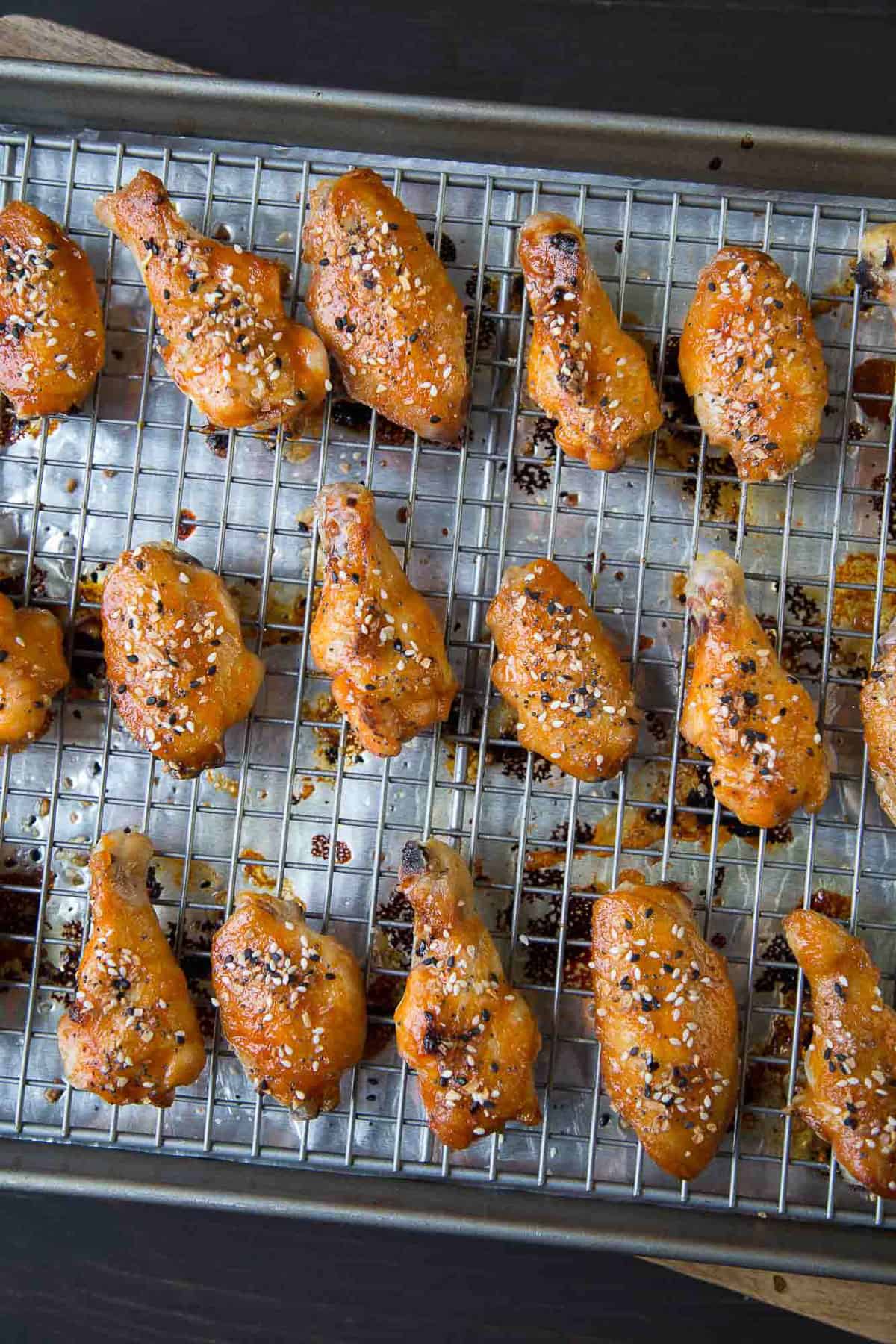 Frequently Asked Questions
How long do you bake chicken wings at 400°F?
Bake chicken wings for 45–50 minutes at 400°F, or until the skin is crisp.
How do I make these wings less spicy?
Reduce the amount of sriracha in the recipe to your liking. Start with one tablespoon of sriracha, taste the glaze, and add more as you wish.
What can I substitute for honey?
Maple syrup makes a great substitute for honey in this recipe. You can also use agave nectar.
Storage and reheating tips
Store any leftover wings in an airtight container in the refrigerator. They will last for 4–5 days. Reheat wings at 400°F for 5–7 minutes, or until warmed through.
How to make your own everything bagel seasoning
Everything Bagel Seasoning is such a good topping for wings! You just need 5 ingredients to make your own:
1 tablespoon sesame seeds
1 tablespoon poppy seeds
2 teaspoons dried onion flakes
2 teaspoons dried garlic flakes
1 teaspoon salt
Stir all of the ingredients together, and store in an airtight container.
You can also purchase Everything Bagel Seasoning in a jar, already made. Trader Joe's sells one, and you can also find it at Target in the spice aisle.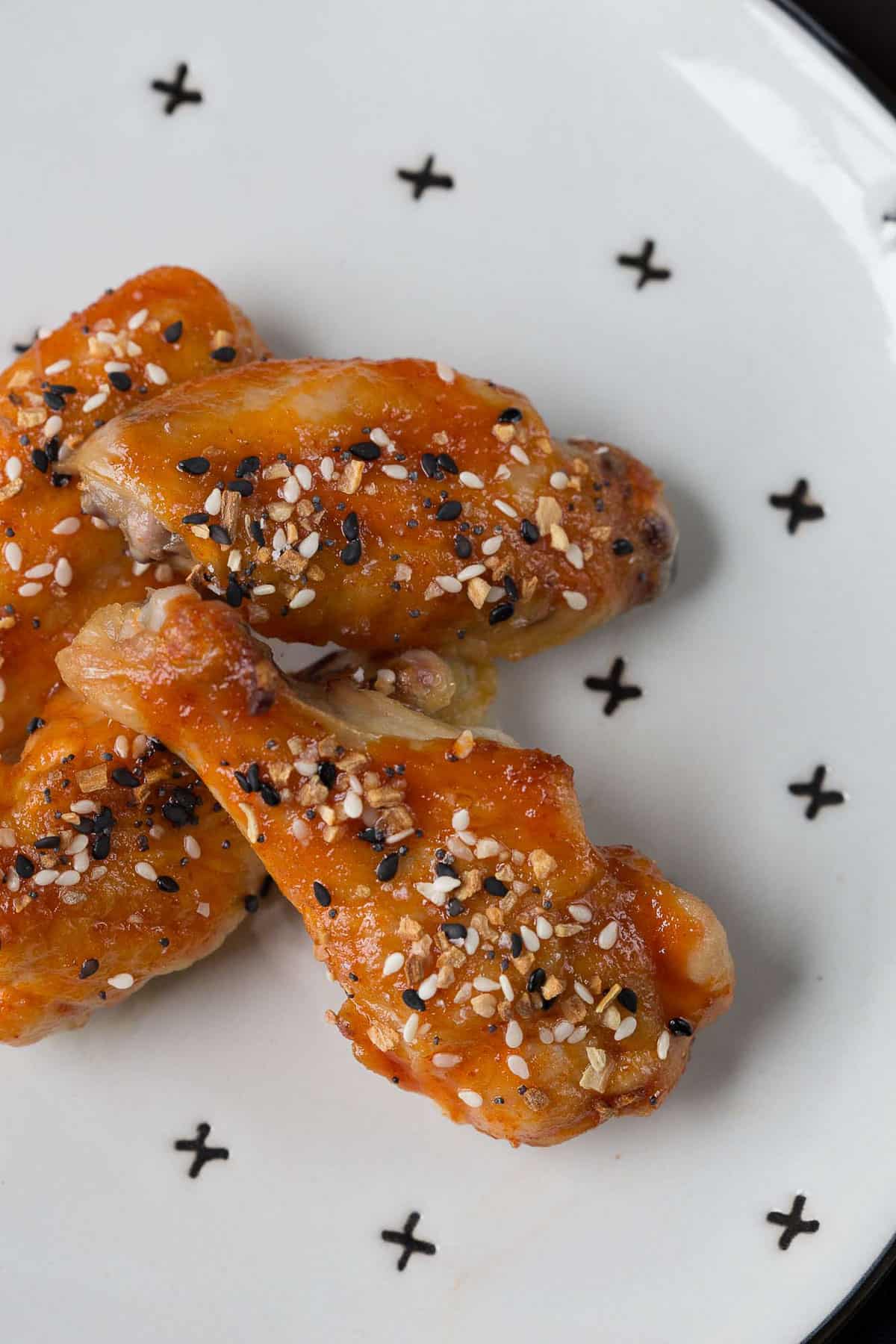 Sweet and Spicy Baked Wings are perfect for a guys' night, the Super Bowl or NFL playoffs, college football watching, or really any get-together where you don't mind your hands getting a little sticky.
Serve with cold beer and plenty of napkins!
Have you tried this recipe? Please leave a ⭐️⭐️⭐️⭐️⭐️ rating and/or comment below!


📖 Recipe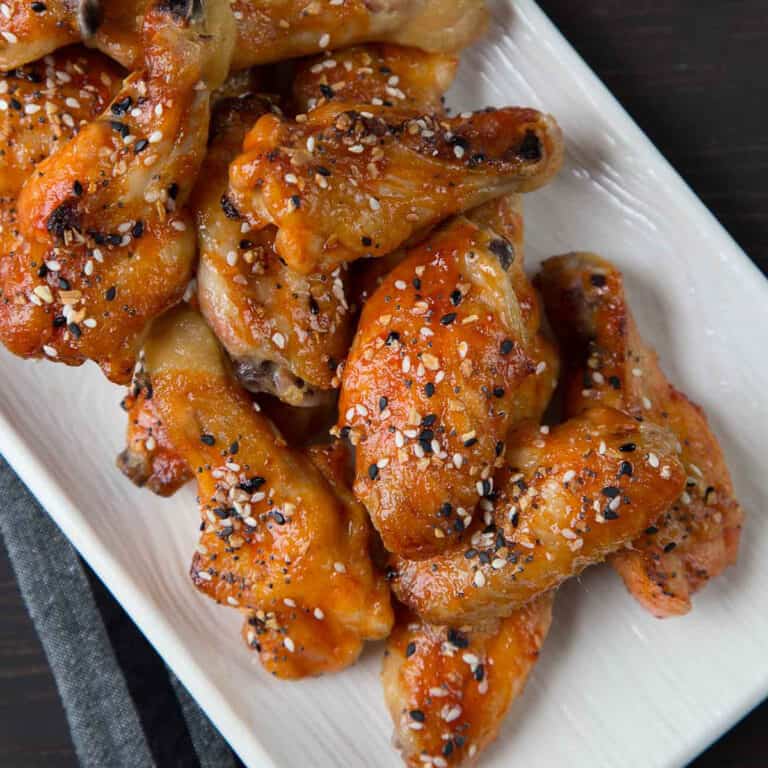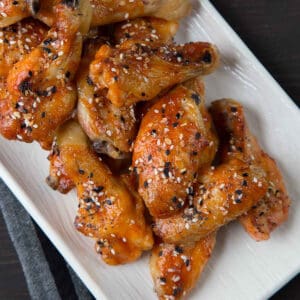 Sweet and Spicy Baked Wings with Everything Bagel Seasoning
These flavorful wings are a little bit sweet and a little bit spicy. They're perfect for an appetizer while watching football!
Ingredients
3

lbs

chicken wings

2

tablespoons

canola oil

2

teaspoons

kosher salt

3

tablespoons

sriracha

3

tablespoons

honey

2

tablespoons

everything bagel seasoning
Instructions
Preheat oven to 400°F. Line a baking sheet with foil and top it with a baking rack.

Using a sharp knife, separate the tips from the rest of the chicken wings. Then separate the flats from the drumettes. Discard the tips or save for making chicken stock.

In a large bowl, toss the flats and drumettes with the canola oil and the salt.

Bake for 40 minutes, or until the wings are beginning to brown.

Meanwhile, whisk together the sriracha and the honey in a small bowl.

After the wings have cooked for 40 minutes, brush the mixture evenly over the top of the wings. Sprinkle with the everything bagel seasoning.

Bake for 10 more minutes, or until the glaze is sticky and the wings are cooked through. Let cool for 5 minutes before serving.
Notes
Tip #1: Use a sheet pan fitted with a wire rack so that the wings get crispy all over!
Tip #2: Make your own Everything Bagel Seasoning with this recipe: 1 tablespoon of sesame seeds, 1 tablespoon of poppy seeds, 2 teaspoons of dried onion flakes, 2 teaspoons of dried garlic flakes, and 1 teaspoon kosher salt
Nutrition
Serving:
1
wing
Calories:
87
kcal
Carbohydrates:
2
g
Protein:
6
g
Fat:
6
g
Saturated Fat:
1
g
Cholesterol:
24
mg
Sodium:
325
mg
Potassium:
50
mg
Sugar:
2
g
Vitamin A:
48
IU
Vitamin C:
1
mg
Calcium:
4
mg
Iron:
1
mg
Related recipes