Now that's one HUGE sandwich! This Gigantic Muffaletta is made in a bread bowl, and it's perfect for sharing!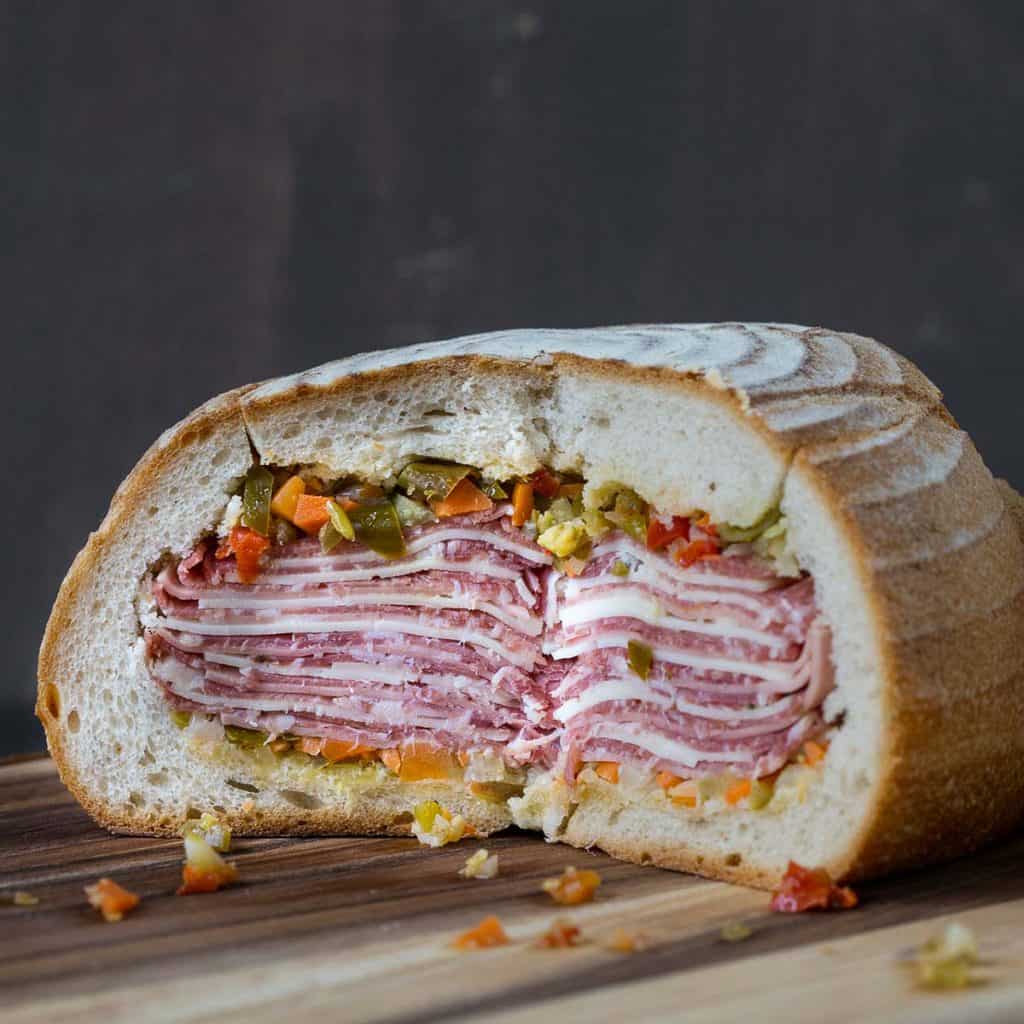 This is arguably the king of all sandwiches. The Gigantic Muffaletta in a Bread Bowl is a 1-lb sourdough loaf, stuffed with 1½ lbs of meat and cheese and an entire jar of giardiniera.
It's a show-stopping centerpiece for your Super Bowl party, tailgate, picnic, or any other time you need a sandwich to feed a crowd.
Feeding sandwiches to a crowd is always a conundrum. Do you make a bunch of tiny sandwiches? A bunch of regular sized sandwiches? Or do you just make one gigantic sandwich?
I'd obviously argue for the last option. 5-foot subs are great, but this Gigantic Muffaletta is so much more fun.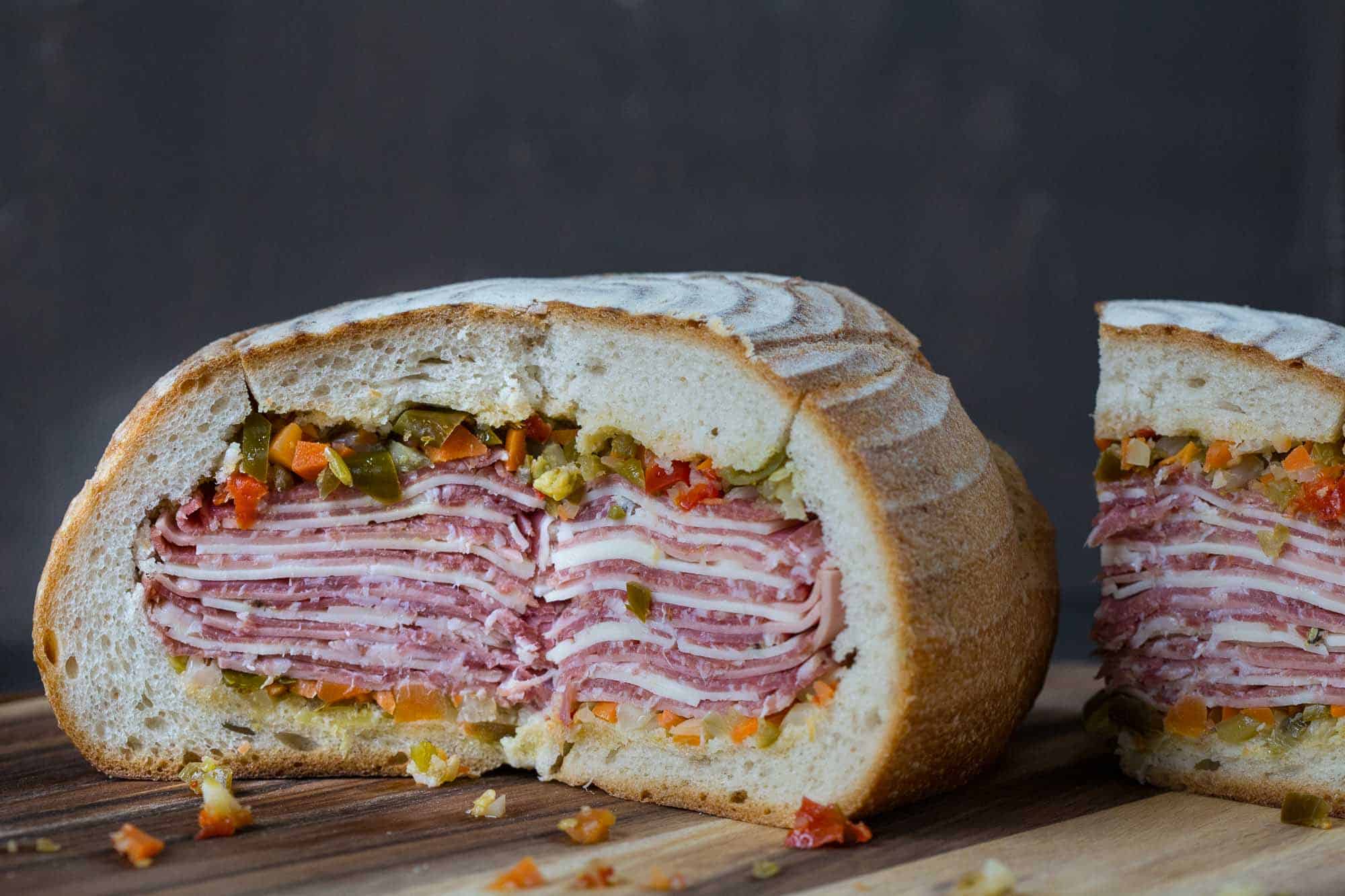 This post contains affiliate links. Affiliate links support Gift of Hospitality at no additional cost to you. I receive a commission if you choose to make a purchase through these links.
Jump to:
Muffaletta origin
"Muffaletta" is the name of a loaf of bread. Specifically, it's an Italian semolina bread topped with sesame seeds.
The sandwich itself was created by an Italian immigrant named Salvatore Lupo, who lived in New Orleans. He named the sandwich for the bread he put it on, and the New Orleans muffaletta was born.
The sandwich is typically served cold, and layered with a variety of Italian meats and cheeses, plus a marinated olive and veggie mix known as giardiniera.
How to make a gigantic muffaletta
Start by sourcing a crust round loaf or bread bowl from your grocery store's bakery. Instead of Italian bread, I chose a round sourdough loaf/bread bowl for this recipe.
Here's how to construct the sandwich:
1. Carve a circle into the top to create a lid, similar to how you'd create a lid on a pumpkin.
2. Hollow out the bread bowl, leaving ½ inch of bread all the way around the edges.
3. Spread a layer of giardiniera on the bottom and up the sides of the inside of the bread bowl.
4. Layer the sopressata, mortadella, capicola, and provolone cheese in single layers.
5. Top with the remaining giardiniera and put the "lid" on.
6. Wrap in foil and refrigerate for several hours.
7. Unwrap and cut into 6–8 slices.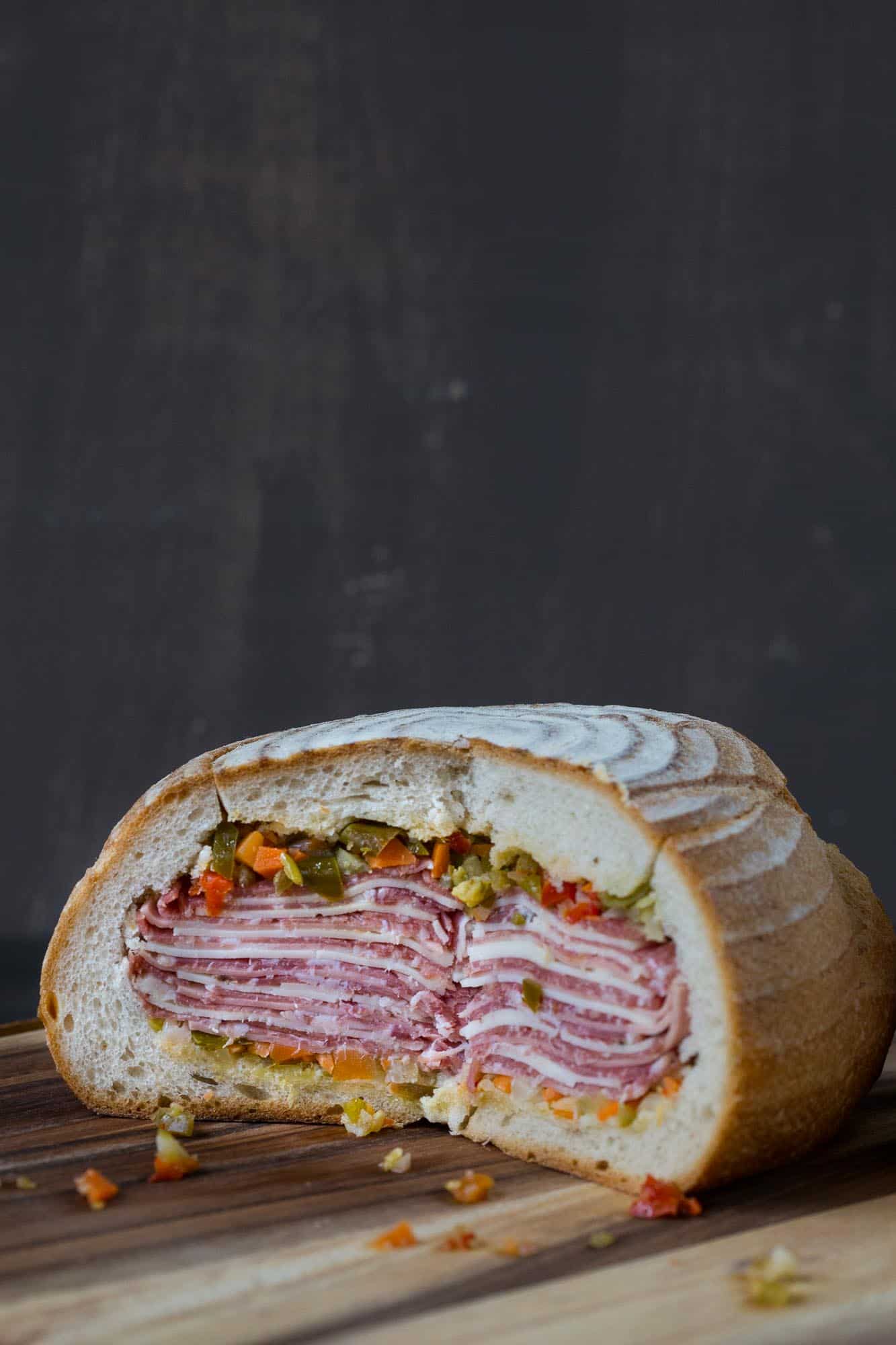 What to do with leftover bread
Since this recipe calls for scooping the inside of the bread out to make room for the filling, you'll have that bread leftover.
Here are a few ideas for what to do with it:
Make breadcrumbs for topping mac & cheese or using as a binder in meatloaf
Tear it into chunks, and dip it in olive oil and freshly grated parmesan cheese
Make homemade croutons
Serving the muffaletta
This Gigantic Muffaletta follows my #1 rule for large parties: no utensils needed! Finger foods are the best foods for a house full of people, especially when there's not a place for everyone to sit at the same time.
Sliders, cheese & crackers, veggies & Dill Dip, chips & Beef Chip Dip, and wings (like these Sweet and Spicy Baked Wings with Everything Bagel Seasoning) all fit in this category. It also eliminates the need for buying plastic utensils (WHY are there never enough forks?).
The Gigantic Muffaletta is also perfect at room temperature, which is another great tip for longer parties, such as for the Super Bowl. The more foods that can be served at room temperature, the better!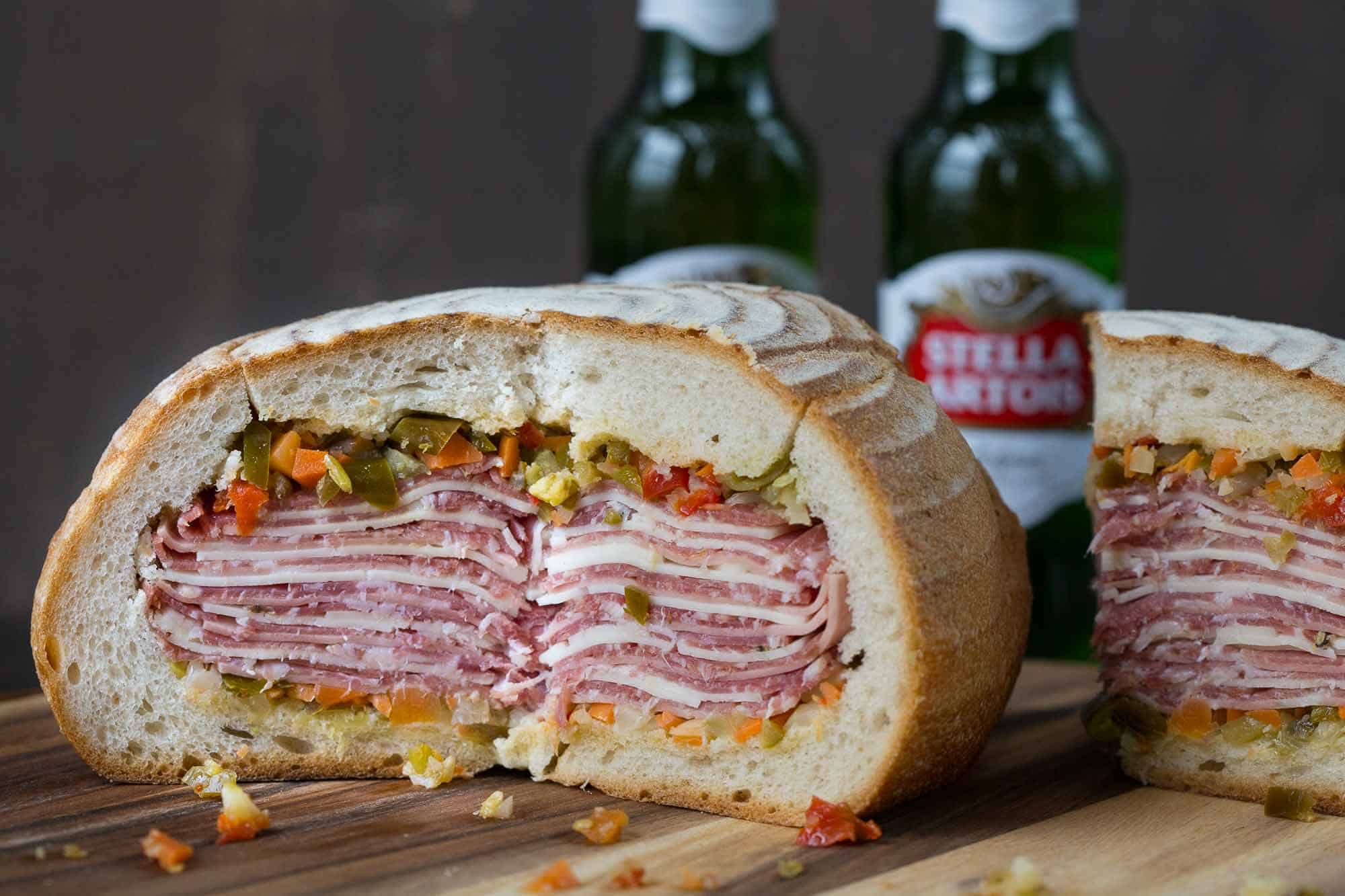 Variations
The idea of stuffing a bread bowl can easily adapt to your favorite sandwich fixings.
How about a gigantic Cuban sandwich? Or a gigantic ham & swiss? Or a stacked up club sandwich? The possibilities are endless.
For vegetarians, you could stuff a bread bowl with cucumbers, roasted red peppers, shredded carrots, avocado slices, hummus, or whatever else you find in your veggie drawer!
Have you tried this recipe? Please leave a ⭐️⭐️⭐️⭐️⭐️ rating and/or comment below!
---


---
📖 Recipe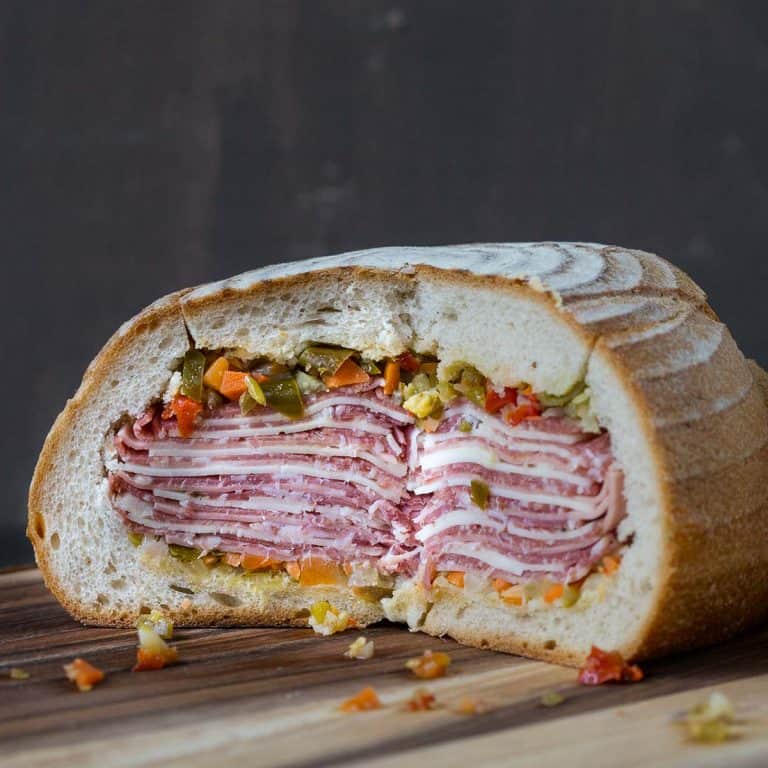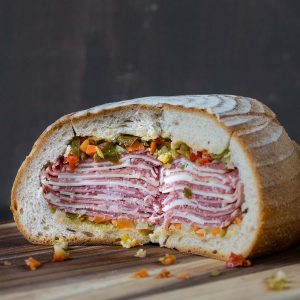 Gigantic Muffaletta in a Sourdough Bread Bowl
Wow your guests with this gigantic sandwich. It's great for a picnic or for a football watching party!
Ingredients
1

lb

round sourdough loaf or bread bowl

(I got mine at Whole Foods Market)

16

oz

giardiniera, drained and finely chopped

⅓

lb

thinly sliced sopressata

⅓

lb

thinly sliced mortadella

⅓

lb

thinly sliced capicola

½

lb

thinly sliced provolone cheese
Instructions
Using a sharp paring knife, cut a large circle in the top of the bread bowl, leaving about 1.5 inches of an edge all the way around the edges.

Carefully lift the circle away from the bread bowl. Use your hands to remove the inside of the loaf, leaving about ½ inch of bread on all sides.

Remove the excess bread from the slice that you cut off the top of the bread bowl, leaving about ½ inch of bread attached to the top to create a lid.

Spread ⅔ of the drained and chopped giardiniera on the inside of the bread bowl.

Place a single layer of sopressata over the bread bowl, cutting to fit if necessary (it can overlap a little bit). Repeat with a layer of mortadella, then a layer of capicola, and finally a layer of provolone cheese.

Repeat until all of the meat and cheese is used and/or the bowl is full.

Spread the remaining giardiniera over the top and place the lid of the bread bowl back on.

Wrap the sandwich in foil. Place in the refrigerator and top with a heavy pan (or in my case, a bunch of glass containers of leftovers). Let sit for 2 hours, or up to overnight.

When ready to serve, use a sharp knife to slice the loaf like a pie into 6–8 pieces. Serve immediately.
Notes
Tip: Make breadcrumbs with the inside of the sourdough loaf. Pulse the bread in a food processor until it's in rice-sized pieces. Transfer the breadcrumbs to a zip-top plastic freezer bag and freeze until ready to use. They're great for binding meatballs or topping macaroni & cheese.
Nutrition
Calories:
793
kcal
Carbohydrates:
91
g
Protein:
39
g
Fat:
52
g
Saturated Fat:
14
g
Cholesterol:
83
mg
Sodium:
3904
mg
Potassium:
188
mg
Fiber:
1
g
Sugar:
1
g
Vitamin A:
333
IU
Vitamin C:
7
mg
Calcium:
294
mg
Iron:
3
mg
Related recipes