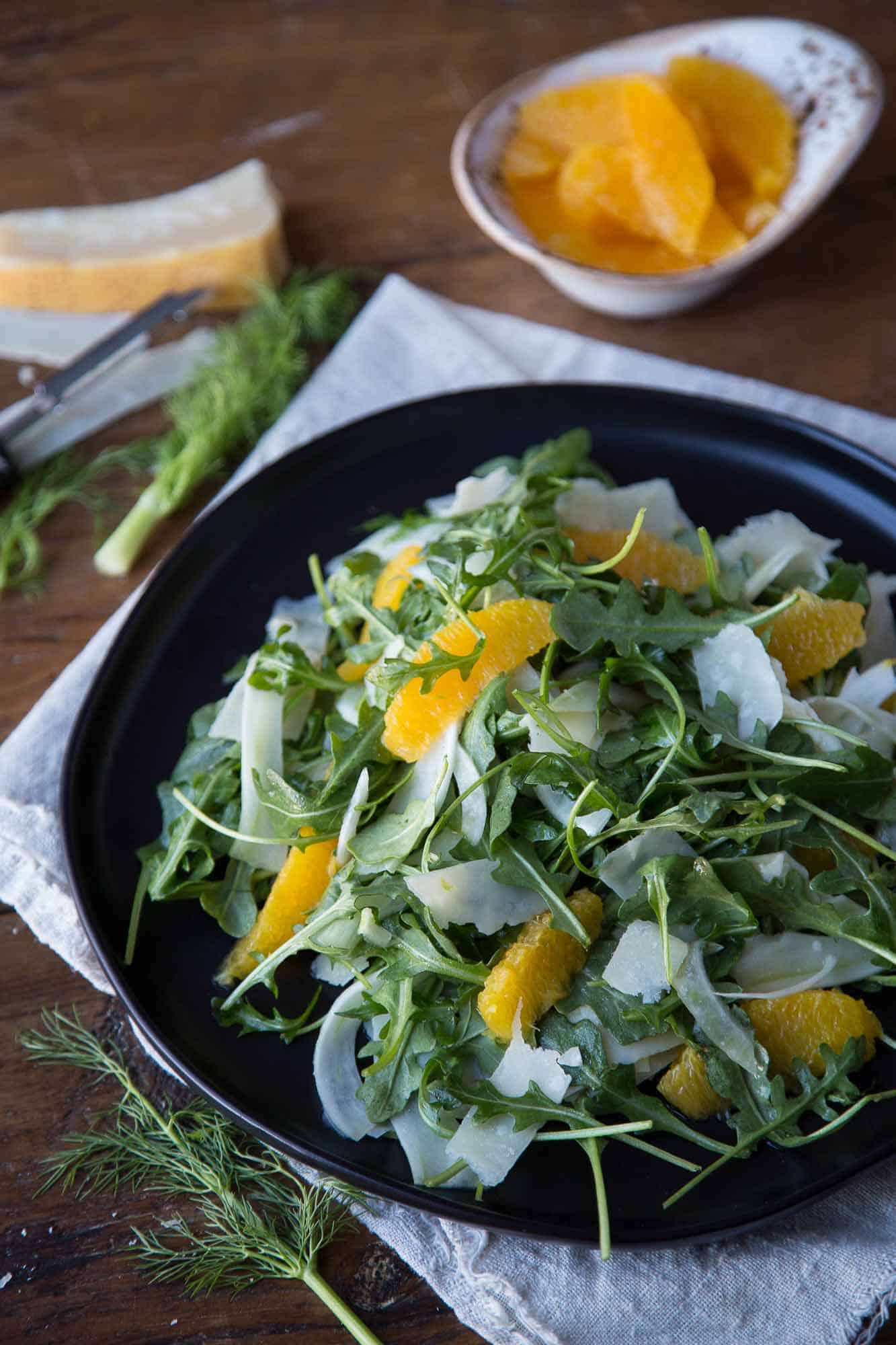 Once upon a time, I made this Fennel and Orange Salad with Arugula on television. I was teaching cooking classes for Whole Foods Market in Cleveland at the time, and I was invited on the local Fox 8 morning show.
I made the recipe during the two minute segment, and then the morning show host took a bite. She loved it. We were on the air, so who knows if she was telling the truth. But the truth is, it is indeed delicious! It's the perfect winter salad: full of veggies, salty Parmigiano Reggiano, and sweet navel oranges. Everyone I've fed this to also loves it. Fennel and Orange Salad with Arugula is a winter salad winner.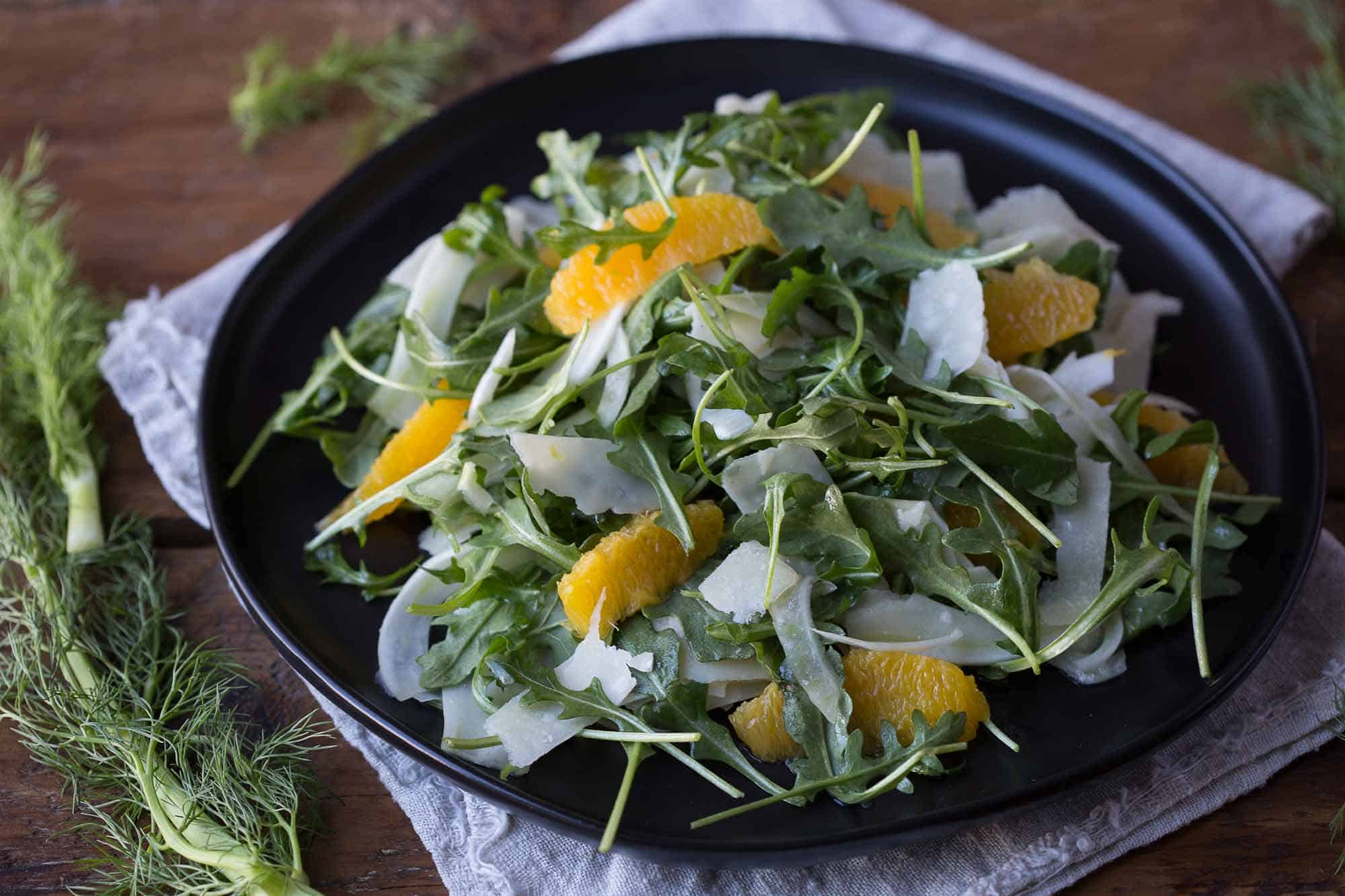 Making a recipe on live television was a far cry from what I was doing for work a year prior. After college, I started in a management training program in commercial real estate. I ended up in Investor Relations, and after a couple years, was promoted to Director (uncommon for most 24-year-olds in the company). I made it two years before I started to get restless. I wasn't sure what I wanted to do with my career, but I was pretty sure that commercial real estate wasn't it.
A year later, I took a leap and traded my power suit for an apron and a hat. I was the new Culinary Demonstration Specialist at Whole Foods Market. I also took a massive pay cut. It all started a year prior when I was seriously considering culinary school. I had always loved food and cooking, and wondered what a job in that industry might entail.
One of my co-workers at the real estate company set up a phone call between me and the chef at her country club. He wisely advised me to get a job in the industry first before spending $30K+ on culinary school. I heeded his advice, and there I was, teaching cooking classes and doing food demonstrations in suburban Cleveland.
It was a wildly different world. On my first day, I remember asking who sets up the tables for my demos (thinking there must be a maintenance team). The answer? Me. I was supposed to set up the tables for my demos. I went from 50 hour work weeks and traveling the country on private jets to absolutely no more than 40 hours, most of which were spent on my feet, cooking food and showing customers how to do the same.
But honestly? I loved it so much more. I loved hanging out with the chefs, learning tricks and tips. I loved being surrounded by food. I loved developing recipes and trying new things. And my stress level plummeted.
I ultimately missed the business side though, and found a happy medium a year later doing corporate marketing at a gourmet grocery store in Chicago.
During that year teaching cooking classes, I learned tips and got advice from many talented chefs. I learned how to get by on less than half my former salary. But most importantly, I learned that my job title does not determine my worth. I was no less worthy without a "director" title. I was the same person, working with the same determination and grit, in search of a career path that fit with my skills and passions.
Truthfully I'm still figuring out that path. I now do freelance marketing, and blog here at GiftofHospitality.com. I love them both, and adore the flexibility and the ability to be creative. It's not the end goal, but I'm getting pretty darn close. No power suit required!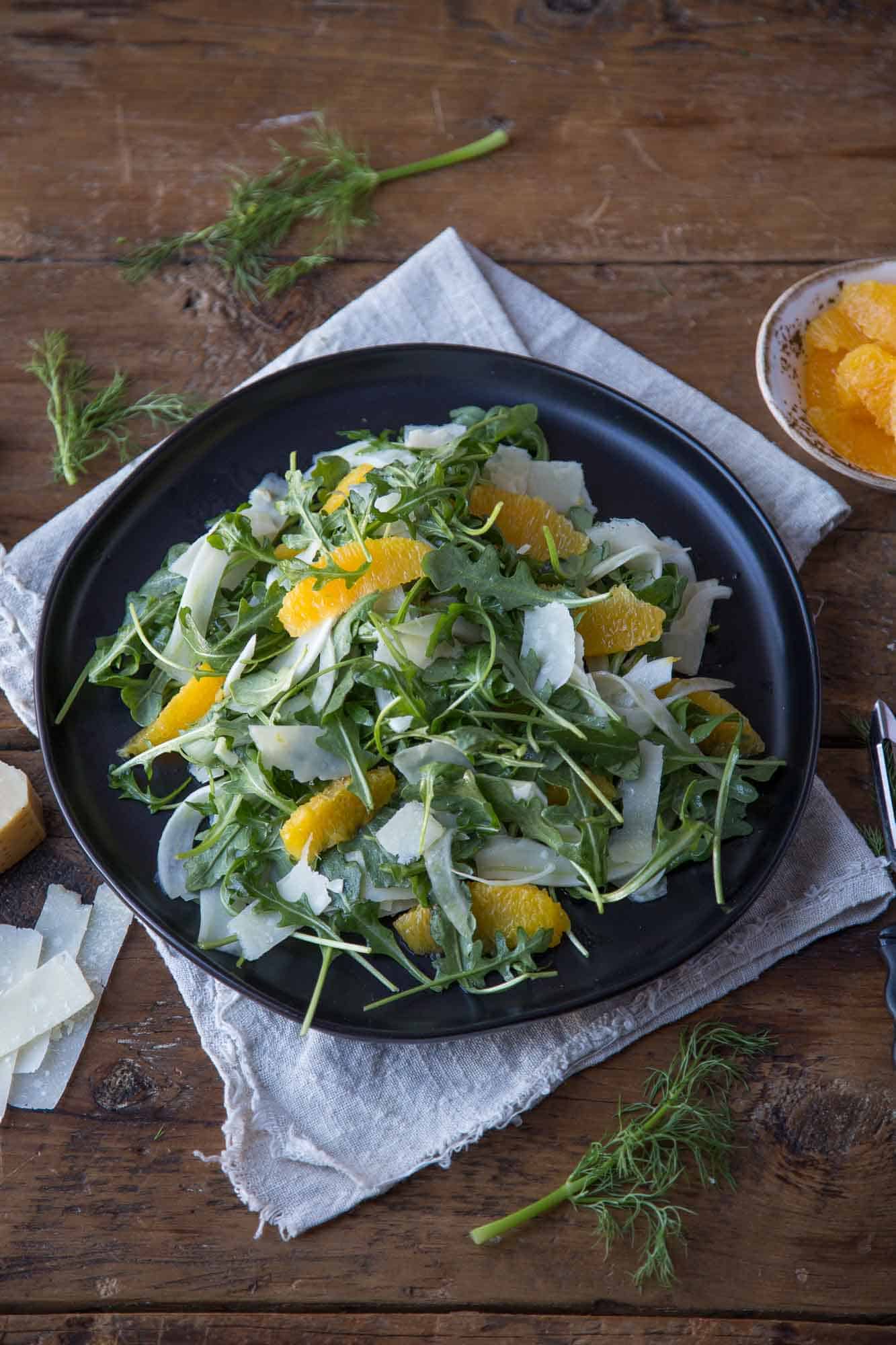 Now onto the salad! Fennel and Orange Salad with Arugula is perfect for the middle of winter. Not a lot of fruits and veggies are in season, but the two stars of this salad are at their peak. Navel orange and fennel make a delightful pair. The acidity of the orange mellows out the fennel nicely, and provides a juicy sweetness in each bite. The fennel contributes a lovely crunch to the salad. Two other additions, arugula and Parmigiano Reggiano, add their own unique flavors.
The whole salad just sings. Bright, crisp, refreshing, acidic, bitter, salty, sweet—all of the flavors pop in just one bite. I like pairing the Fennel and Orange Salad with Arugula with a hearty dish. In this case, I paired with with my Beef Wellington Pot Pie (which is seriously to die for). It was a great match!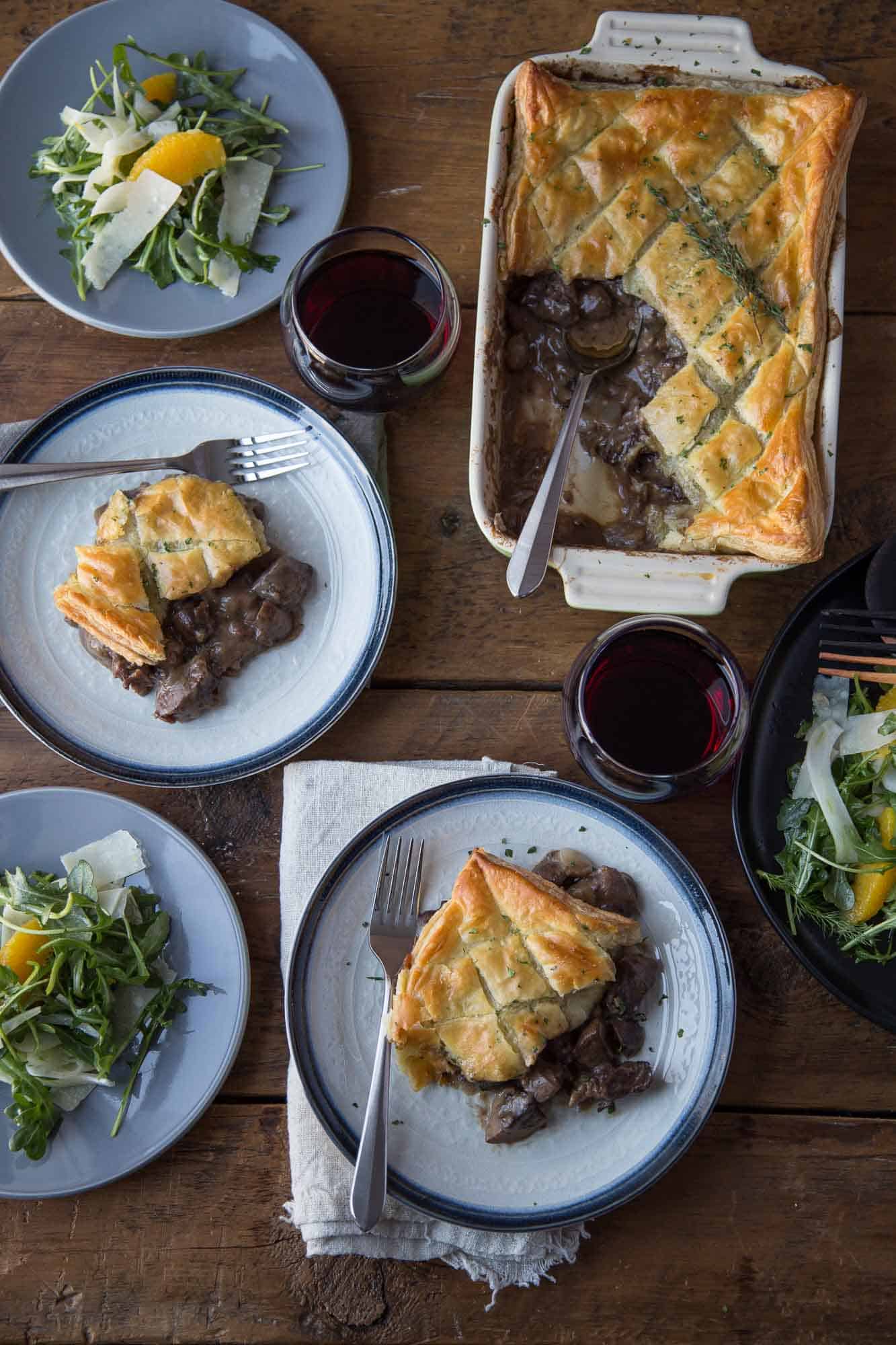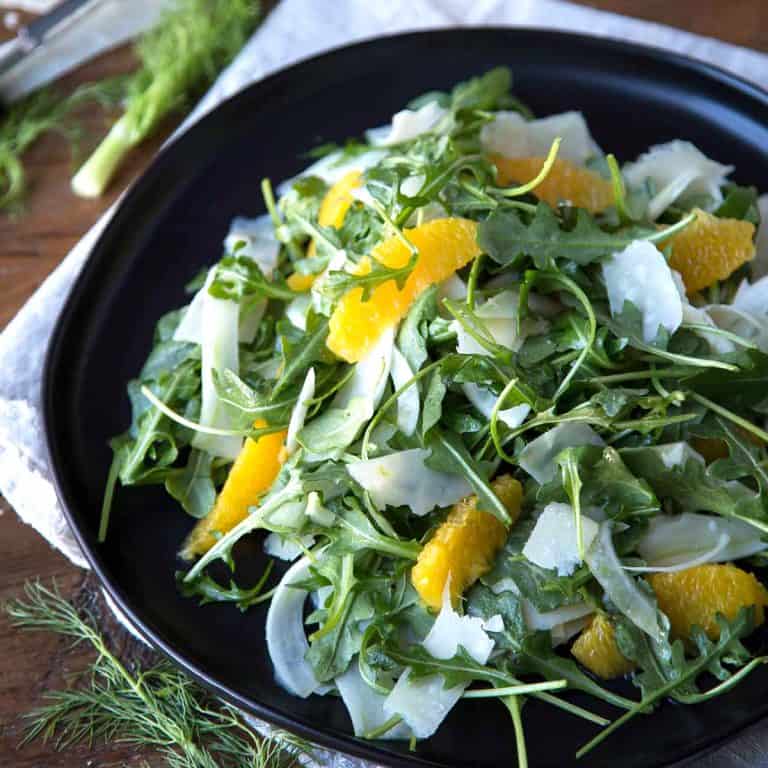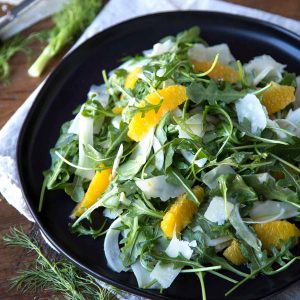 Fennel and Orange Salad with Arugula
This flavorful salad is perfect for winter.
Ingredients
For the salad:
1

bulb fennel,

thinly sliced by hand or with a mandoline

2–3

large handfuls baby arugula

⅓

cup

shaved Parmigiano Reggiano

2

navel oranges,

segmented
For the vinaigrette:
1

tablespoon

lemon juice

2

tablespoons

orange juice

¼

cup

extra virgin olive oil

1

teaspoon

honey

1

teaspoon

Dijon mustard

½

teaspoon

kosher salt
Instructions
Place the vinaigrette ingredients in a jar with a tight fitting lid. Shake to combine.

Place the sliced fennel, arugula, shaved Parmigiano Reggiano, and segmented oranges in a large bowl.

Pour half of the dressing over the top and toss to combine. Add more vinaigrette if desired.

Serve immediately.
Nutrition
Calories:
222
kcal
Carbohydrates:
17
g
Protein:
5
g
Fat:
16
g
Saturated Fat:
3
g
Cholesterol:
7
mg
Sodium:
467
mg
Potassium:
438
mg
Fiber:
4
g
Sugar:
9
g
Vitamin A:
677
IU
Vitamin C:
56
mg
Calcium:
174
mg
Iron:
1
mg
This post contains affiliate links. Thank you for reading GiftofHospitality.com and helping me to provide quality content.