This is our first Valentine's Day as a married couple. Instead of battling the crowds for a reservation, we decided to enjoy a nice dinner at home. Per Longe's request, we're having steak, sweet potato casserole, and salad with toasted sourdough breadcrumbs. And I got to pick dessert: Dark Chocolate Covered Brie.
I first made this Dark Chocolate Covered Brie when I was teaching cooking classes at Whole Foods Market. That was six years ago now, and I still remember the reactions to it. When several guests heard what it was, their eyes got BIG. It was one of those reactions that says, "how have I gone this long without Dark Chocolate Covered Brie??"
Their wait was over, and now yours is, too. And (bonus!) it's only three ingredients.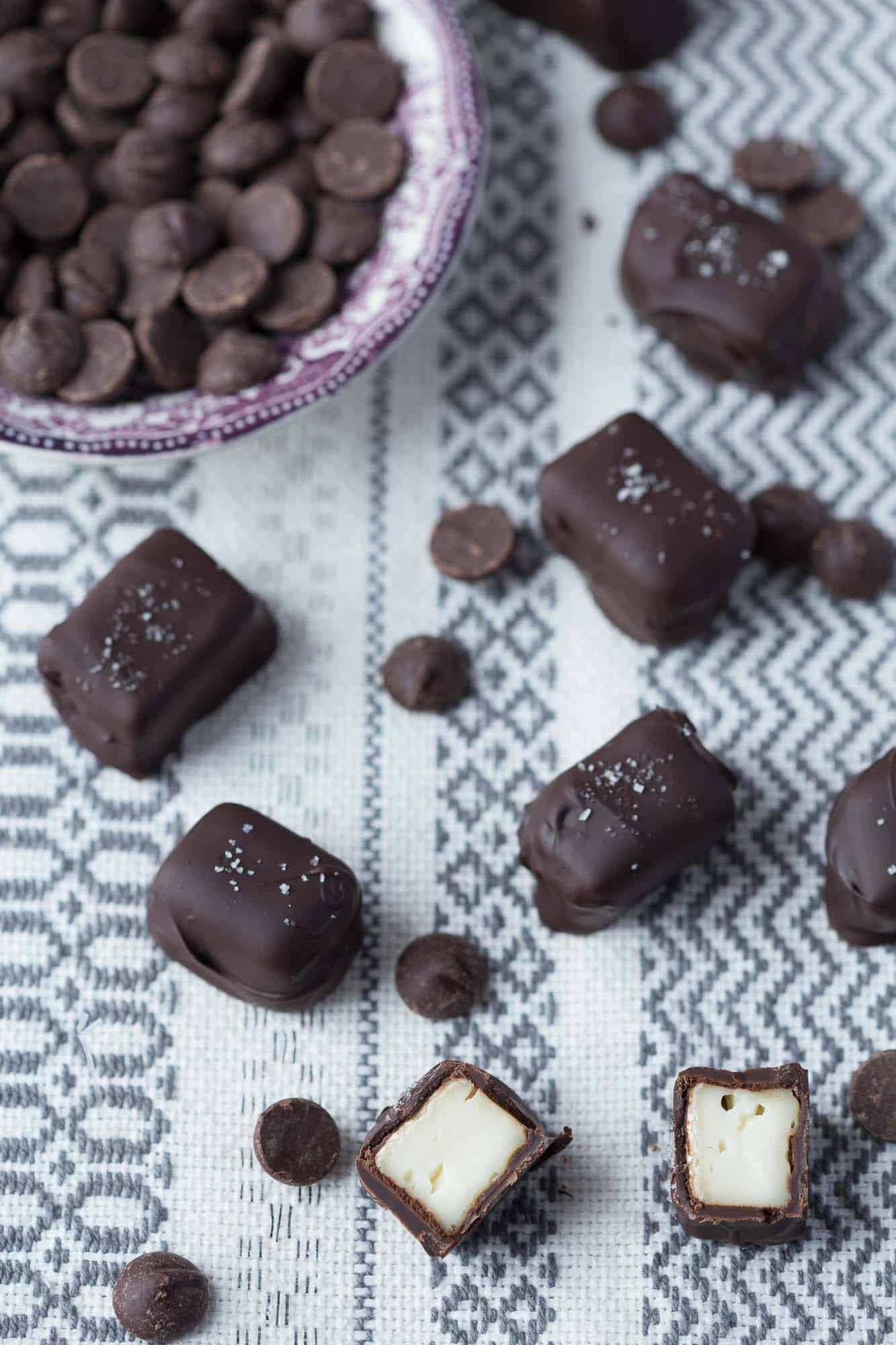 I found a "slicing brie" at my local grocery store. It's a rectangular shaped brie from Reny Picot. It's designed for slicing so that brie sits nicely on crackers, but it's also perfect for cutting brie into squares or rectangles.
I started by freezing the brie for one hour. Otherwise, the brie will be a little too creamy in the middle to get clean, even slices. Then, I sliced it into ½ x 1 inch rectangles (or thereabouts—you can cut it into any size you wish).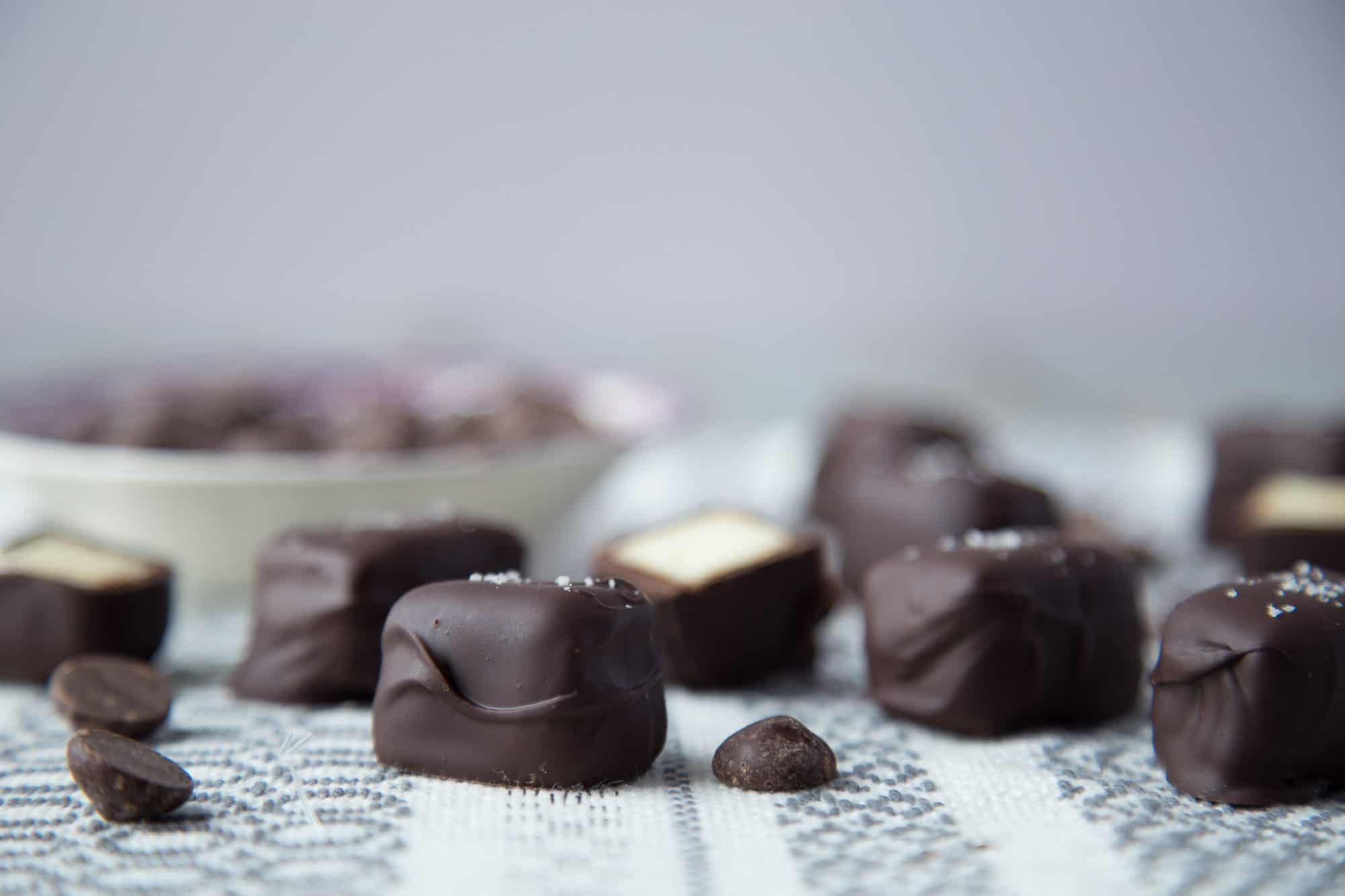 Next, it gets a dunk in melted chocolate. I don't think you need a special technique for melting chocolate, nor do you need a double boiler. The microwave works perfectly. The only rule is to barely melt the chocolate. You still want to see the chips when you pull it out of the microwave—it should not be fully melted or bubbling. After pulling it out, give it a stir. If the chocolate chips aren't melting, then give it some more time in the microwave, and then stir again until the chocolate chips are melted.
I start by placing a piece of brie into the chocolate. I turn the brie with two forks, one on each side, until it's coated in the chocolate. Then I use the forks to lift the brie out of the chocolate, and scrape the bottom on the side of the bowl as I move it to a piece of wax paper to harden. Scraping it ensures that you don't have a big pool of chocolate on the bottom of each piece. The cheese will be quite cold from the freezer, which helps the chocolate to set relatively quickly.
Finally, it gets a sprinkling of sea salt. Make sure to sprinkled each piece with salt after it gets out of the chocolate. If you wait until after dipping all of the pieces, some of the chocolate will be too hard for the salt to stick.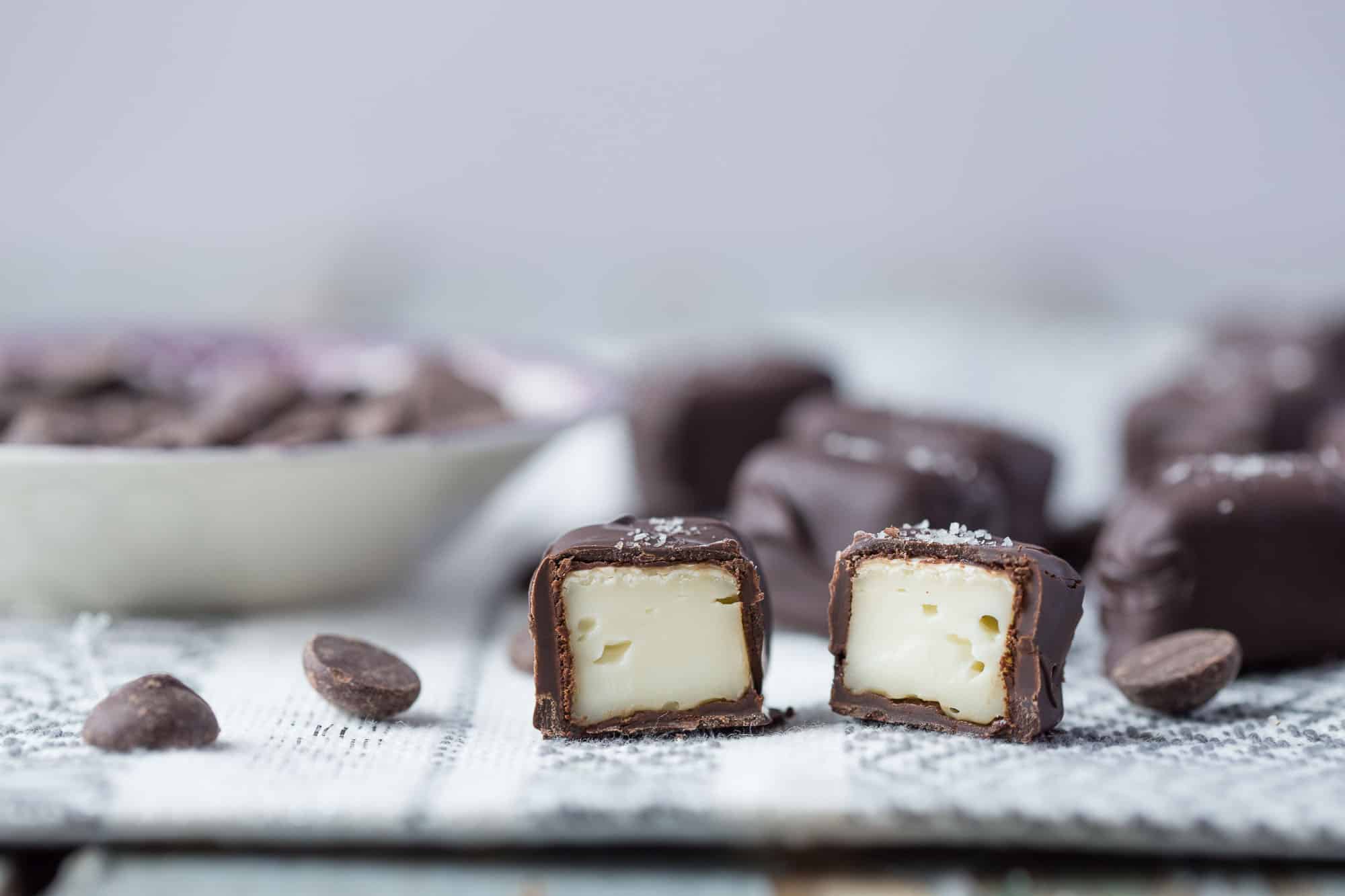 I'm serving this Dark Chocolate Covered Brie for dessert this Valentine's Day, along with steak, sweet potato casserole, and a question for my husband. "How can I serve you this week?" has been an instrumental question in our young marriage. It gives each of us the opportunity to communicate a need or desire, and gives the other an opportunity to serve. Usually his answer doesn't surprise me, but every once in awhile it will launch a good discussion.
The recipe makes 32 pieces, so it's also great for treating co-workers or friends this Valentine's Day (or any day, really). I don't think anyone will be disappointed to see Dark Chocolate Covered Brie on the table in the break room or kitchen!
P.S.: They also won't be disappointed to see this Salted Caramel Brie en Croute, either!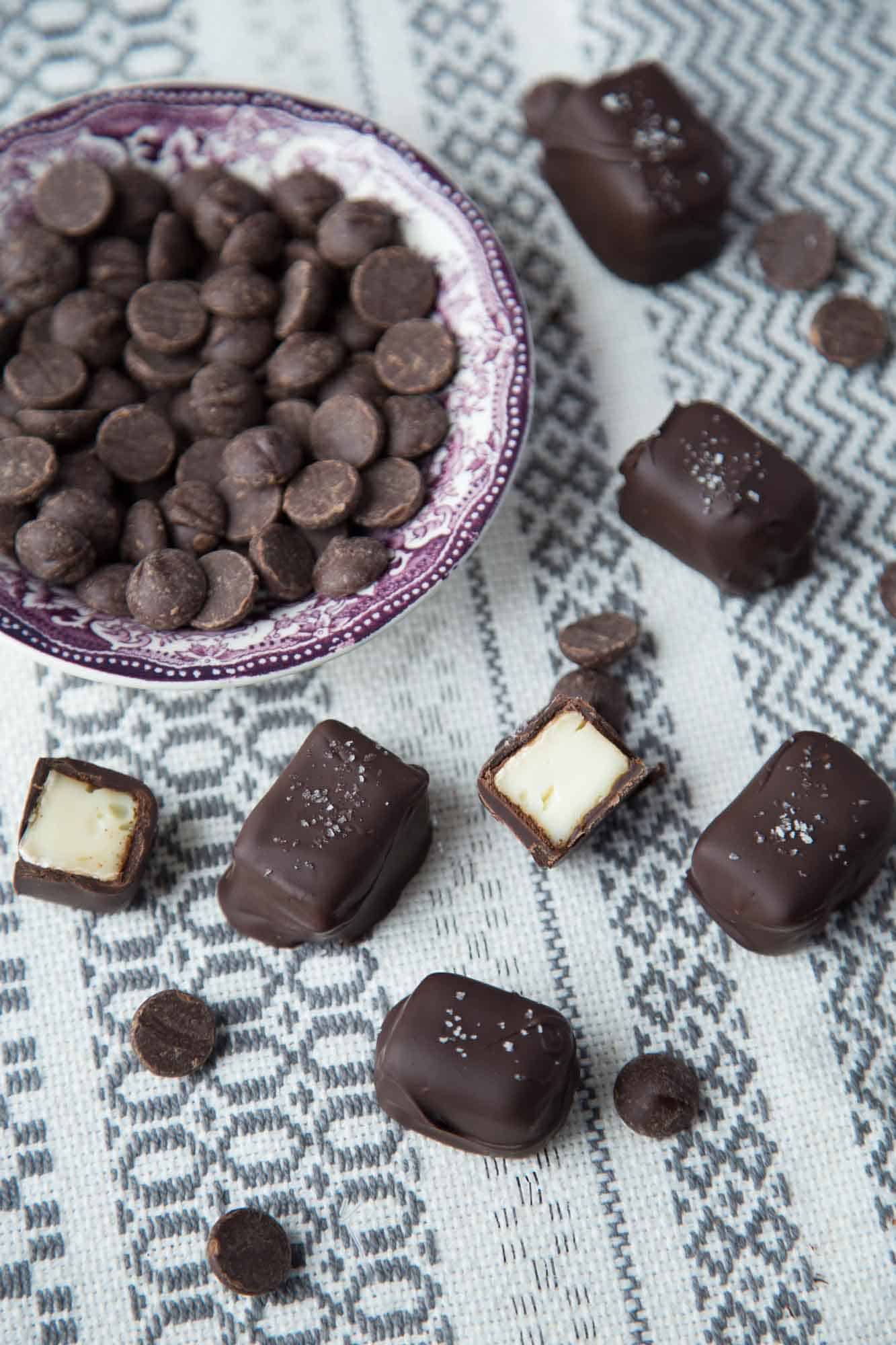 📖 Recipe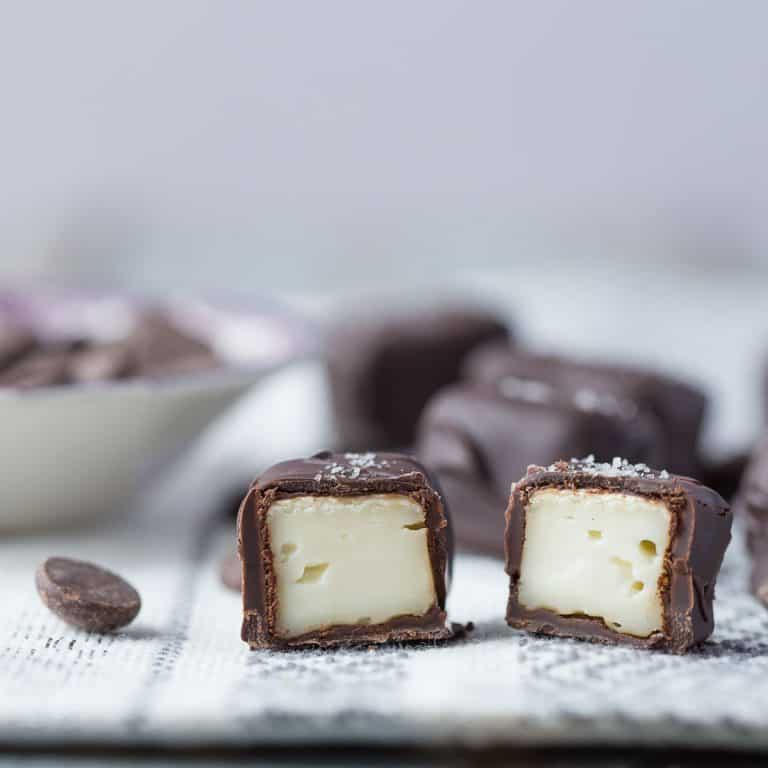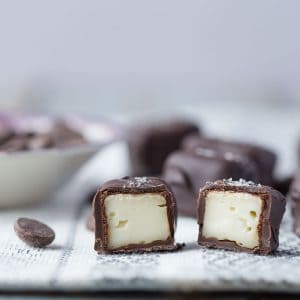 Dark Chocolate Covered Brie
A sweet, creamy, salty treat for your tastebuds!
Ingredients
8

oz

package slicing brie

(I used Reny Picot)

10

oz

dark chocolate chips

Flaky sea salt for sprinkling
Instructions
Place the brie in the freezer for one hour.

Remove and place on a cutting board. Use a sharp knife to cut the brie into ½ x 1 inch squares (I cut the brie into 8 slices, and cut each slice into 4 cubes to create 32 pieces).

Place the chocolate chips in a microwave-safe bowl. Microwave in 30-second intervals, stirring in between, until melted.

Place a sheet of wax paper or parchment paper on a countertop.

Dip a cube of brie in the melted chocolate. Use two forks to turn the brie until it is coated on all sides. Lift the brie out of the chocolate with a fork on either side of it. Scrape the bottom of the brie on the side of the bowl to remove excess chocolate. Place the chocolate covered brie on the wax paper. Sprinkle with sea salt immediately before the chocolate hardens.

Repeat with remaining brie.

Let sit on the counter for at least 1 hour to allow the chocolate to harden.

Serve immediately, or store in the refrigerator until ready to serve.
Nutrition
Calories:
72
kcal
Carbohydrates:
5
g
Protein:
2
g
Fat:
5
g
Saturated Fat:
4
g
Cholesterol:
7
mg
Sodium:
54
mg
Potassium:
67
mg
Fiber:
1
g
Sugar:
3
g
Vitamin A:
42
IU
Vitamin C:
1
mg
Calcium:
40
mg
Iron:
1
mg