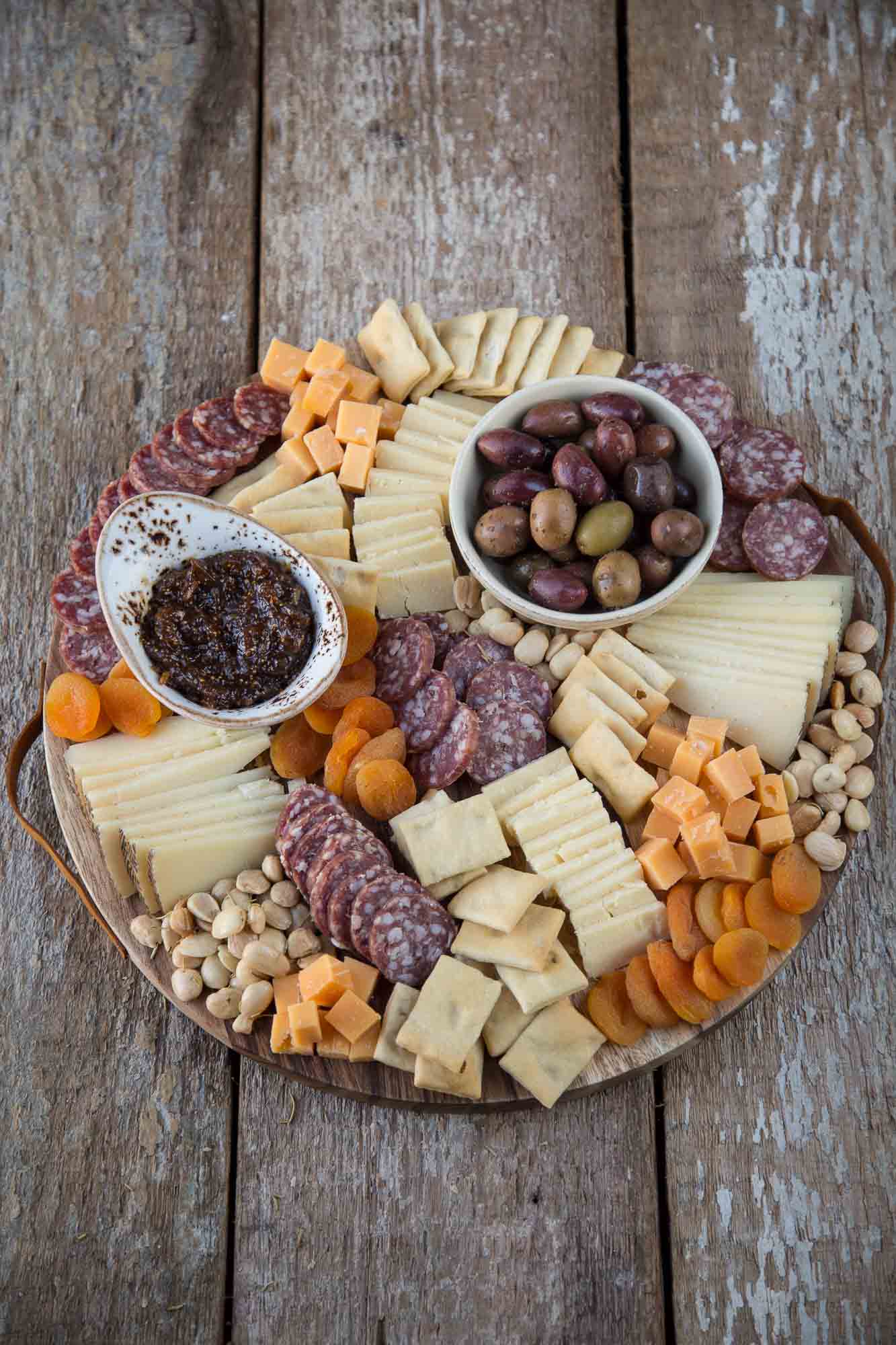 What's a party without cheese? It's like a day without seeing sunshine—a little dreary and missing some cheer. Even better when the cheese comes presented on a beautiful cheese board, complete with crackers, salami, dried fruit, and jam. It's a simple compilation of ingredients, and just takes a little thought and planning. Here's how to build a cheese board!
A good cheese board has something for everyone: crackers for nibbling, marcona almonds for munching, dried fruit to cleanse the palate, and of course plenty of cheese. I also like to add a bit of salami or other charcuterie to add some substance and a pop of color. Olives are another beautiful addition—they pair nicely with cheese.
Many cheese connoisseurs will tell you to choose a variety of cheeses for your cheese board. For example: one hard cheese, one soft cheese, and one blue cheese. But I say, choose whatever you like! I can't stand blue cheese so I left it off. The store didn't have my favorite lemon ricotta so I opted for three hard cheeses. Choose your favorites, and I can guarantee your guests will be happy.
How To Build a Cheese Board
1. Spread everything out in front of you. Slice the cheeses and salami. I like to cut the cheeses into various shapes: cubes for the cheddar, triangle-shaped slices for the manchego, rectangular slices for the gouda. Take a look at the shape of the piece of cheese for clues on how to cut it. You can keep the cheese whole if it's a soft cheese like goat cheese or brie. Some folks choose to keep hard cheeses like cheddar and gouda whole, but this drives me CRAZY. The cheese ends up looking mutilated at the end of the evening. Guests are probably holding their plate and/or a glass of wine, so don't make them cut hard cheese with a dull cheese spreader.
2. Place the olives and jam into small bowls. Place the bowls toward the back of the cheese board.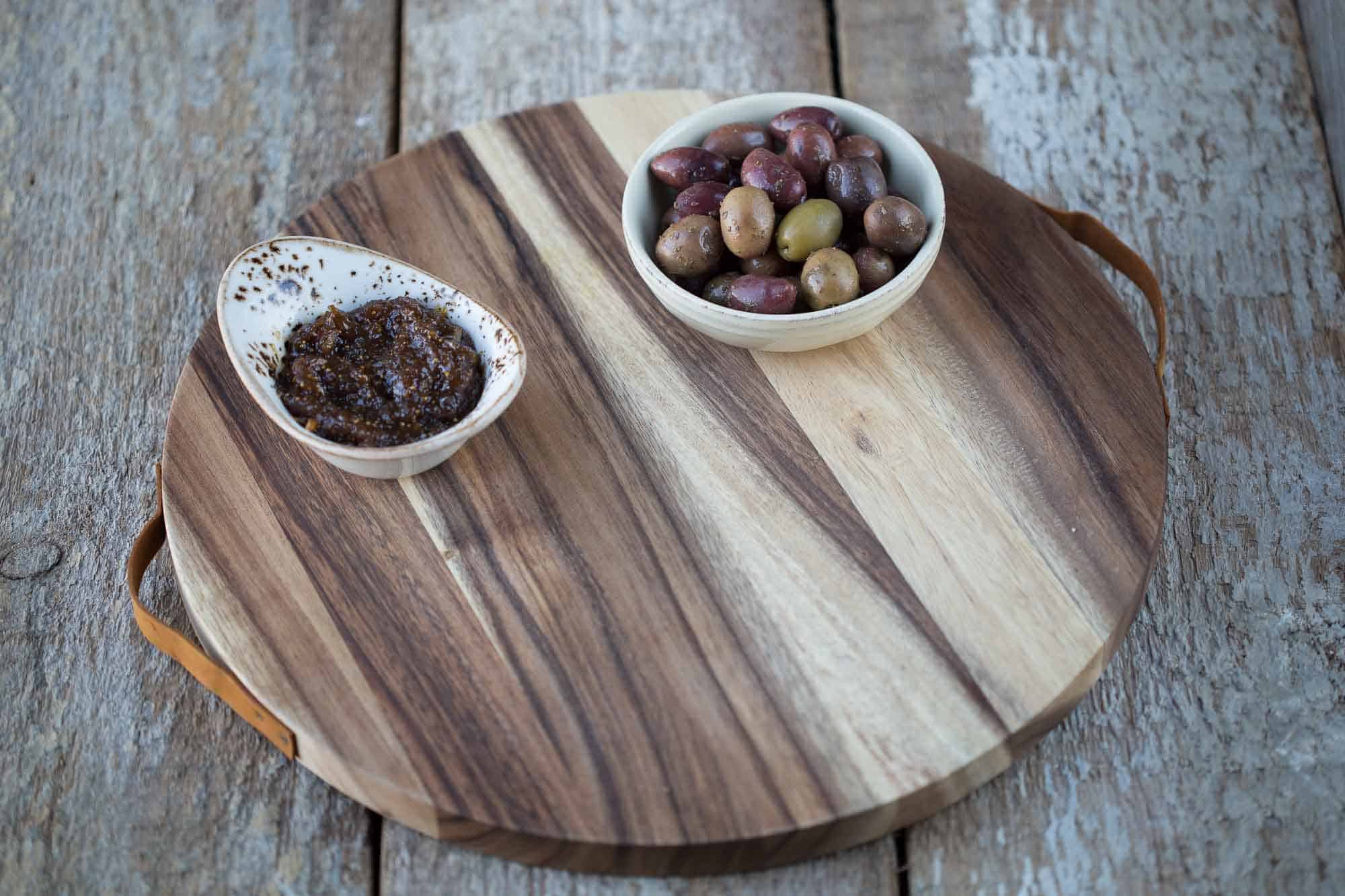 3. Place the first cheese in 2–3 piles in different places on the board. Repeat with the second and third cheeses. You'll want to creates either small piles (with cheese cubes) or clusters (with slices of cheese) of each. Place the salami in 3–4 small clusters around the board.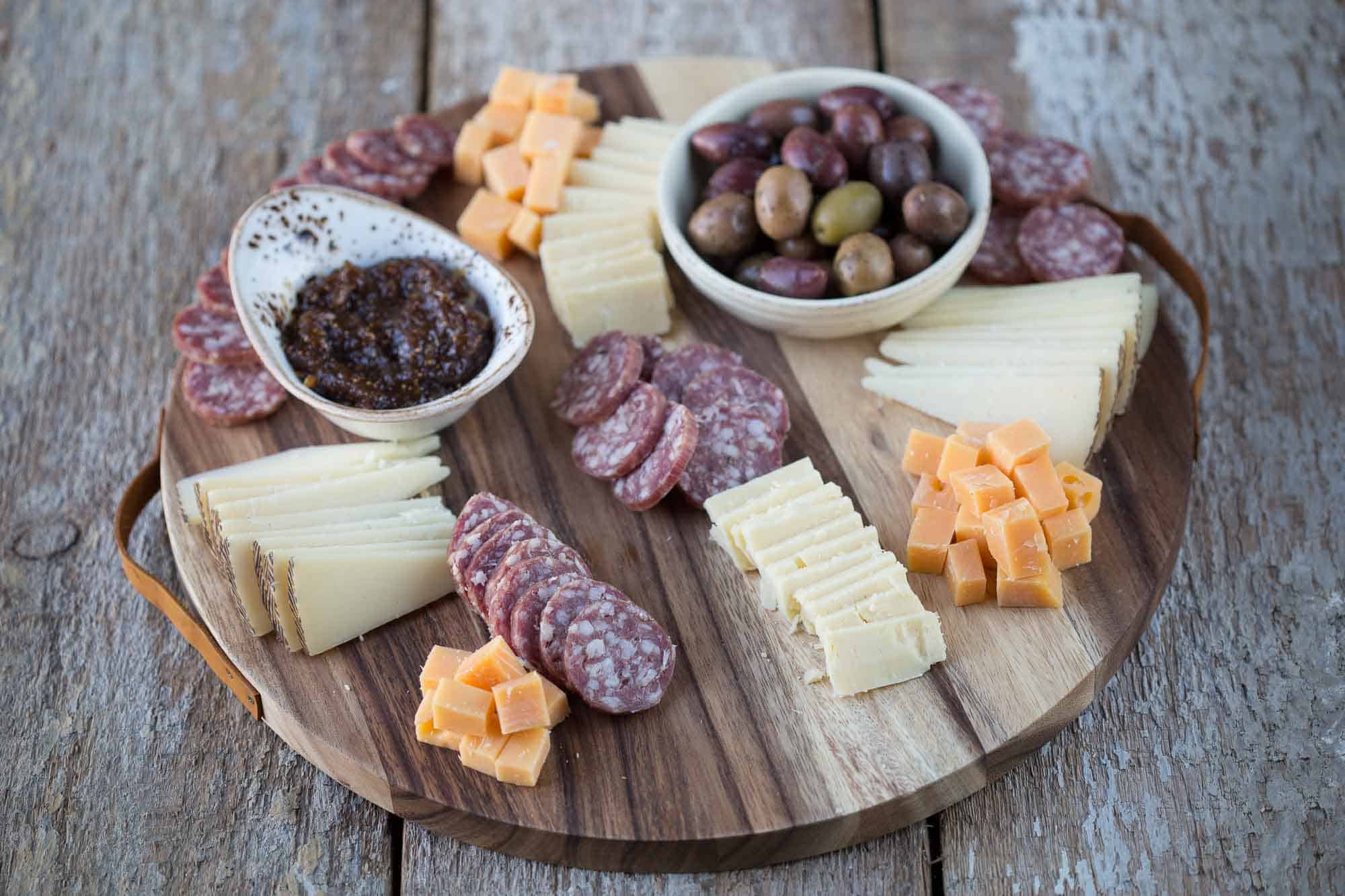 4. Place small piles of crackers around the board. You may not be able to fit them all—that's ok!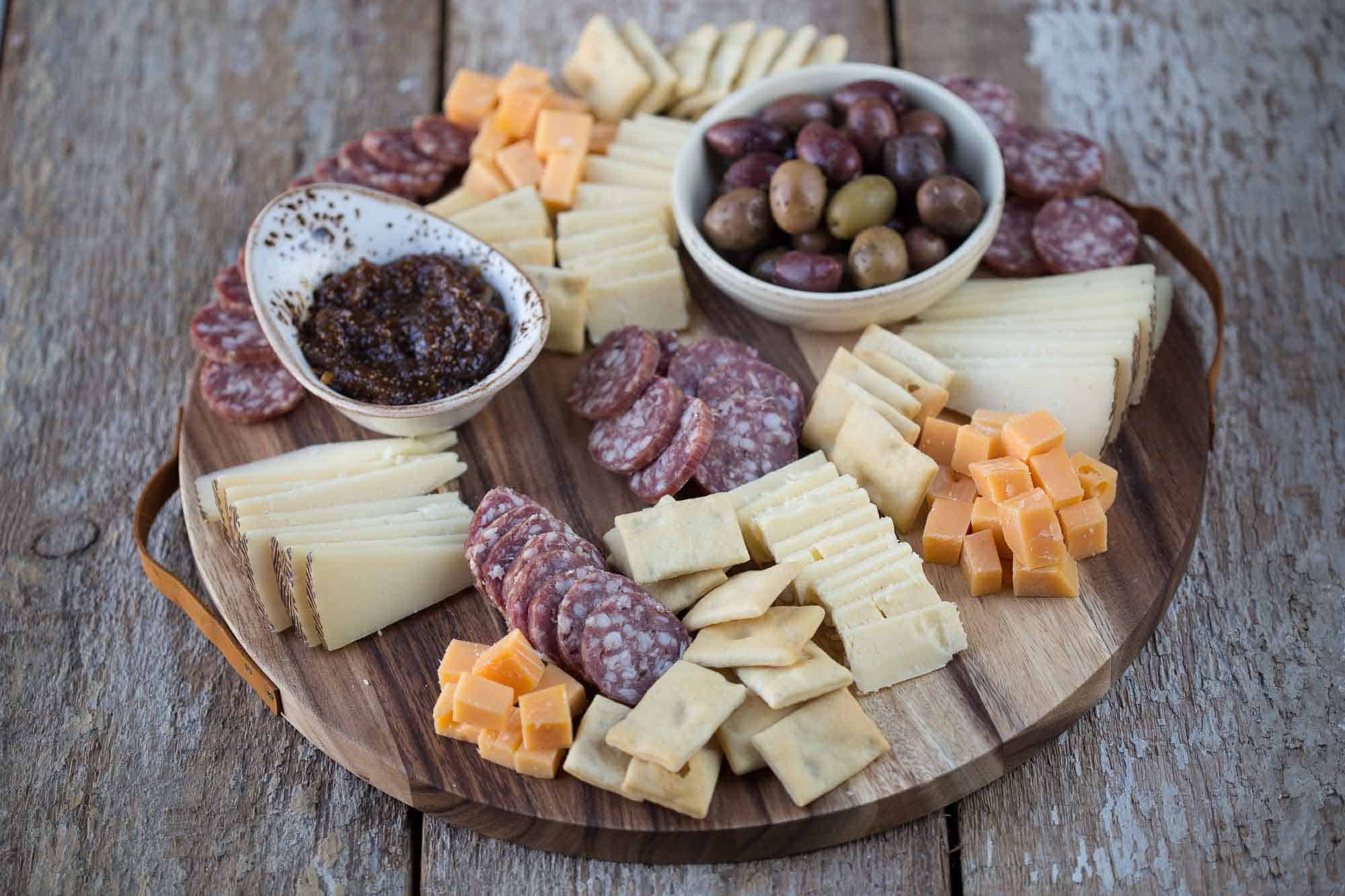 5. Fill in the holes with marcona almonds and dried apricots. You can choose your favorite nuts/fruits here. Cashews and dried figs are great choices. You could also choose ripe fruit instead of dried fruit, like small clusters of grapes or fresh strawberries.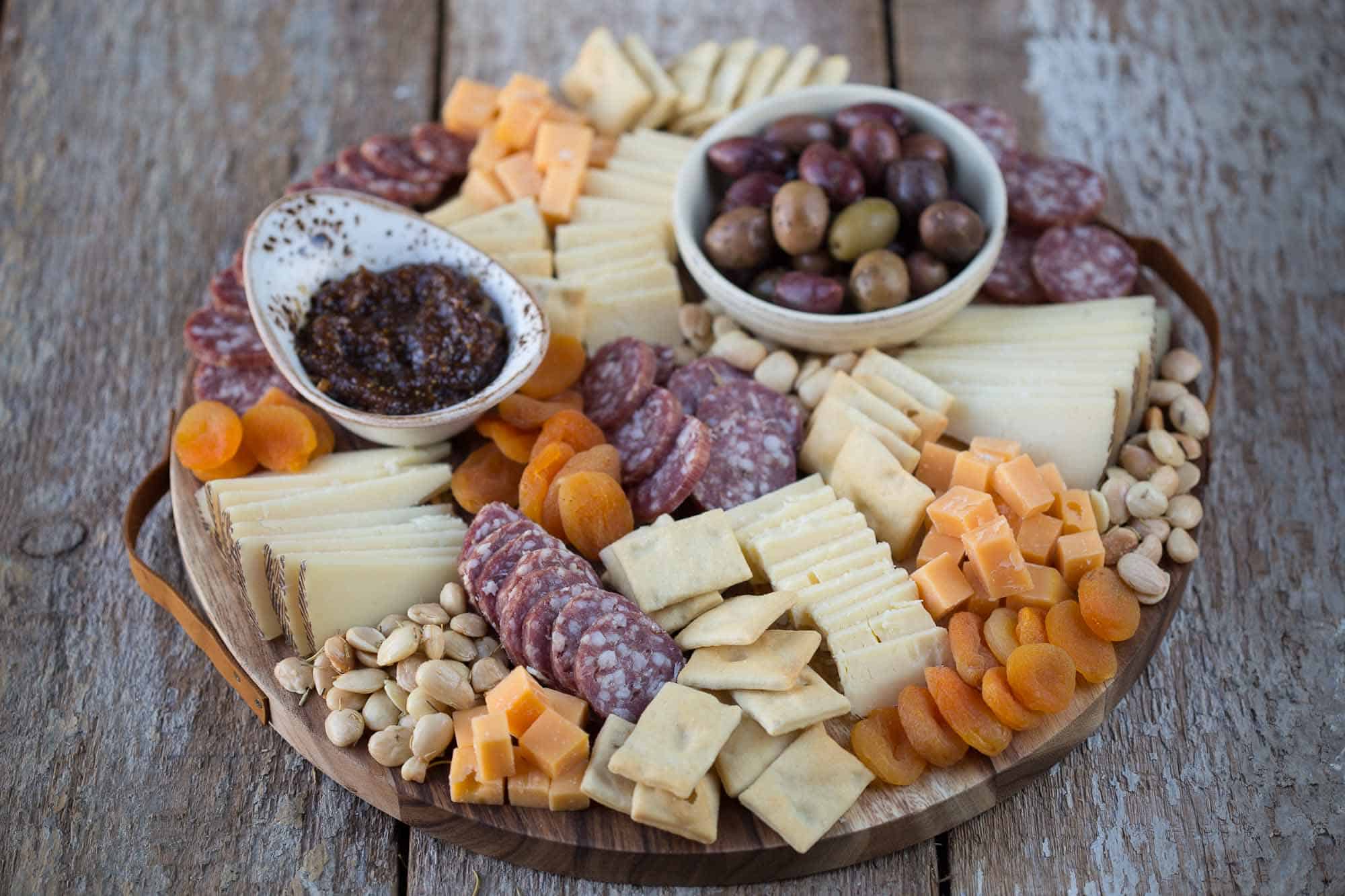 6. Serve with a basket or platter of various crackers on the side. I always include a separate small bowl of gluten-free crackers for gluten-free guests.
The variations on how to build a cheese board are endless! I've built boards that incorporate soft cheeses, piles of paper-thin prosciutto, fresh grapes, dried figs, sugared dried orange slices, apple slices, fresh berries, raspberry jam, honey, and breadsticks.
There are really only two "rules" on how to build a cheese board:
1. Choose a variety of items in various colors
2. Fill the space! The cheese board will look most bountiful and attractive when it is filled. If necessary, use a smaller platter to get this effect.
While how to build a cheese board doesn't necessarily need a recipe, I've included one below to give you an idea of ingredients and amounts that I used. The wooden board that I used is 15 inches in diameter.
📖 Recipe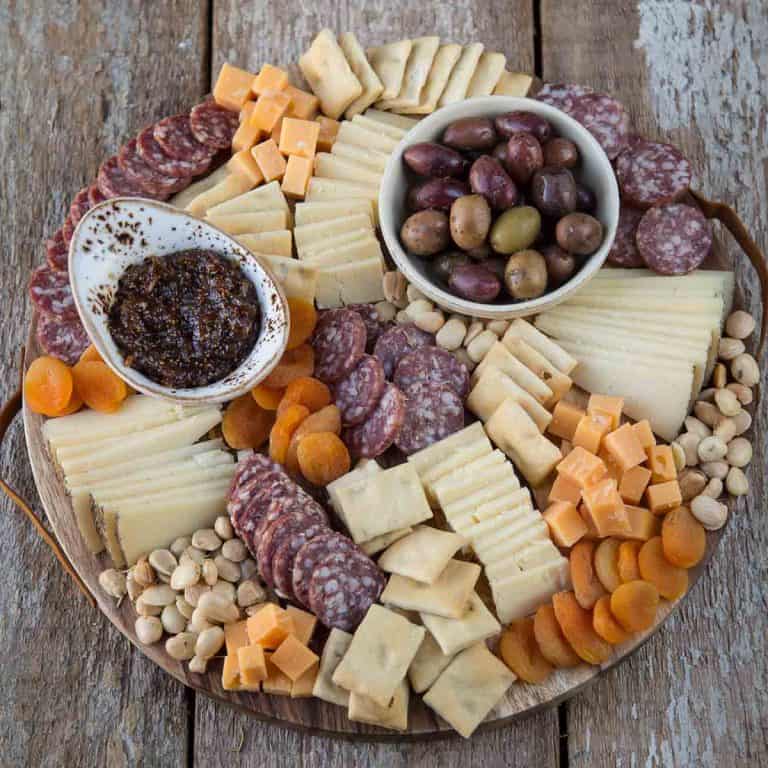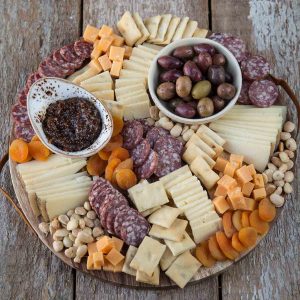 How to Build a Cheese Board
Step-by-step instructions to creating a beautiful cheese board!
Ingredients
8

oz

aged cheddar

8

oz

gouda

8

oz

manchego

8

oz

log salami

1

cup

marcona almonds

1

cup

dried apricots

1

cup

mixed olives

½

cup

fig jam

1

package crostini

(or 1–2 varieties of your favorite crackers)
Instructions
Slice the cheese into slices or cubes. I like to mix up the shapes. Cheddar usually cuts well into cubes, and manchego usually cuts well into triangle-shaped slices. Gouda is nice in rectangular slices. It all depends on the size/shape of the cheese, so do what you like!

Slice the salami into ⅛ to ¼ inch slices. Place a large wooden cutting board or platter in front of you.

Drain the olives and place in a small dish. Spoon the jam into another small dish. Place both of the dishes on the cheese board.

Arrange the cheese on the cheese board. I make 2–3 piles/clusters of each type of cheese to keep it visually interesting.

Place the salami on the board in 3–4 piles. Place crackers on the board in 3–4 piles. You may not have room for them all.

Fill in the holes with small piles of marcona almonds and apricots. Serve with additional crackers on the side.

Don't forget a small spoon for the jam and a small fork for the olives!
Notes
Note: The wooden board that I used was 15 inches in diameter. You may need to scale ingredients up or down depending on the size of your wooden board or serving platter.
Use your favorite varieties of cheese in place of the cheddar, manchego, and gouda, if you'd like!
Nutrition
Calories:
577
kcal
Carbohydrates:
27
g
Protein:
26
g
Fat:
41
g
Saturated Fat:
19
g
Cholesterol:
92
mg
Sodium:
1300
mg
Potassium:
397
mg
Fiber:
3
g
Sugar:
15
g
Vitamin A:
1001
IU
Vitamin C:
1
mg
Calcium:
632
mg
Iron:
2
mg
Like this post? Here's another Hospitality How-to: How to Ask Thoughtful Questions at the Dinner Table.