Creamy Fruit Salad is a delicious twist on a classic fruit salad. It's made with fresh fruit, sour cream, honey, and orange juice, and it's super simple to make!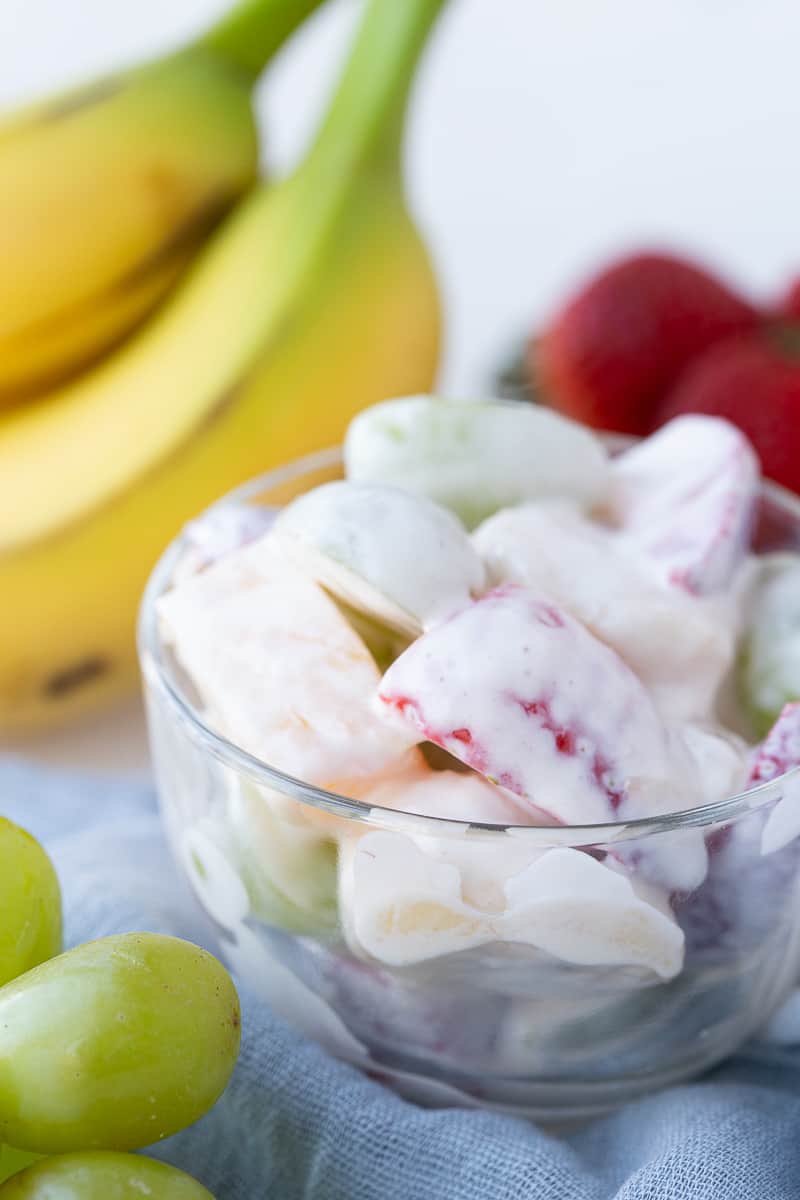 I love a good fruit salad, and this Creamy Fruit Salad is such a fun spin on it. It's perfect for potlucks, cookouts, a lunch side dish, or even a lightly sweet dessert.
It's also easily customizable for the fruit you have on hand. You can use a variety of fresh fruit or canned fruit—see below for more ideas!
I personally love this recipe for a potluck. It's fresh and light, and makes a beautiful addition to the buffet.
5 Cup Salad (Ambrosia) and Pistachio Salad are two of my other favorites for a potluck—everyone loves a sweet "salad"!
This post contains affiliate links. Affiliate links support Gift of Hospitality at no additional cost to you. I receive a commission if you choose to make a purchase through these link.
Jump to:
Ingredients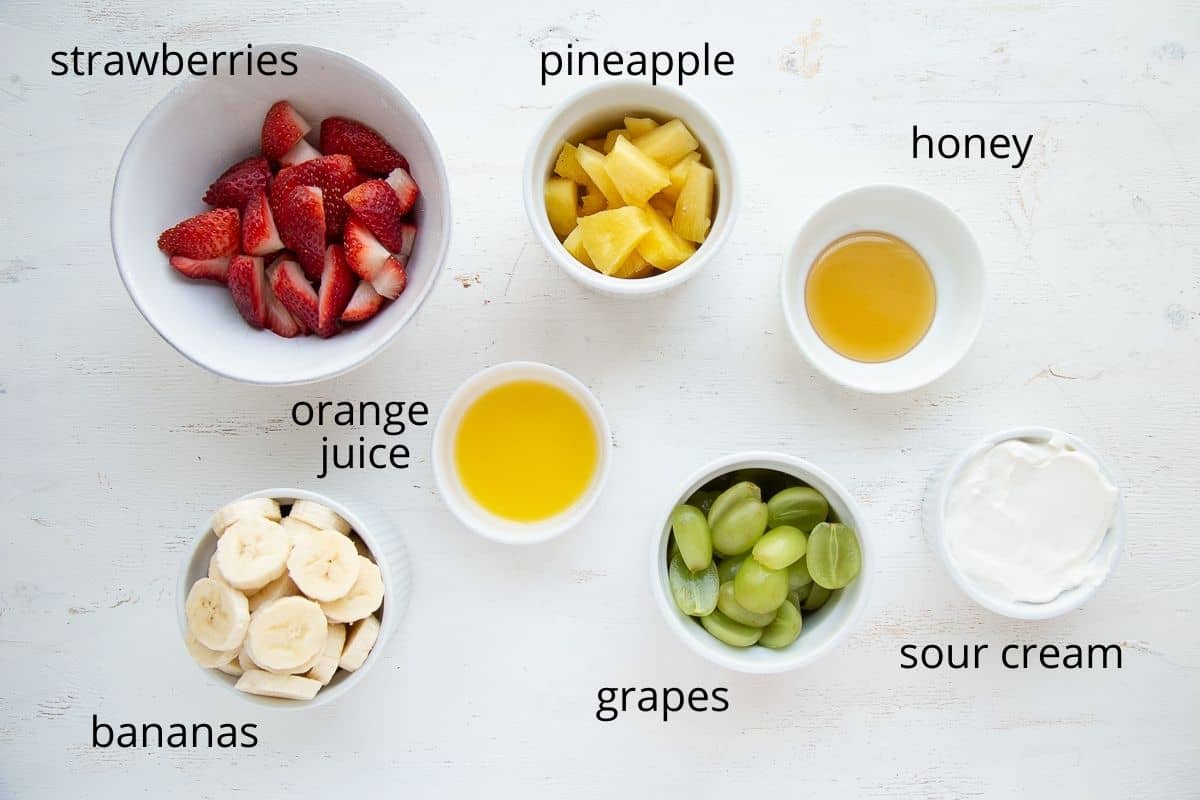 Fresh fruit makes the base of the salad. I chose strawberries, fresh pineapple, bananas, and grapes.
Sour cream makes it creamy. Use regular or light—whatever you prefer.
Orange juice adds a little bit of acidity, which complements the fruit nicely.
Honey adds sweetness—you can adjust the amount up or down depending on the sweetness of the fruit.
How to make the creamy dressing
Whisk together the sour cream, orange juice, and honey.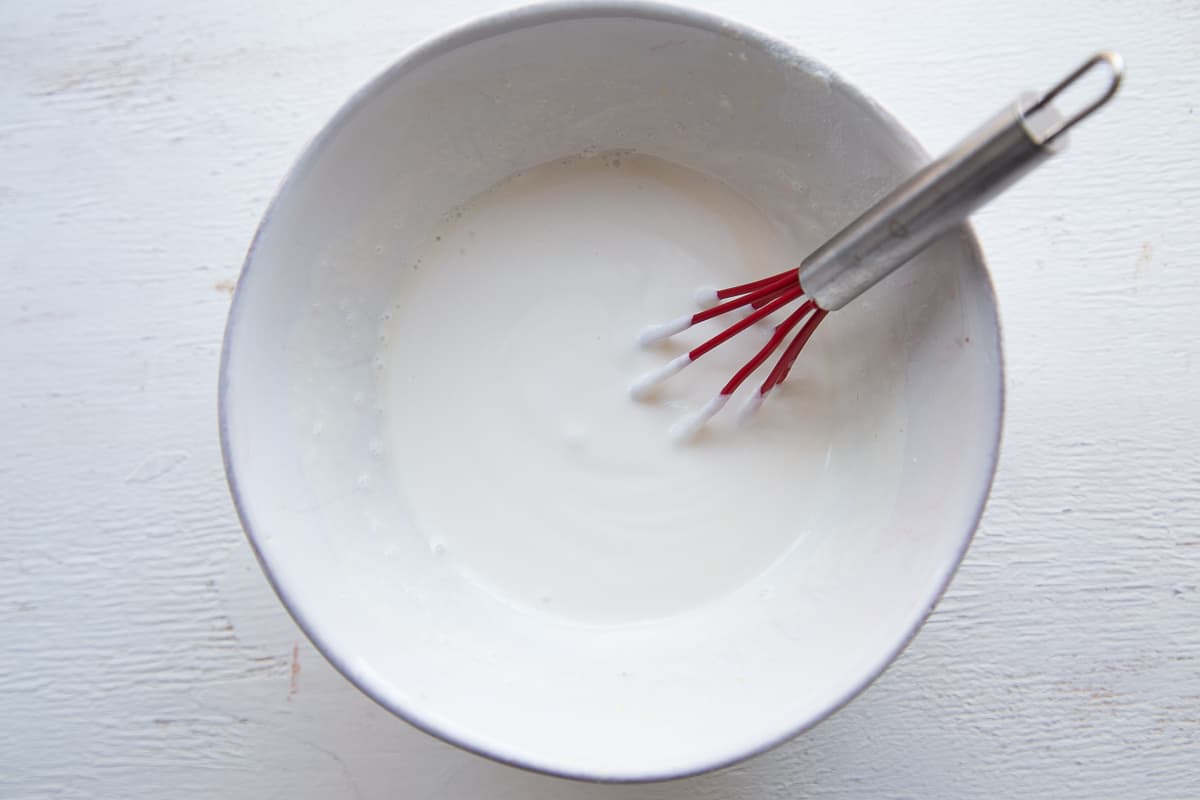 If the fruit that you're using is sweet, use 1 tablespoon of honey. If the fruit could use a little more sweetness, use 2 tablespoons of honey.
For example, the strawberries and grapes that I used were a little tart, and the bananas still had a little green on the peel. So, I used 2 tablespoons of honey to amp up the sweetness.
If you're using really juicy, ripe strawberries and grapes that are extra sweet, you can likely just use 1 tablespoon of honey. You can always try it and add more honey after it's all mixed together!
Assembling the creamy fruit salad
After you've made the dressing, slice the fruit into bite-size pieces. I think grapes are best cut in half for a fruit salad, but you can leave them whole if they're small.
Pour the sour cream mixture over the fruit and stir gently to combine.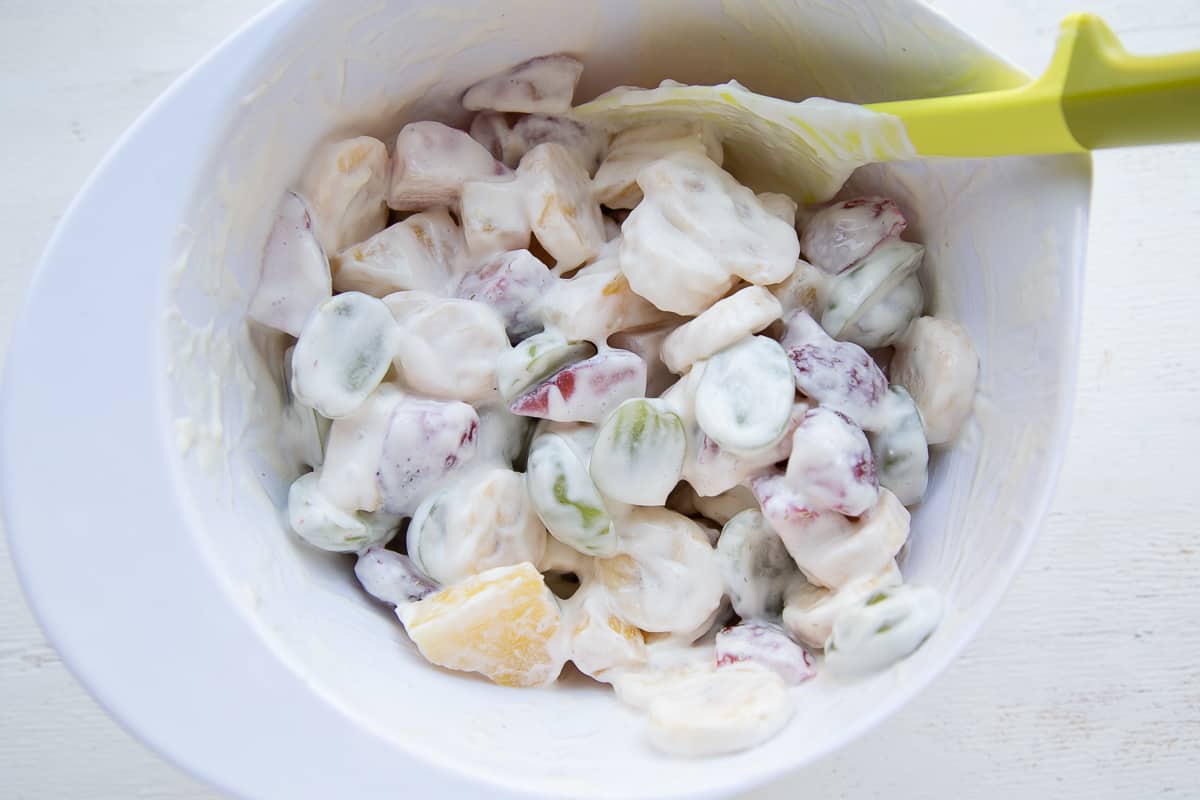 Then, the Creamy Fruit Salad is ready to serve!
You can also keep it in the refrigerator for up to 4 hours before serving. When you're ready to serve it, give it a stir, and transfer it to a serving bowl.
Frequently Asked Questions
How long does creamy fruit salad last in the fridge?
Creamy fruit salad will keep for 3–4 days in the refrigerator. Give it a stir before serving.
How far in advance can I make creamy fruit salad?
You can make creamy fruit salad up to 4 hours in advance. Keep it in the refrigerator in between making it and serving it. Once it's out of the refrigerator, the salad can be at room temperature for 3–4 hours (but it's best enjoyed slightly chilled).
What are the best fruits for fruit salad?
Fruit salad is easy to customize. Use a mixture of colors and shapes. For example, green grapes, red strawberries, yellow bananas, and yellow pineapple make a beautiful fruit salad.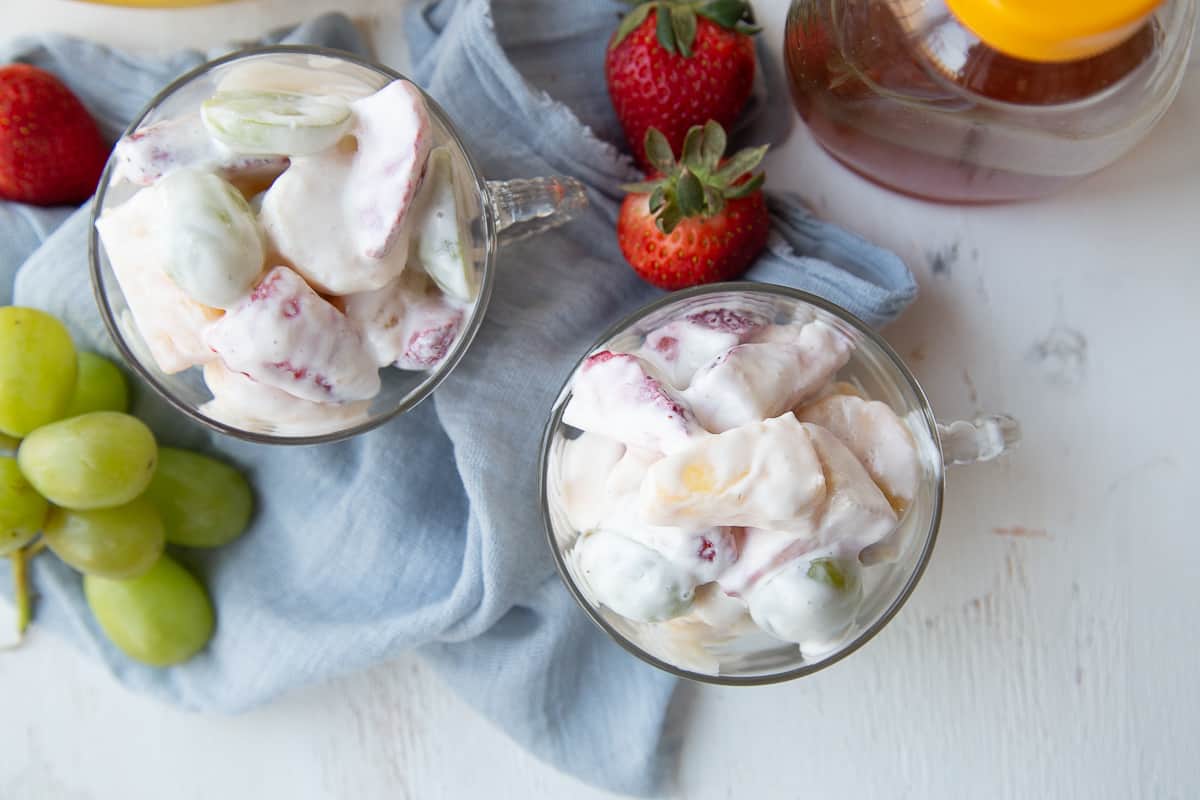 Types of fruits for a fruit salad
Fruit salad is endlessly customizable. Here are some ideas to get started on making your own version:
Seedless grapes (red, green, or black)
Strawberries
Pineapple (fresh or canned)
Bananas
Orange segments (fresh navel oranges or canned mandarin oranges)
Kiwi
Apples
Pears (fresh or canned)
Blueberries
Blackberries
Raspberries
Mango
Watermelon
Peaches (fresh or canned)
Nectarines
Plums
Cherries (pitted and stems removed)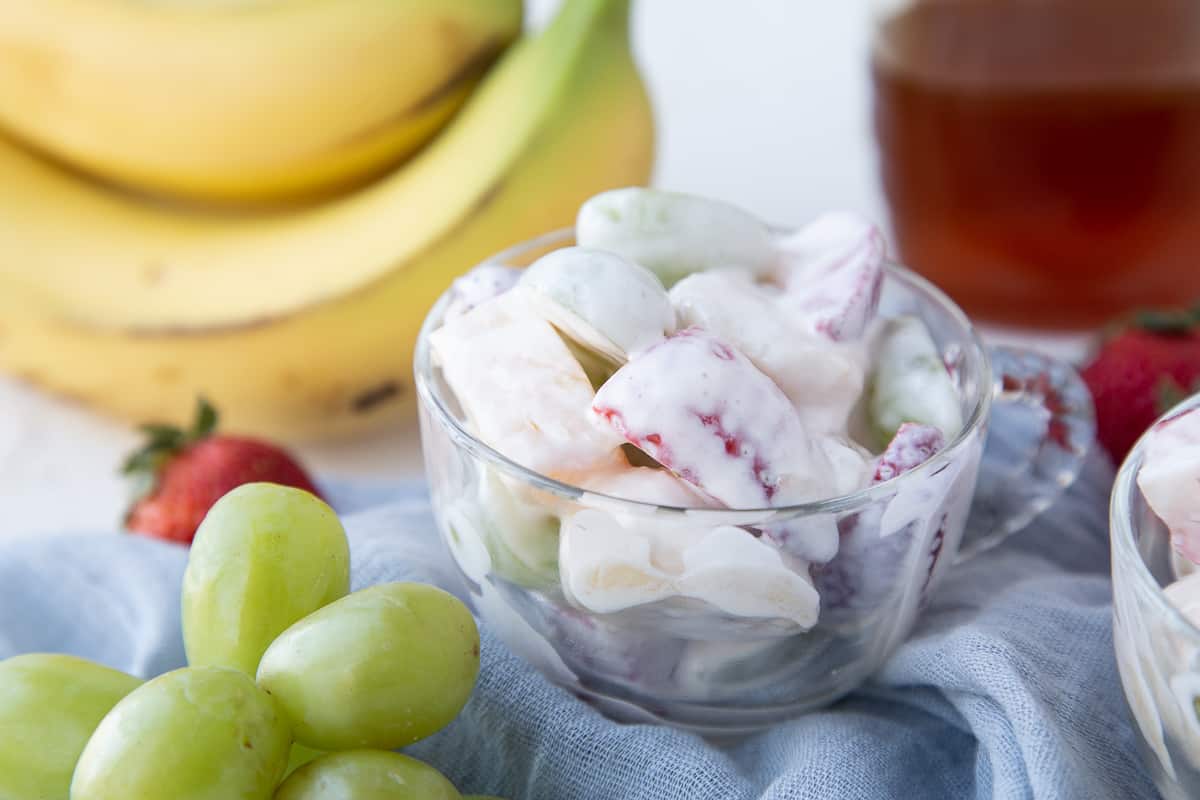 Serving suggestions
Creamy Fruit Salad is best served within 4 hours of making it. Keep it in the refrigerator after you've made it, and serve it chilled.
Any sort of ramekin or individual serving dish would work well here. I used glass tea cups for something different, but I love the look of mini parfait glasses, too.
If you have it, a spring of fresh mint would be gorgeous on top for a pop of color!
Have you tried this recipe? Please leave a ⭐️⭐️⭐️⭐️⭐️ rating and/or comment below!


📖 Recipe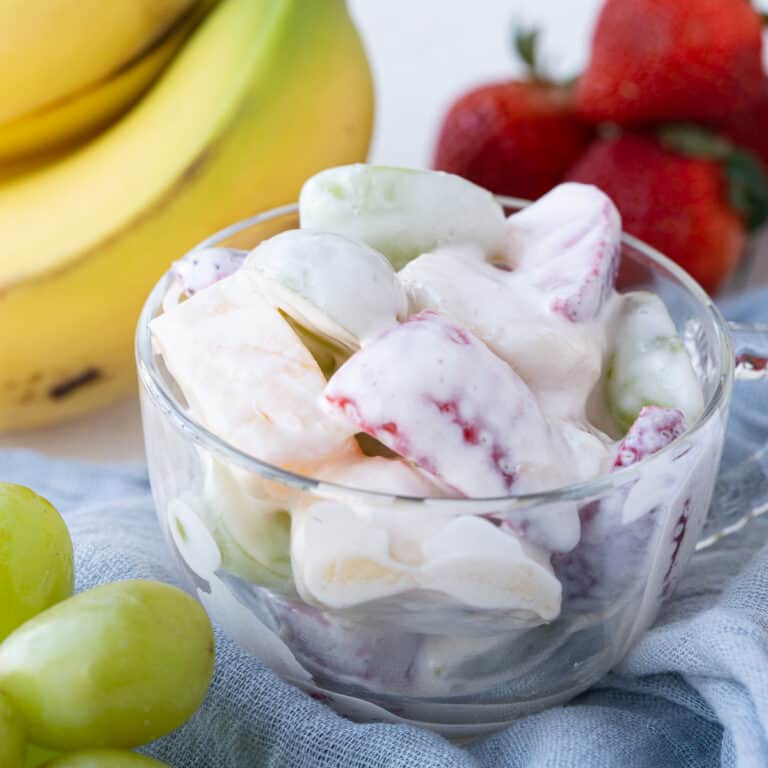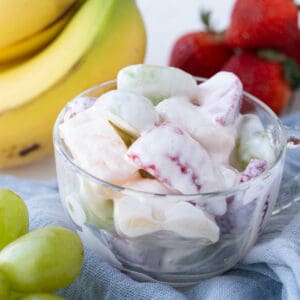 Creamy Fruit Salad
Everyone will love this refreshing spin on fruit salad!
Ingredients
2

medium bananas,

sliced

1½

cups

sliced strawberries

1

cup

chopped pineapple

1½

cups

seedless green grapes,

halved

½

cup

sour cream

2

tablespoons

honey

1

tablespoon

orange juice
Instructions
Place fruit in a large bowl.

In a small bowl, whisk together the sour cream, honey, and orange juice.

Pour the sour cream dressing over the fruit just before serving. Mix well to combine.
Notes
You can make this fruit salad up to 4 hours in advance. Store it in the refrigerator and serve chilled. If the fruit is already very ripe/sweet, you can reduce the honey to 1 tablespoon. If it's very tart, increase to 3 tablespoons.
Nutrition
Calories:
109
kcal
Carbohydrates:
22
g
Protein:
1
g
Fat:
3
g
Saturated Fat:
2
g
Cholesterol:
7
mg
Sodium:
13
mg
Potassium:
251
mg
Fiber:
2
g
Sugar:
16
g
Vitamin A:
147
IU
Vitamin C:
30
mg
Calcium:
28
mg
Iron:
1
mg
Related recipes