Old Fashioned Pistachio Salad, also known as Watergate Salad, is a sweet side dish or dessert that your guests will love. It's made with just 5 ingredients and takes 10 minutes to put together.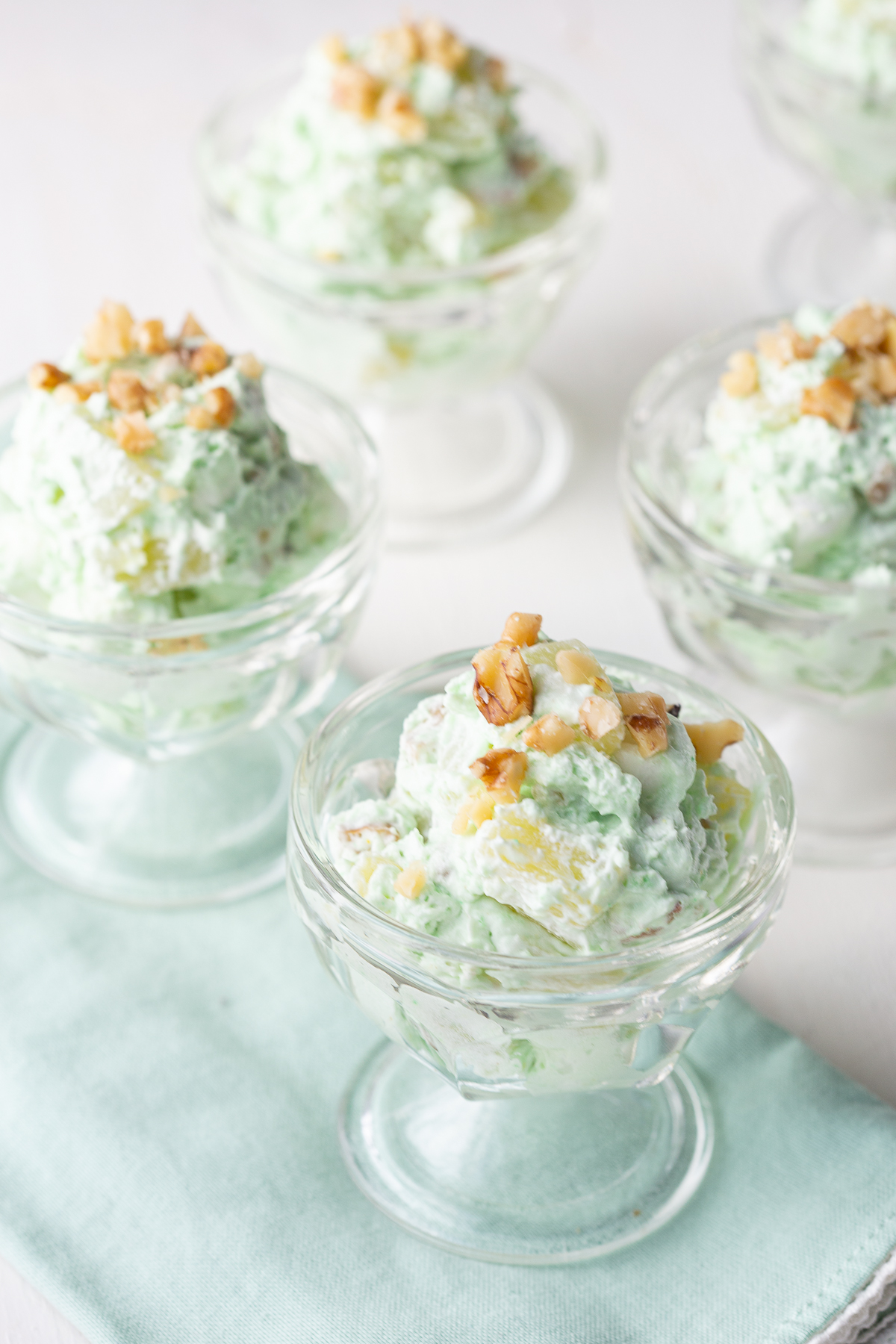 For many people, an Old Fashioned Pistachio Salad is a nostalgic treat. The recipe dates back to the 1970s (just like this Pistachio Cake) and it was a staple at potlucks and parties for a number of years.
It's easy to see why—it's really easy to make, and despite often being served as a side dish, it tastes like dessert!
I love serving sweet salads like this one (plus 5 Cup Salad, Orange Dreamsicle Salad, or my Easy Cherry Salad) for holiday dinners, potlucks, and cookouts.
This post contains affiliate links. Affiliate links support Gift of Hospitality at no additional cost to you. I receive a commission if you choose to make a purchase through these links.
Jump to:
Origin of Pistachio Salad
According to Kraft, their team of scientists developed Jell-O pistachio pudding in 1975. Soon after, they provided a recipe for "Pistachio Pineapple Delight" on the side of the box. The recipe was similar to this one, but it didn't have any marshmallows in it.
It is thought that the addition of marshmallows came in the early 1990s, when the name of the salad was changed to "Watergate Salad." There are a number of legends as to who changed the name and why, but most agree that it was a Chicago-based food columnist who re-named it.
Ingredients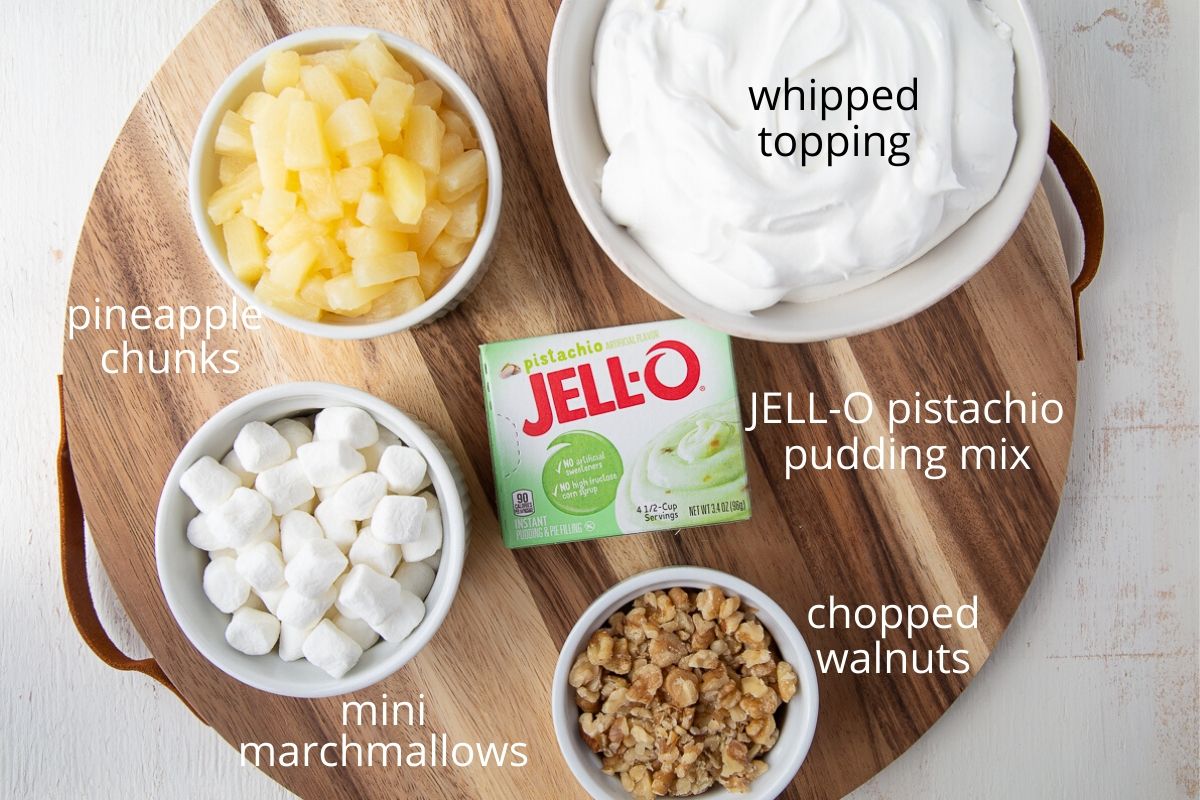 Jell-O pistachio pudding provides the flavor, sweetness, and a gorgeous light green hue to this salad.
Canned pineapple adds sweetness with a bit of acidity to balance the flavors.
Chopped walnuts add crunch.
Mini marshmallows add sweetness and volume.
Whipped topping is essential here. Do not substitute whipped cream, as the whipped cream isn't stable enough to withstand the weight of the other ingredients without deflating.
How to make pistachio salad
This recipe is impossibly easy.
1. Drain the pineapple chunks. Reserve the juice for another use (or just drink it!).
2. Stir together the whipped topping and pistachio pudding mix using a spatula.
3. Stir in the marshmallows, drained pineapple, and walnuts.
4. Place the salad in a serving bowl and top with additional walnuts.
Can I make pistachio salad ahead of time?
Pistachio Salad is perfect for making ahead of time. Combine all of the ingredients up to one day in advance, cover, and refrigerate until ready to serve.
You can even freeze Pistachio Salad! Keep it in an airtight container in the freezer for up to 2 months. Defrost in the refrigerator for 24 hours before serving.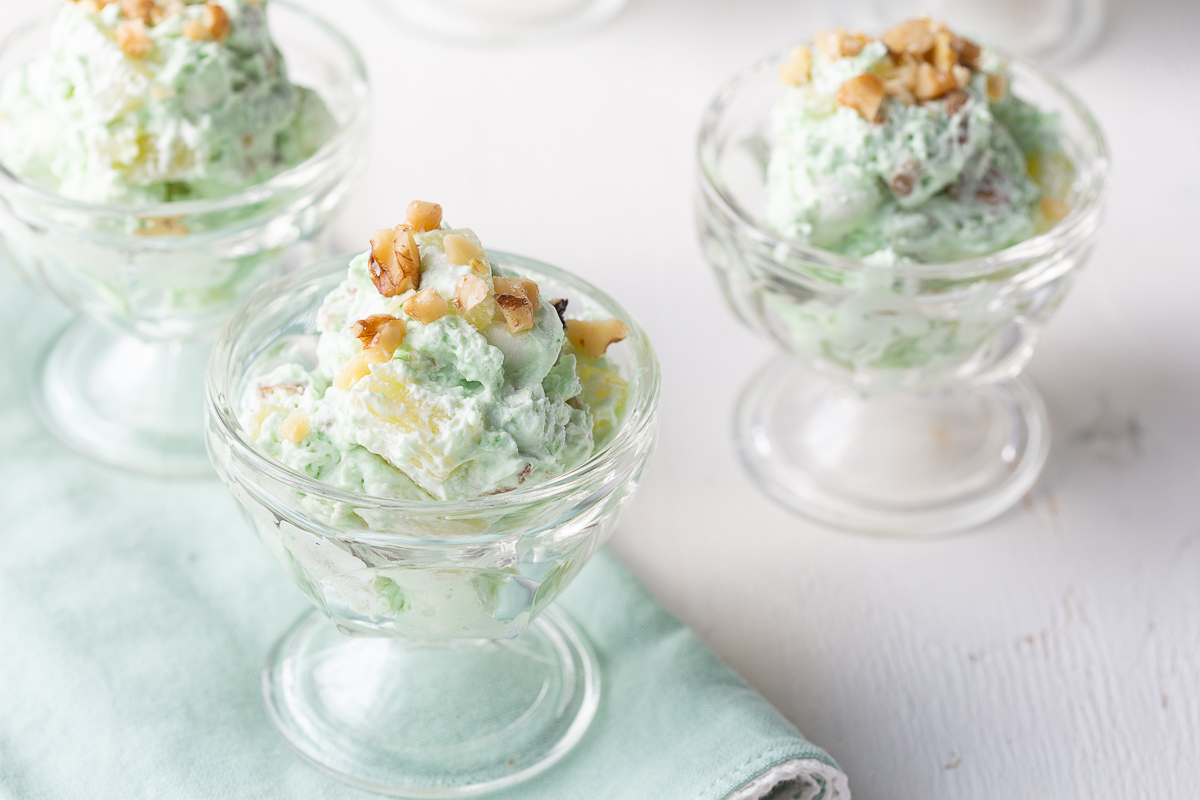 Serving tips and suggestions
You can serve Pistachio Salad in a big bowl, topped with chopped walnuts or even a maraschino cherry or two. Or, you can spoon it into individual parfait dishes or dessert dishes, like I did here.
Some people like to top it with maraschino cherries, which is really pretty for Christmas with the red + green combination.
The season for serving this salad varies widely. I love it for summer picnics and cookouts. It's light and easy, and it's no cook. Taffy Apple Salad and 5 Cup Salad are other favorites of mine for summer!
Some people serve it with Easter dinner, or for other spring events (like St. Patrick's Day). I can see why—the color is perfect for spring!
Yet others serve Pistachio Salad for Thanksgiving or holiday gatherings. I can imagine that the tradition started in their family a number of years ago, and they want to keep it alive.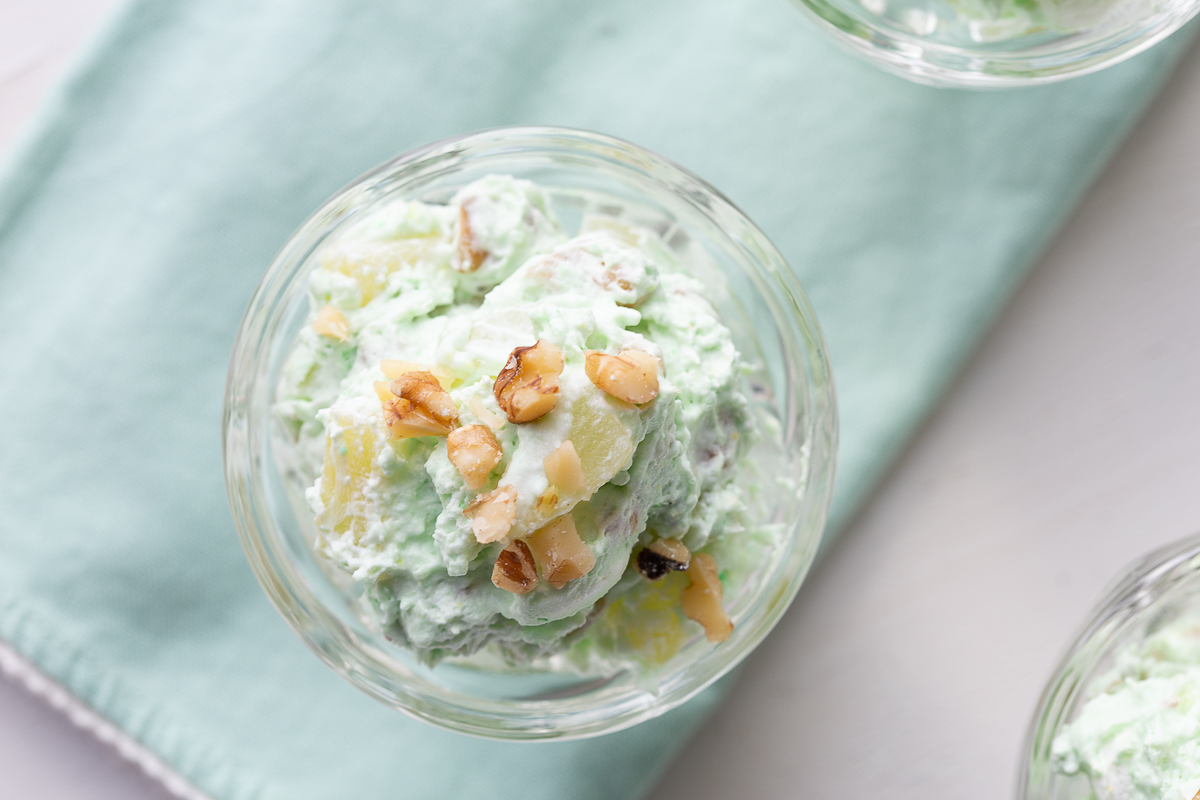 Variations
As with many recipes that have been around for decades, variations are a given! Here are a few ideas to make it your own.
Swap walnuts for shelled, chopped pistachios
Add maraschino cherries to the top for a pop of color
You can use lite whipped topping if you prefer
Add 1–2 drops of green food coloring for a deeper green hue
Frequently Asked Questions
Can I use whipped cream instead of whipped topping?
No, unfortunately. Whipped topping contains stabilizers that support the weight of the pineapple and walnuts. Fresh whipped cream doesn't contain the same stabilizers, and the other ingredients will cause the whipped cream to collapse under their weight.
Is pistachio salad gluten-free?
The ingredients in this recipe don't typically contain gluten. However, please check the labels of your individual ingredients if you are serving this to gluten-free guests.
Can I use large marshmallows instead?
You can use large marshmallows for this, just cut them into quarters before stirring them into the salad. A pair of kitchen shears usually works best for this. 10 large marshmallows equals approximately 1 cup of mini marshmallows.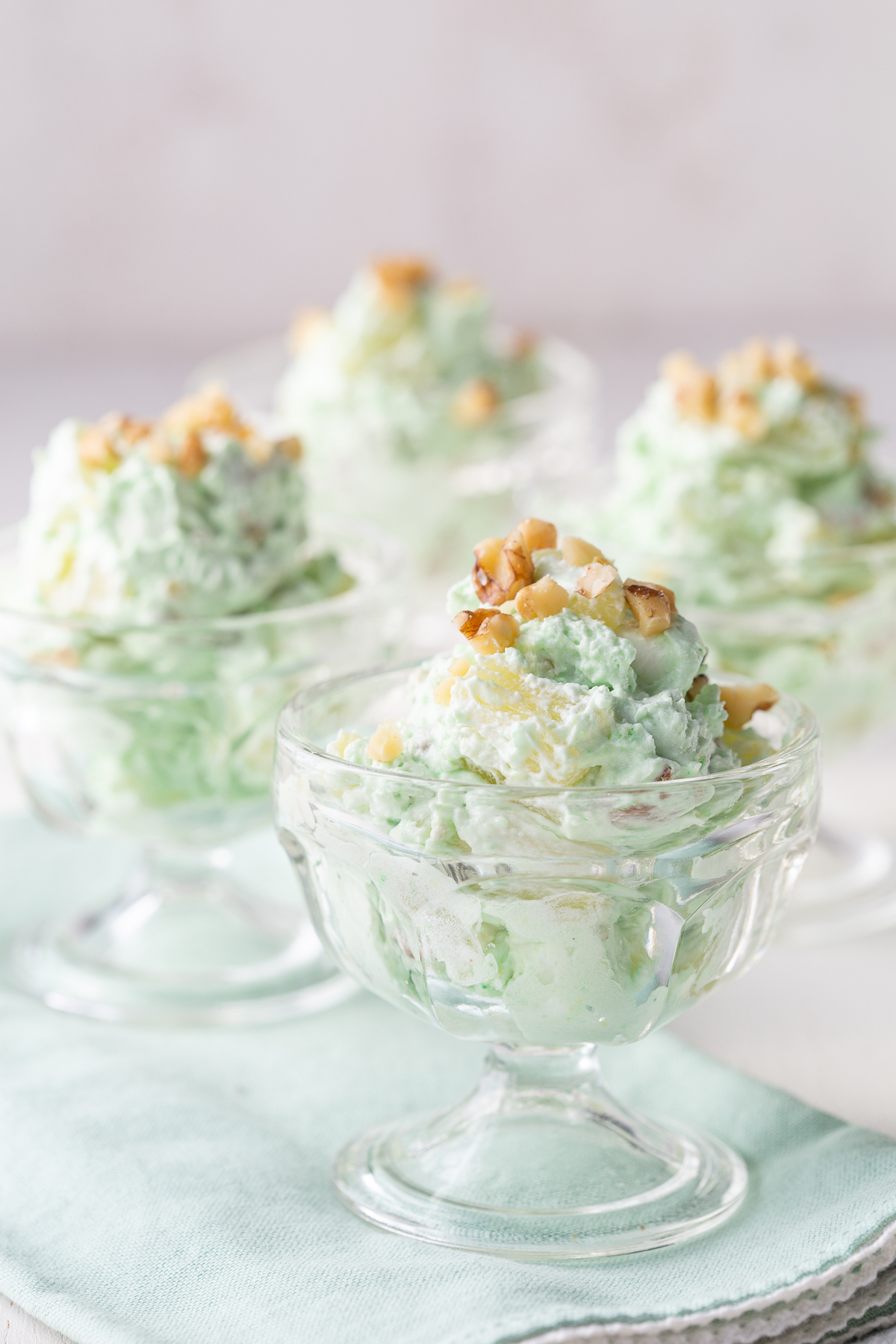 More sweet salads
Man, do I love a sweet "salad". Here are a few more favorites!
Have you tried this recipe? Please leave a ⭐️⭐️⭐️⭐️⭐️ rating and/or comment below!


📖 Recipe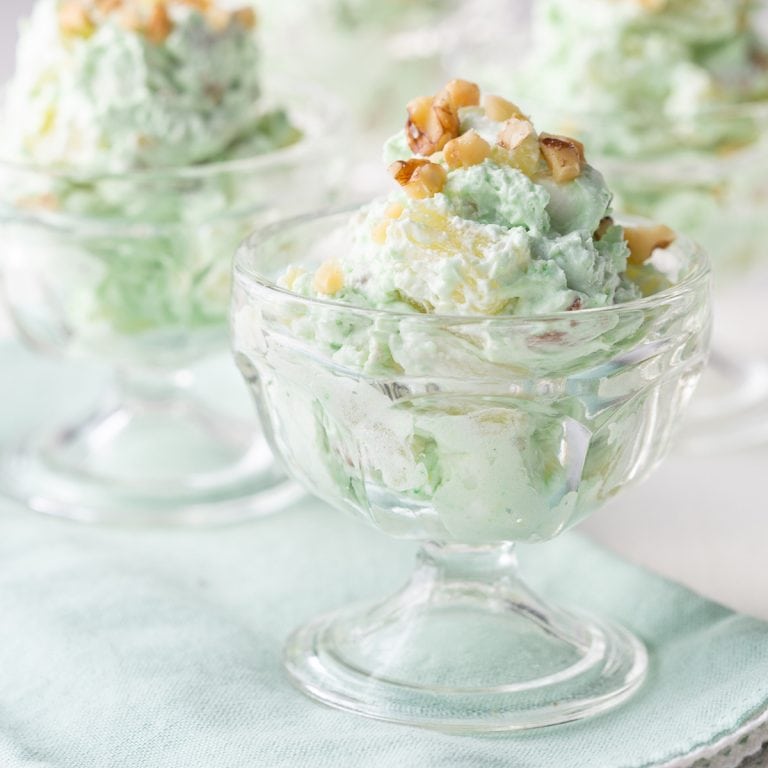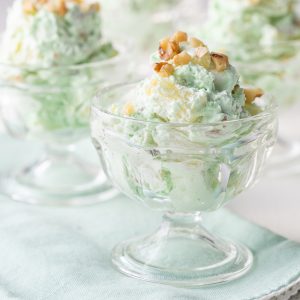 Old Fashioned Pistachio Salad
This easy salad takes just 10 minutes to make, and you can serve it right away—no need to wait for it to firm up!
Ingredients
1

(20 oz) can pineapple chunks

1

cup

chopped walnuts

1

cup

miniature marshmallows

1

(3.4 oz) box Jell-o pistachio pudding

1

(8 oz) container whipped topping (like Cool-Whip)
Instructions
Drain the pineapple chunks in a colander. Reserve juice for another use.

Put the whipped topping and pistachio pudding mix in a large bowl. Use a spatula to gently fold the pudding mix into the whipped topping.

Gently stir in the pineapple chunks, chopped walnuts, and miniature marshmallows.

Transfer to a serving bowl and serve immediately, or refrigerate until ready to serve.
Notes
Do not substitute whipped cream for the whipped topping. It will not be able to hold all of the other ingredients without deflating. You can use regular 10 regular marshmallows instead of mini marshmallows. Cut them into quarters with kitchen shears before adding to the salad. You can use the reserved pineapple juice in a fruit salad or a smoothie. Or toss it with sliced apples to prevent them from turning brown. Make it ahead: you can prepare the salad up to 24 hours in advance. Refrigerate until ready to serve.
Nutrition
Serving:
1
/8 of the recipe
Calories:
260
kcal
Carbohydrates:
21
g
Protein:
4
g
Fat:
14
g
Saturated Fat:
5
g
Polyunsaturated Fat:
0
g
Trans Fat:
0
g
Cholesterol:
0
mg
Sodium:
54
mg
Fiber:
2
g
Sugar:
16
g
Related recipes