5 Cup Salad, also known as Ambrosia Salad, is a sweet fruit salad made with just 5 ingredients! Your guests and your family will love this vintage recipe.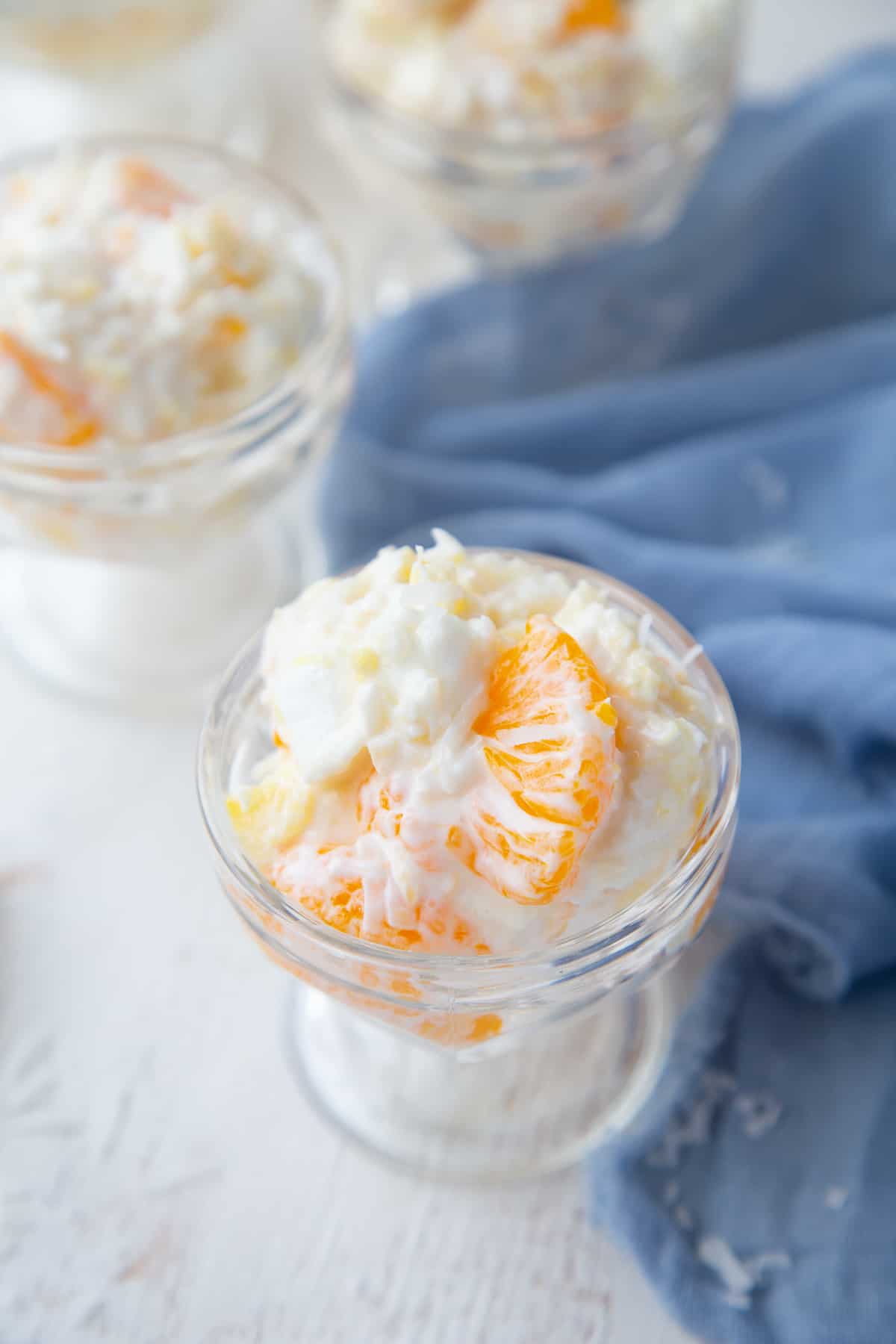 5 Cup Salad is an easy, five ingredient fruit salad recipe that's made with sour cream, coconut, mandarin oranges, pineapple, and mini marshmallows. It's known as 5 Cup Salad because it's made with approximately one cup of each of the five ingredients.
I found this recipe in a 1970s church cookbook, and many readers have shared that their grandma or aunt or mom made this over the years, usually for holidays like Thanksgiving, Christmas, or Easter.
In certain parts of the country, 5 Cup Salad is also known as Ambrosia Salad. Ambrosia means "food of the gods", referring to Greek mythology.
It also means something "very pleasant to taste or smell". And I can vouch for the fact that this salad is very pleasant, indeed!
5 Cup Salad is similar to Pistachio Salad or Creamy Fruit Salad in that it isn't a conventional leafy green salad, but instead a sweet mixture of fruit and cream (or in this case, sour cream).
This post contains affiliate links. Affiliate links support Gift of Hospitality at no additional cost to you. I receive a commission if you choose to make a purchase through these link.
Jump to: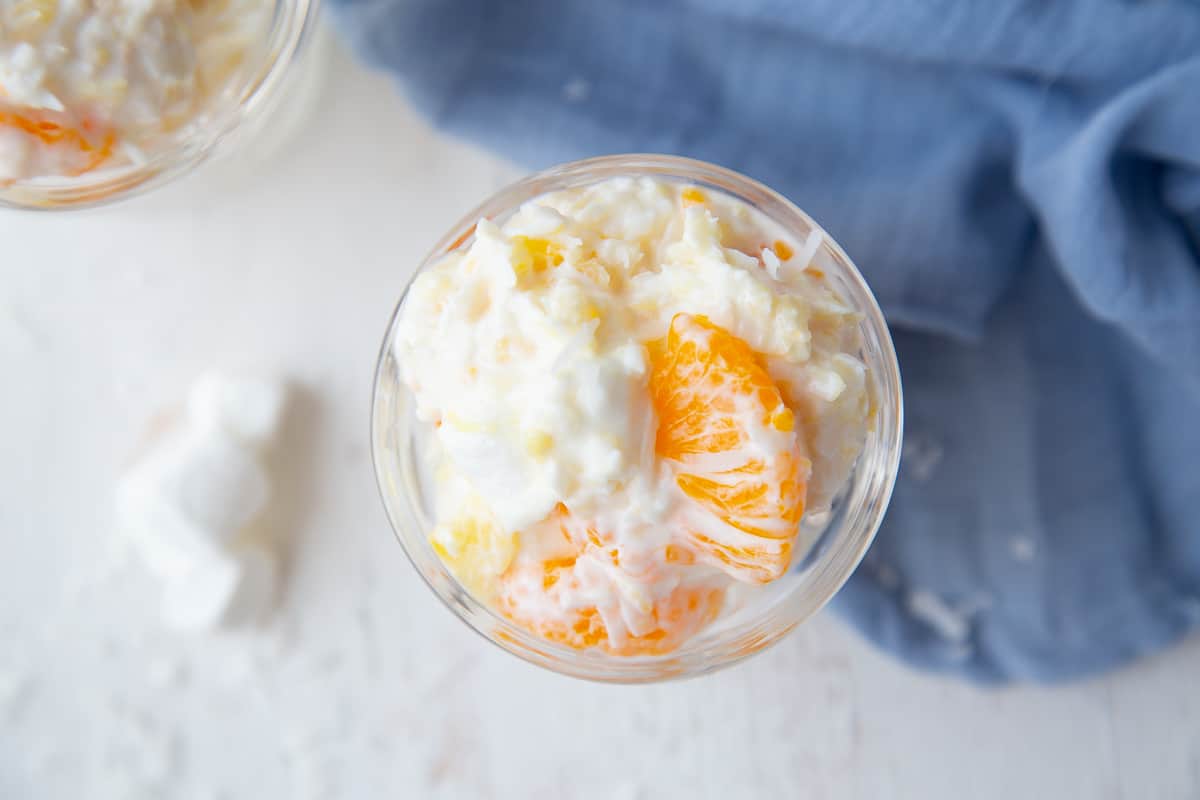 Top tips
Be sure to drain the pineapple and mandarin oranges well. This prevents the salad from becoming runny.
Sweetened coconut is best for this recipe—it nicely contrasts with the tangy sour cream.
This salad is endlessly customizable. See "Variations" below for ideas!
Origin of 5 cup salad (ambrosia)
A version of ambrosia salad dates back to the late 1800s. It originally contained orange segments, sugar, and coconut.
Over the years, a variety of fruit has been added, in addition to sour cream, whipped cream, etc., to hold it all together.
This version of 5 Cup Salad was made popular in the 1950s, and it's made with canned pineapple, canned mandarin oranges, sweetened coconut, mini marshmallows, and sour cream. Traditional recipes call for one cup of each ingredient.
This recipe calls for one cup of each ingredient, except for the sour cream (you'll need ¾ of a cup instead). I tried it both ways and prefer the ¾ cup version.
Ingredients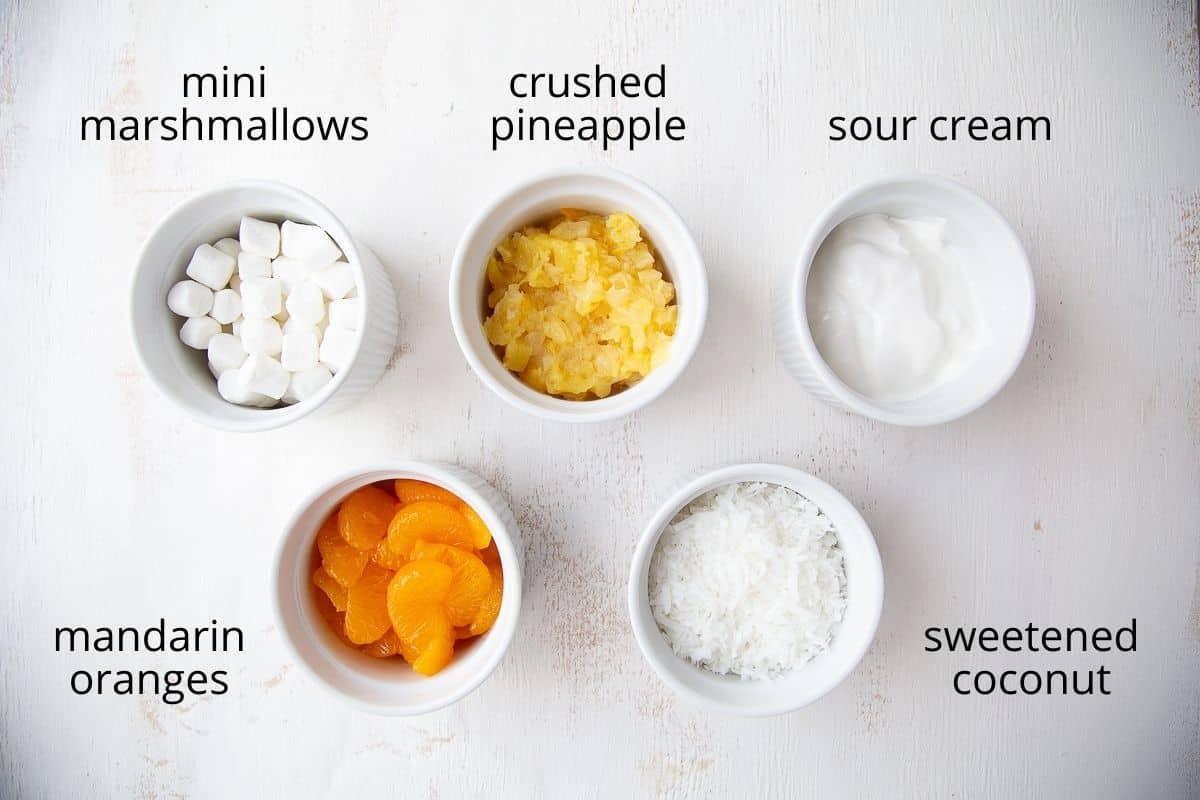 Mini marshmallows are best for this. If you only have large marshmallows, you can cut them into quarters using kitchen shears.
Canned crushed pineapple and canned mandarin oranges are the base of the salad. You can also use pineapple tidbits or small pineapple chunks if you prefer.
Sweetened shredded coconut adds sweetness and crunch. I don't recommend using unsweetened coconut.
Sour cream transforms the fruit into a creamy salad. You can use regular or low fat.
How to make 5 Cup Salad (Ambrosia)
Drain the mandarin oranges. Drain the crushed pineapple but reserve 1 tablespoon of pineapple juice.
Stir the one tablespoon of pineapple juice into the sour cream.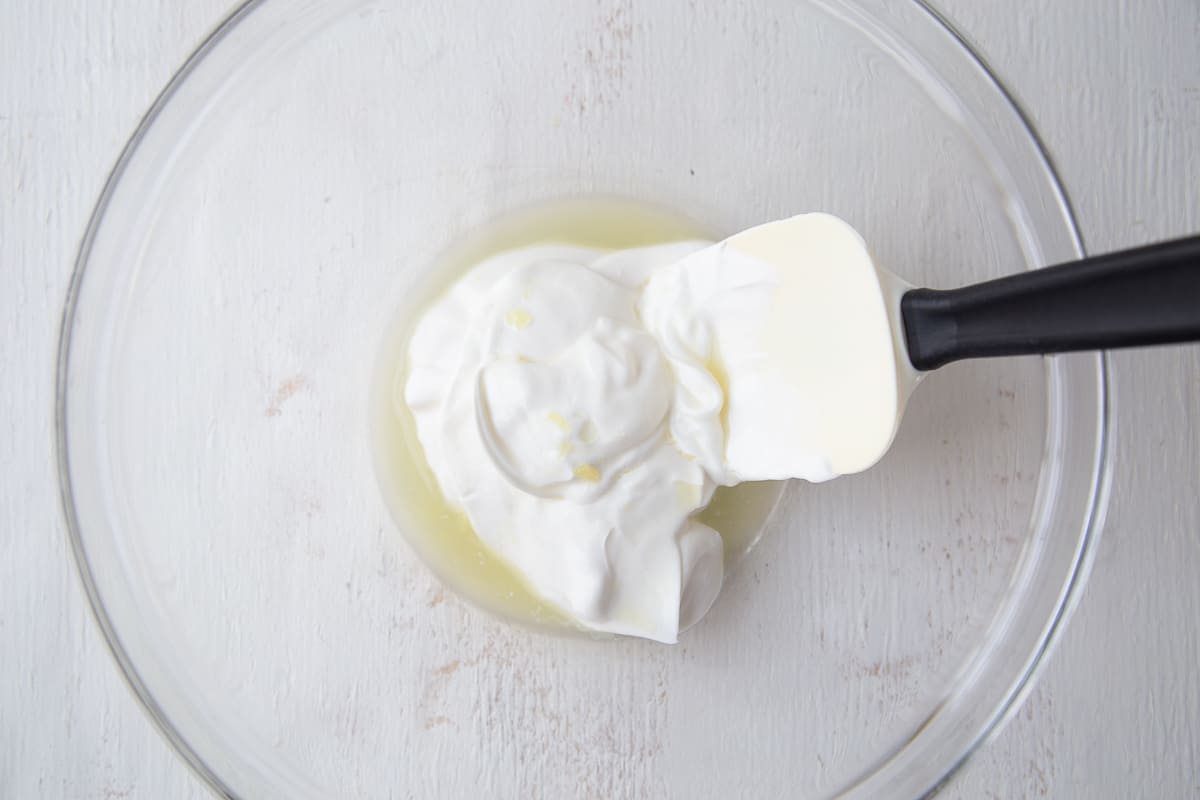 Mix gently until combined.
Add the 1 cup of pineapple (drained), 1 cup of mandarin oranges (drained), 1 cup of mini marshmallows, and 1 cup of shredded coconut.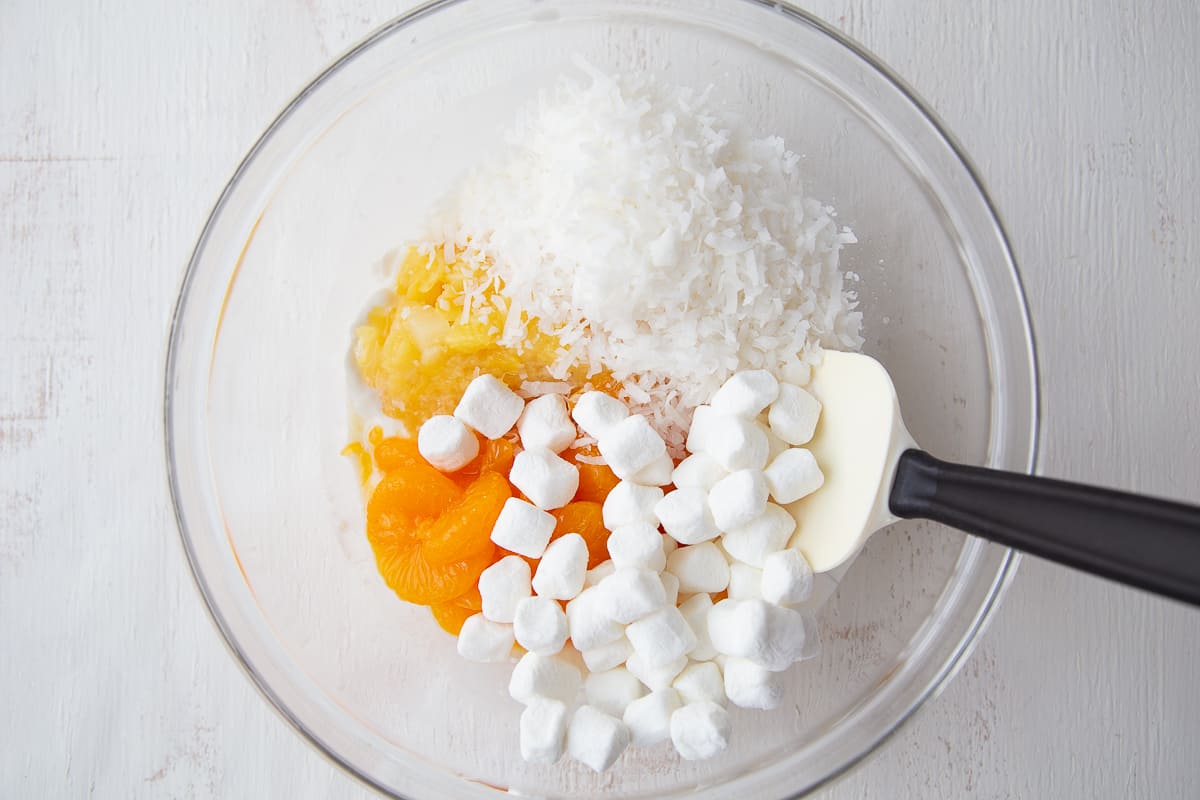 Stir the mixture gently to combine.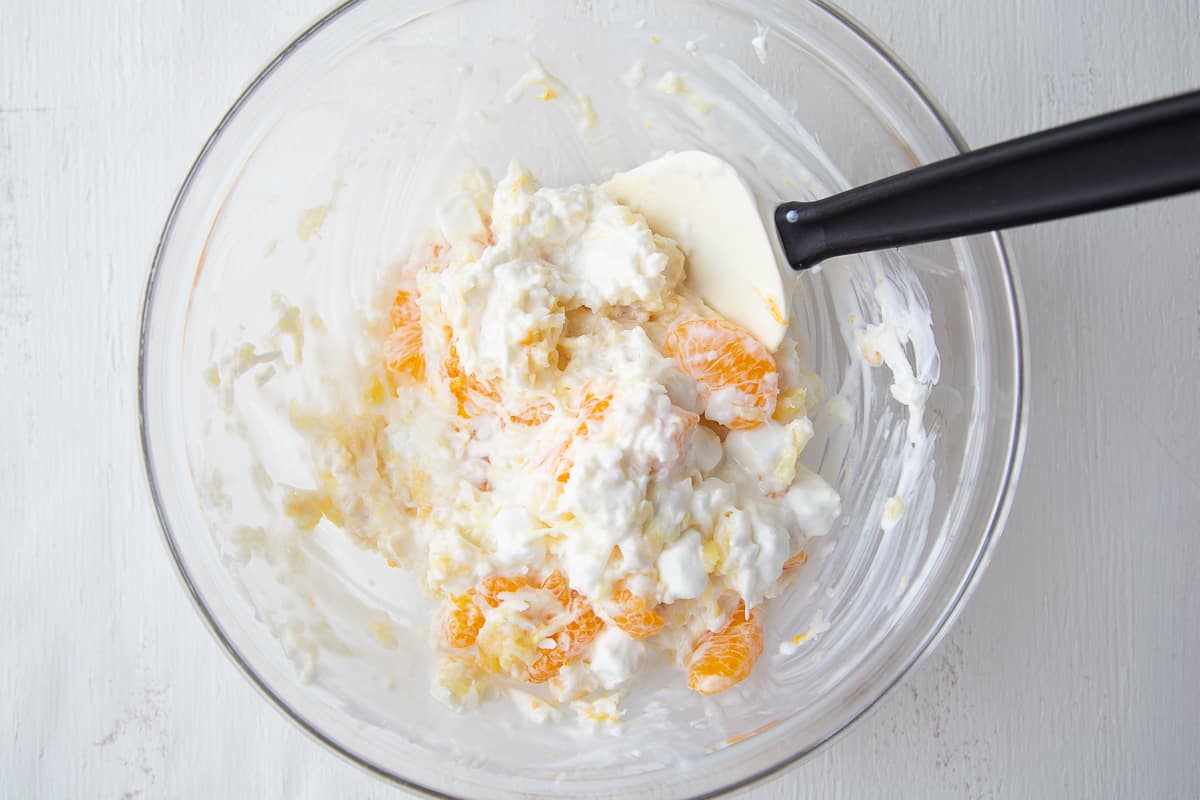 Refrigerate the salad for at least one hour, or up to 8 hours. The refrigeration time allows the flavors to combine and intensify.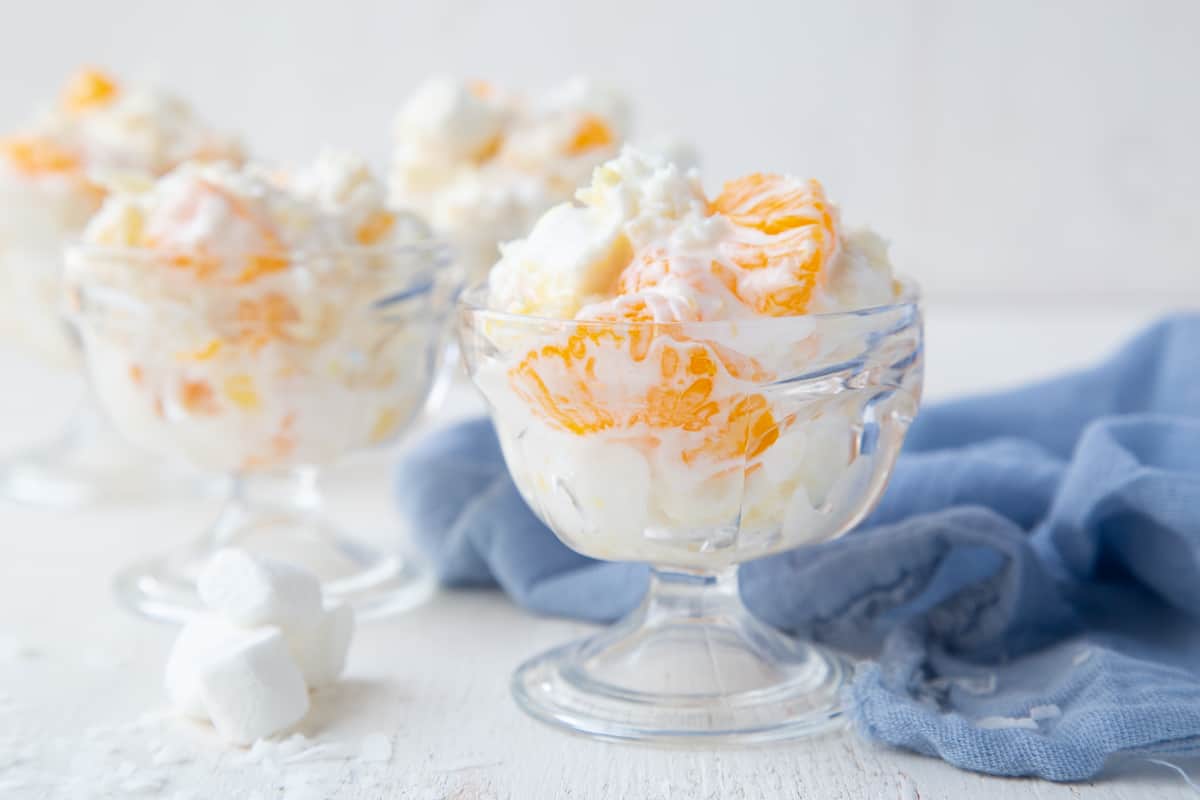 Can I make 5 Cup Salad in advance?
5 Cup Salad can be made up to 8 hours in advance. Make the salad and then refrigerate it until you're ready to serve it.
If it sits for longer, it may start to get runny.
Also, do not freeze 5 Cup Salad—it will get runny when it defrosts.
Variations
Replace the mini marshmallows with pastel colored marshmallows (also known as rainbow marshmallows, "fun mallows", or fruit flavored marshmallows)
Use pineapple tidbits instead of crushed pineapple
Use fruit cocktail (drained) in place of the pineapple or mandarin oranges
Add maraschino cherries (drained) in place of the pineapple or mandarin oranges
Stir in ½ cup of chopped pecans
Replace the sour cream with whipped cream, Greek yogurt, or 8 oz of softened cream cheese
For a sweeter salad, you can replace the sour cream with whipped topping (like Cool Whip) or vanilla yogurt.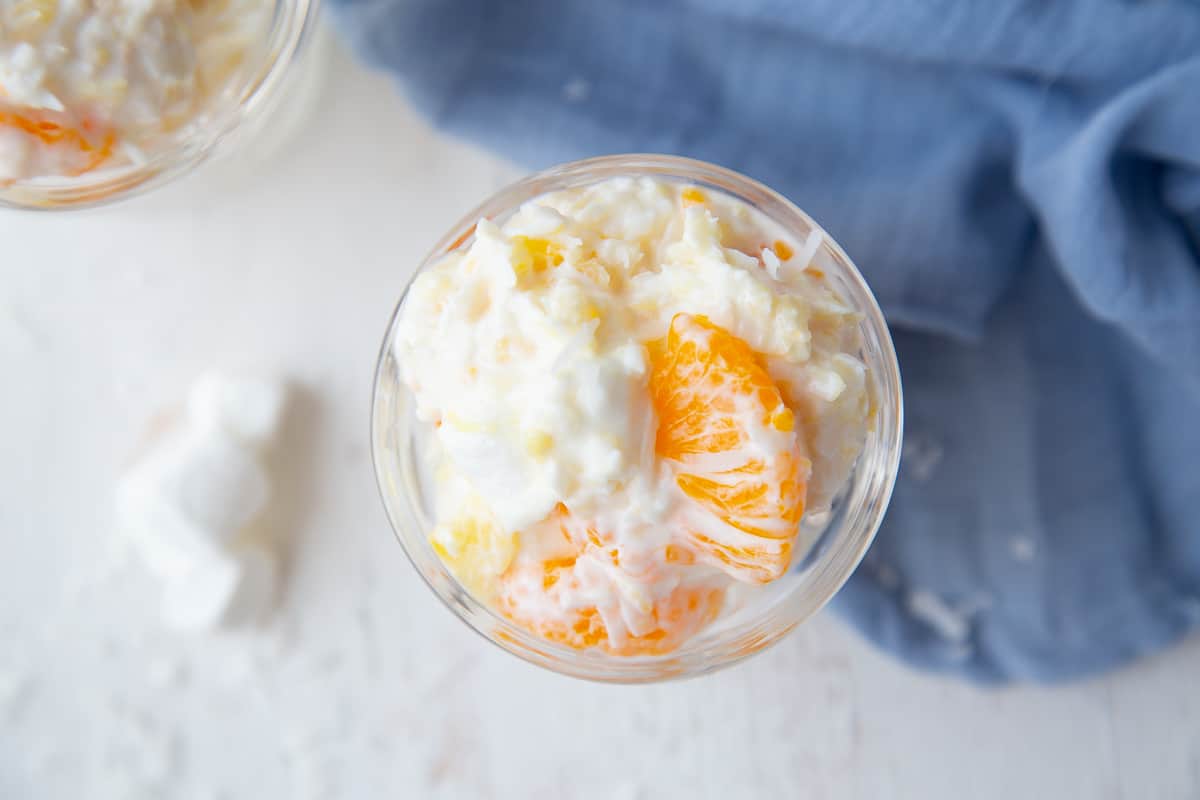 Frequently Asked Questions
Can I use fresh clementines or mandarin oranges instead of canned?
For best results, use canned mandarin oranges. Fresh oranges have a pith (the white part) around each segment, which will affect the texture of the dish.
How many large marshmallows are in 1 cup of marshmallows?
There are 8 large marshmallows in 1 cup.
How do I turn large marshmallows into mini marshmallows?
Snip the marshmallows into quarters using kitchen shears to turn them into mini marshmallows.
Can I use Greek yogurt instead of sour cream?
You can use full-fat Greek yogurt in place of sour cream for this recipe. It's not as traditional, but it'll still be delicious!
Can I use cream cheese in 5 Cup Salad?
You can replace the sour cream in this recipe with 1 (8 oz) block of softened cream cheese. Make sure that it's softened completely, otherwise it'll be impossible to mix it with the fruit without smashing the fruit.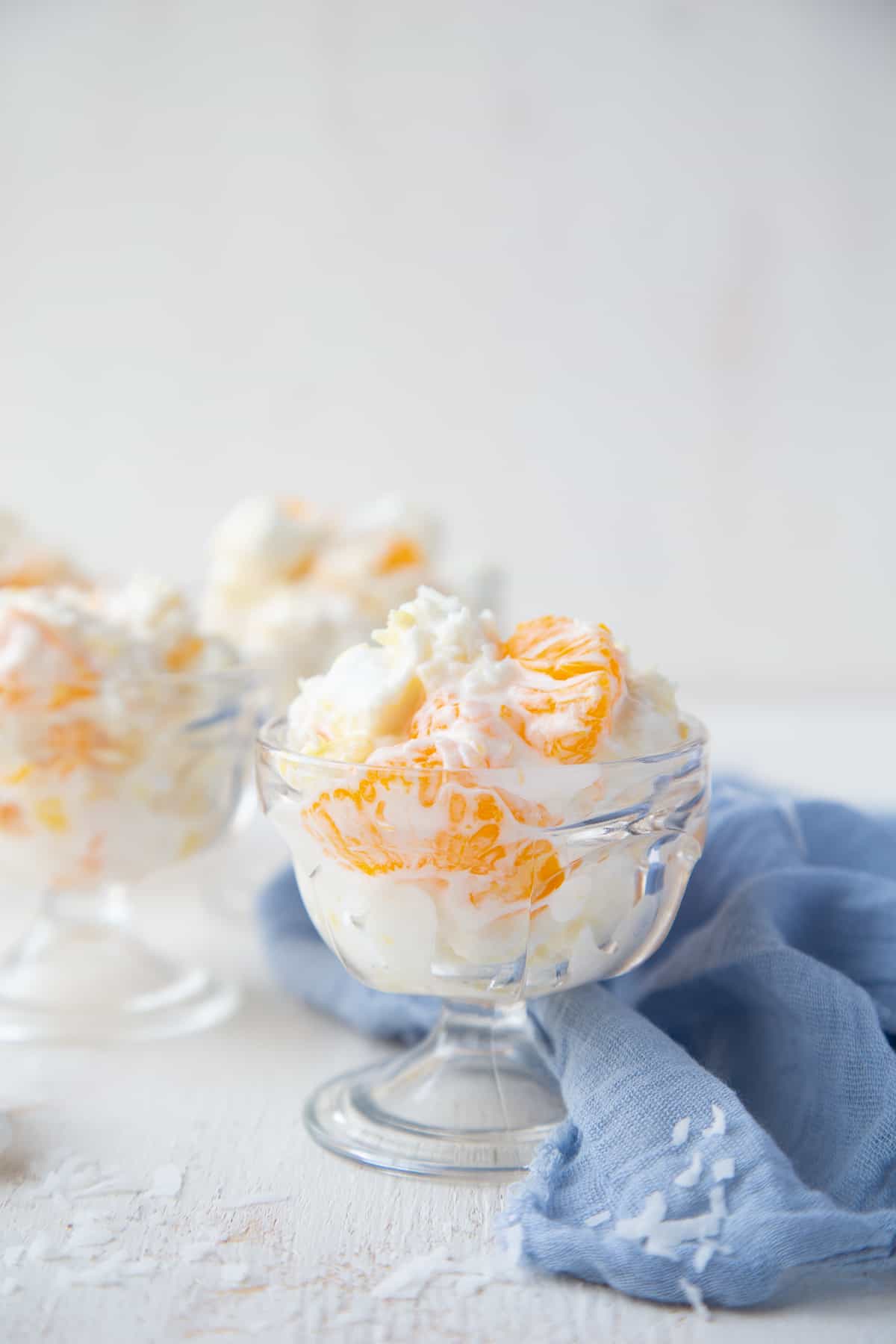 How to serve 5 Cup Salad
After refrigerating the salad, stir it and then transfer it to a large serving dish, or several individual serving dishes. The salad serves 4–6 people.
The recipe can easily be doubled to serve 8–12 people. Simply double each ingredient (use the "2x" button on the recipe card below) and serve it in a large bowl. Doubling the recipe is the perfect size for a potluck.
If you'd like, you can sprinkle the finished salad with a little more shredded coconut on top. You can also reserve a few mandarin orange segments for the top.
More old fashioned fruit salad recipes
Whether it's a side dish or a dessert, I LOVE a sweet salad. Pistachio Salad and Taffy Apple Salad are two other favorites in our family!
And Snickers Salad always makes me laugh—it's the furthest thing from a "salad" but GOSH is it good!
Or if you're after another salad made with lots of fruit, this Creamy Fruit Salad is made with a sour cream, orange juice, and honey dressing—it complements the fruit perfectly.
Have you tried this recipe? Please leave a ⭐️⭐️⭐️⭐️⭐️ rating and/or comment below!


📖 Recipe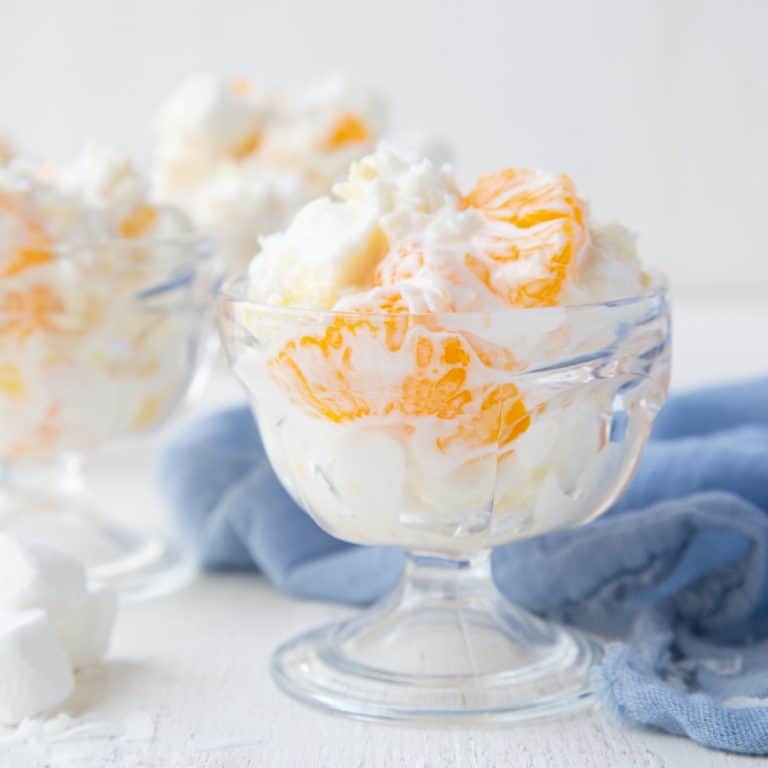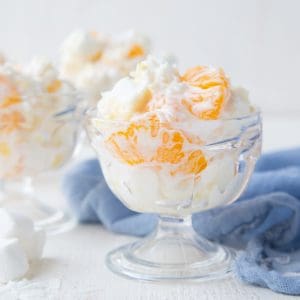 5 Cup Salad (Ambrosia)
Also known as ambrosia, this creamy fruit salad is perfect for a potluck or holiday meal.
Ingredients
1

(8 oz) can

crushed pineapple

1

(11 oz) can

mandarin oranges

1

cup

mini marshmallows

1

cup

shredded sweetened coconut

¾

cup

sour cream

(regular or light)
Instructions
Drain mandarin oranges. Pour 1 tablespoon of pineapple juice out of the can and into a large bowl, then drain the crushed pineapple. Discard any additional pineapple juice, or save for another use.

Add sour cream to the reserved 1 tablespoon of pineapple juice. Stir to combine.

Add the mandarin oranges, coconut, marshmallows, and crushed pineapple to the sour cream mixture. Use a spatula to gently fold all of the ingredients together.

Place the salad in the refrigerator for at least one hour, or up to 8 hours, to allow the flavors to blend.

When ready to serve, stir the salad and transfer it to a large bowl. Garnish with additional shredded coconut, if desired. Serve immediately.
Notes
You can substitute 1 cup of finely chopped fresh pineapple for the canned pineapple. Drain it well before adding it to the salad. 8 large marshmallows is the equivalent of 1 cup of mini marshmallows. If using large marshmallows, snip them into quarters with kitchen shears to create the miniature size. You can substitute ¾ cup of Greek yogurt, ¾ cup of whipped cream, or 1 (8 oz) block of softened cream cheese for the sour cream. Make sure that the cream cheese is at room temperature before using, otherwise the fruit will get smashed while trying to incorporate the cream cheese.
Nutrition
Calories:
235
kcal
Carbohydrates:
24
g
Protein:
2
g
Fat:
16
g
Saturated Fat:
12
g
Cholesterol:
15
mg
Sodium:
37
mg
Potassium:
258
mg
Fiber:
4
g
Sugar:
18
g
Vitamin A:
552
IU
Vitamin C:
18
mg
Calcium:
61
mg
Iron:
1
mg
Related recipes