Learn how to host a Christmas cookie exchange with this easy how-to guide!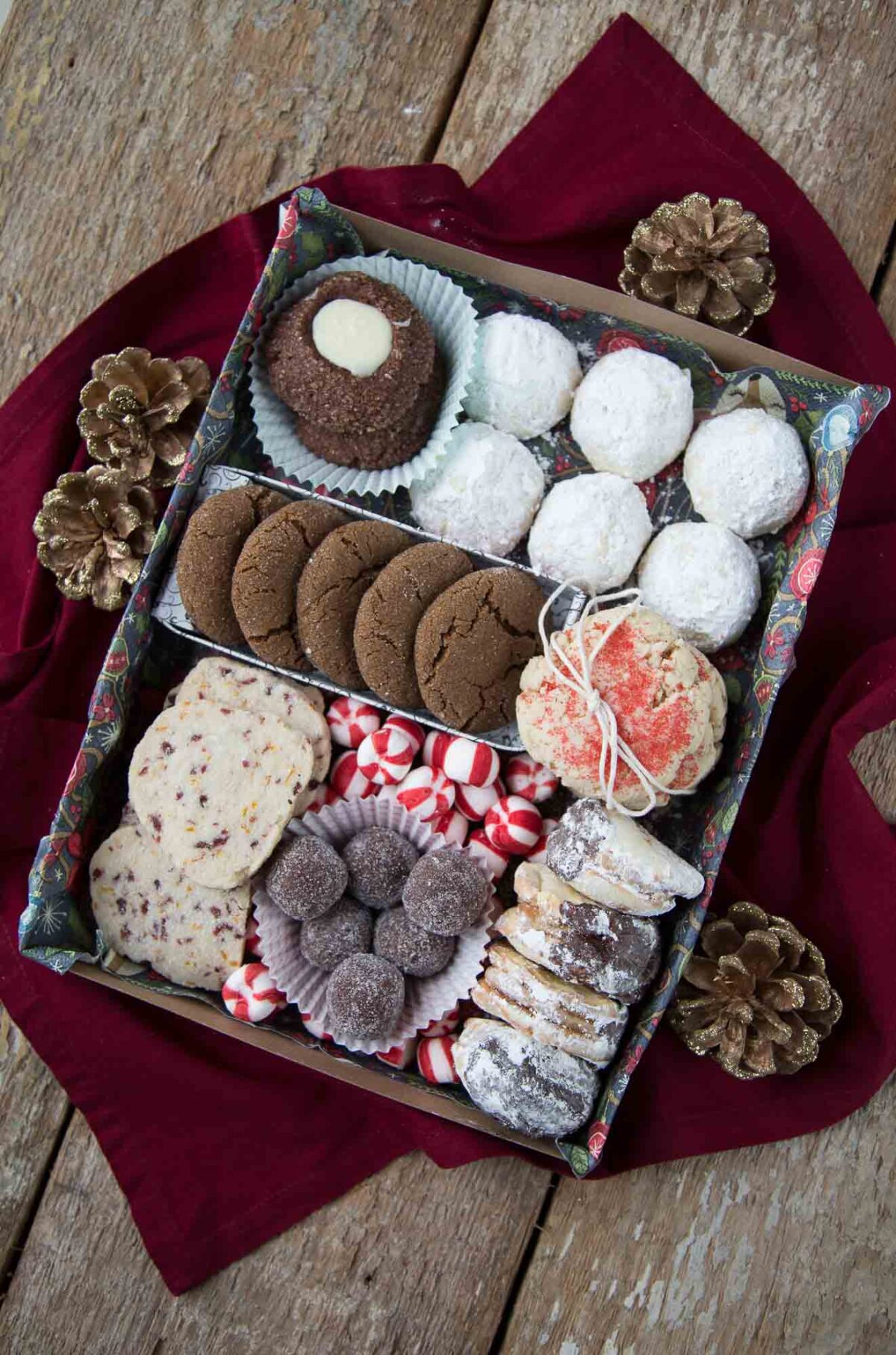 I am all about a no-stress holiday party. Big fancy dinner parties seem stressful this time of year, so I have another way of gathering friends that is extremely low stress: a Christmas cookie exchange.
Why is it low stress? Because nearly all of the food arrives with your guests!
For my Christmas cookie exchange, I invited my girlfriends over and asked each of them to bake two dozen cookies. One dozen are for eating at the party. The other dozen are for exchanging.
For my competitive friends, I also made it a cookie competition. Each participant entered their cookie in one of five categories:
1) Most festive
2) Best in chocolate
3) Best gluten-free
4) Best non-cookie
5) Best use of an unusual ingredient
We voted on the winners for each category, and then my husband and his friends arrived at the end to vote for the "best in show".
And you know what? It was SO fun! I even got a few non-baker friends to try their hand at cookie making. One of them even won her category!
We feasted on cookies, cocktails, apple cider, and a cheese board (more on that in a minute) while listening to Christmas music and chatting the afternoon away.
How to prepare for a Christmas cookie exchange
Send out invitations—Evite has a cute cookie party design! Ask guests to bring 2 dozen cookies: 1 dozen for sharing at the party, and 1 dozen to exchange.
Make 2 dozen cookies yourself! My Grandma's Rum Balls are my favorite.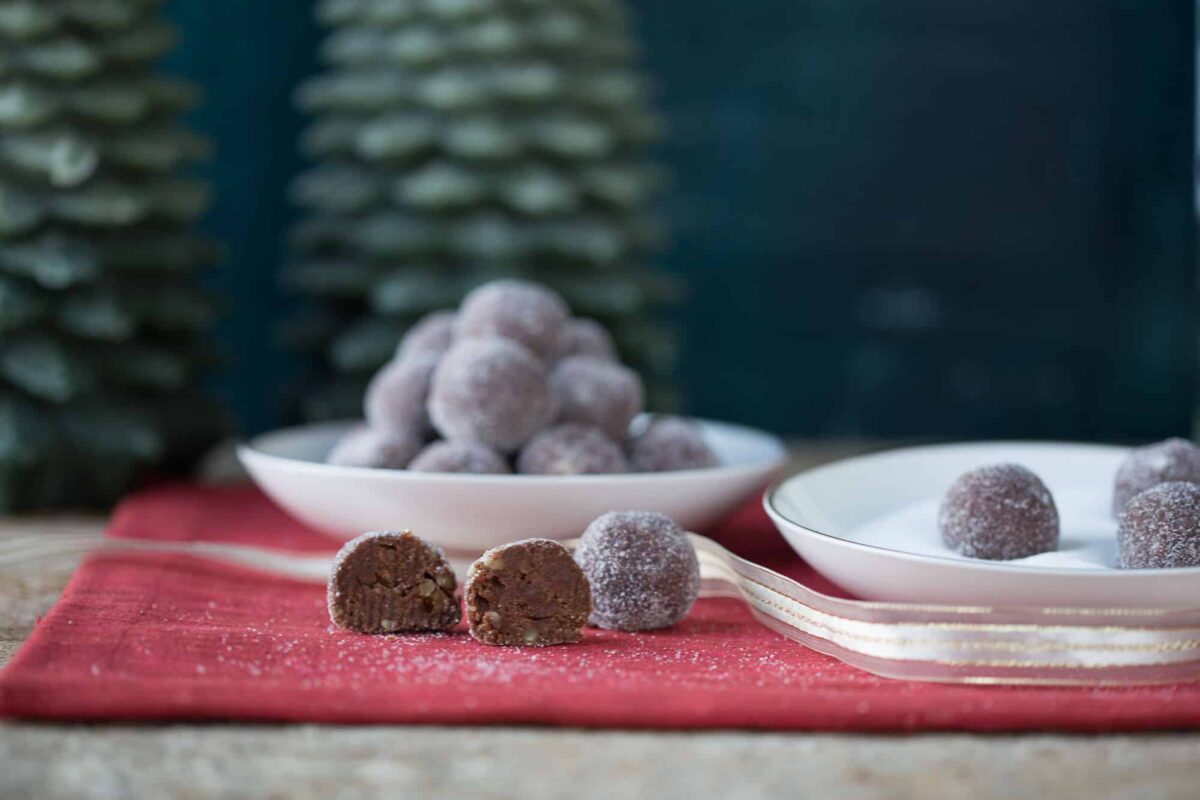 3. Purchase prizes for the winners. They don't need to be fancy! You could go on the higher end or raid the dollar bins at Target for prizes (check out below for prize ideas).
4. Get out paper plates and napkins for the cookies. I love festive Christmas napkins!
5. Set out mugs for apple cider and/or champagne glasses for cocktails (get the recipe for a Cranberry Ginger Prosecco cocktail below!).
These stemless plastic champagne flutes would be perfect.
You'll also need a few pitchers of water and glasses for them, because trying lots of cookies will make people thirsty!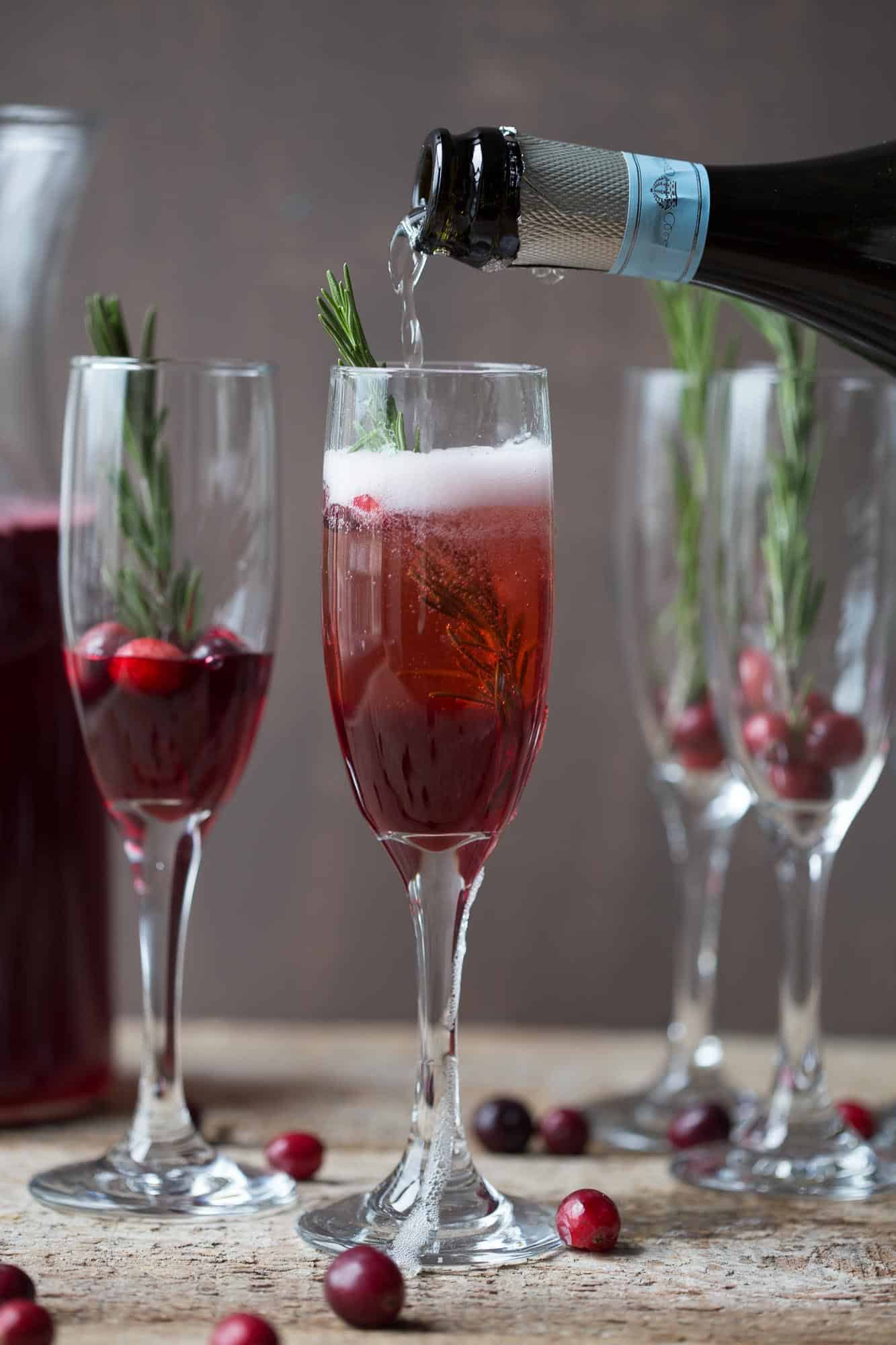 6. Make a fun cocktail, like my Cranberry Ginger Prosecco Cocktails. Get the recipe below!
7. Add a gallon of apple cider to a slow cooker, and set it on low. You may need to turn it down to "warm" if it gets a little too hot.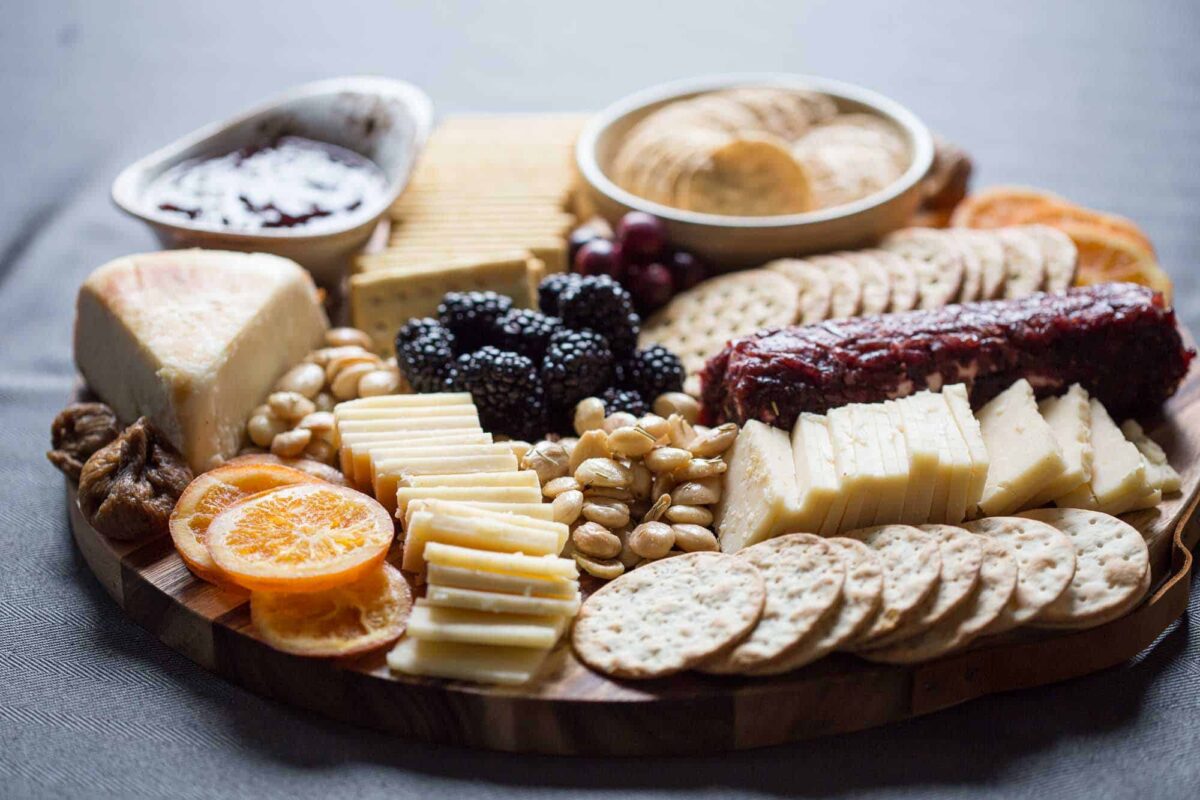 8. Make a cheese board. I don't know about you, but sweets make me crave something savory! It's nice to have a savory snack option for guests who don't love sweets, too.
I bought the following from Trader Joe's and arranged it on a wooden board: Unexpected Cheddar Cheese, Lemon Ricotta Cheese, Cranberry Chevre, assorted crackers (including gluten-free), dried & sweetened orange slices, blackberries, dried figs, raspberry jam, and rosemary marcona almonds (<– a seriously amazing snack).
These happen to be a few of my favorites, but choose what you like!
Also, here is a tutorial for a Christmas cheese board that is super easy to make.
9. Set out 5 plates for cookie judging. I labeled each plate with the category name:
Most festive
Best in chocolate
Best gluten-free
Best non-cookie
Best use of an unusual ingredient
10. Turn on the Christmas music and plug in the Christmas tree lights, and wait for everyone to arrive!
How the competition works
Each guest should make approximately 2 dozen cookies. This is a good amount for an exchange of about 8–15 people.
When guests arrive, instruct them to place one of their cookies on one of the plates for judging. Here are some examples of categories that you can use:
Most festive
Best in chocolate
Best gluten-free
Best non-cookie
Best use of an unusual ingredient
Sometimes cookies will fall into two categories. If that is the case, ask guests to choose just ONE to enter.
Then, ask guests to place the rest of their cookies on a table or countertop for guests to nibble.
Place the category plates out of reach so they'll be ready for judging later!
When you're ready for the judging to begin, ask the attendees to split into five teams (or however many categories you have) for judging.
The only stipulation is that you can't judge the category that you entered. Each team huddles together and selects a category winner. Now is the time to award prizes to the category winners!
If you want to add a "Best in Show" element, collect the five category winning cookies and place them on another plate.
To ensure impartial judging, this is a good time to invite husbands, neighbors, or kids to select a grand prize winner.
Then, award the winner with the grand prize.
Prize ideas
This competition has five category winners and one grand prize winner. I usually choose something inexpensive for the five category winners (like festive spatulas) and then something a little bigger for the grand prize winner.
At a recent exchange that I hosted, the grand prize winner went home with a set of silicone baking mats.
Here are some other fun prize ideas: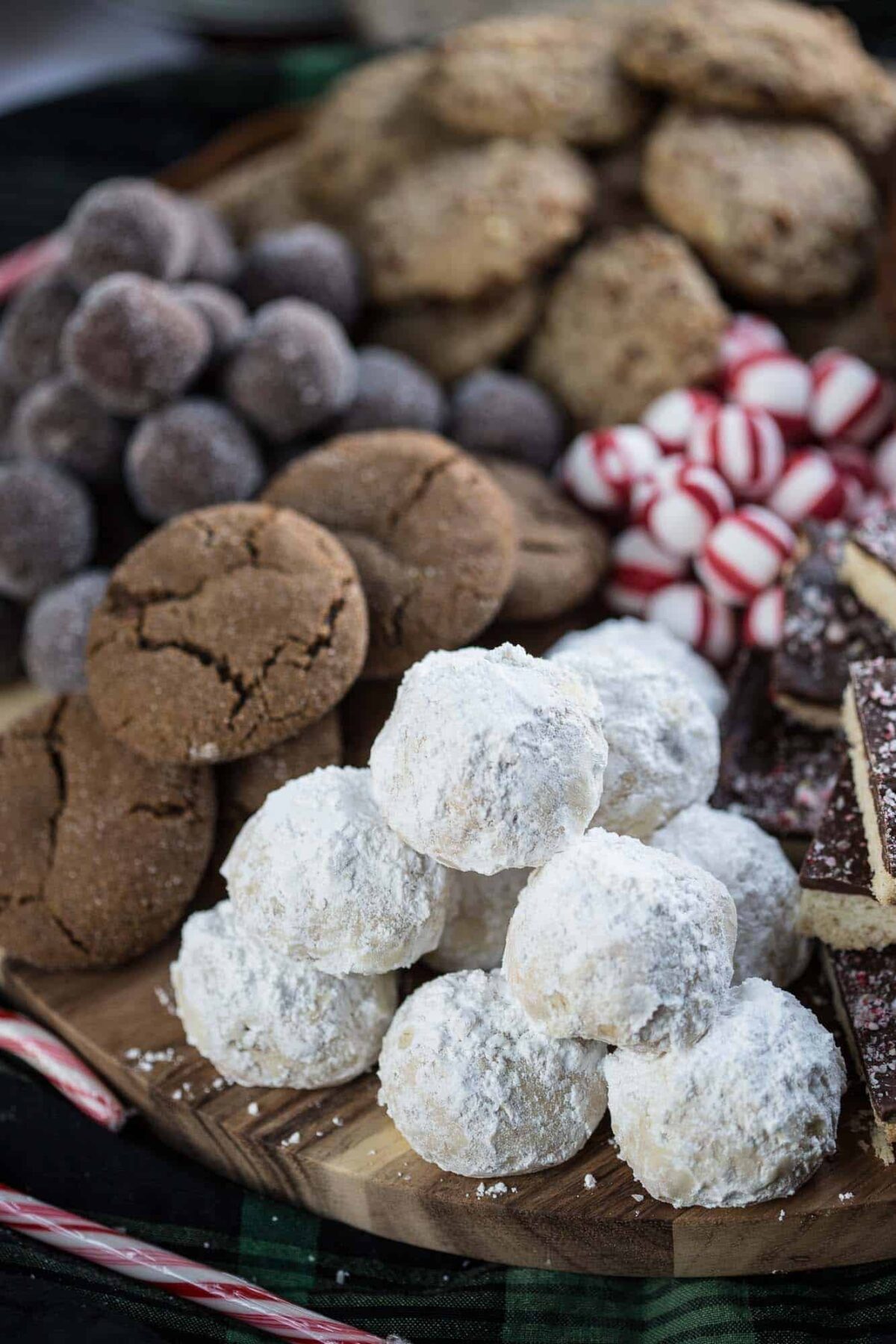 Collecting cookies to go home
Your guests can use the tins/plates that they brought their cookies on to collect cookies to take home. If you go that route, have some plastic wrap on hand.
Or you can hand out Christmas cookie boxes for guests to collect cookies instead.
Frequently Asked Questions
How many cookies do I need for a cookie exchange?
Two dozen cookies per person is a good number for a cookie exchange for 8–15 guests.
How do I host a cookie exchange at work?
Ask everyone to bring two dozen cookies. Plan for about one dozen to be eaten at the exchange, and one dozen to be taken home. Set out little signs to label the cookies, and give everyone a box for their take-home cookies.
What are the rules for a cookie exchange?
Everyone brings two dozen cookies—one dozen to eat at the party and the other dozen for others to take home. If you want to make it a contest, create several categories (best chocolate cookie, best non-cookie, most festive, etc.) and ask participants to enter their cookie into one category. Select a judge or split into groups for judging. Remember to have small prizes such as spatulas, festive cookie cutters, or gift cards!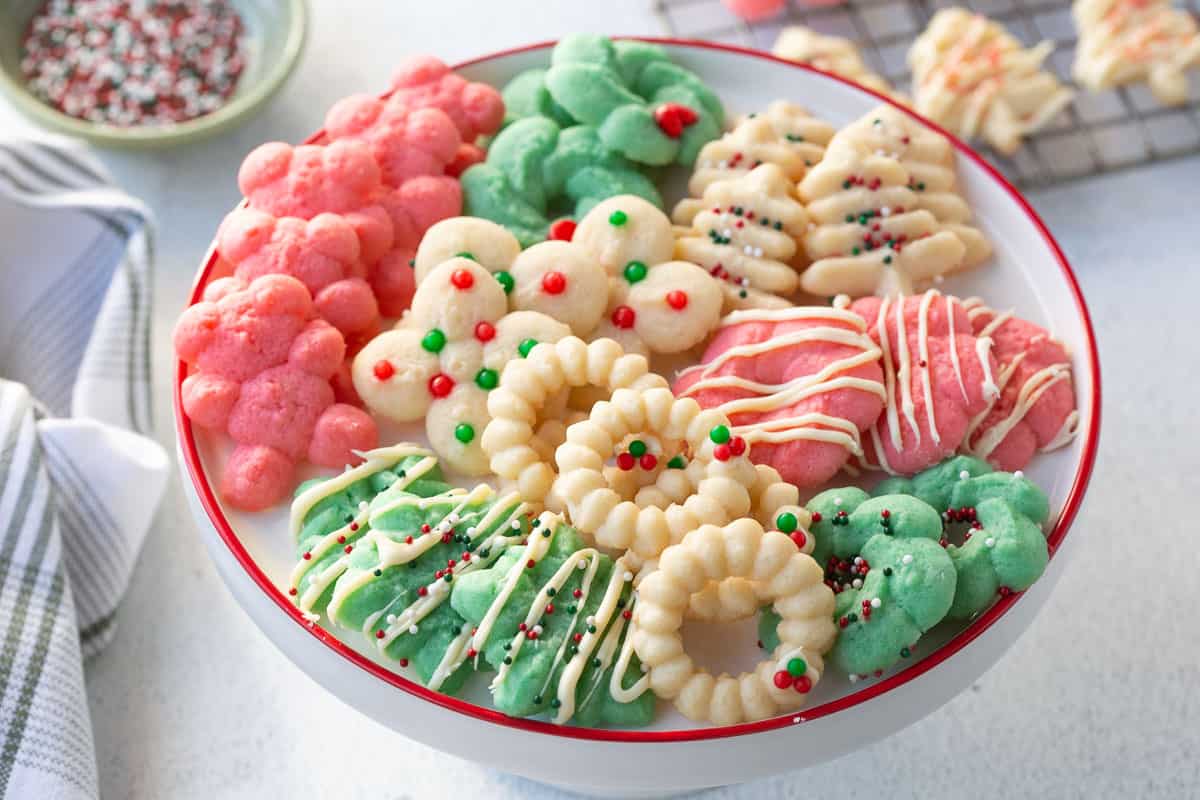 Christmas cookie recipe ideas
I have a few Christmas cookie recipes in particular that will be the star of the party!
So that's how to host a cookie exchange! If you host one, please share it with me on Instagram—I would LOVE to see it.
Have you tried this recipe? Please leave a ⭐️⭐️⭐️⭐️⭐️ rating and/or comment below!
📖 Recipe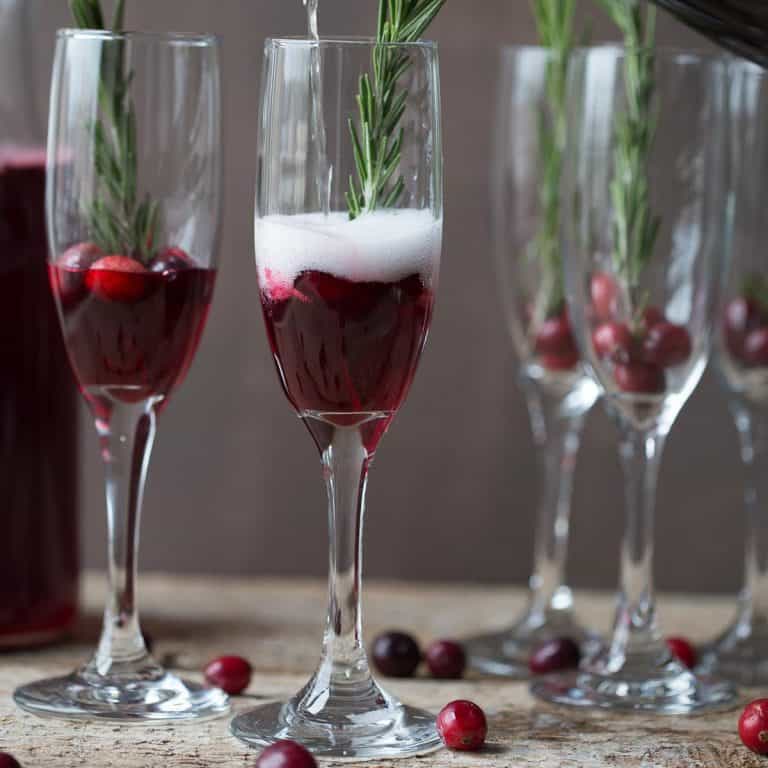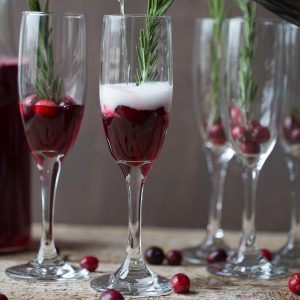 Cranberry Ginger Prosecco Cocktails
These easy yet impressive cocktails are perfect for a holiday party.
Ingredients
3

cups

cranberry juice

2½

cups

sugar

2

inch

piece ginger,

peeled and sliced into ½ inch pieces

1

(12 oz) bag fresh cranberries, divided

3

bottles prosecco

(I used La Marca)

For garnish: fresh rosemary
Instructions
Place the cranberry juice, sugar, ginger, and half of the cranberries in a saucepan. Place over medium heat and cook until the cranberries pop, about 10–15 minutes.

Strain the mixture using a fine mesh sieve. Discard the solids and pour the liquid into a small pitcher. Refrigerate until ready to use.

Place one sprig of rosemary and 3–4 fresh cranberries into each champagne glass.

Fill the champagne glass ⅓ of the way to the top with the cranberry mixture.

Pour prosecco in each glass to the top. Use the rosemary sprig to stir the cocktail. Serve immediately.
Nutrition
Serving:
1
cocktail
Calories:
153
kcal
Carbohydrates:
40
g
Protein:
1
g
Fat:
1
g
Saturated Fat:
1
g
Sodium:
2
mg
Potassium:
55
mg
Fiber:
1
g
Sugar:
38
g
Vitamin A:
34
IU
Vitamin C:
7
mg
Calcium:
5
mg
Iron:
1
mg
Related recipes