Prosciutto Wrapped Asparagus is flavorful, fast, and super easy to make. It pairs perfectly with white wine or sparkling wine for happy hour!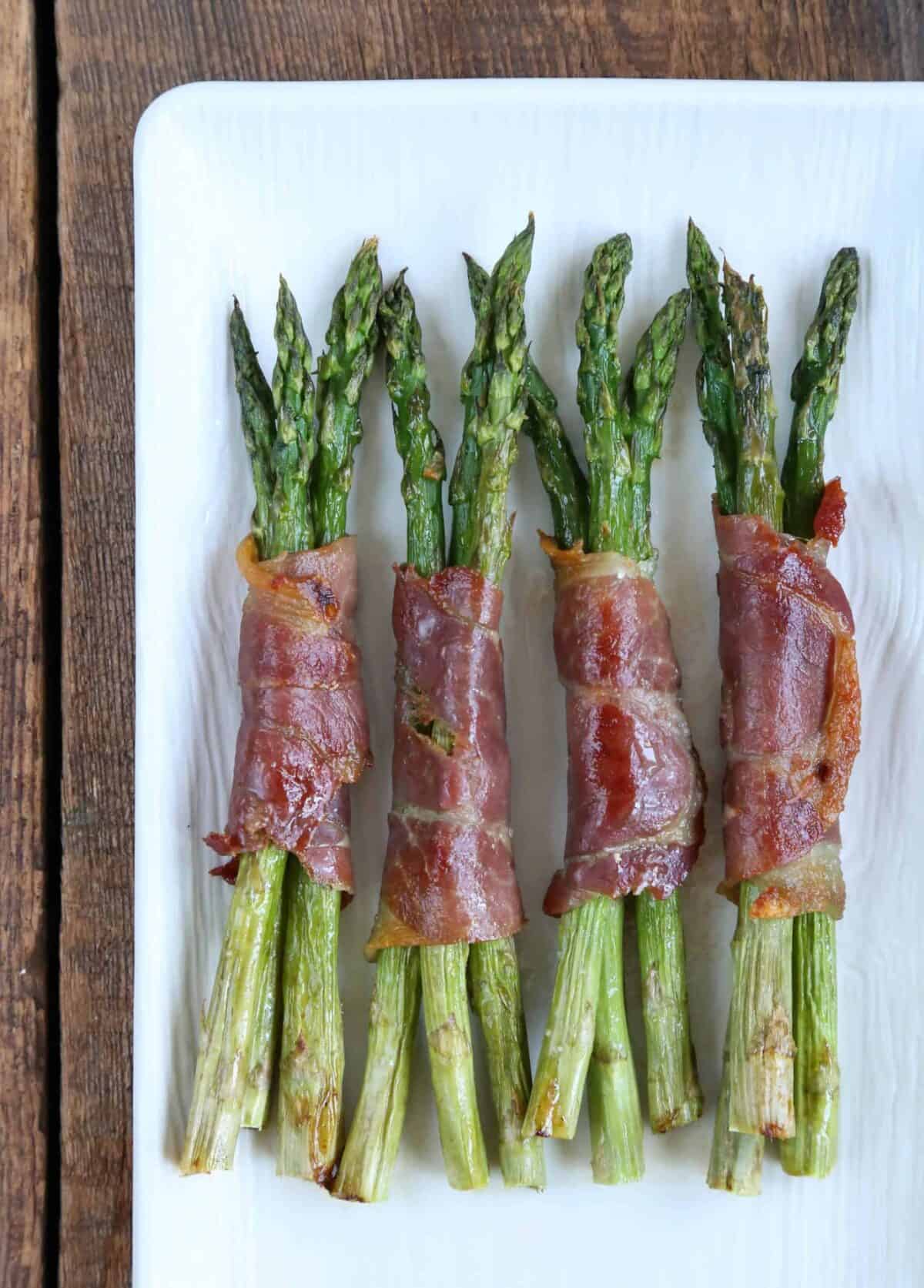 I love a quick recipe. And this one for Prosciutto Wrapped Asparagus is super quick, and requires no special tools.
It's perfect for happy hour or a holiday party. The buttery, salty prosciutto is the perfect pairing for either a crisp white wine or a sparkling wine. The bubbles complement the richness of the meat so nicely.
It also makes a really pretty and impressive side dish alongside steak or roast chicken.
This post contains affiliate links. Affiliate links support Gift of Hospitality at no additional cost to you. I receive a commission if you choose to make a purchase through these links.
Jump to:
What is prosciutto?
Prosciutto is a buttery, lightly sweet Italian ham. It's often sliced very thinly because to be honest, it's pretty rich!
It's dry cured, so it's also on the salty side. Its delicate sweetness pairs so nicely with the earthy flavor of asparagus.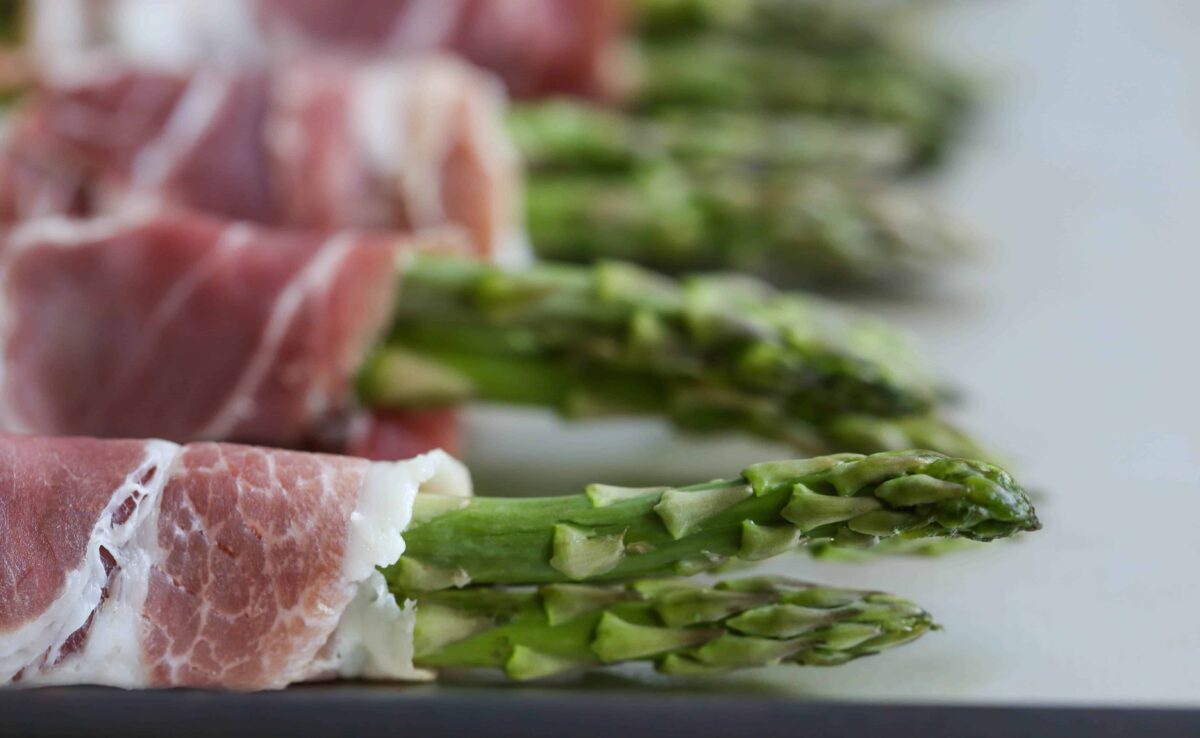 Shopping for prosciutto
When I'm shopping for prosciutto, I head straight to the Deli. Prosciutto sold in a package tastes fine, but I find that the thick slices aren't good for wrapping.
Tell the person at the Deli counter that you'd like it sliced very thinly. They'll usually place deli paper between the slices so it doesn't stick together.
Ingredients
You just need four ingredients for this recipe.
Medium sized asparagus is best suited for this recipe. If it's too thin, it'll get overcooked under the broiler. If it's too thick, it won't cook enough before the prosciutto gets crisp.
Thinly sliced prosciutto works best here. Find it at the Deli counter—packaged prosciutto is usually too thick.
We'll brush the tips of the asparagus with olive oil and sprinkle with salt. The oil protects the asparagus from drying out under the broiler.
How to make prosciutto wrapped asparagus
Start by setting an oven rack 4–6 inches under the broiler, then turn the broiler to high.
Trim the woody ends off the asparagus (usually an inch off the bottom). Then, brush the tips of the asparagus with olive oil and sprinkle with salt.
Wrap one piece of prosciutto around three asparagus spears. You can experiment with the asparagus to prosciutto ratio, too. One spear wrapped in half a slice of prosciutto would be a perfect hand-held appetizer. Five spears wrapped in a whole slice would be a nice side dish. Play with it!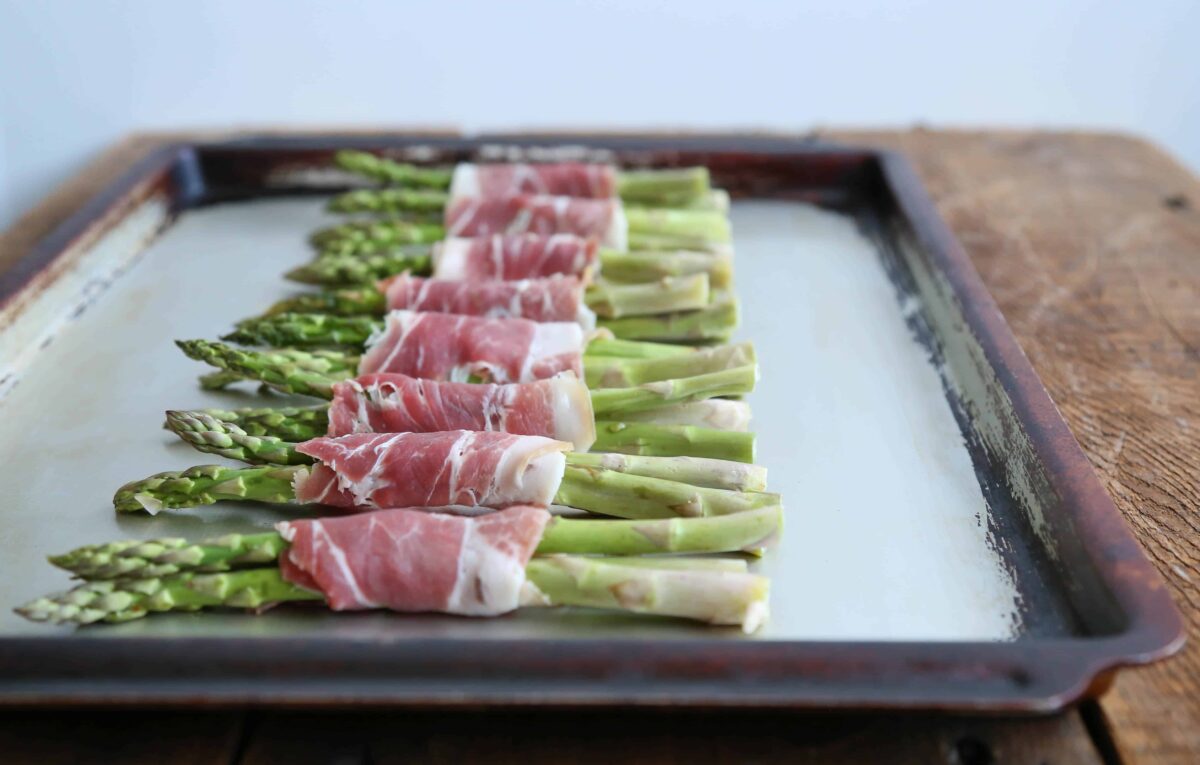 Place the bundles on a sheet pan and place under the broiler. Broil for 2–3 minutes, or until the prosciutto is starting to brown. Flip and broil for another 2–3 minutes.
Let cool slightly and serve. I love the look of these on a crisp white platter.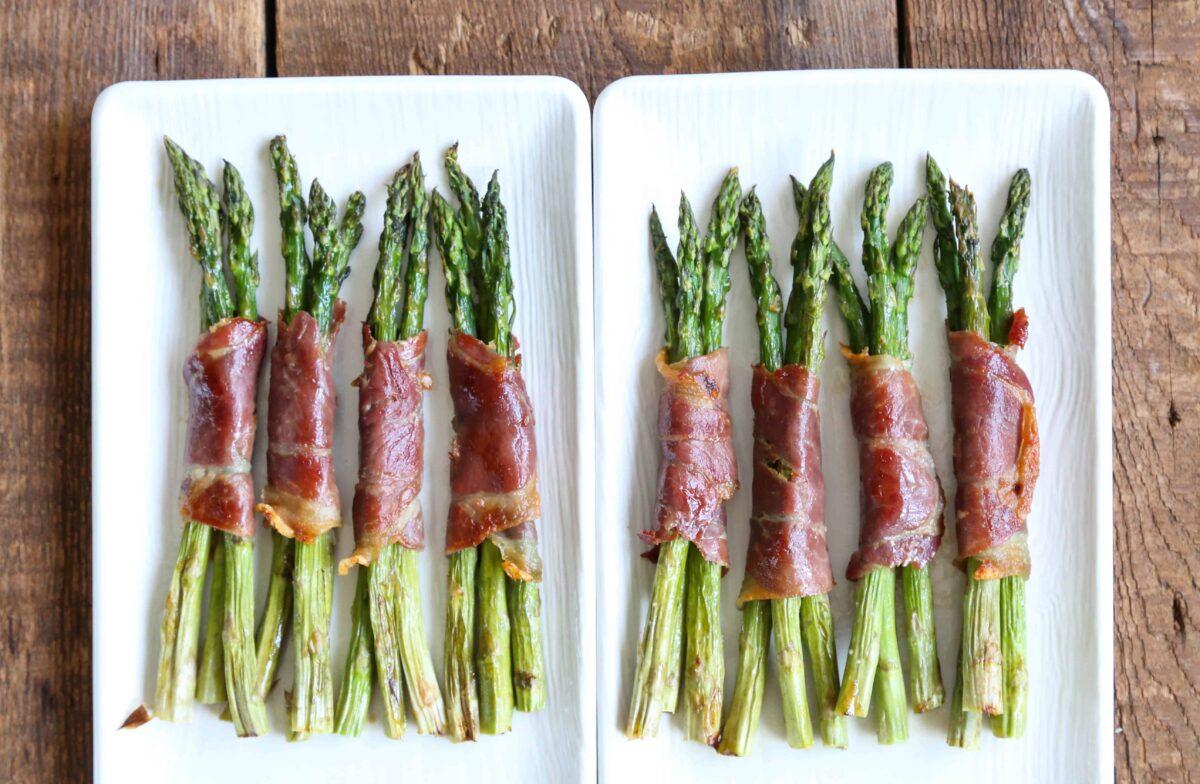 What to do with leftover prosciutto
I had a little extra prosciutto leftover so I wrapped it around melon slices. I love how the salty prosciutto tastes with the sweet melon.
Either cantaloupe or a honeydew melon would be great here. Watermelon would be tasty, too!
How to freeze prosciutto
You can also freeze prosciutto for later. Stack prosciutto on a piece of wax paper or parchment paper. If there's not already deli paper in between each slice, place a piece of wax paper or parchment paper between the slices.
Slide the stack into a resealable freezer bag, making sure to get all the air out of it. It'll store in the freezer for up to two months. To thaw, just refrigerate overnight, or let it sit on the countertop for a few hours.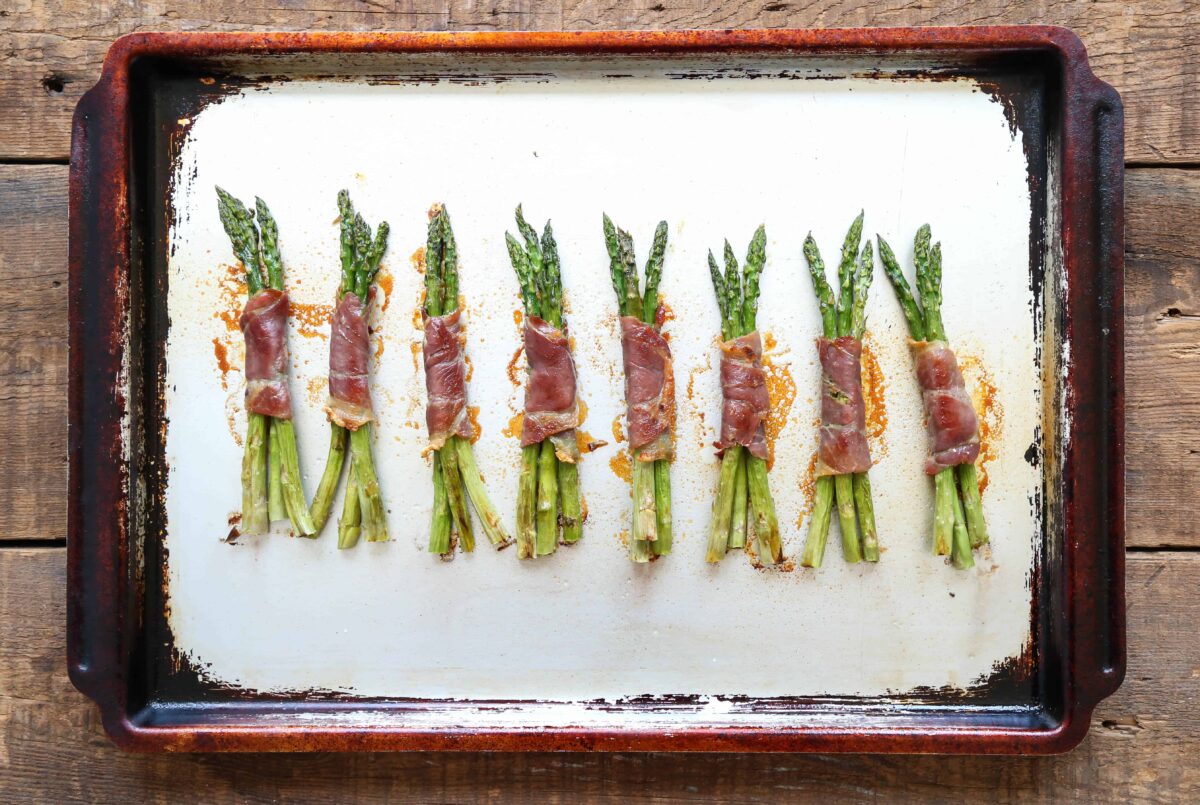 More easy appetizer ideas
Since I seem to find asparagus in the grocery store at every point during the year, this is a great recipe for all seasons. It's especially festive during the holidays thanks to the green asparagus and reddish hue of the prosciutto!
Here are a few more appetizers that would be perfect for a happy hour appetizer spread:
Boozy Bacon Wrapped Dates—these will FLY off the platter
Stuffed Potato Skins (these are also great for Christmas!)
Citrus Marinated Olives
Puff Pastry Bites with Goat Cheese and Jam (everyone adores these!)
Boursin & Sausage Stuffed Mushrooms
Simple Cheese Board—so easy and everyone is wowed by it
Have you tried this recipe? Please leave a ⭐️⭐️⭐️⭐️⭐️ rating and/or comment below!


📖 Recipe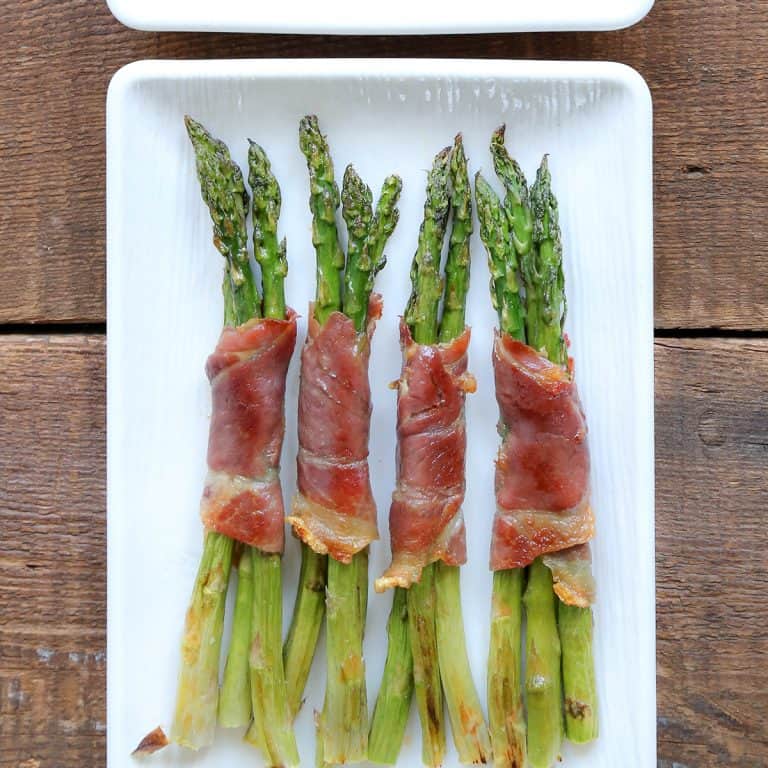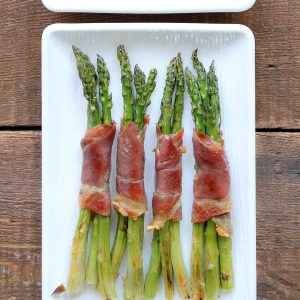 Prosciutto Wrapped Asparagus
Great anytime of the year, and particularly festive around the holidays!
Ingredients
1

bunch medium-thick asparagus

½

lb

thinly sliced prosciutto

2

teaspoons

olive oil

Pinch

of sea salt
Instructions
Arrange an oven rack 6 inches below the broiler. Preheat broiler to high.

Brush the tips of the asparagus with the olive oil, and sprinkle very lightly with a pinch of salt.

Take one piece of prosciutto and wrap it around 3 spears of asparagus. Repeat with the remaining asparagus and prosciutto.

Place on a sheet pan. Broil for 2–3 minutes, or until the prosciutto is starting to brown.

Flip and broil for another 2–3 minutes until prosciutto is crisp and browned on the edges. Serve immediately.
Notes
You can find thinly sliced prosciutto at the deli counter—ask for it to be sliced thinly. I find that the packaged prosciutto is sliced too thickly for this recipe.
Nutrition
Calories:
138
kcal
Carbohydrates:
3
g
Protein:
5
g
Fat:
12
g
Saturated Fat:
4
g
Cholesterol:
19
mg
Sodium:
189
mg
Potassium:
170
mg
Fiber:
1
g
Sugar:
1
g
Vitamin A:
436
IU
Vitamin C:
3
mg
Calcium:
15
mg
Iron:
1
mg
Related recipes