Treat your guests to a simple, beautiful cheese platter made with cheese, charcuterie, fruit, and nuts. It only takes 20 minutes!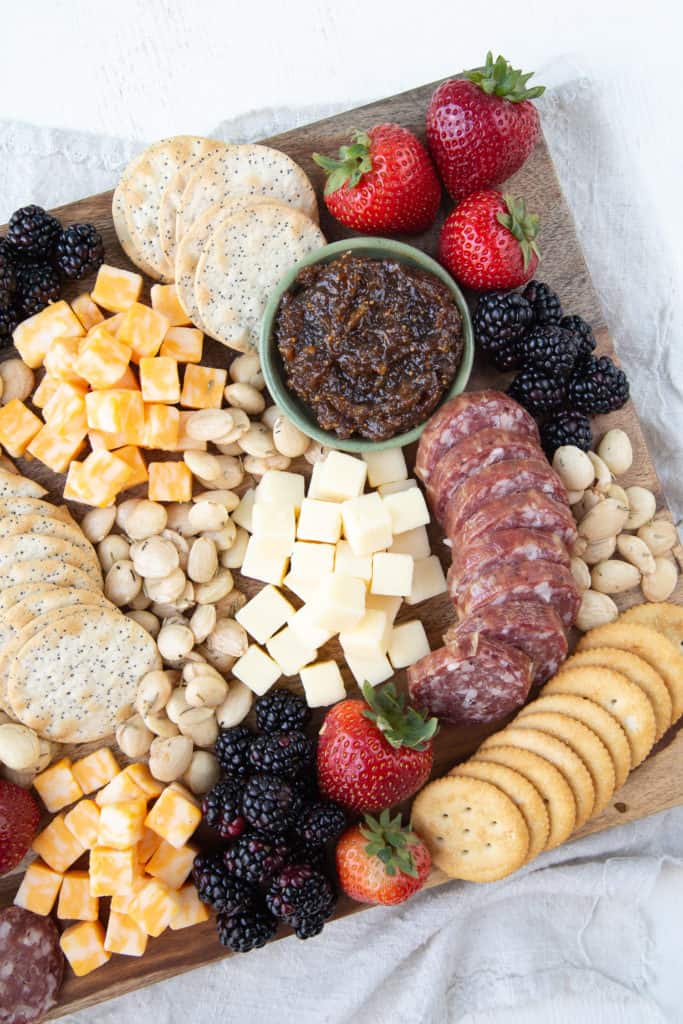 A cheese board is a guaranteed hit at any party, and this gorgeous Simple Cheese Board will wow your guests.
There's nothing to cook—you just need to gather the ingredients and assemble it. It'll take you 20 minutes or less, and then you can kick back until your guests arrive!
What's the best platter for a cheese board?
Choose a platter that's not too big. The display should look full and abundant, with no space between the cheese, crackers, fruit, and nuts.
The exact size of the platter depends on the amount of ingredients. For this recipe, I used a wooden board that is 16 inches by 12 inches.
Ingredients
Cheese! Use your favorites. I used pre-cut cubes of cheese to make it even easier.
An assortment of crackers is nice to make the platter visually interesting.
Fruit such as grapes, strawberries, blackberries, and figs add gorgeous color.
Salami or another type of cured meat is optional, but I find that guests always eat it up!
A fruit jam such as fig jam or strawberry jam pairs really nicely with cheese.
Nuts will fill in the holes of the cheese board. I like rosemary marcona almonds from Trader Joe's.
How to assemble a cheese board
Place several piles of cheese on a wooden board. They can be cubes or slices, or even a whole log of goat cheese. Even if it's the same type of cheese, split it into a couple piles. This adds visual interest to the cheese board.
In addition to the cheese cubes, add a small dish of jam. Fig jam pairs especially well with cheddar. Strawberry or raspberry jam would be delicious, too.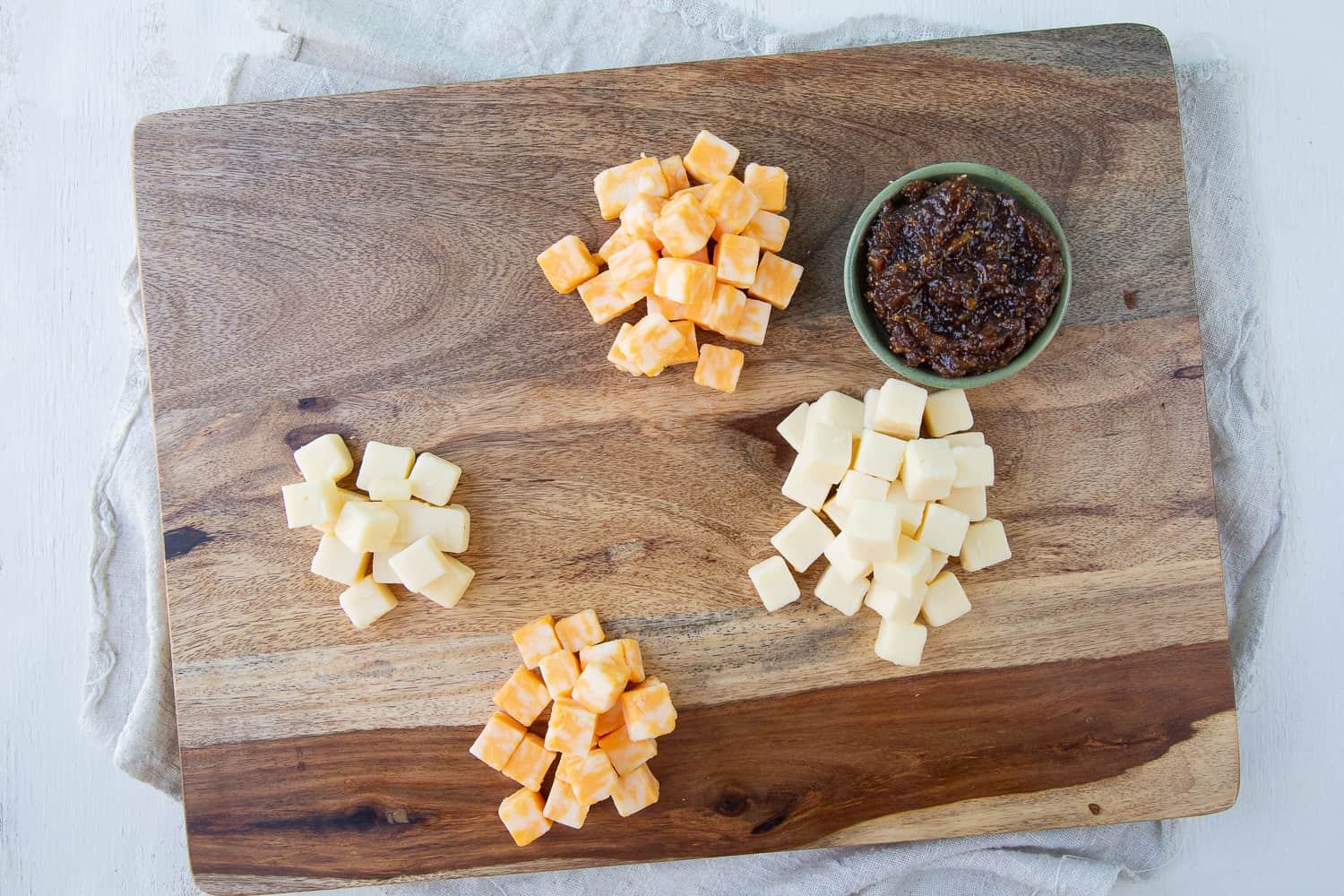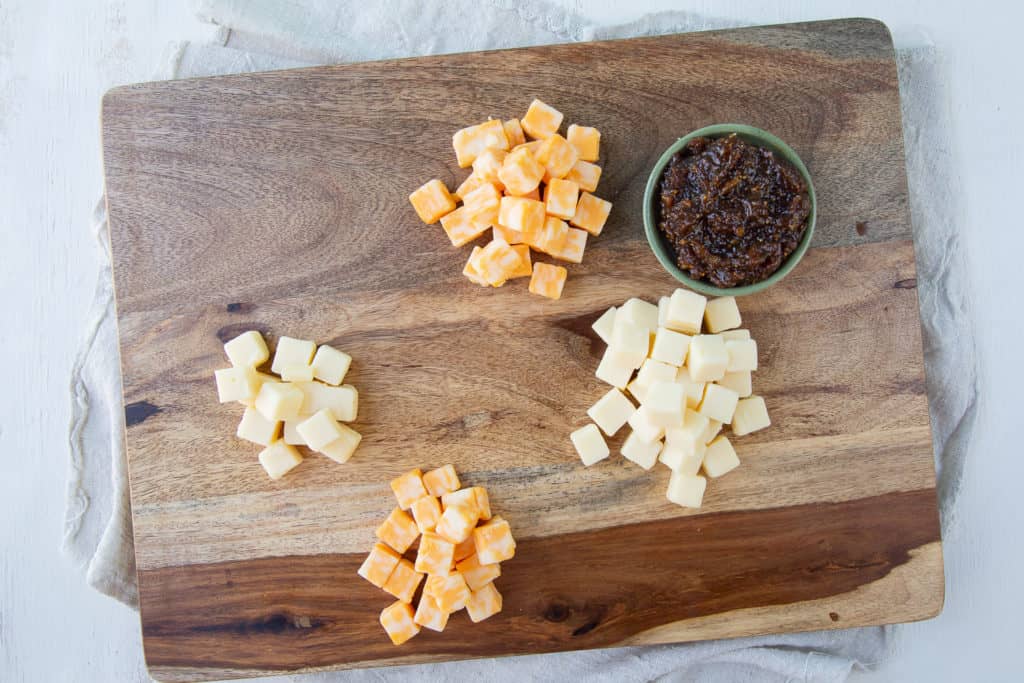 Next, add a few rows of sliced salami.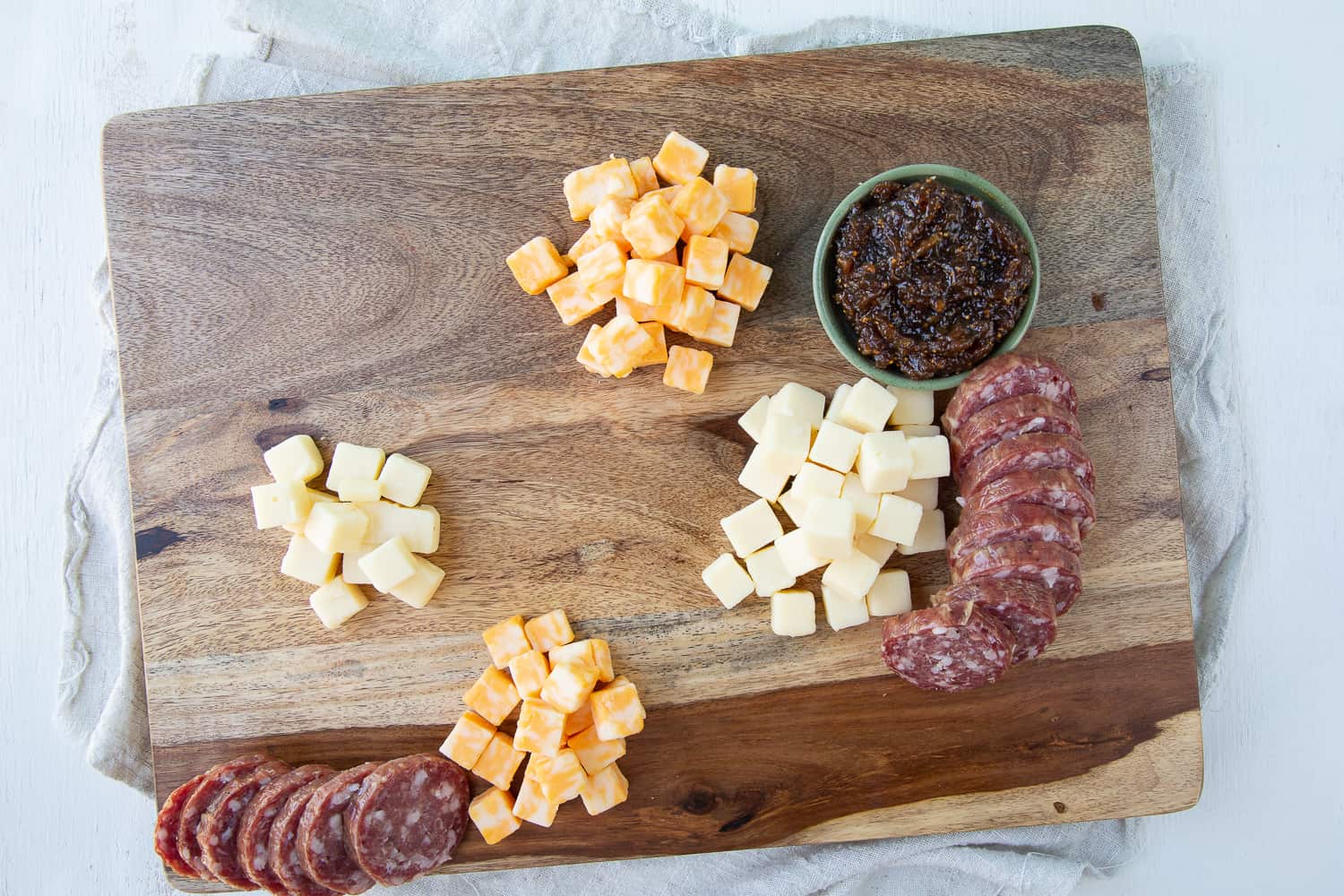 Then add a few piles of crackers. I usually have a variety of crackers on hand, so I just add whatever is in the pantry to the board.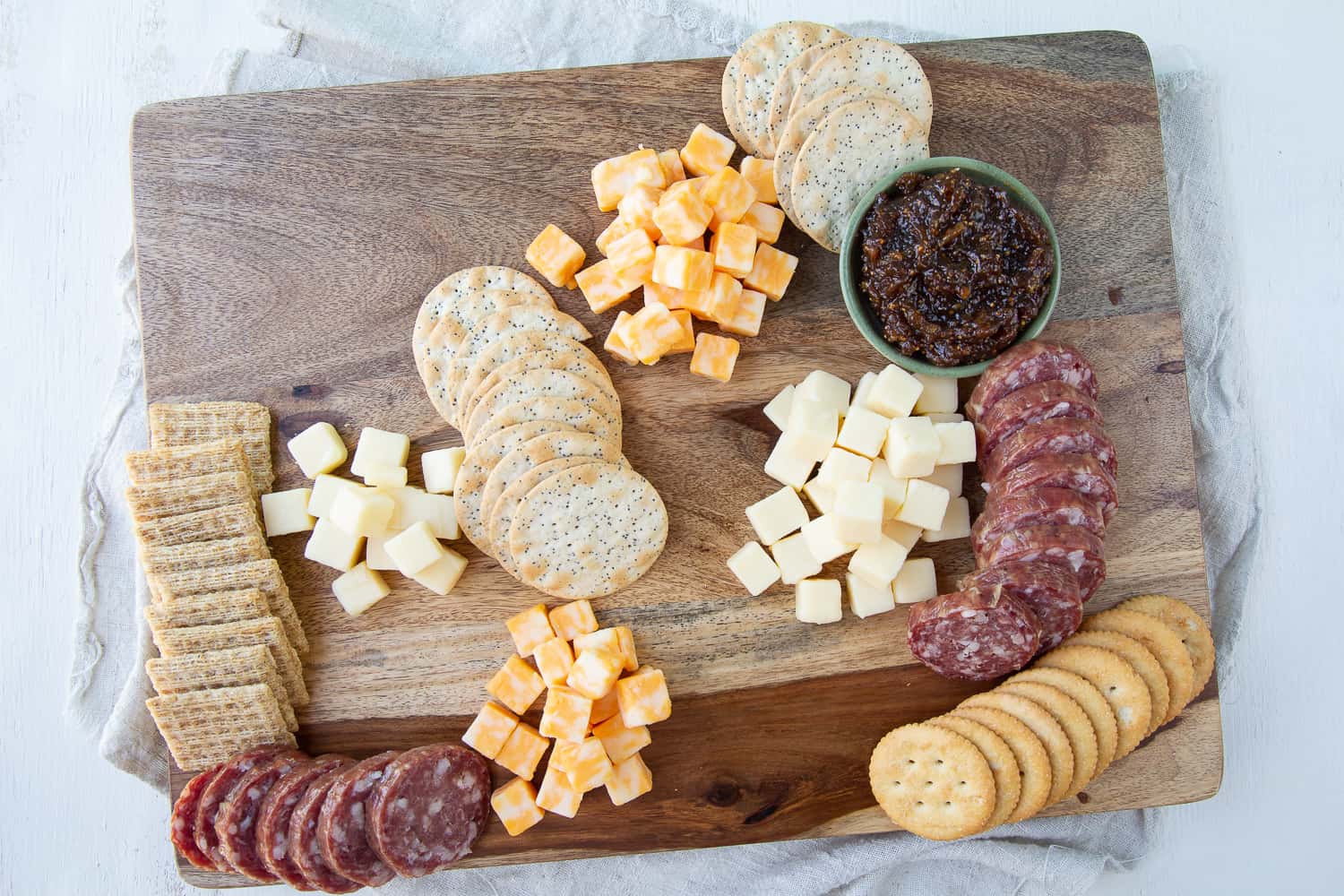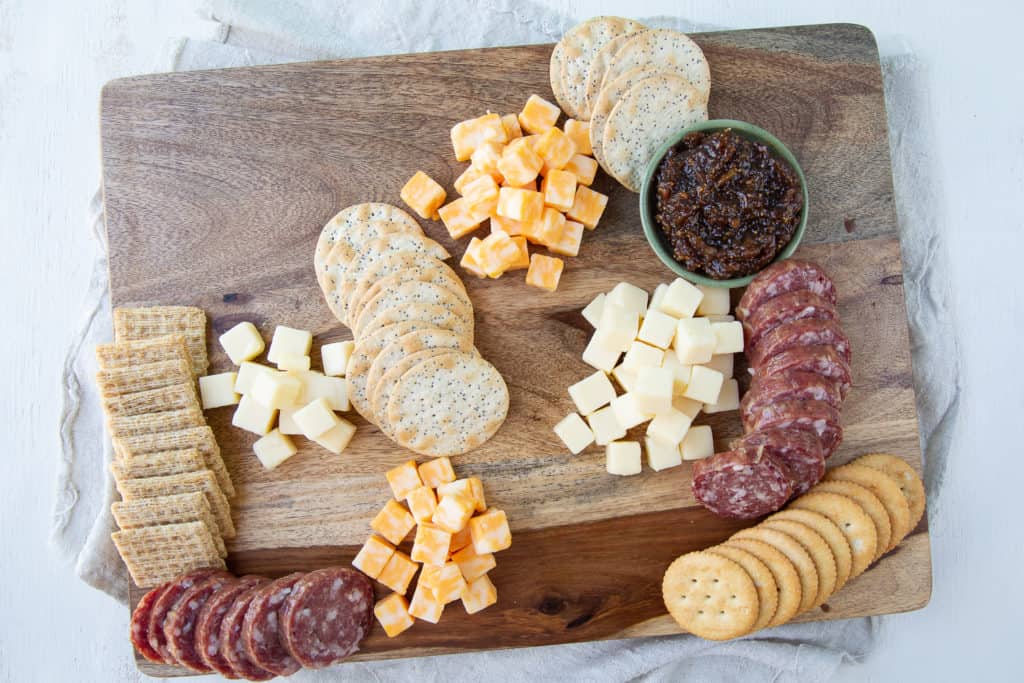 Next, add some fruit! Berries and grapes are perfect for cheese boards because they pair so nicely with the cheese.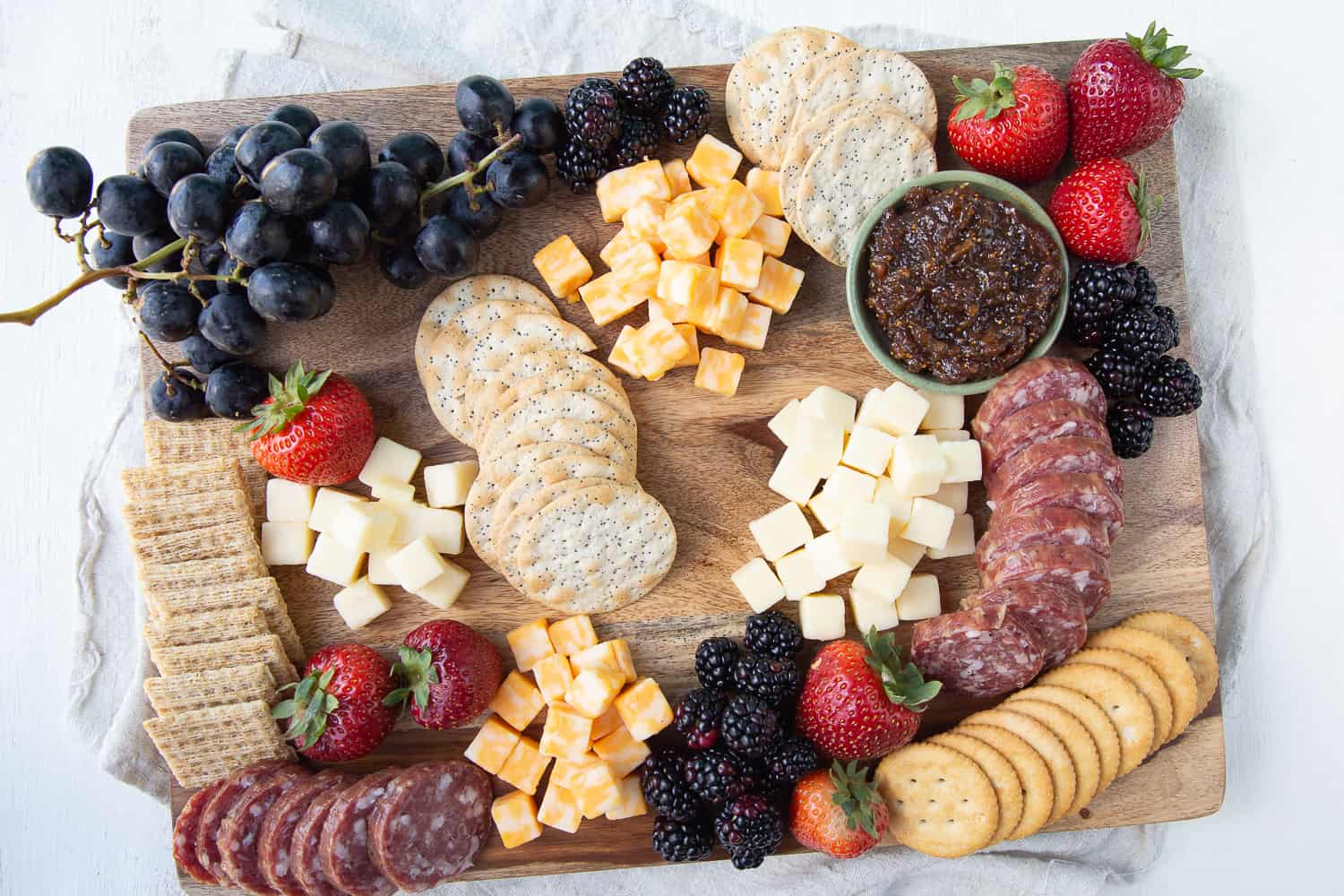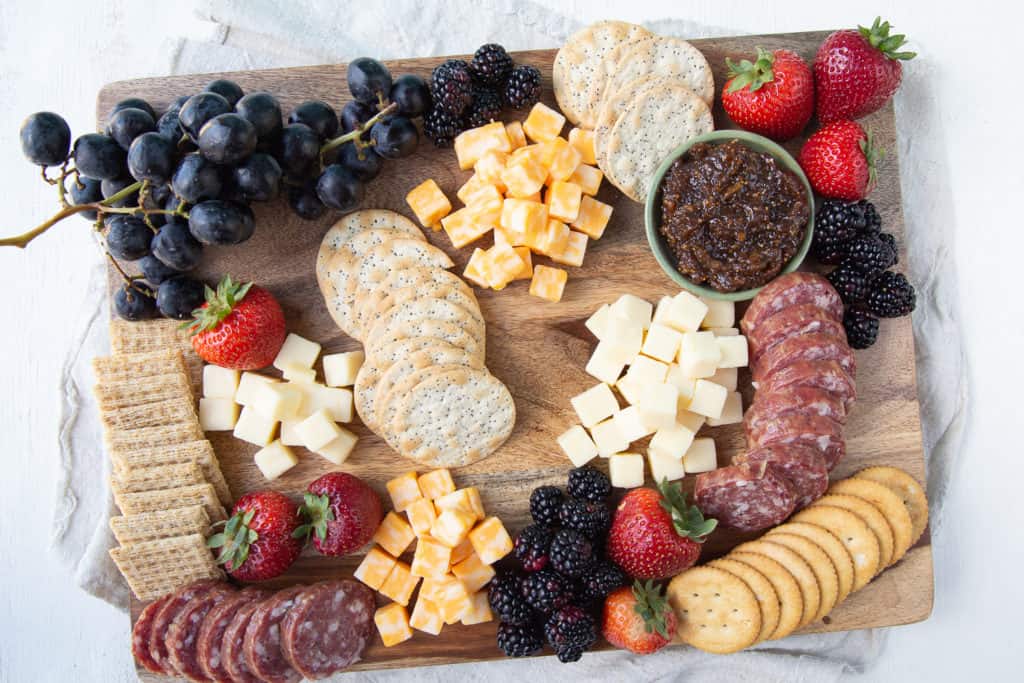 Finally, fill in the holes with nuts. Marcona almonds are a popular choice, but salted mixed nuts would be a hit, too.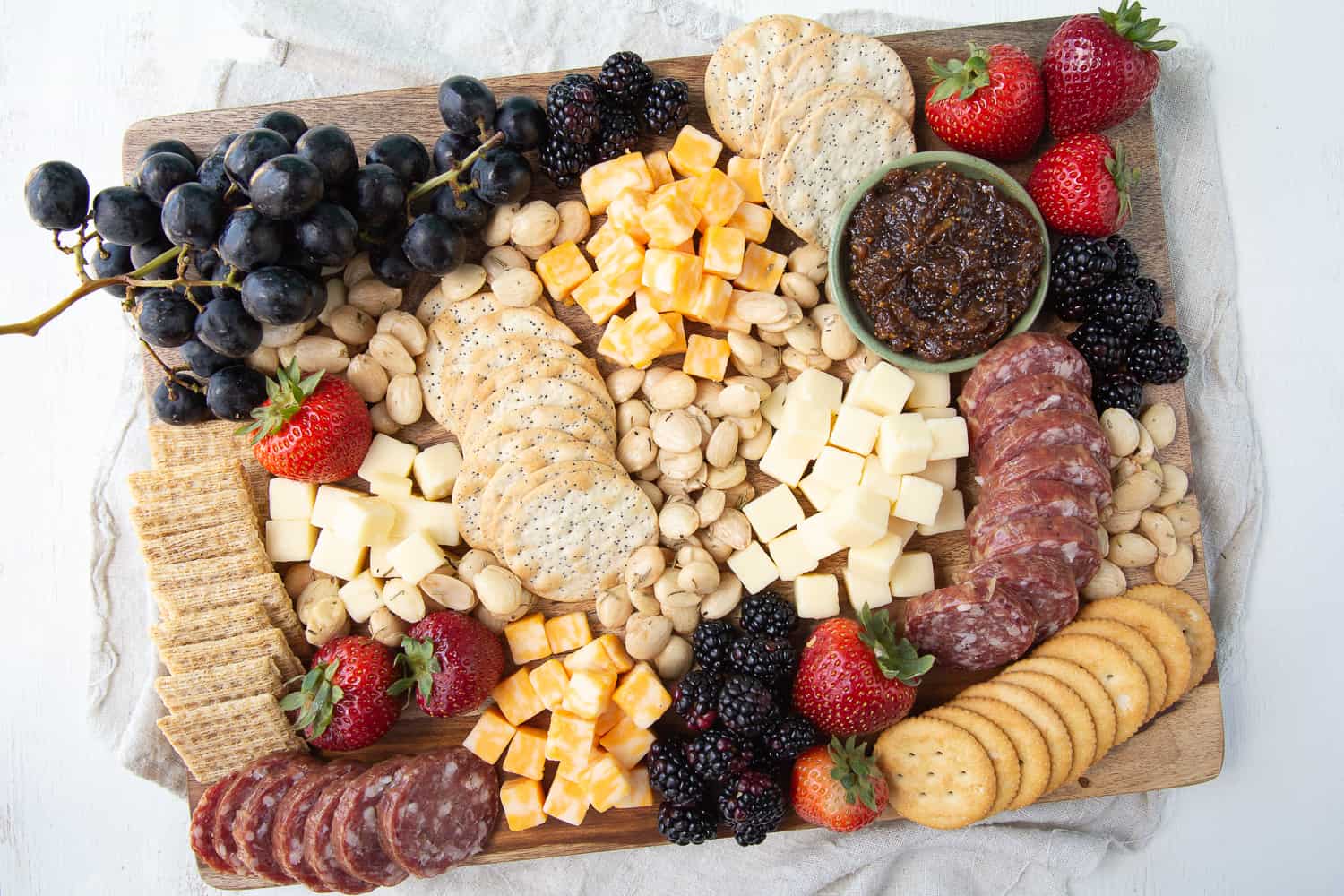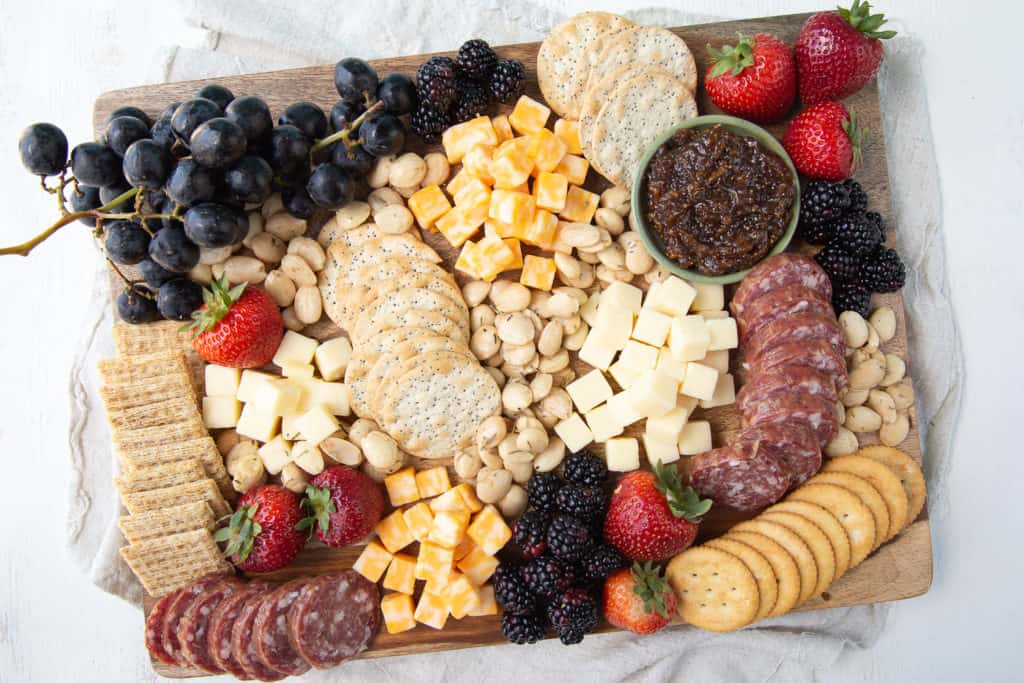 Keep some extra cheese on hand to replenish the board if you are serving a crowd—the cheese is always the first to go!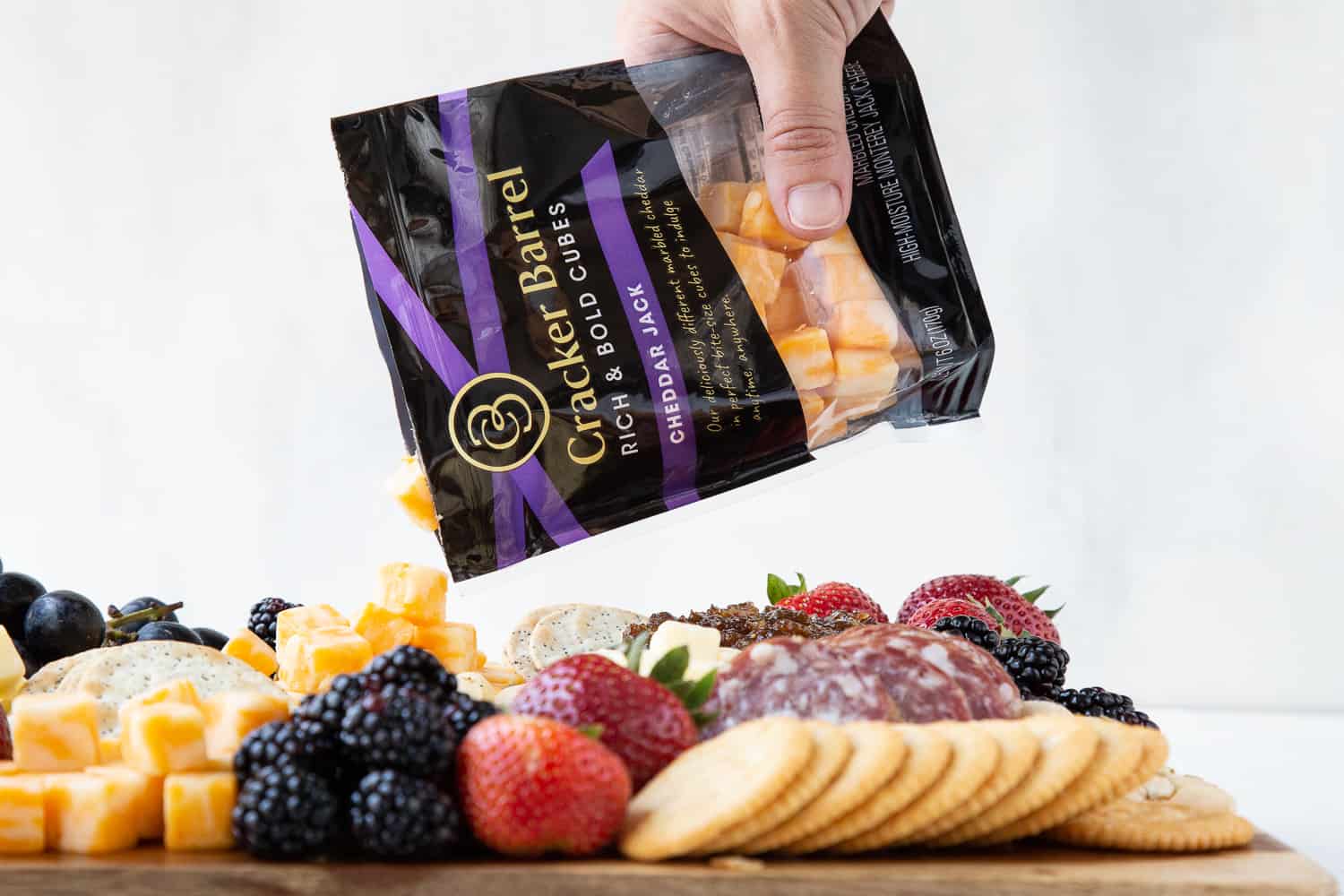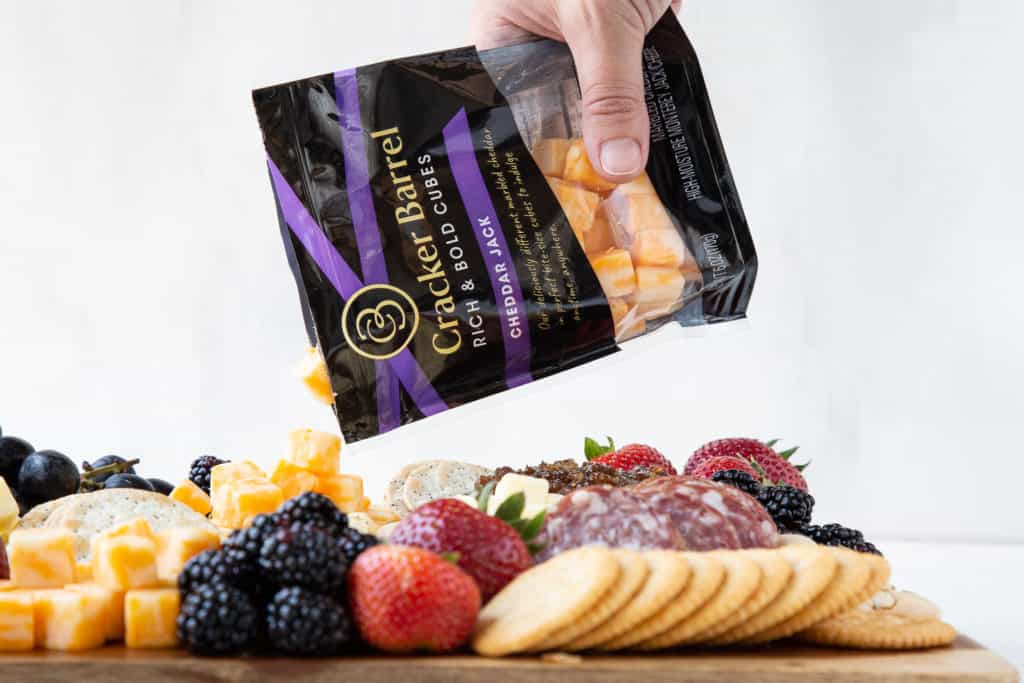 FAQs
What types of cheese are best for a cheese board?
A traditional cheese board has 3 types of cheeses: a soft cheese, a hard cheese, and a blue cheese. A variety of cheeses is good to appeal to various tastes and preferences. However, I suggest using cheeses that you like. That way you can enjoy the leftovers!
You can also feature a spreadable cheese, like this Cheese Roll.
What kind of nuts are best for a cheese platter?
Almonds (particularly marcona almonds), pecans, walnuts, and mixed nuts are all good choices for pairing with cheese. Marcona almonds are a sweeter variety of almond that are roasted in olive oil and sprinkled with salt. Trader Joe's sells small bags of rosemary marcona almonds that I love adding to a platter.
What types of meat are best for a cheese board?
Salami, prosciutto, and soppressata all pair nicely with cheese. Salami is usually sold in logs, which you can slice to your desired thickness. Make sure to read the package to see if you should take the rind off or leave it on. Prosciutto is typically sold already sliced, in the specialty cheese section. Soppressata can be purchased at the deli counter. Ask them to slice it thinly for you.
A cheese board is an obvious choice for a weekend or a get-together, but I think a smaller version of this platter would be a fun addition to a weeknight.
If you have a round platter, I made a tutorial on making a cheese board using a round wooden board. You can find it here.
If you make this recipe, please leave me a rating below, or tag me on Instagram or Pinterest. I love hearing from you!
Summer Cheese Board
Enjoy a relaxing evening with a glass of wine and this epic cheese board!
Ingredients
1

6 oz bag Cracker Barrel Aged Reserve Cheddar cheese cubes

1

6 oz bag Cracker Barrel Cheddar Jack cheese cubes

½

cup

jam

(I used fig jam)

1

8 oz log of salami, sliced

Assorted crackers

Assorted fresh fruit

(I used strawberries, blackberries, and grapes)

Your choice of nuts

(I used rosemary marcona almonds from Trader Joe's)
Instructions
Place a large wooden board on a flat surface. Place the Cracker Barrel cheese cubes in piles around the board.

Pour the jam into a small bowl and place on the board.

Arrange the sliced salami in several rows on the board. Place the crackers in piles around the board.

Fill in the larger gaps with piles of fresh fruit. Then, fill in the smaller gaps with the nuts.

Serve immediately. Alternatively, carefully place plastic wrap over the board and refrigerate until ready to serve.
Notes
I find that the board is best served within a few hours of preparing. Avoid making this the day before as the items can dry out and the crackers will get soggy.
The nutrition facts are for the cheese, salami, and jam only. Crackers, fruit, and nuts are not included.
If you can't find fig jam, strawberry jam or raspberry jam would be a great substitute.
Nutrition
Calories:
275
kcal
Carbohydrates:
13
g
Protein:
13
g
Fat:
19
g
Saturated Fat:
10
g
Cholesterol:
52
mg
Sodium:
726
mg
Potassium:
137
mg
Fiber:
1
g
Sugar:
8
g
Vitamin A:
340
IU
Vitamin C:
1
mg
Calcium:
246
mg
Iron:
1
mg