A tea party theme is an adorable way to celebrate a baby shower. In this guide to how to host a tea party baby shower, I'm sharing recipes, beverages, and table setting ideas, as well as games to play!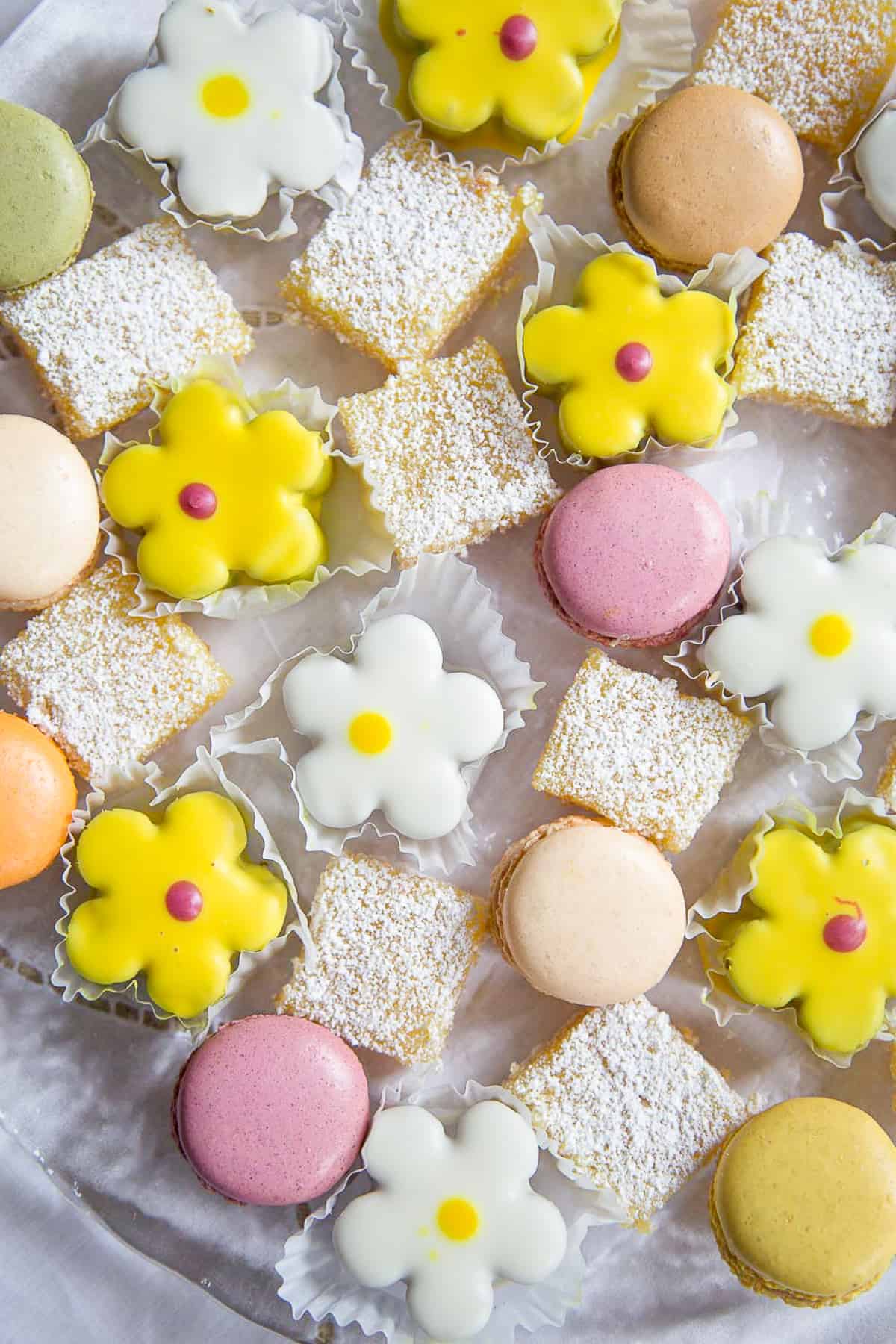 I recently threw a Tea Party Baby Shower for my friend Kelley, who is having TWINS! Like many, she and her husband's journey to being parents was not easy, and they are so grateful to have a double blessing coming this fall.
I landed on a "Tea for Two" tea party theme. Afternoon tea is such a fun activity with the girls, so I knew this would be perfect.
Setting the table
I highly recommend setting the table the day before the shower. There's nothing like trying to match silverware when guests are on the way and food is in the oven!
I set the table the day before so I could concentrate on the food on the morning of the shower.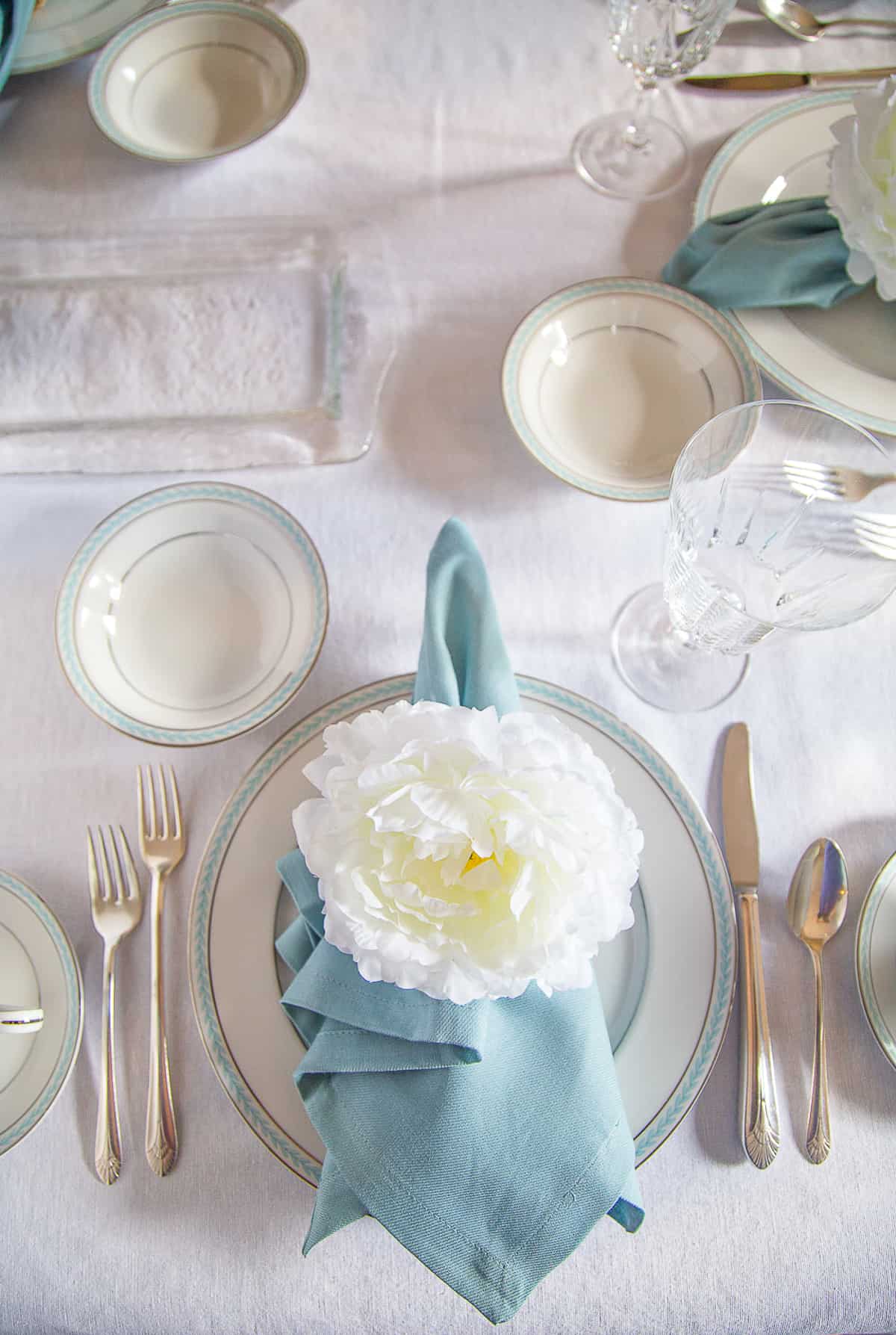 For the table, I used the following:
My Auntie Carol's 1970s wedding china
My Grandma's silver
Peony napkin rings—I got mine at Crate & Barrel and they have been discontinued, but these napkin rings are similar.
Blue cloth napkins from World Market (these come in a variety of colors)
Tip: World Market has one of the best deals on good-quality cloth napkins ($13 for 6), and they come in a variety of colors (like pink for a baby girl shower). They wash really nicely and require just light ironing, or maybe even no ironing if you take them out of the dryer in a timely manner, which I do not. 🙂
Baby Shower Menu Ideas
The nice thing about a tea party is that you don't need a main dish. A variety of food comes together to create a meal.
I knew I wouldn't be able to make everything from scratch, so I used a few store-bought options to fill in.
Scones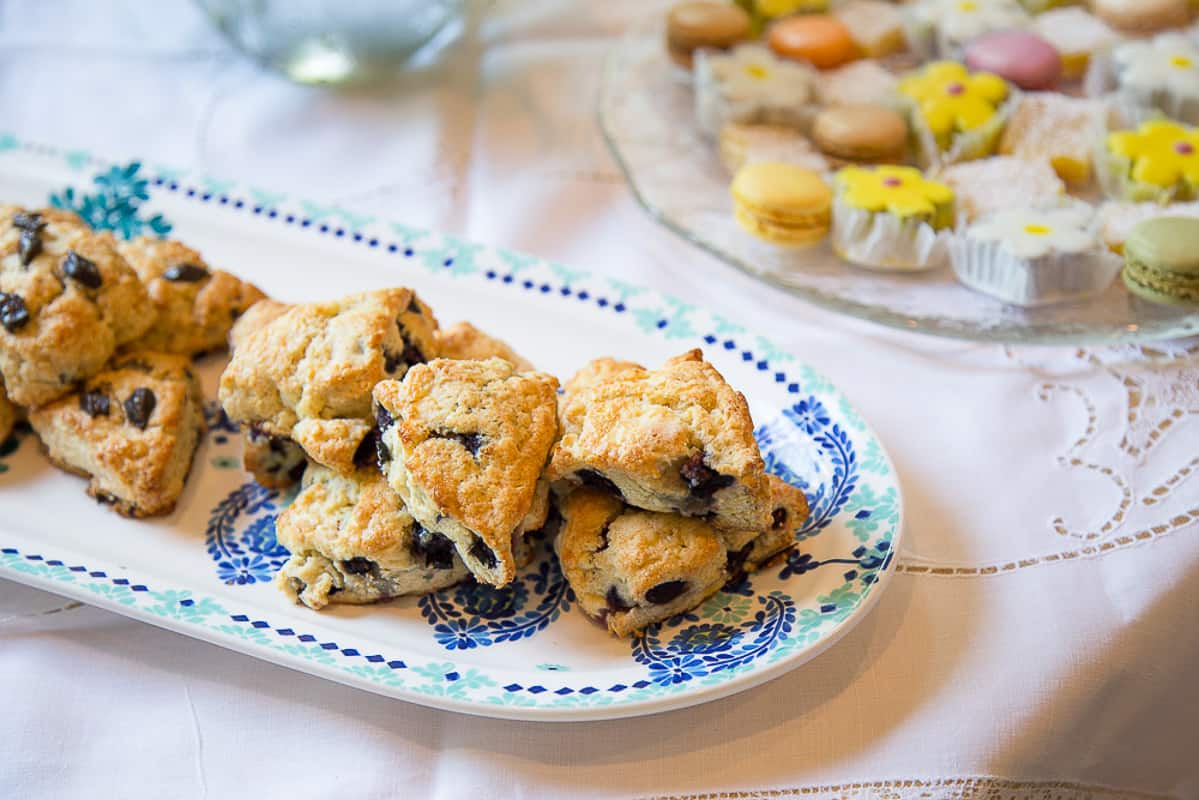 Scones are traditional for English tea parties. I used my white chocolate and orange scone recipe and tweaked it to create two flavors: chocolate chip and lemon blueberry.
While a "proper" scone recipe does not include egg, this recipe creates a slightly more moist scone than the crumbly British ones.
For the lemon blueberry scones, I used fresh blueberries in place of the white chocolate chips, and lemon zest in place of the orange zest in the scone recipe.
For the chocolate chip scones, I simply replaced the white chocolate chips with mini semi-sweet chocolate chips, and left out the zest.
Tea sandwiches and mini frittatas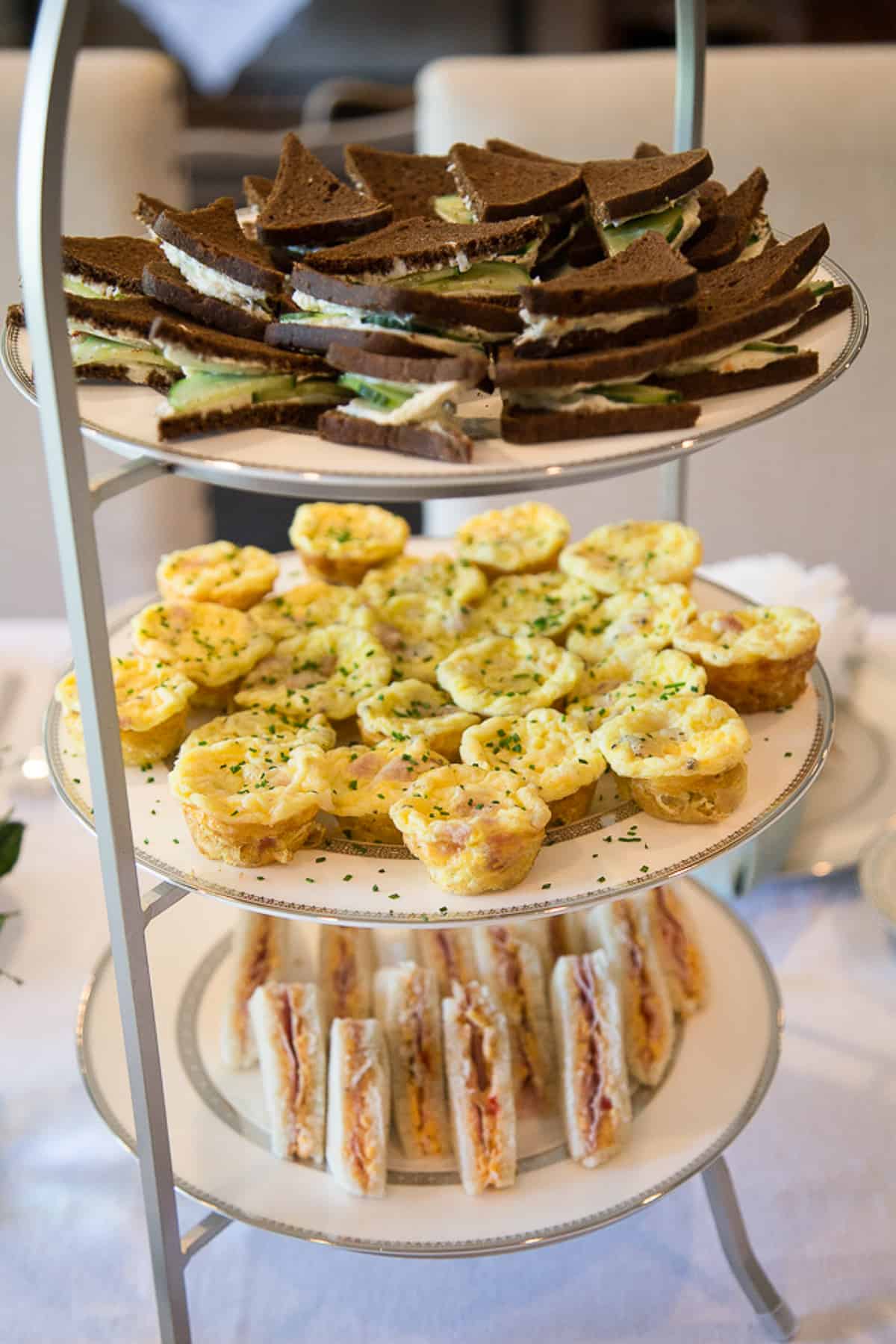 It's not a tea party baby shower without tea sandwiches! I used my recipe for cucumber sandwiches, but topped them with another slice of pumpernickel and cut them into triangles.
I also made ham and pimento cheese tea sandwiches with Sara Lee very thinly sliced white bread (you can find it in the bread aisle in a white package), thinly sliced ham, and store-bought pimento cheese spread.
Tea party food tends to be on the sweeter side, so a few dozen Quiche Lorraine-influenced frittata bites balanced out the menu nicely.
To make the mini frittatas, I whisked together 7 eggs, ½ cup of shredded Gruyere, 2 slices of cooked and crumbled bacon, and a few slices of chopped deli ham. I baked them in mini muffin tins.
Fruit salad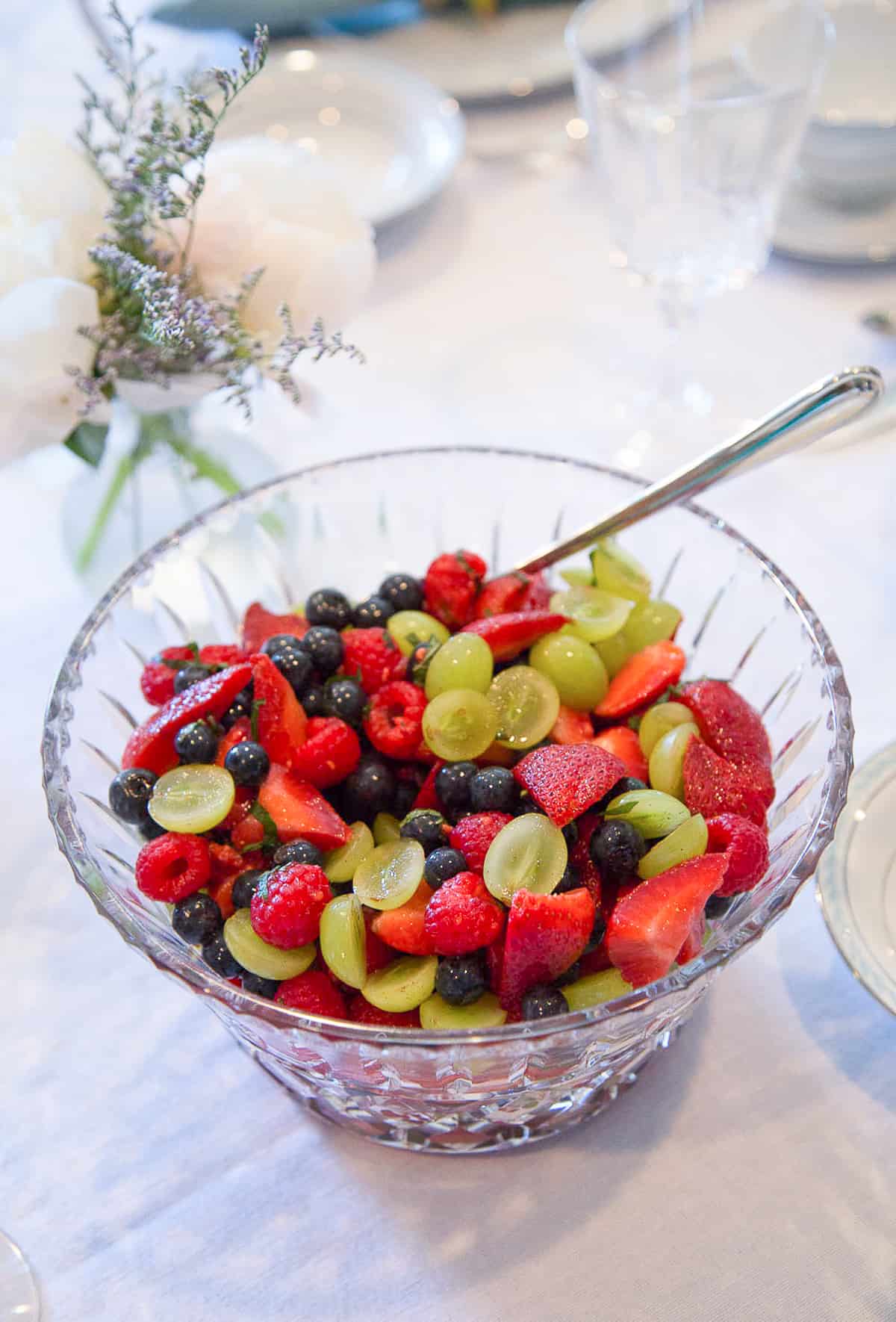 The fruit salad is a mixture of halved green grapes, sliced strawberries, raspberries, and blueberries. I tossed the fruit with a simple syrup made with sugar, mint, lemon zest, and vanilla.
Cucumber appetizers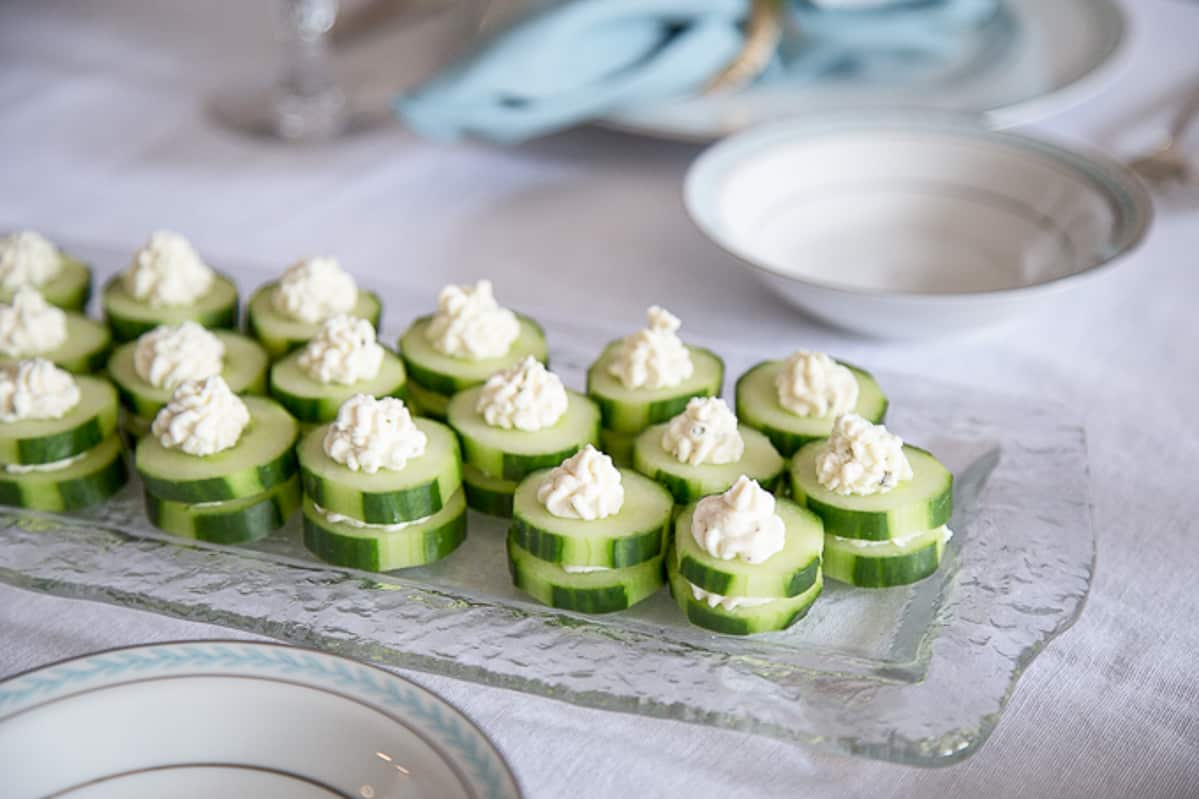 To add some veggies to the party, I piped Boursin cheese between two cucumber rounds, and then piped a little more on top.
As soon as everyone found out that it was Boursin, they flew off the plate. What is it about that amazing cheese that makes it so irresistible?
Chicken salad in puff pastry cups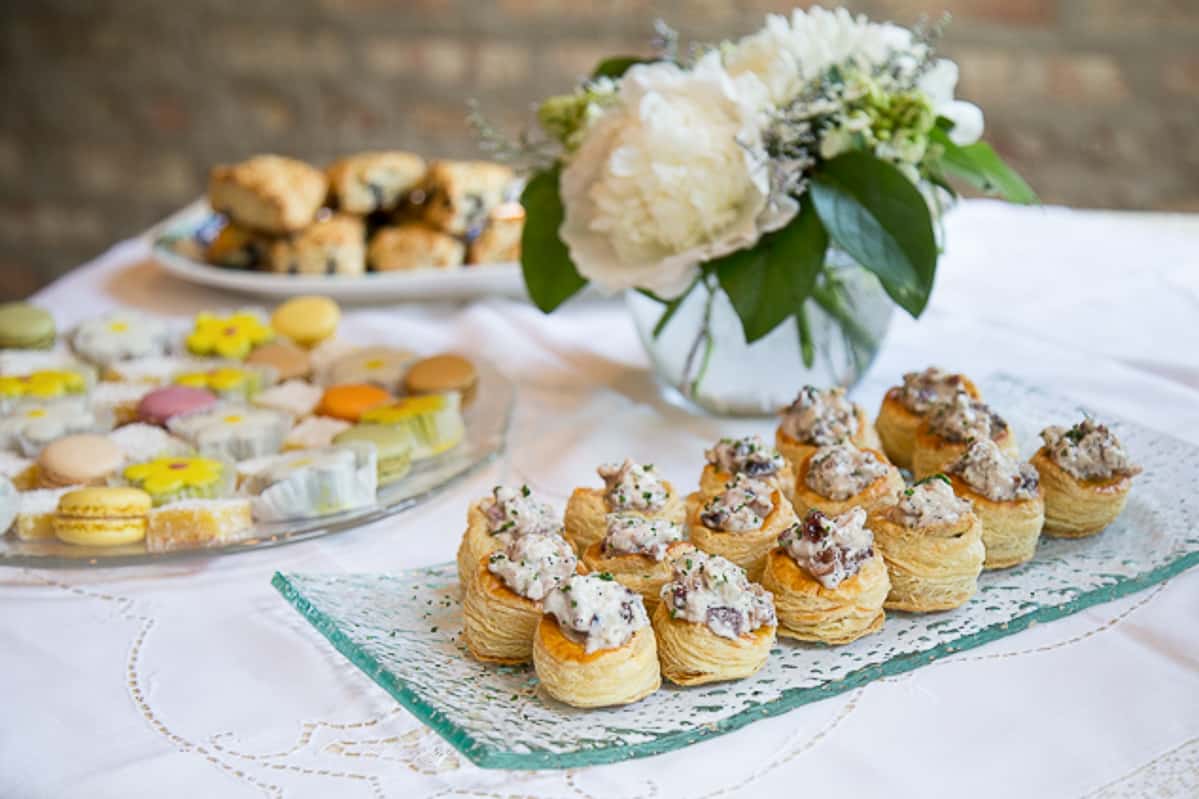 The hit of the party were these Chicken Salad Puff Pastry Bites.
It's store-bought chicken salad (thank you, Trader Joe's) in homemade puff pastry rounds.
Dessert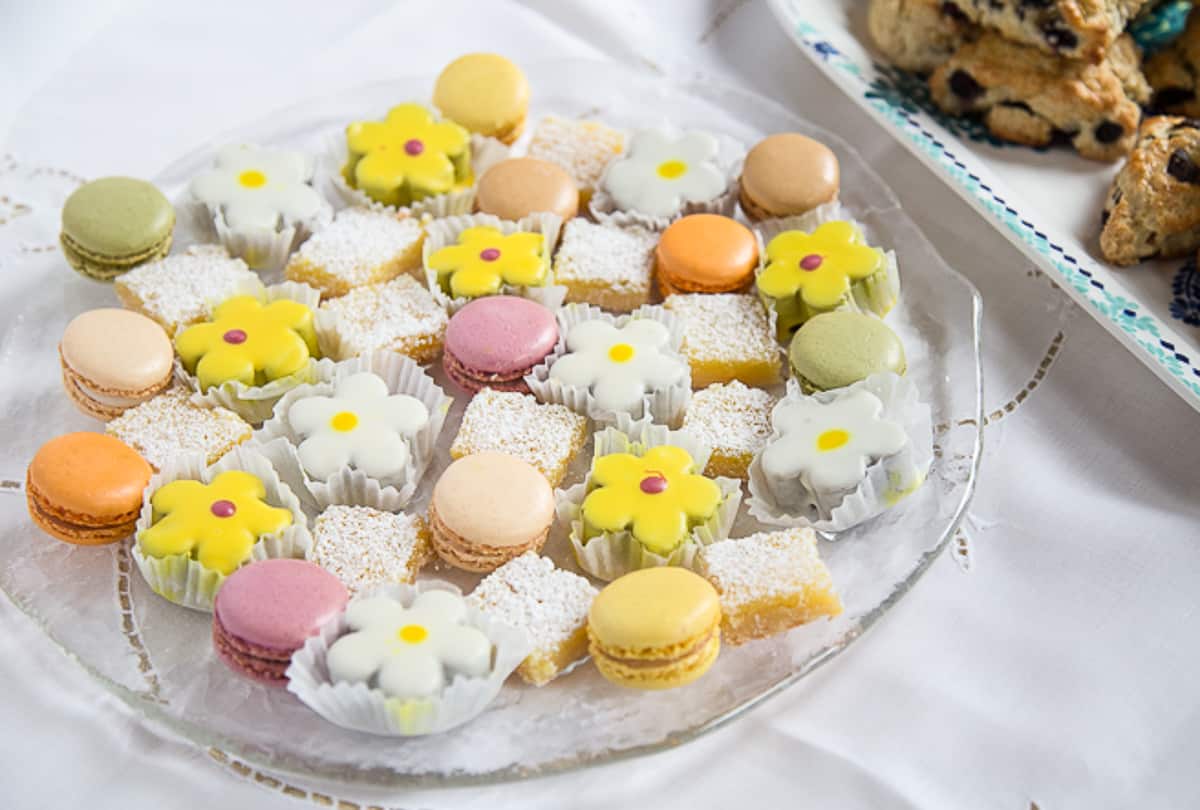 Dessert was a mixture of homemade + store-bought. Trader Joe's carries amazing French macarons in the freezer section. I also picked up a few boxes of Trader Joe's flower-shaped chocolate mousse cakes.
They were darling alongside homemade bite-sized Lemon Bars (the recipe is from Magnolia Table: A Collection of Recipes for Gathering
).
I served them all on a big round glass platter.
Beverages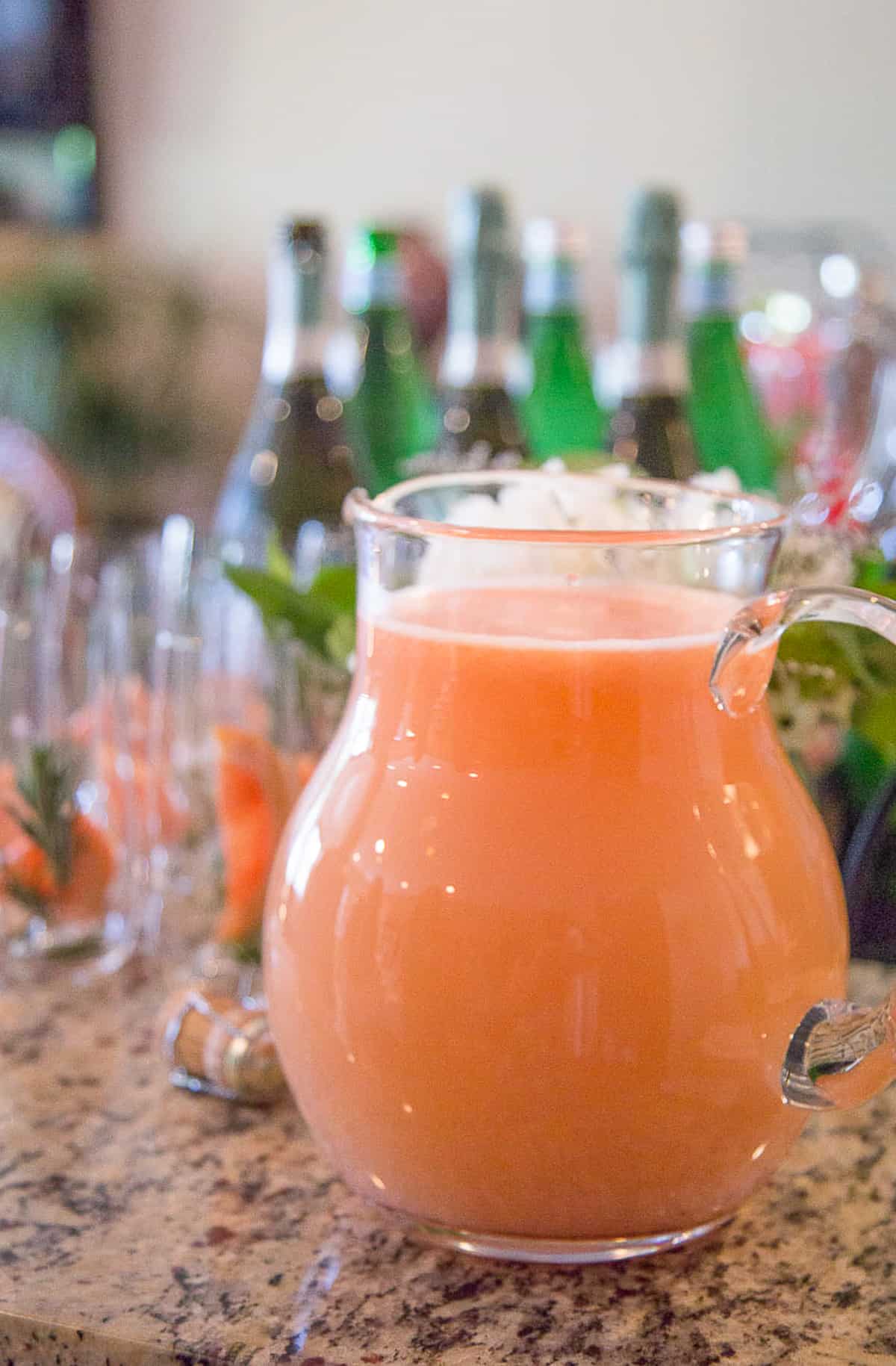 The Tea Party Baby Shower was on a warm June day, so everyone passed on drinking hot tea. But that was undoubtedly because my friend Jackie made some amazing mocktails and cocktails!
She made both Watermelon Mint Mocktails/Cocktails and Grapefruit Rosemary Mocktails/Cocktails. Both recipes have an option to use either sparkling wine or sparkling mineral water, so it was nice to have both an alcoholic and non-alcoholic option.
Jackie brought a set of champagne glasses and we used my set of champagne flutes too so everyone could try both of the beverages.
The flutes are great to have on hand for parties (particularly baby showers or New Year's Eve parties).
Tea party baby shower game ideas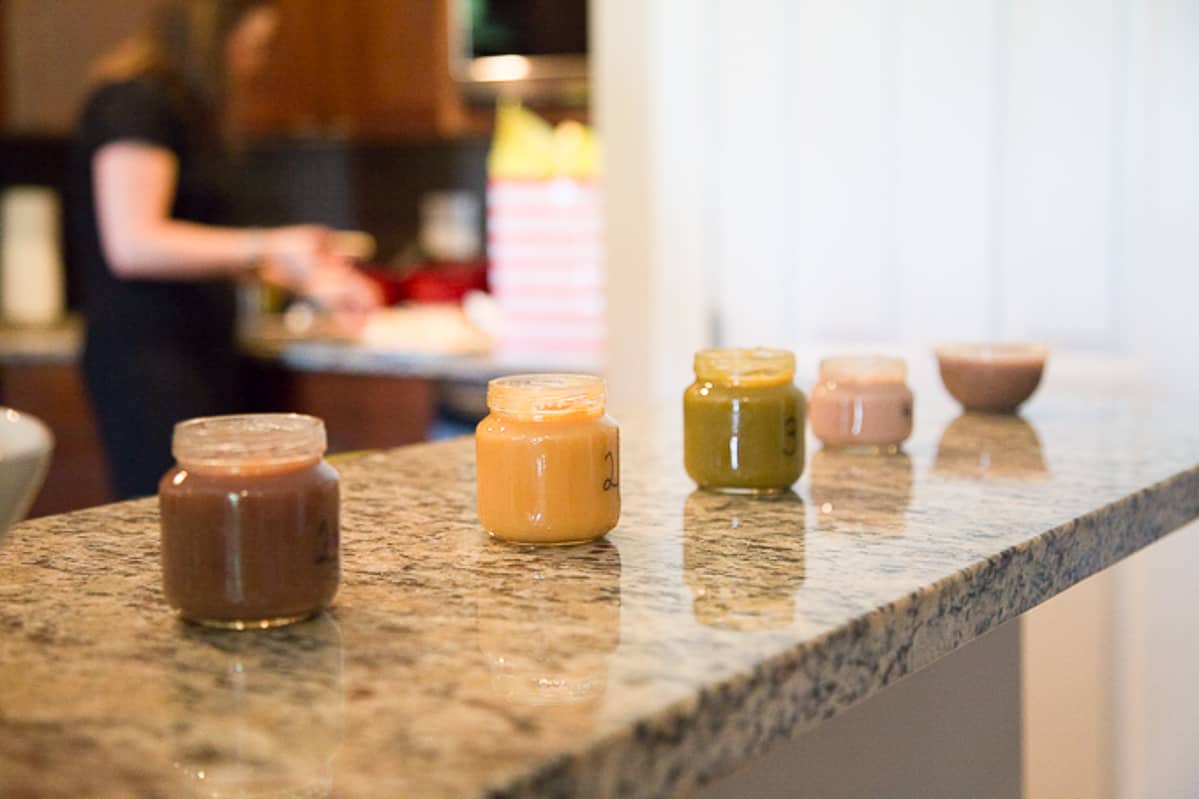 It's not a baby shower without games! My friend Stephanie selected a few activities including "guess the baby food". If you're looking for a challenging game for your guests, this is it!
Take off the label from each jar and label the jars with numbers. Give guests a mini plastic spoon for each jar, and a piece of paper and a pen to write down their guesses.
Heads up: the chicken and gravy baby food tastes terrible. 🙂
With the mama-to-be's permission, we also played "how big is mommy's belly?". Each guest received a long piece of string. The goal is to cut the string to the exact length around of mama's belly. The person who is closest with their string wins!
We passed around a few pairs of scissors in order to play. Hilarity ensued as many of us were VERY wrong in guessing how big her belly was!
Finally, we played an animal match game, where you match the animal to the name of their babies.
It was such a lovely day of celebrating the mama-to-be's double blessing.
This post contains affiliate links. Thank you for reading GiftofHospitality.com and helping me to provide quality content.