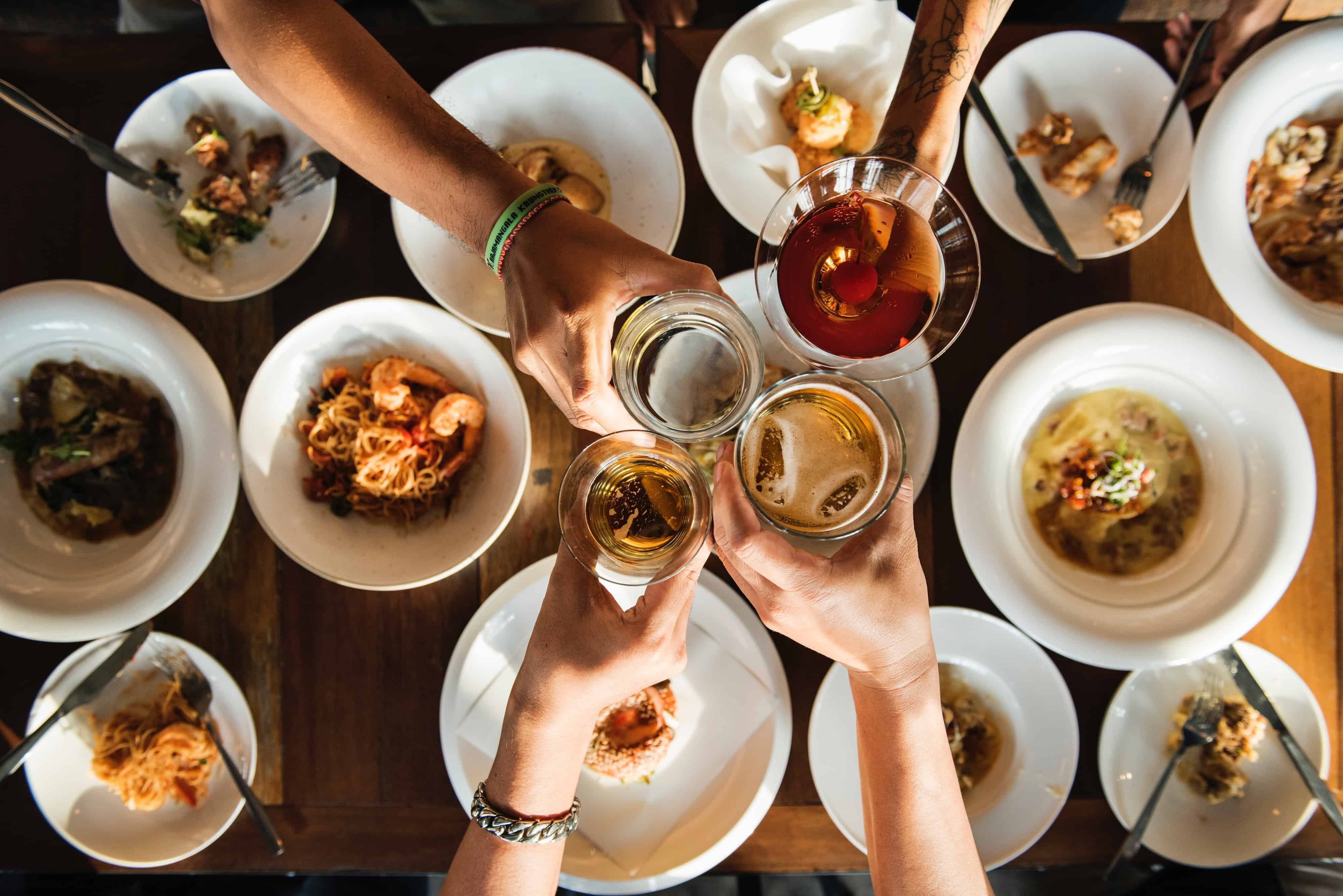 One common roadblock to having guests over is the lack of space. Maybe your apartment is tiny, or your dining table seats two people. Or perhaps you don't even have a dining table.
Maybe you only have a handful of nice plates and a few settings of silverware. Or perhaps you don't really like the look of your small space, and you're waiting for your Pinterest-worthy suburban home to invite guests over.
Good news! None of that matters. Your space being too small or too imperfect for entertaining is a myth. Have you ever been to someone's home for a meal, and afterwards thought, "I wish they never would have invited me over—their home was way too small." Or how about, "I'm never going back—her chairs were too hard." Of course not!
And why is that? Because it's not about the space—we invite people over for the company. So instead of getting stuck on your small space, remember the reason why you're having guests into your home. For me, it's to create meaningful connection over a meal.
That said, small spaces can pose challenges. As a city dweller, I've gotten used to living in small spaces. I had a small one-bedroom apartment for 5 years, and I've been a guest at many studio apartments. Our home is somewhat larger now, but with little storage. So over the years, I've developed some strategies and ideas for hosting guests.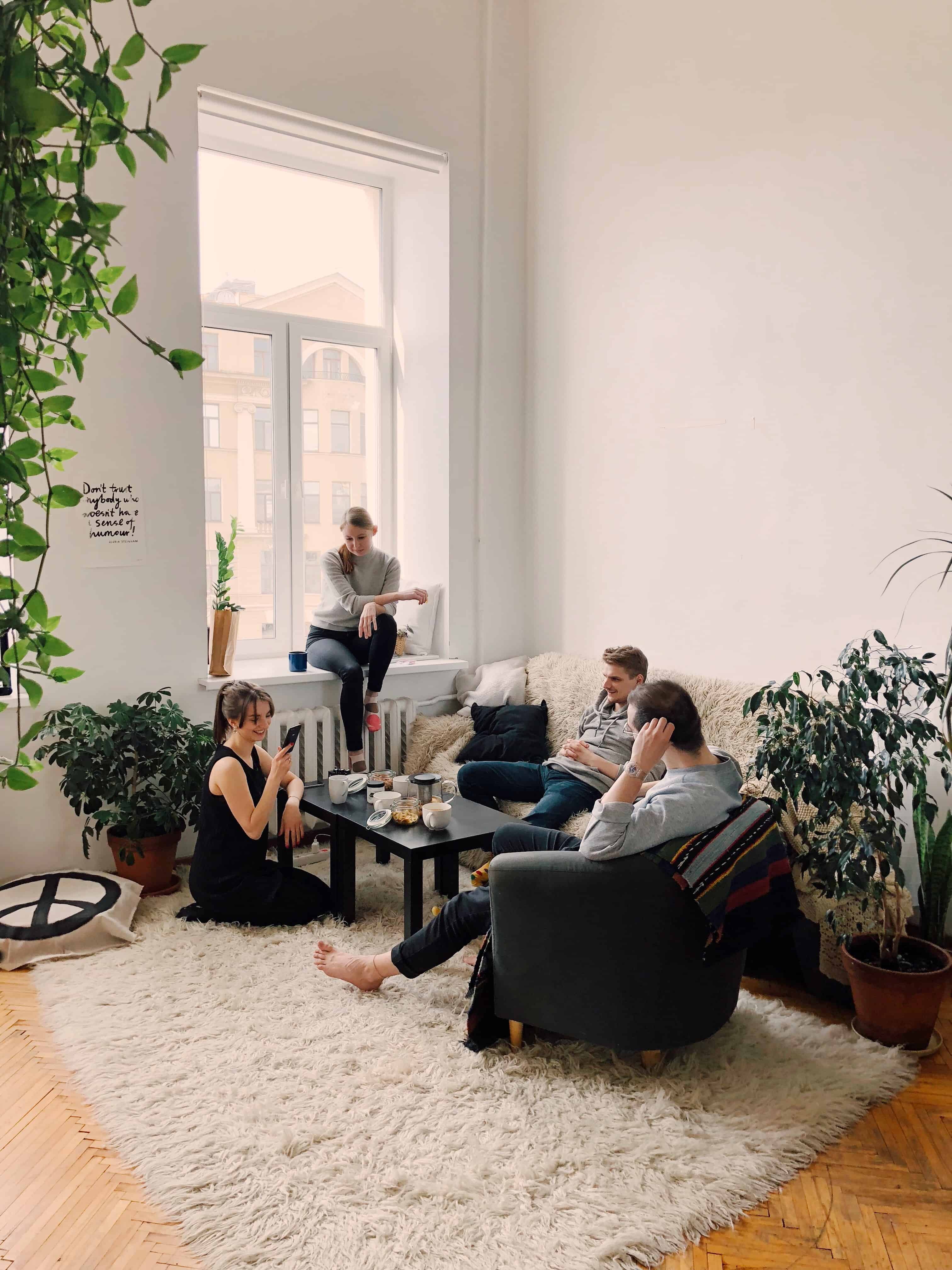 Get creative with seating. But someone please tell that guy on the couch to scoot over! 🙂
Borrow from Your Neighbors
If you live in a small space, I'm going to guess that you have neighbors close by. My husband and I have borrowed dining room chairs, folding tables, folding chairs, drink dispensers, pitchers, and party games to name a few. I've brought silverware, cloth napkins, and serving dishes to other people's homes for their use.
Each time I've asked, neighbors have been more than willing to loan the items out. In most cases, the items don't get used frequently, so the owners are happy to see them get used!
This is also a great reminder to know your neighbors. For five years, I lived above a girl in a two story walk-up, and I didn't even know her name until the fourth year (yikes). As I've grown older, I've been more intentional in introducing myself to neighbors and stopping to chat outside or in the common areas. You never know when you'll make a friend!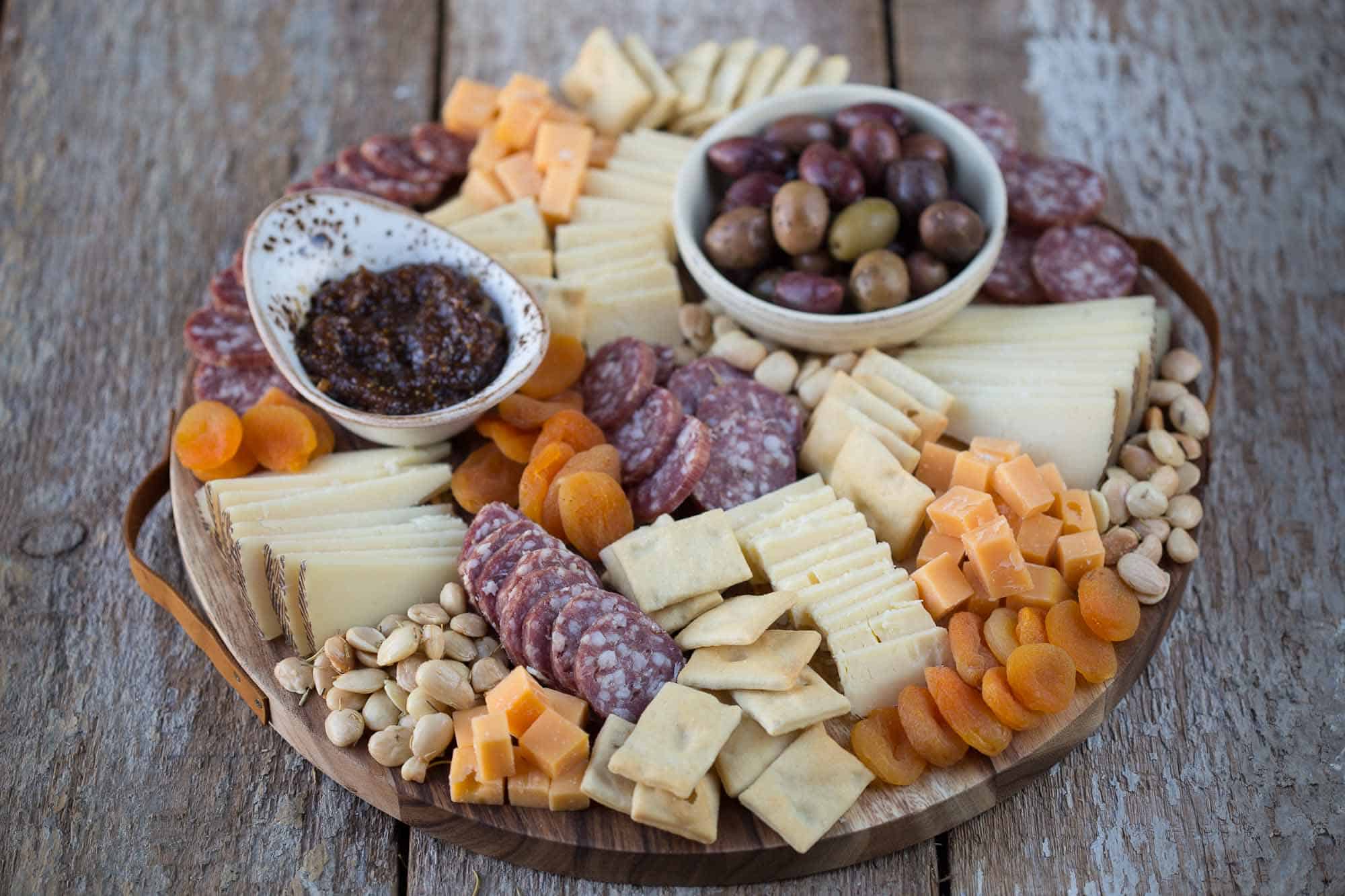 Host a Happy Hour
If you don't have space for everyone to have a sit-down meal, host a happy hour instead. Choose finger foods like pigs in a blanket, pesto pinwheels, apple cinnamon Chex Mix, bacon wrapped dates, or make a cheese board (get the how-to on that here). Finger foods are perfect for eating with one hand while guests hold a beverage in the other. No large dining table required!
Use Good Quality Plastic Dishes and Utensils
Fine china and fancy silverware is not required for entertaining. Use what you have, borrow some, or find some good quality plastic dishes and utensils. Chinet Cut Crystal Glasses
are perfect for wine and other beverages. these disposable plastic dinner & salad plates
are prettier than average plastic plates. Buffet napkins
or colorful buffet napkins
are a little fancier than the regular paper ones (though honestly, the regular paper napkins are fine, too).
Invite Fewer People
This might be a no-brainer, but do you need to host 12 people at once? How about hosting 4 people at a time instead? I find that smaller dinner parties are more intimate because everyone can have the chance to talk, and your attention won't be divided between conversations at the dinner table.
Get Creative with Your Space
My friend lives in a 450 square foot studio, and frequently has guests over. She recently purchased a pub table with chairs that fit underneath (similar to this one
).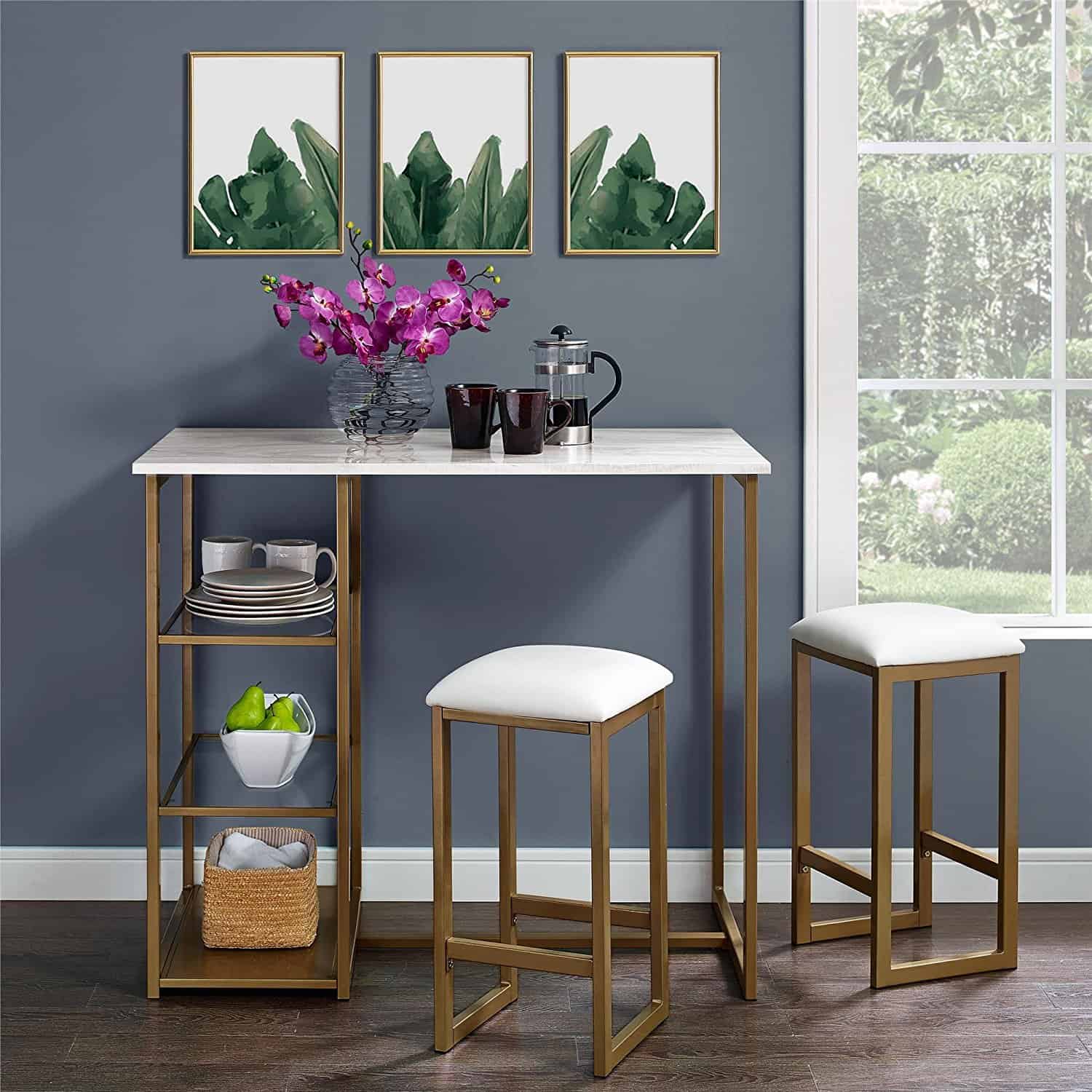 Guests can sit there, on the small sofa in front of her bed, on her bed, or on the floor. She shared that no one really minded. You're not getting together with friends for the amazing space—you're there for the company!
Pull Up Some Chairs (but Forget the Table)
When I lived in a small one bedroom apartment, I had 8–10 women at my apartment every Wednesday evening for Bible study. We'd occasionally eat together. My table sat four people, so we'd pile the food on it and use it as the buffet. Everyone grabbed their dinner, took a seat in the living room (on couches and extra chairs), and ate on their lap. It worked great! I served easy-to-eat meals like tacos or fajitas, lemon lentil soup, or a make-your-own salad bar.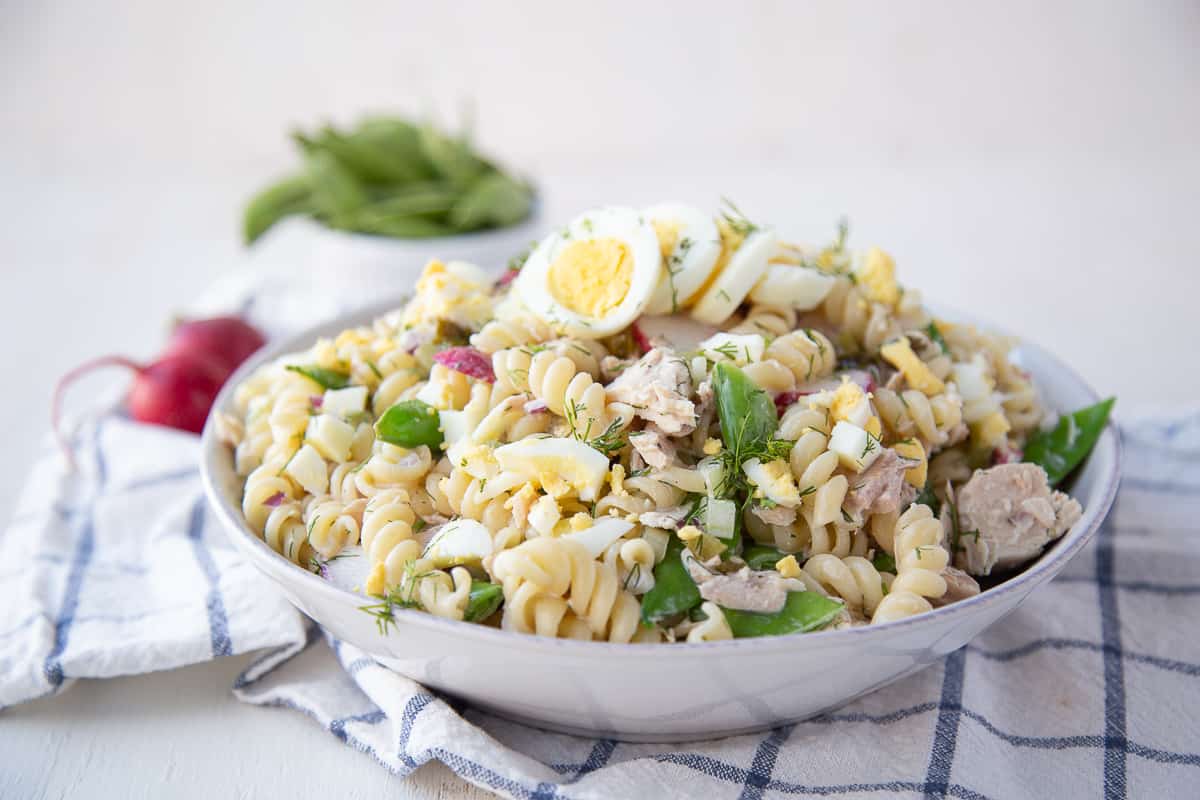 Make It a Picnic
Picnics in the living room were so fun as kids. Why not have one as an adult? If you're short on space and short on chairs, turn it into a picnic! Throw a couple of large blankets on the floor and serve picnic foods like pasta salad (this Tuna Pasta Salad is my favorite), cheese & crackers, fresh fruit, and handheld desserts like brownies.
One caveat: make sure your guests will be comfortable getting up and down from the ground, and also sitting there for an hour or so. This one may work better with a younger crowd and also young families—the kids will already be on the ground so why not join them? 🙂
Any other city dwellers have tips for small-space entertaining? I'd love to hear them in the comments below!
This post contains affiliate links. Thank you for reading GiftofHospitality.com and helping me to provide quality content.