Dinner parties don't have to be fancy or complicated. Here are five easy menus that your guests will love!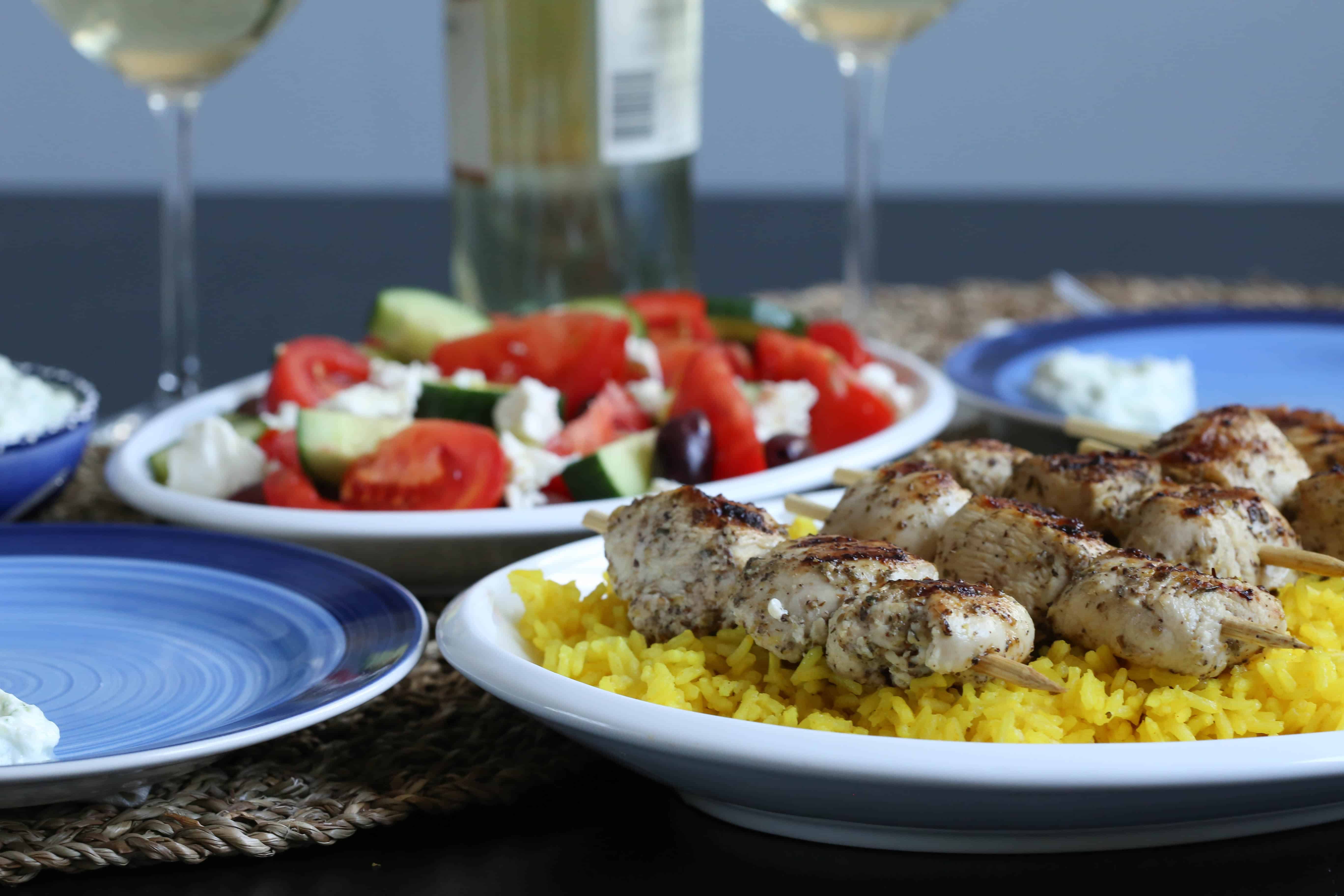 Previously, when we invited guests for dinner, I'd get stuck with decision paralysis.
There are SO many good recipes out there. Which recipes should I make? Which ones go together? Will my guests enjoy them?
I'd spend hours pouring over cookbooks and my saved ideas and then finally set the menu at the last minute right before I needed to go to the grocery store.
The good news is, I've nearly recovered from my previous indecision. Now, when we have guests for dinner, I stick to a handful of tried-and-true menus. It takes so much pressure off. And because we have guests over fairly regularly, it also saves a lot of time.
Here is my criteria for these menus:
1. The dishes pair together nicely
2. They're not too expensive
3. They're allergy-friendly if needed (or can be adapted)
4. My guests have enjoyed them in the past
5. I happen to really like them myself
Despite sticking with tried-and-true menus, I'll still change things up from time to time. I'll make a different salad, or a different dessert. I'll use flank steak instead of skirt steak. I'll make green beans instead of broccoli. I'll add a cocktail or mocktail option to the meal.
But for the most part, I stick to these menus that work. All of these recipes are written for anywhere from 2–8 people, but can be scaled up or down accordingly.
Also one note: a "dinner party" for us can just be one or two friends coming for dinner. It doesn't have to be an expensive affair with tons of guests. So whether I'm cooking for three or cooking for eight, here's what I make for them:
Dinner Party Menu Ideas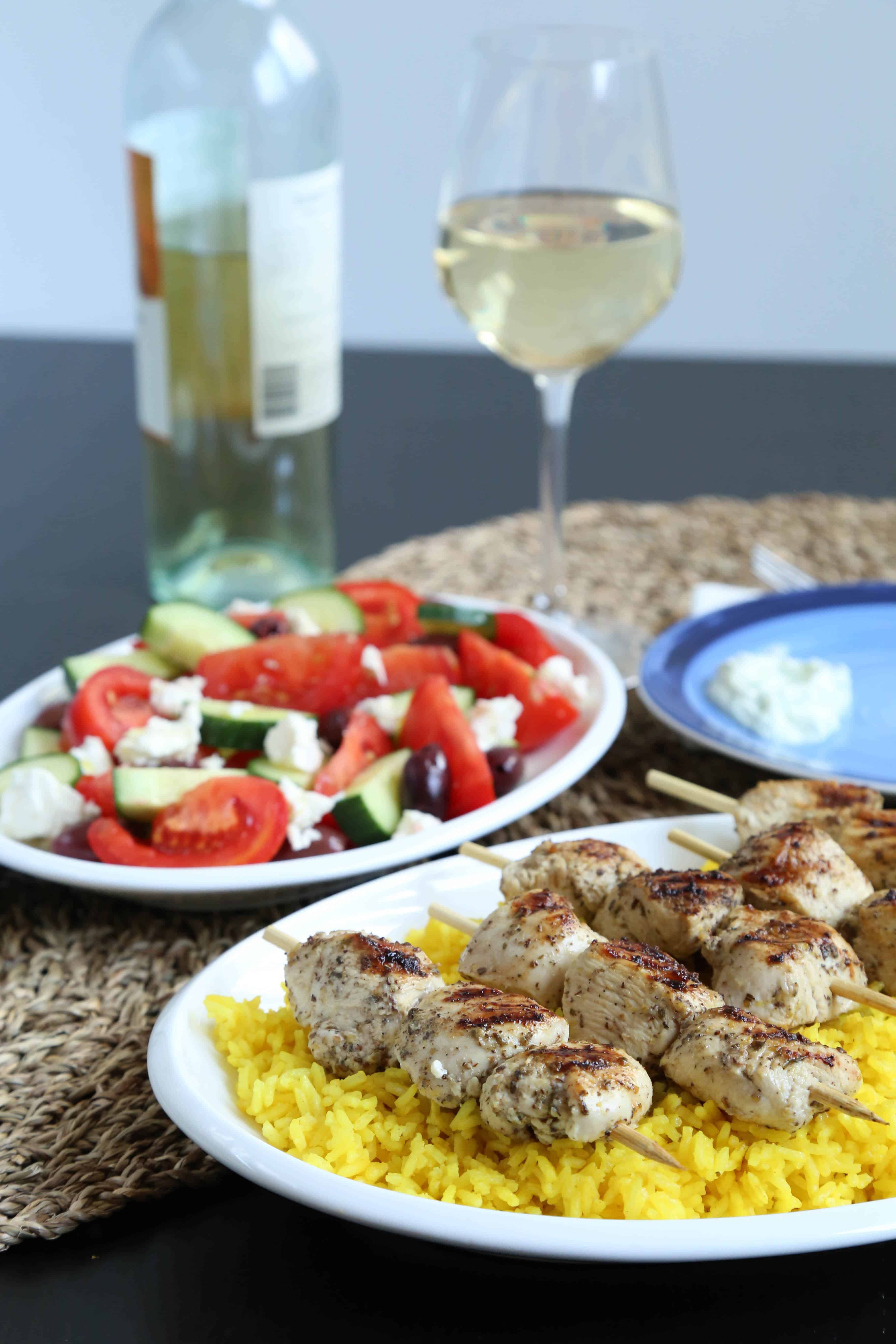 1) Chicken Souvlaki with Golden Rice and Tzatziki and Classic Greek Salad
This is my #1 go-to meal. Almost everyone will eat grilled chicken and rice, and it's economical. And best of all, it feels a bit out of the ordinary.
The meal is actually a re-creation of the food that Longe and I enjoyed on our honeymoon to Greece. The kabobs are a fun way to enjoy grilled chicken, and everyone loves the homemade tzatziki for dipping.
Guests want to know how the rice gets so yellow (it's turmeric), and it's mild enough for children.
It's also completely gluten free. It can be entirely dairy-free with the swap of a dairy-free yogurt to make the tzatziki. If I have a dairy-free guest I'll make both the traditional tzatziki and a dairy-free version with coconut yogurt.
This is also a great meal to take to friends who have just had a baby or are recovering from an illness!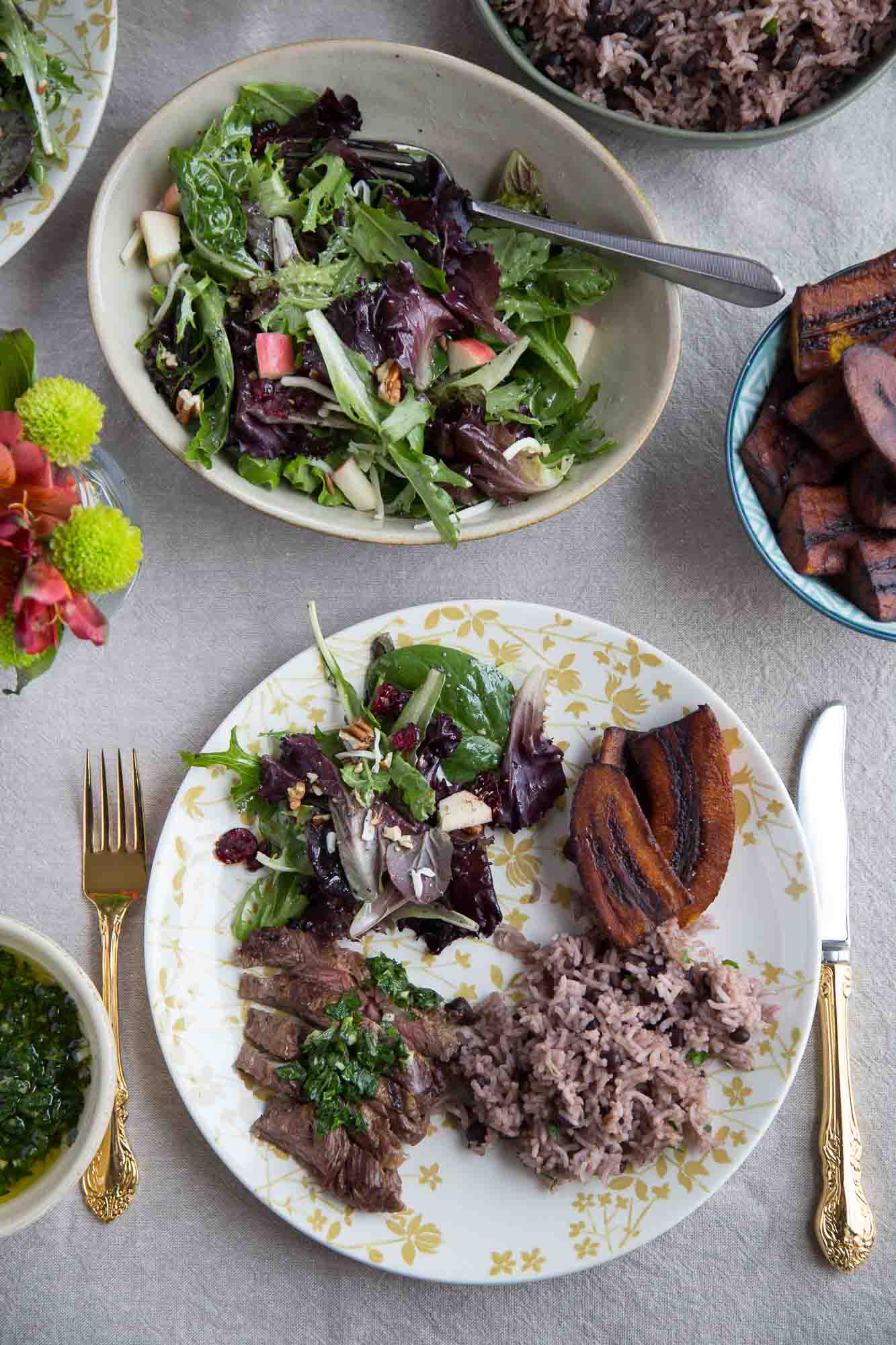 2) Cuban Skirt Steak with Chimichurri Sauce, Arroz Moro, and Church Lady Salad
This meal is a particular hit with the guys. Skirt steak is so flavorful, and though it's slightly higher priced than chicken, the inexpensive sides (rice & beans, salad) offset the cost.
The chimichurri sauce is a fun addition—everyone loves a dipping sauce. And I've had people who aren't big salad fans gobble up the Church Lady Salad (the dressing is sweet, so that helps).
The steak and rice recipes are based off two dishes that Longe and I adored at a Cuban restaurant in West Palm Beach, and we love re-creating our restaurant experience again and again (this time with friends to join us!).
This menu is also gluten-free and can be made dairy-free by leaving the cheese out of the salad.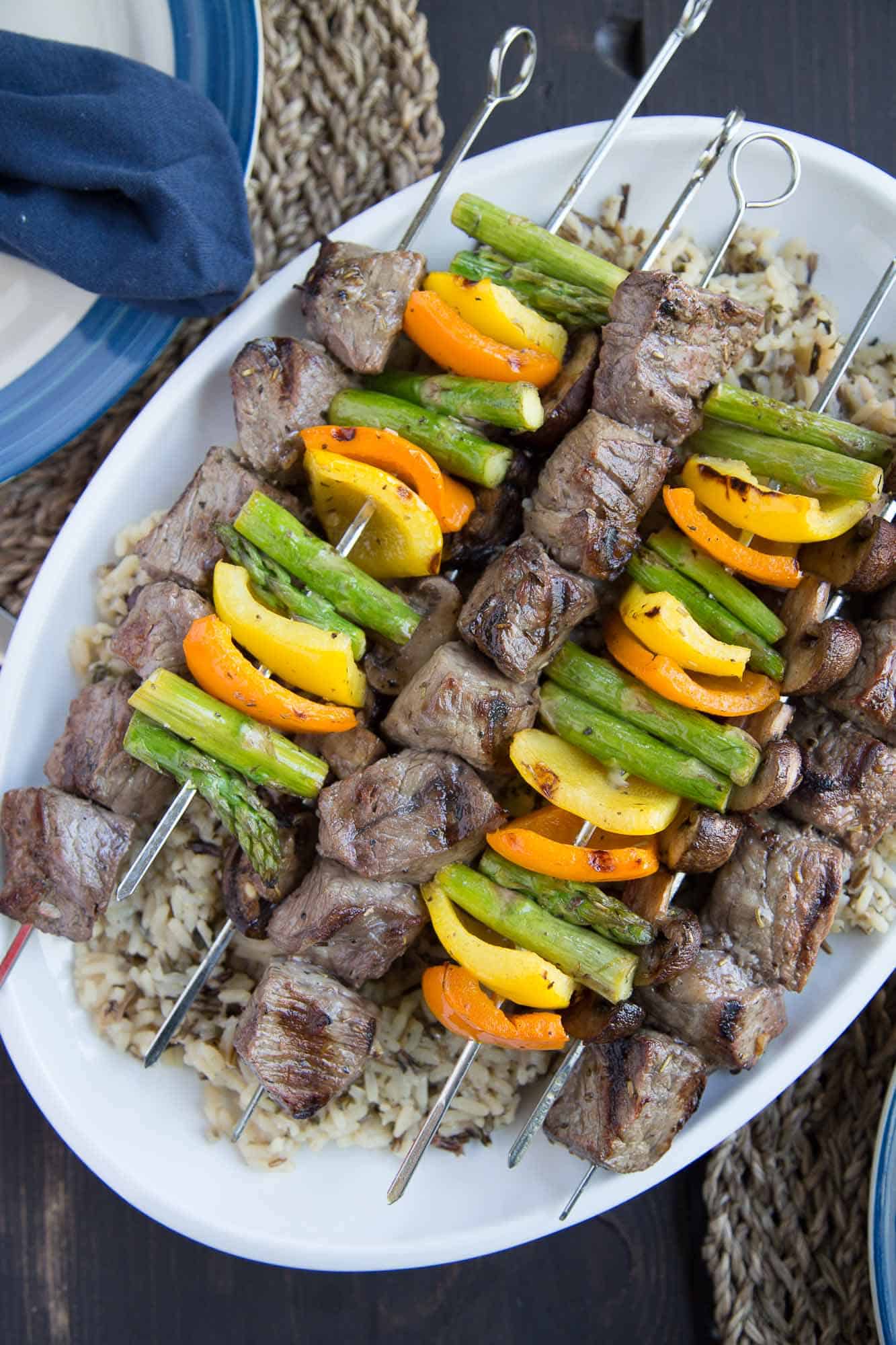 3) Italian Marinated Steak & Vegetable Kabobs, Wild Rice, and Mississippi Mud Ice Cream Pie
This inspiration for this meal comes from my Mom, who serves this meal every Father's Day. Our family has been enjoying it for years, and now Longe and I are happy to share it with our guests, too.
The skewers threaded with beef and vegetables look really impressive with just a little effort. The wild rice comes from a box. You can't get any easier than that!
The Mississippi Mud Ice Cream Pie is slightly more time intensive, yet still simple. It just needs some time to set up in the freezer before serving. Everyone loves the pie and it's especially ideal for a summer meal.
The menu can be made gluten-free by using gluten-free chocolate sandwich cookies for the pie. Make sure that your Italian dressing is also gluten-free.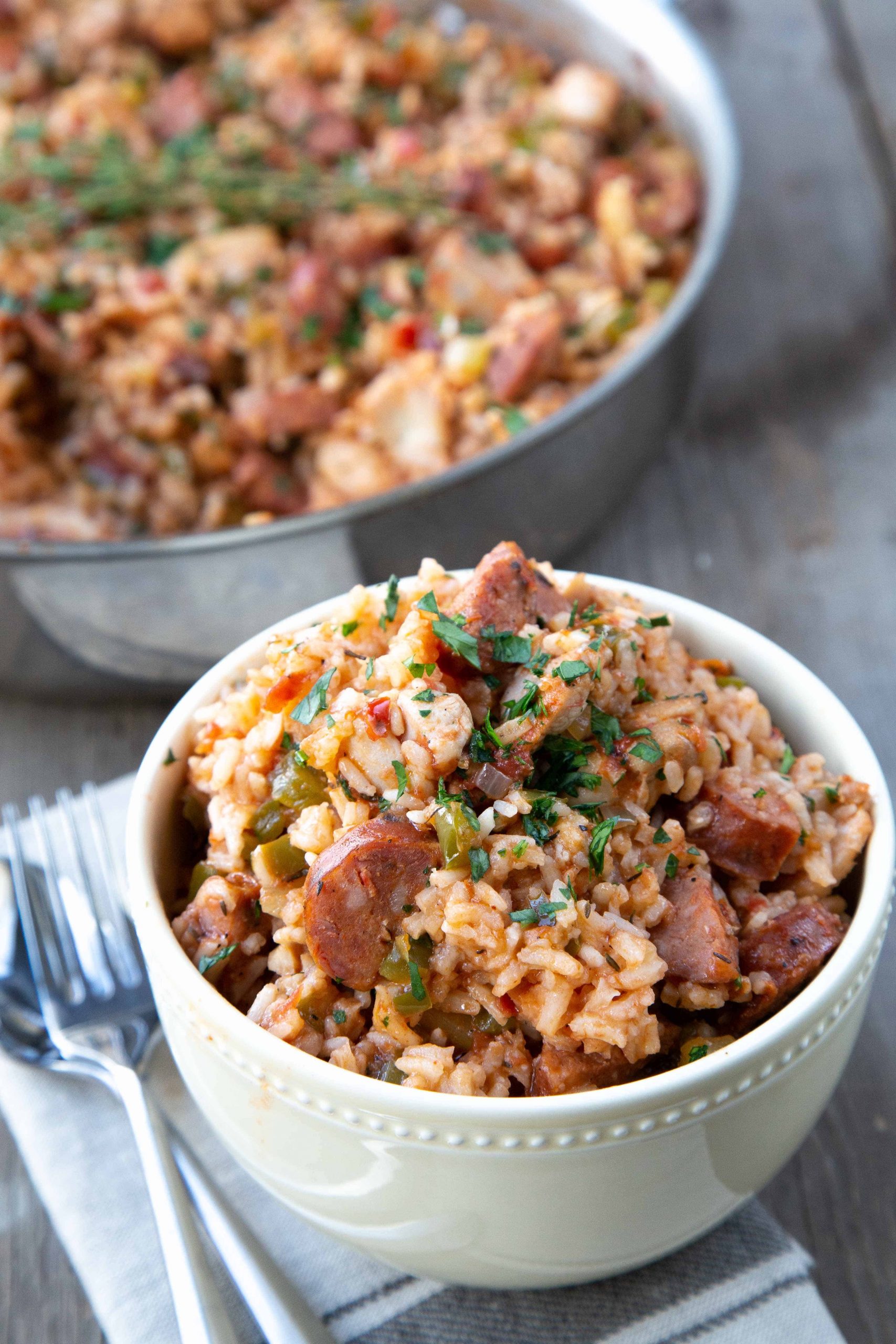 4) Chicken and Sausage Jambalaya
This meal is packed with some serious flavor! The secret to the jambalaya is Slap Ya Mama Cajun seasoning, and the combination of andouille sausage and chicken makes it really hearty.
I serve the jambalaya with cornbread and a big green salad. I love the boxed cornbread mix from Trader Joe's. It's sweet and cake-like, and pairs nicely with the spicy jambalaya. You can jazz it up by adding a canned of chopped green chiles (drain the liquid from the can first).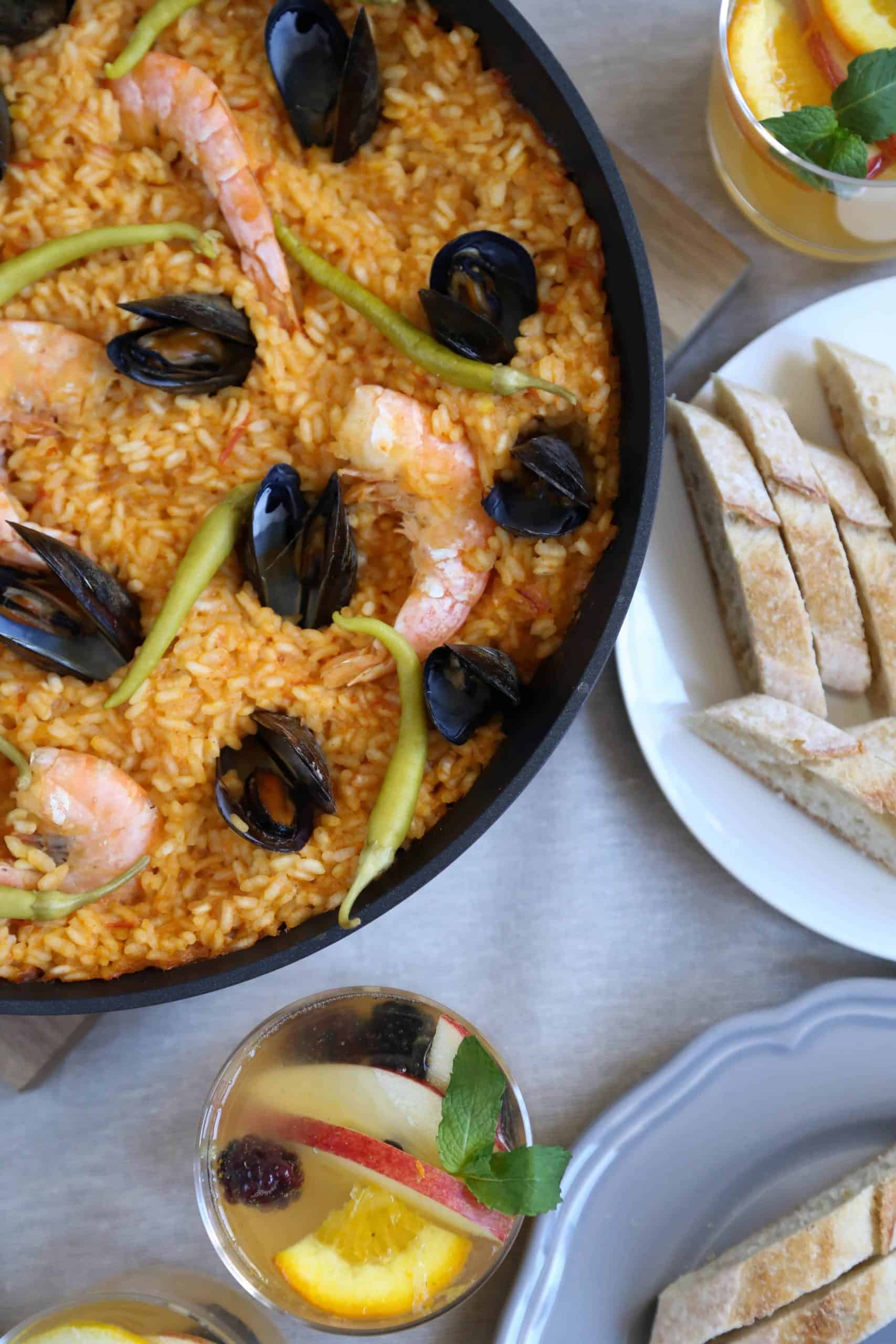 5) Seafood Paella
This meal is great for seafood lovers, though you could easily swap in chorizo and chicken for the seafood in the paella. I've made it both ways and each option is delicious. Along with a bottled sangria, a green salad, and pan con tomate, it's such a fun and creative dinner party option.
In fact, I've made the paella for the past two New Year's Eve parties that we've hosted. Another pro: it's a low-cost option to feed a crowd—the most expensive item is the paella rice!
The recipe makes makes 8–10 hearty servings, so when served with a few sides, no one will leave hungry.
Do you have any tried-and-true recipes that you make for guests? I'd love to know—tell me about them in the comments below!