These two-bite party sandwiches are the perfect addition to your appetizer buffet. Kids love them, too!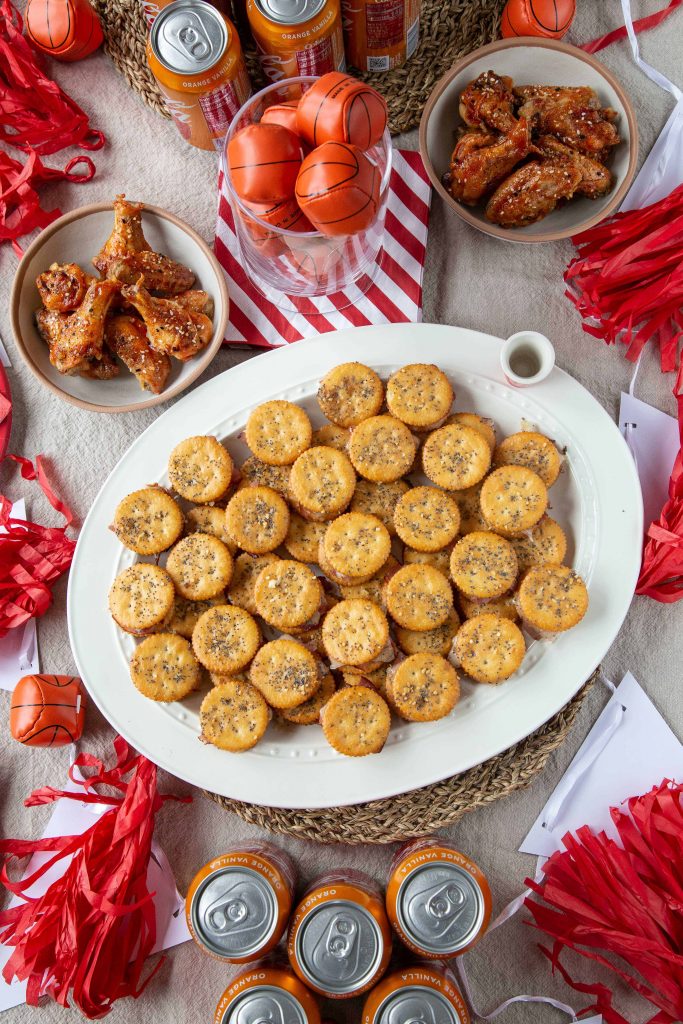 Watching a sports game is a great way to gather people around, whether it's a large group or just your family.
It's also an opportunity to enjoy some fun snacks and appetizers, like my RITZ® Crackers Party Sandwiches.
The sandwiches are a riff on Hawaiian Roll Sliders that are made with Hawaiian buns, but I swapped in RITZ® Crackers instead.
They're easy to make, and a fun addition to your appetizer table. They're best served while warm out of the oven, so consider that when planning your party!
This post contains affiliate links. Affiliate links support Gift of Hospitality at no additional cost to you. I receive a commission if you choose to make a purchase through these links.
Jump to:
Ingredients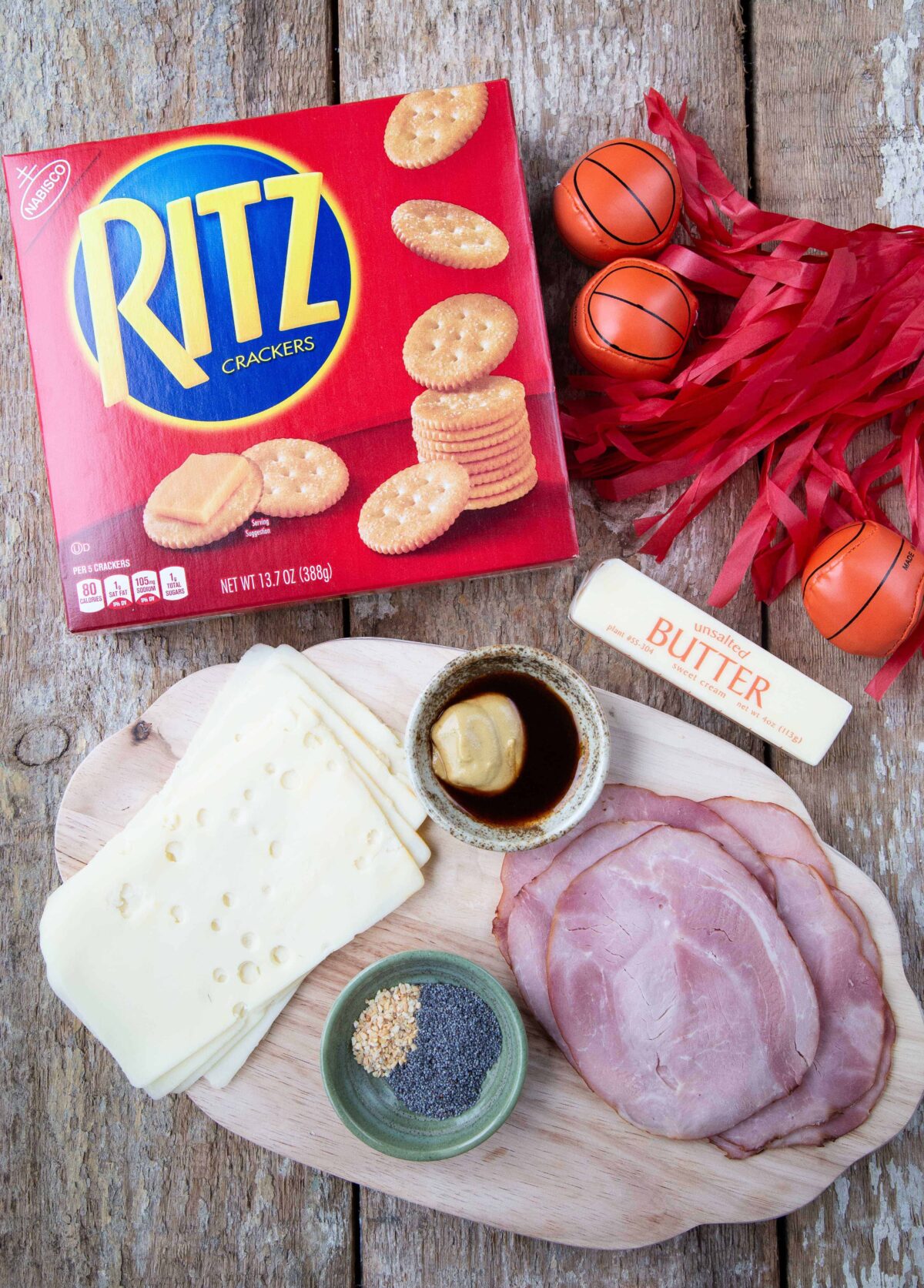 Ritz Crackers are super buttery and are the perfect "bread" for these sandwiches
Deli ham and sliced swiss will go in between the crackers
The sandwiches are drizzled with melted butter before baking
Worcestershire sauce, dijon mustard, salt, and dried onion flakes add lots of flavor to the butter
Poppy seeds are a fun addition to the top of the sandwiches
How to make Ritz Cracker sandwiches
Start with two 13×9 inch pans. Place 24 crackers in the bottom of each pan (so you'll use 48 crackers total on the bottom).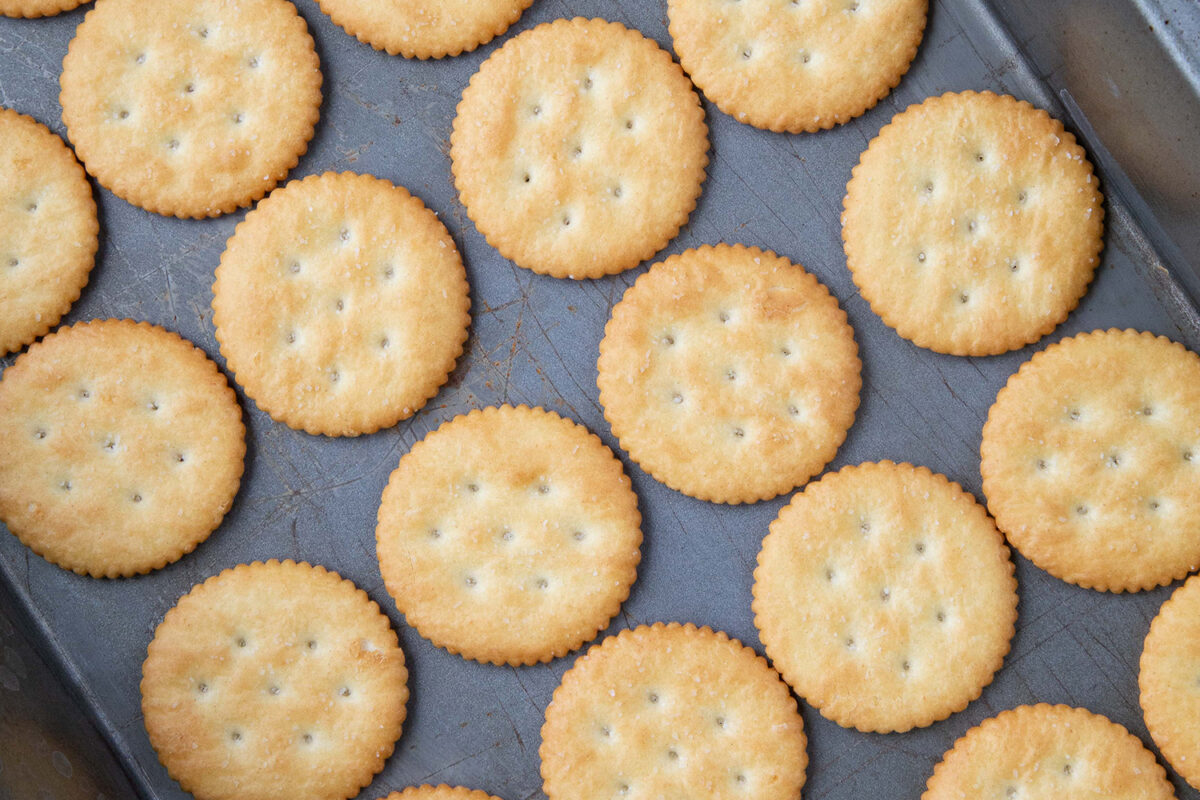 Top the crackers with thin slices of deli ham. You can use honey ham, black forest ham—whichever ham that you prefer.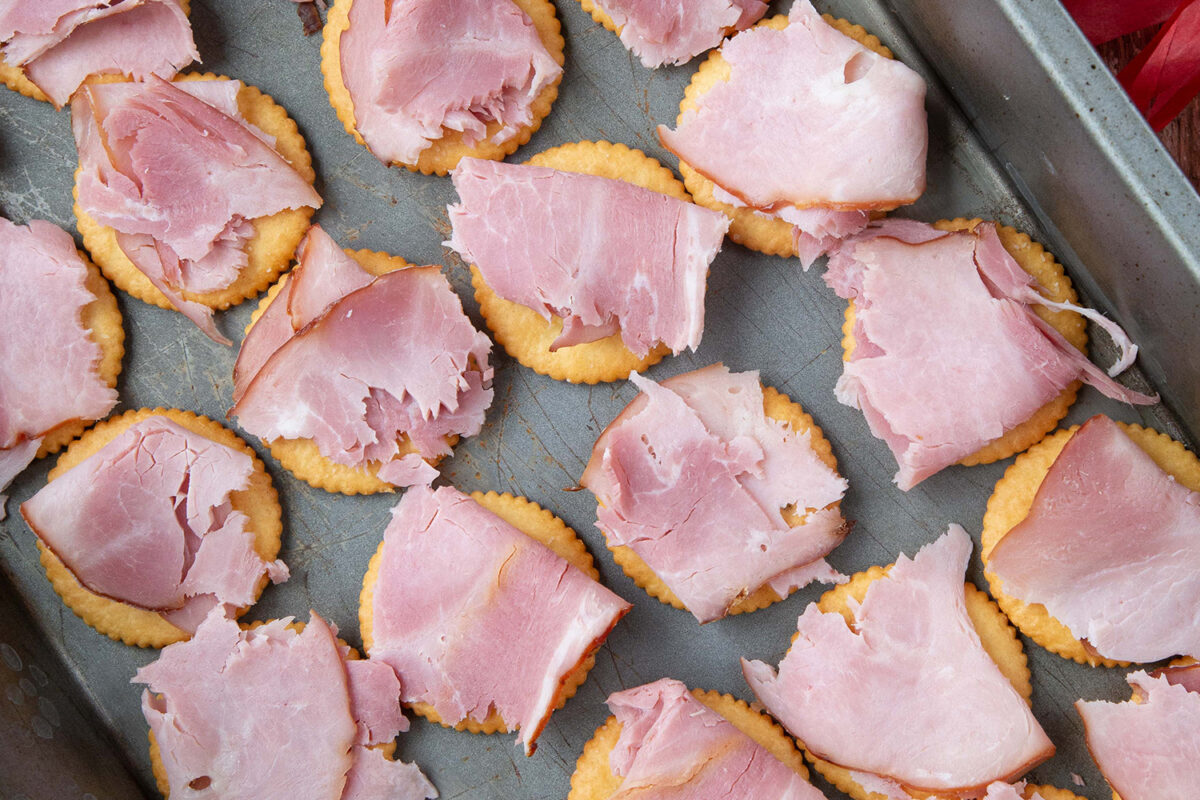 Then, top the crackers with Swiss cheese. Colby jack, cheddar, or your favorite sliced cheese would work here, too.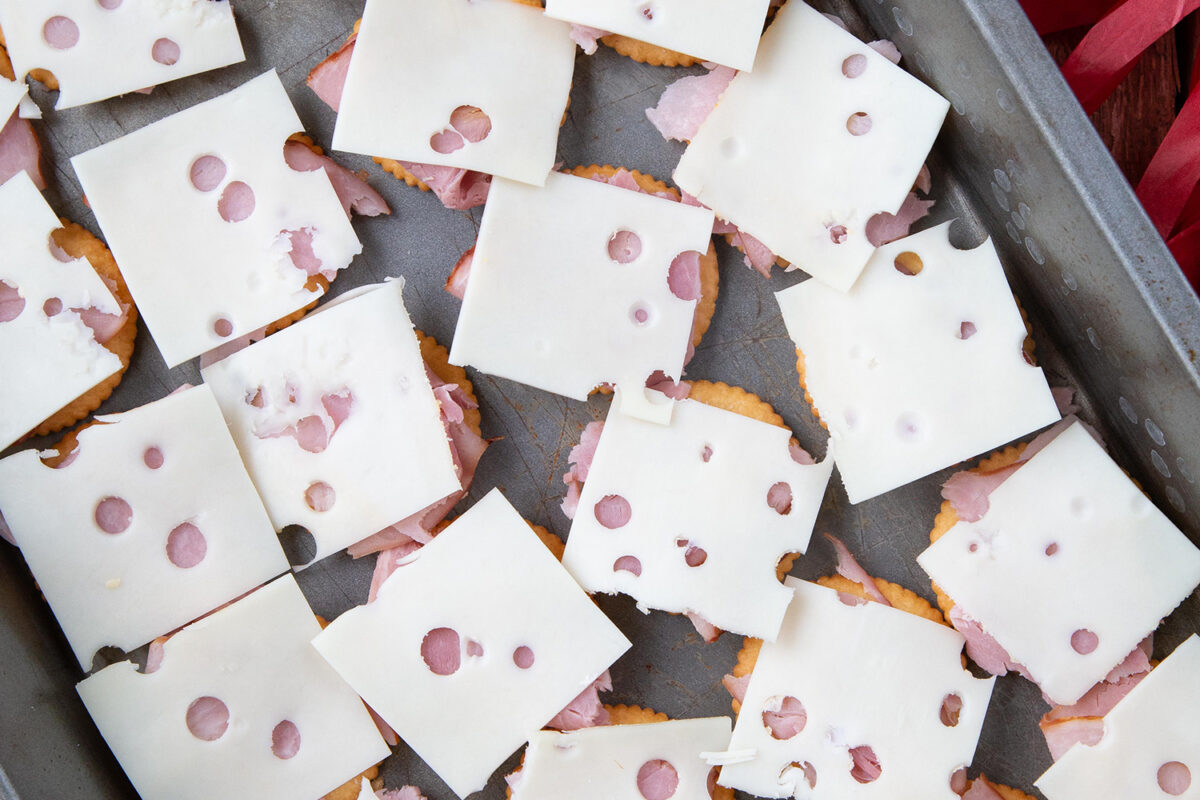 Top each sandwich with another Ritz cracker. You'll use another 48 crackers to top them.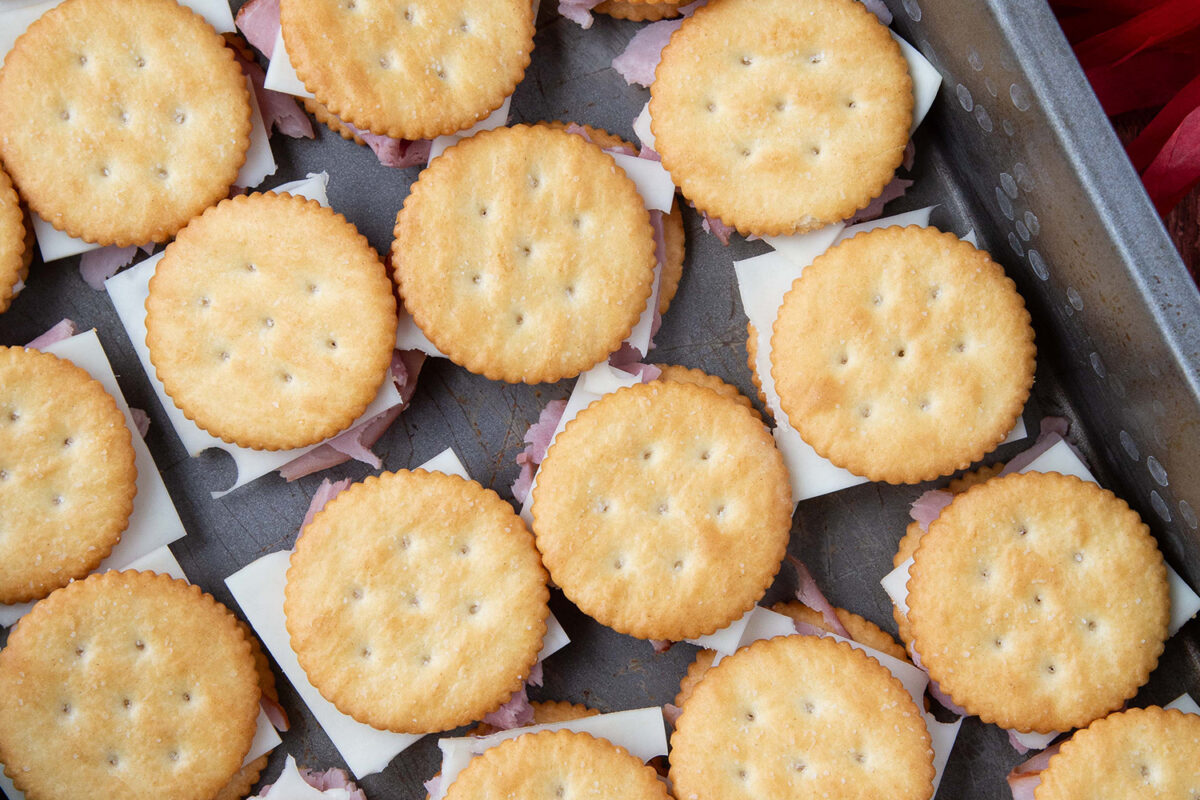 Pour the butter mixture over the top, then sprinkle with poppy seeds and onion flakes.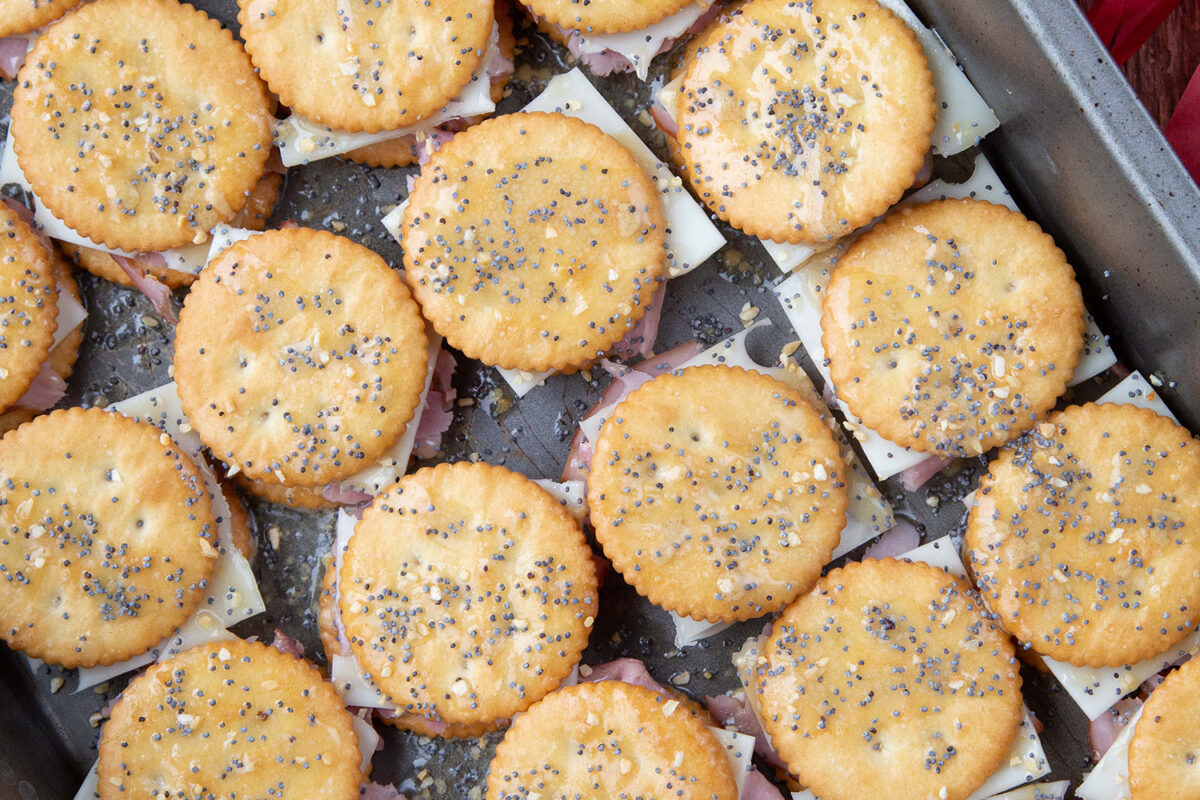 Bake the sandwiches for 10–12 minutes, or until golden brown.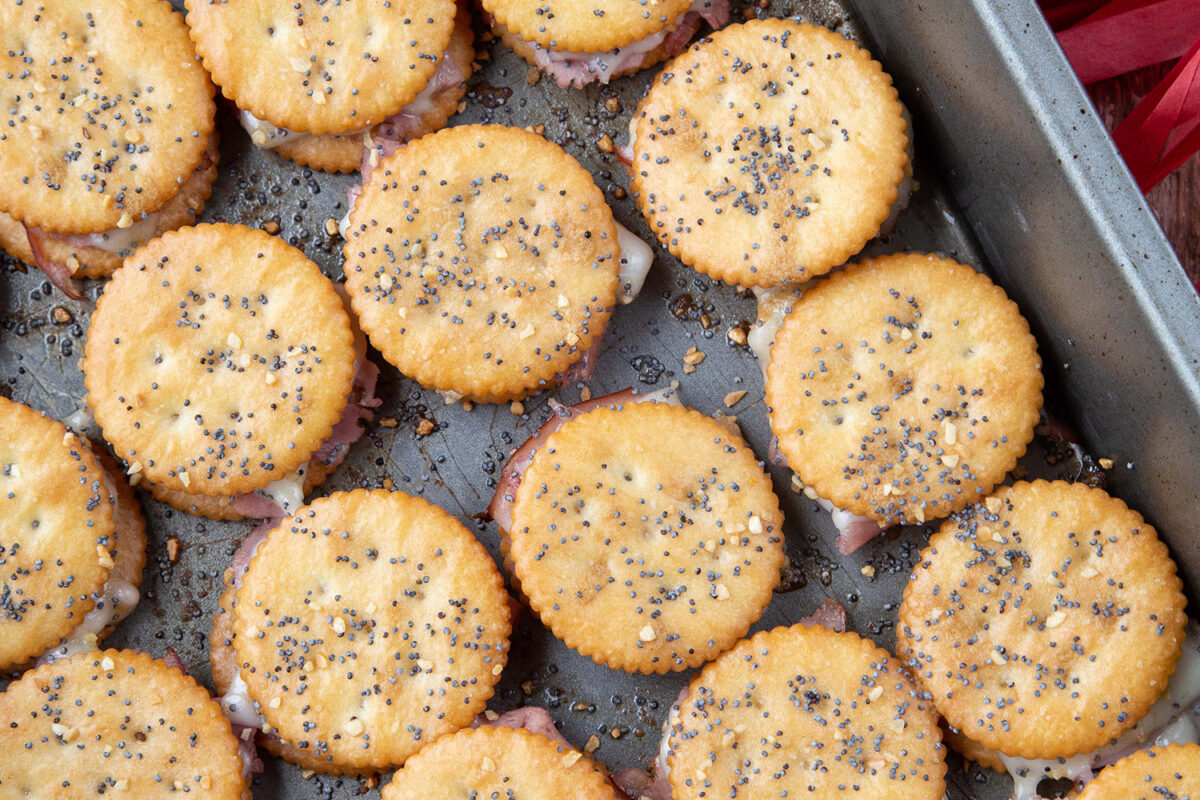 The end result is a delicious mini sandwich that is irresistible and just the right size for snacking.
FAQs
Can I halve this recipe?
Yes! You can easily cut this recipe in half to make 24 mini sandwiches instead of 48 mini sandwiches. You will only need one 13×9 inch pan.
Can I use different meat and cheese?
Many deli meats will be delicious in place of the ham. Roast beef, turkey, or even salami would be a great choice. For the cheese, try colby jack, cheddar, american, or even pepper jack for a little spice.
Can I make the party sandwiches ahead of time?
The sandwiches taste best when they are warm, right out of the oven. I recommend baking them right before you plan to serve them. If they sit too long, the crackers may become soggy. Follow the instructions below for what steps you CAN get done ahead of time!
Make it ahead
These mini sandwiches are best served warm out of the oven. As a result, I don't recommend making these ahead of time.
However, you can check these steps off the list ahead of time:
Gather the ingredients
Cut the cheese and ham into pieces
Make the butter mixture
Then, when you're ready to serve, you just need to assemble the sandwiches and bake them.
Tips for planning a sports party
I served these mini sandwiches at a basketball watching party. They were the perfect complement to the other menu items: my Sweet & Spicy Baked Wings, and Spinach Artichoke Dip (store-bought) with veggies and crackers. I asked my guests to bring salad and dessert to round out the meal.
Here are a few more tips for party planning:
1. Choose decor based on your team's colors
I chose a variety of red and white decor from my alma mater (University of Wisconsin-Madison). A neutral tablecloth layered with red and white plates and napkins, plus red pom poms (or the colors of your choosing) is simple and shows off the food.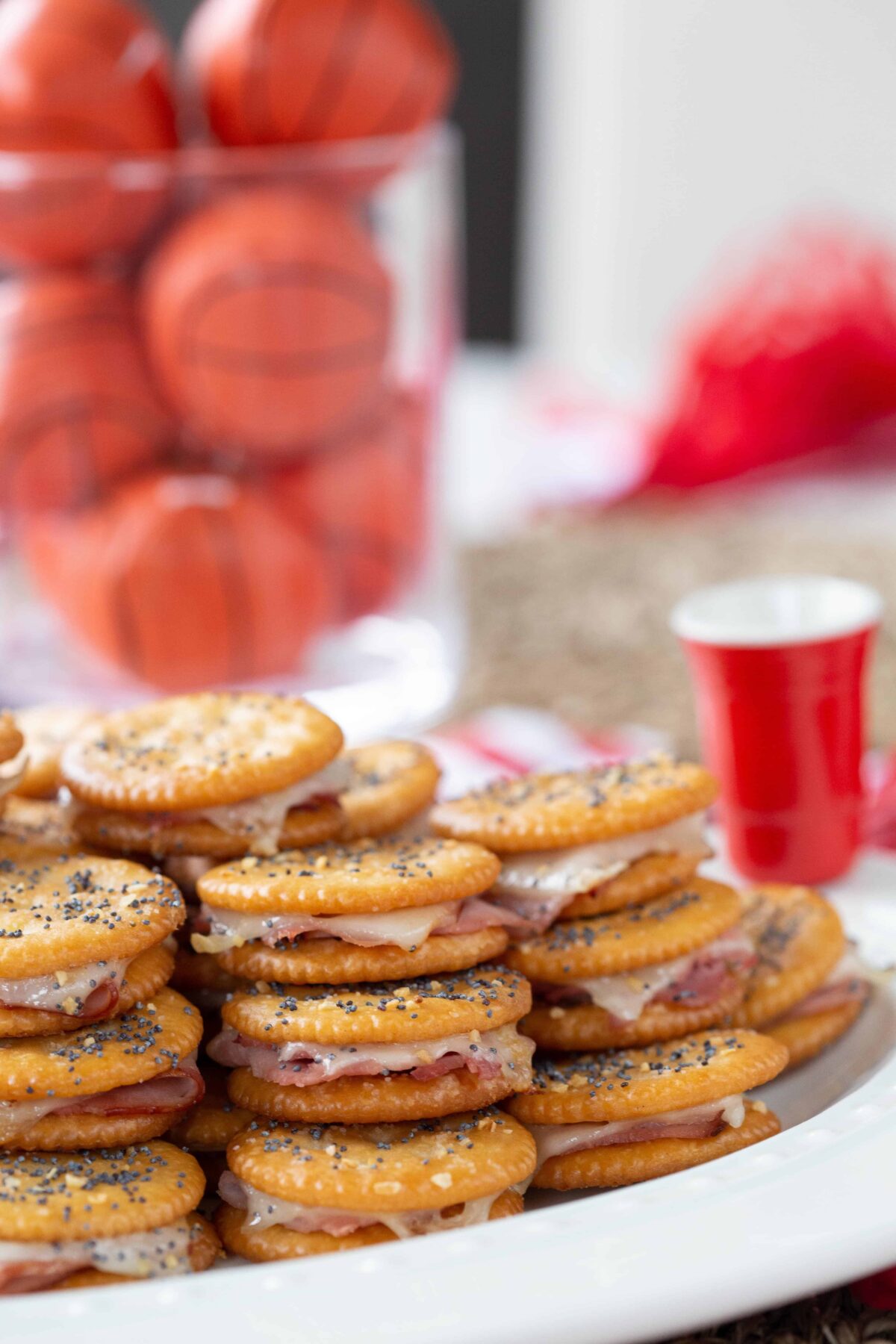 2. Make a few dishes; ask your friends to bring the rest
I made two dishes: my Sweet and Spicy Wings and RITZ® Crackers Party Sandwiches (recipe below!). Ask your friends to bring their favorite party snack or beverage to round out the spread.
3. Make one dish store-bought
I used a store-bought spinach artichoke dip and surrounded it with carrots, broccoli, celery, red peppers, and crackers for dipping. It took 5 minutes to put together and it kept the healthy eaters happy.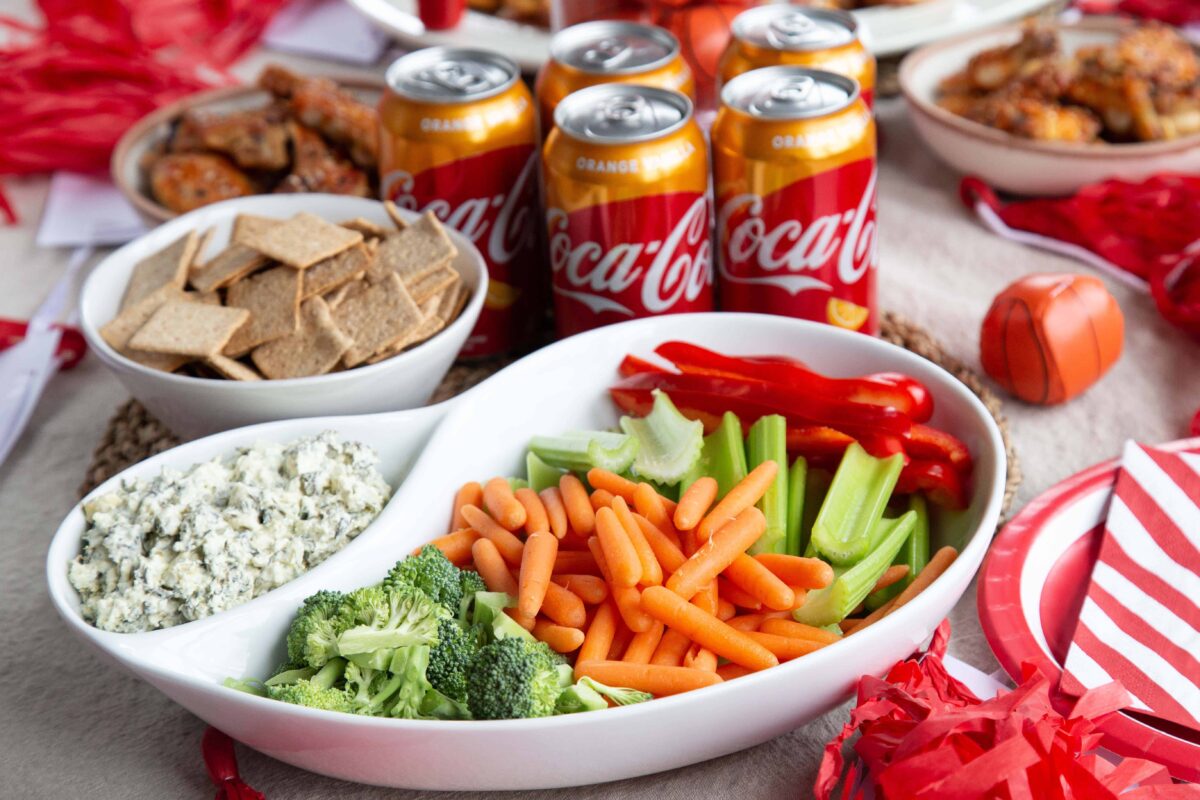 4. Add one new item to the buffet
I love discovering new foods and drinks, and it turns out, so do my guests. The newspaper circulars and the Ibotta app are two great places to find new store-bought products. For this party, I served Coca-Cola® Orange Vanilla, which none of my guests had tried before, but they were eager to do so!
Here are a few more ideas for store-bought items that you can add to your buffet to surprise your guests:
A new potato chip flavor
A new OREO flavor
A throwback snack from the 80s like Cheez Balls or Pik-Nik sticks
A new dip or spread—Trader Joe's often has seasonal varieties
Check the snack aisle for "NEW!" signs—grocery stores will often highlight new items with a little sign
You can also just try a different spin on a recipe, like putting roast beef in this Beef Chip Dip or making this Reuben Dip (it tastes like a reuben sandwich). Trying new things is part of the fun of a potluck!
Have you tried this recipe? Please leave a ⭐️⭐️⭐️⭐️⭐️ rating and/or comment below!
---


---
📖 Recipe
RITZ® Crackers Party Sandwiches
These two-bite mini sandwiches are the perfect addition to your game day buffet!
Ingredients
96

RITZ® Crackers

(about 3 sleeves)

½

lb

thinly sliced deli ham

⅓

lb

thinly sliced swiss cheese

5

tablespoons

unsalted butter

2

teaspoons

dijon mustard

1

teaspoon

worcestershire sauce

¼

teaspoon

salt

2

teaspoons

poppy seeds

1

teaspoon

dried onion flakes
Instructions
Preheat oven to 350°F.

Place 24 RITZ® Crackers in the bottom of a 13×9 inch baking dish, flat side down. Place another 24 RITZ® Crackers in the bottom of another 13×9 inch baking dish. Tear the ham gently with your hands to create tiny strips (they do not need to be perfect) and lay a lightly folded slice on each RITZ® Cracker.

Cut the cheese into 1 inch pieces and place one piece of cheese on top of the ham. Top each mini sandwich with another RITZ® Cracker, rounded side up.

Place the butter in a microwave-safe bowl and microwave until melted, about 45 seconds. Gently whisk in the Dijon mustard, worcestershire sauce, and salt.

Pour the butter mixture evenly over the mini sandwiches, dividing the mixture evenly between the two pans. Sprinkle the poppy seeds and the dried onion flakes evenly over the top.

Bake for 10–12 minutes, or until the cheese is melted and the tops of the Ritz Crackers are lightly golden brown.

Transfer to a serving platter and serve while warm.
Notes
Make it ahead: these sandwiches are best served while warm. You can gather/prepare all of the ingredients ahead of time, and then assemble and bake the sandwiches when you're ready to serve them. Change it up: any combination of deli meat and cheese works well here. Roast beef and cheddar, or turkey and colby jack are a few ideas!
Nutrition
Calories:
65
kcal
Carbohydrates:
4
g
Protein:
2
g
Fat:
4
g
Saturated Fat:
2
g
Cholesterol:
9
mg
Sodium:
131
mg
Potassium:
27
mg
Fiber:
1
g
Sugar:
1
g
Vitamin A:
63
IU
Vitamin C:
1
mg
Calcium:
37
mg
Iron:
1
mg
Related recipes