Tired of paying too much for packaged jerky? Make your own at home with this Sweet and Spicy Beef Jerky Recipe! It's chewy and lightly smoky, and you can make it right in your oven.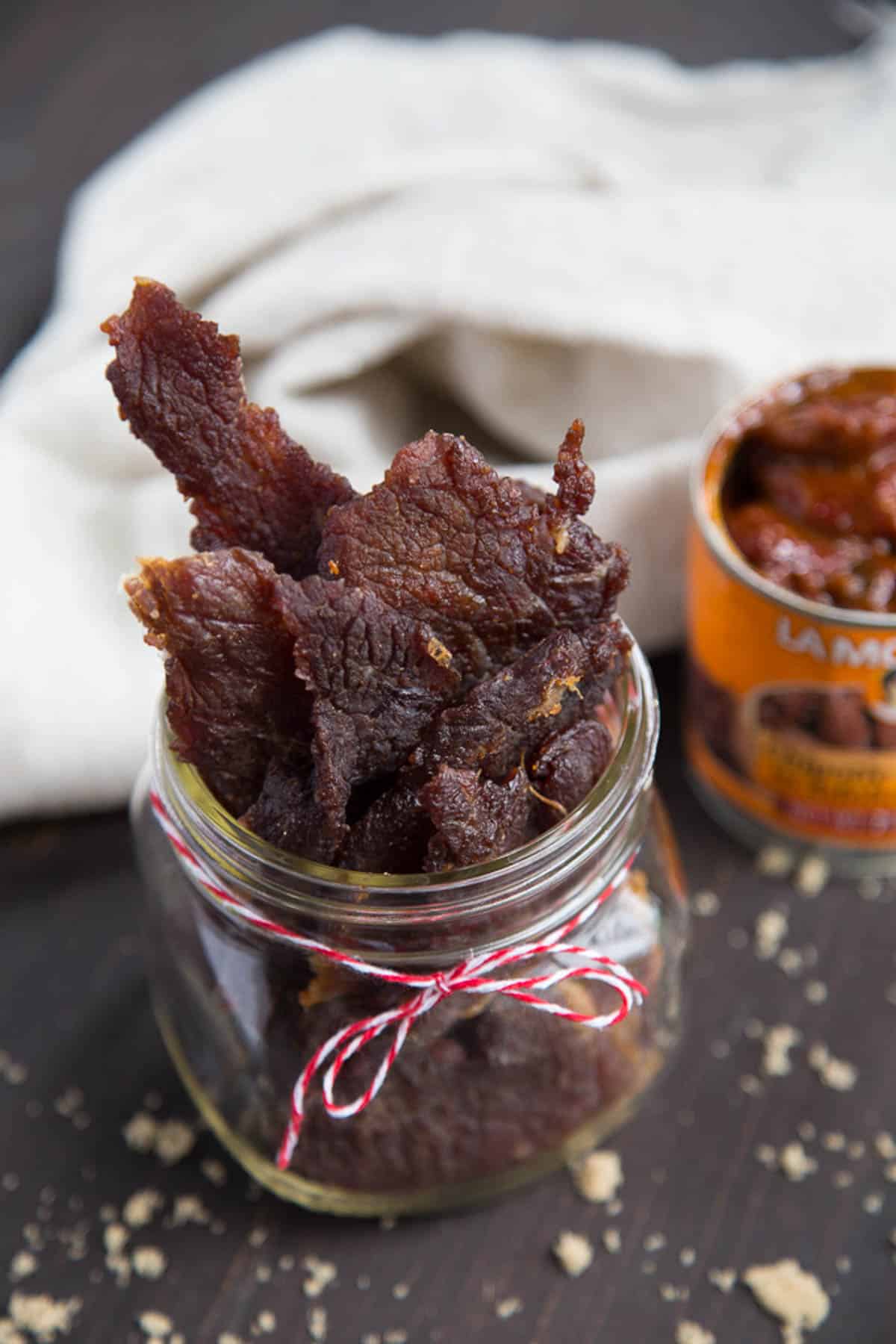 You may be wondering, why go to the trouble of making beef jerky at home?
I was skeptical at first, too. But now I'm hooked on the homemade version! Here's why:
It's inexpensive
It makes a great gift (think: Father's Day, dad's birthday, Christmas, etc.)
You control the flavors and the ingredient list
You control the sodium level
And, you can make it in the oven. You do not need a dehydrator for this Sweet and Spicy Beef Jerky recipe.
I personally love it as a weekend baking project. It takes just 10 minutes of hands-on time, but it'll need to marinate overnight, and then cook for 4–5 hours in a low oven (175°F).
You'll want to be home while it cooks, but the end result is well worth the 5 hour wait.
This post contains affiliate links. Affiliate links support Gift of Hospitality at no additional cost to you. I receive a commission if you choose to make a purchase through these link.
Jump to: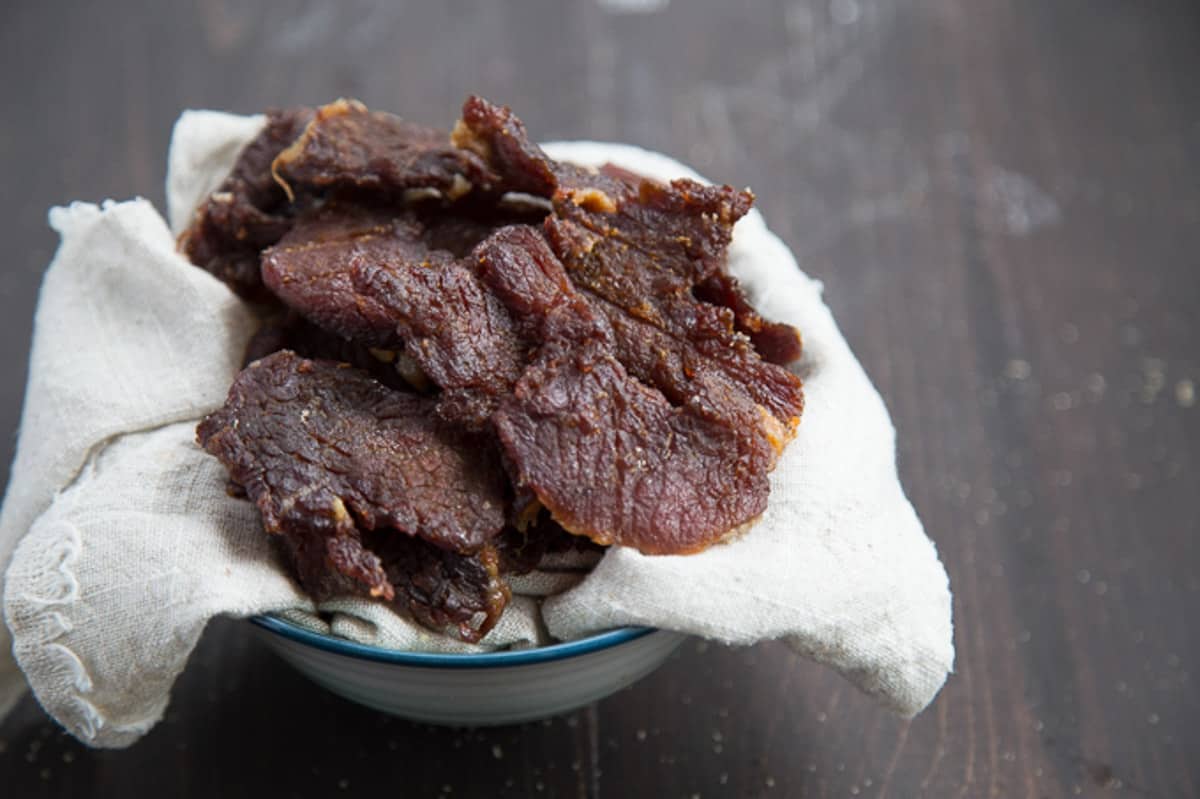 What makes this the best sweet and spicy beef jerky?
What I love about this recipe is how the meat is still a little chewy. I find most store-bought beef jerky to be too hard and overly salty. Making a homemade version is one way to control both factors.
It's much easier on the budget, too! I found bottom round for $4/lb. The recipe calls for 1¼ lbs, so I spent about $6 (including the other ingredients) on a whole pan full of jerky.
That's pretty good considering many store-bought jerky varieties are the same price for just 2–3 ounces.
Finally, this recipe has the perfect balance of sweetness, saltiness, spiciness, and smokiness. It's customizable and easy to adapt to your tastes!
Ingredients
You just need five ingredients for this easy jerky:
Bottom round beef roast is the best cut of meat for jerky. Ask your butcher to cut it for you!
Brown sugar adds a bit of sweetness.
Chipotles in adobo add smokiness and spice. Chipotles in adobo are simply dried and smoked jalapeños. We're just using the sauce from the can, but add the seeds if you want it extra spicy!
Garlic salt and sea salt contribute even more flavor to the jerky.
How to make sweet and spicy beef jerky
Cut a bottom round beef roast into ¼ of an inch slices. I recommend asking your butcher to do this for you. If you do it yourself, put the roast in the freezer for 20 minutes first, then slice with a very sharp knife.
Marinate the beef in a mixture of brown sugar, chipotles in adobo, garlic salt, and sea salt. Let the mixture sit overnight in the refrigerator (or at least 8 hours) to let the flavors permeate the meat.
Lay the marinated beef on a sheet pan covered with foil and fitted with a wire rack. I use this sheet pan and wire rack set
. (It's also great for cooking bacon in the oven.)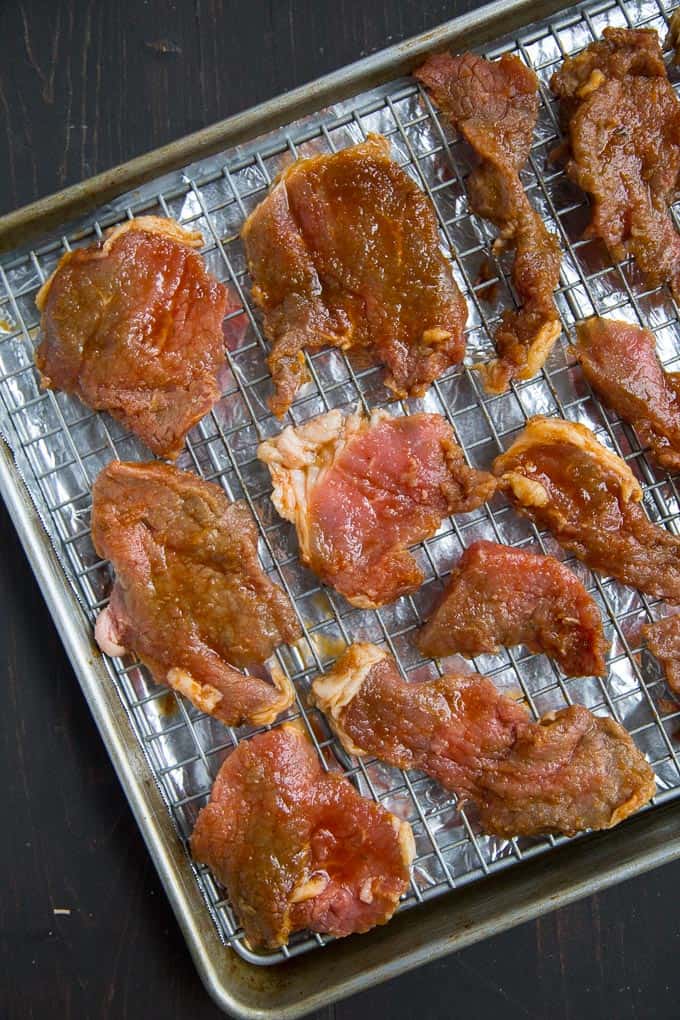 Cook the meat for 4–5 hours in a 175°F oven. After about 1 hour, your home will start to smell amazing!
The timing will depend on the thickness of the meat. The jerky should be dry to the touch, and flexible but firm.
Let the jerky cool before eating. You can store it in an airtight container in the refrigerator for up to 5 days.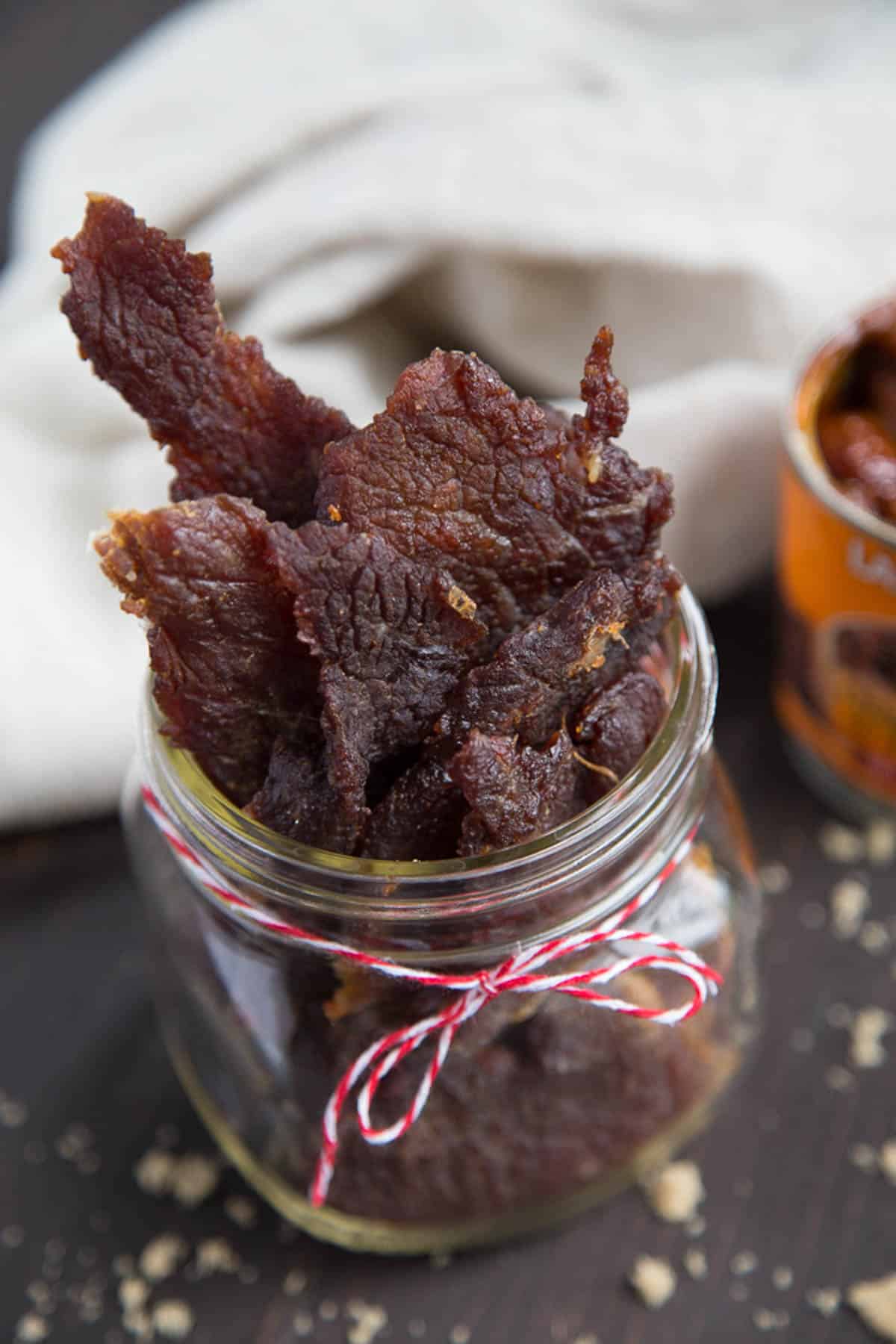 This recipe also makes for a fun project that you can do with slightly older kids (old enough to handle raw meat). And it's undoubtedly one that the whole family will love.
Sweet and Spicy Beef Jerky is also a great unique hostess gift. It's best stored in a mason jar, so pop it in a jar and tie a pretty ribbon on it, and your gift is done. Here are few more inexpensive hostess gift ideas!
How do I know when beef jerky is done?
When jerky is done cooking, it will feel dry to the touch. It'll also be somewhat rubbery and leathery, but in a good way. That just means it's chewy without being crispy (crispy jerky is overcooked jerky!).
Frequently Asked Questions
What's the best cut of beef for beef jerky?
Bottom round roast is ideal for making jerky. It is lean and less tender, which creates a chewy jerky.
What oven temperature do I cook beef jerky?
A low and slow oven is best—175°F will cook beef jerky in approximately 4–5 hours.
Does homemade beef jerky need to be refrigerated?
Homemade beef jerky should be kept in the refrigerator. It'll last a week or longer.
Can I freeze homemade beef jerky?
Jerky can be frozen for up to 3 months in an airtight container.
More homemade treats for gift giving
Homemade gifts are such a fun way to show someone that you're thinking of them. In addition to this jerky, here are a few others that I like to share with others:
Have you tried this recipe? Please leave a ⭐️⭐️⭐️⭐️⭐️ rating and/or comment below!


📖 Recipe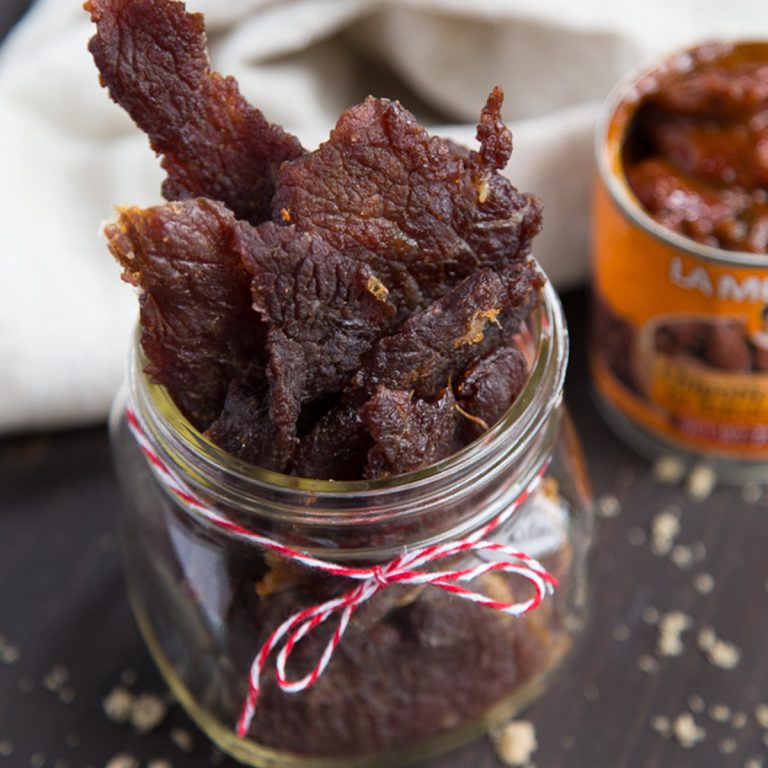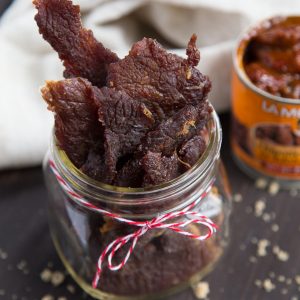 Sweet and Spicy Beef Jerky Recipe
This sweet and spicy beef jerky is the perfect hostess gift or surprise for a jerky-loving person in your life!
Ingredients
1¼

lbs

bottom round roast,

sliced into ¼ inch thin slices (ask your butcher to do this)

3

tablespoons

sauce from a can of chipotles in adobo

3

tablespoons

brown sugar

1

teaspoon

garlic salt

1

teaspoon

sea salt

nonstick cooking spray
Instructions
Trim excess fat off the bottom round roast slices.

In a medium bowl, combine the bottom round, chipotle in adobo sauce, brown sugar, garlic salt, and kosher salt. Stir gently to combine. Cover and refrigerate for at least 8 hours, or overnight.

Preheat oven to 175°F. Cover a sheet pan with a piece of foil. Place a wire rack on top of the foil. Spray the wire rack with nonstick cooking spray.

Place the slices of bottom round in a single layer on the wire rack. Place in the oven and slow roast for 4½–5 hours, or until the beef is very dry and chewy.

Let cool and serve. Store in a glass jar in the refrigerator for up to 5 days.
Notes
Ask your butcher to cut the bottom round roast for you to save yourself time. If you want to slice it yourself, put it in the freezer for 20 minutes first, then use your sharpest knife to get thin slices. Store the jerky in a covered dish in the refrigerator for up to a week. You can also freeze the jerky in an airtight container for up to 3 months. Want it extra spicy? Add some of the seeds from the chipotles in adobo to the marinade.
Nutrition
Serving:
1
piece
Calories:
80
kcal
Carbohydrates:
4
g
Protein:
11
g
Fat:
2
g
Saturated Fat:
1
g
Cholesterol:
29
mg
Sodium:
462
mg
Potassium:
165
mg
Fiber:
1
g
Sugar:
3
g
Vitamin A:
188
IU
Calcium:
11
mg
Iron:
1
mg
Related recipes