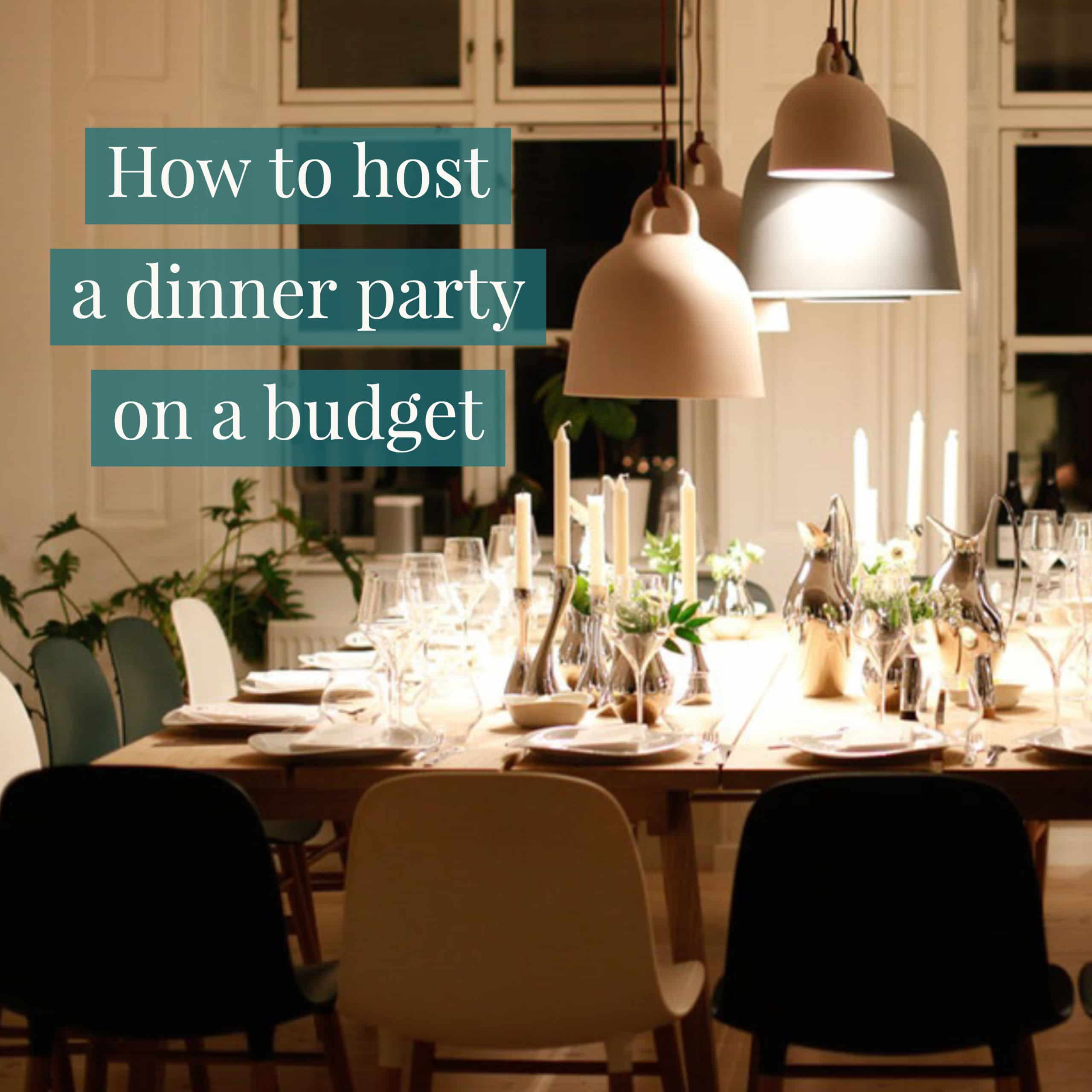 How to Host a Dinner Party on a Budget
One common concern with hosting guests for dinner is figuring out how the dinner will fit into your budget. And that's understandable—feeding 8, 10, or even 12 extra mouths can add up! You undoubtedly want to be thoughtful about your dinner party, and so I've put together 11 tips for how to host a dinner party on a budget.
On a quick personal note, my husband and I have a separate line item in our budget for hosting. It's money that we've set aside with the goal of inviting people into our home. If you want to make hosting friends and family a regular occurrence, I'd recommend adding this to your budget when possible!
1. It's not about impressing your guests
Why are you having guests into your home? Is it to impress them with your cooking prowess, show off your liquor collection, or show them how neat & tidy your home is? Of course not. So check your motives, and remember your reason for inviting people over! Perhaps it's to welcome new neighbors to the neighborhood, or to share a meal and catch up with old friends. Maybe it's to create a more meaningful connection with people, or show love to friends going through a tough time. Your goal is to connect with people, not impress them.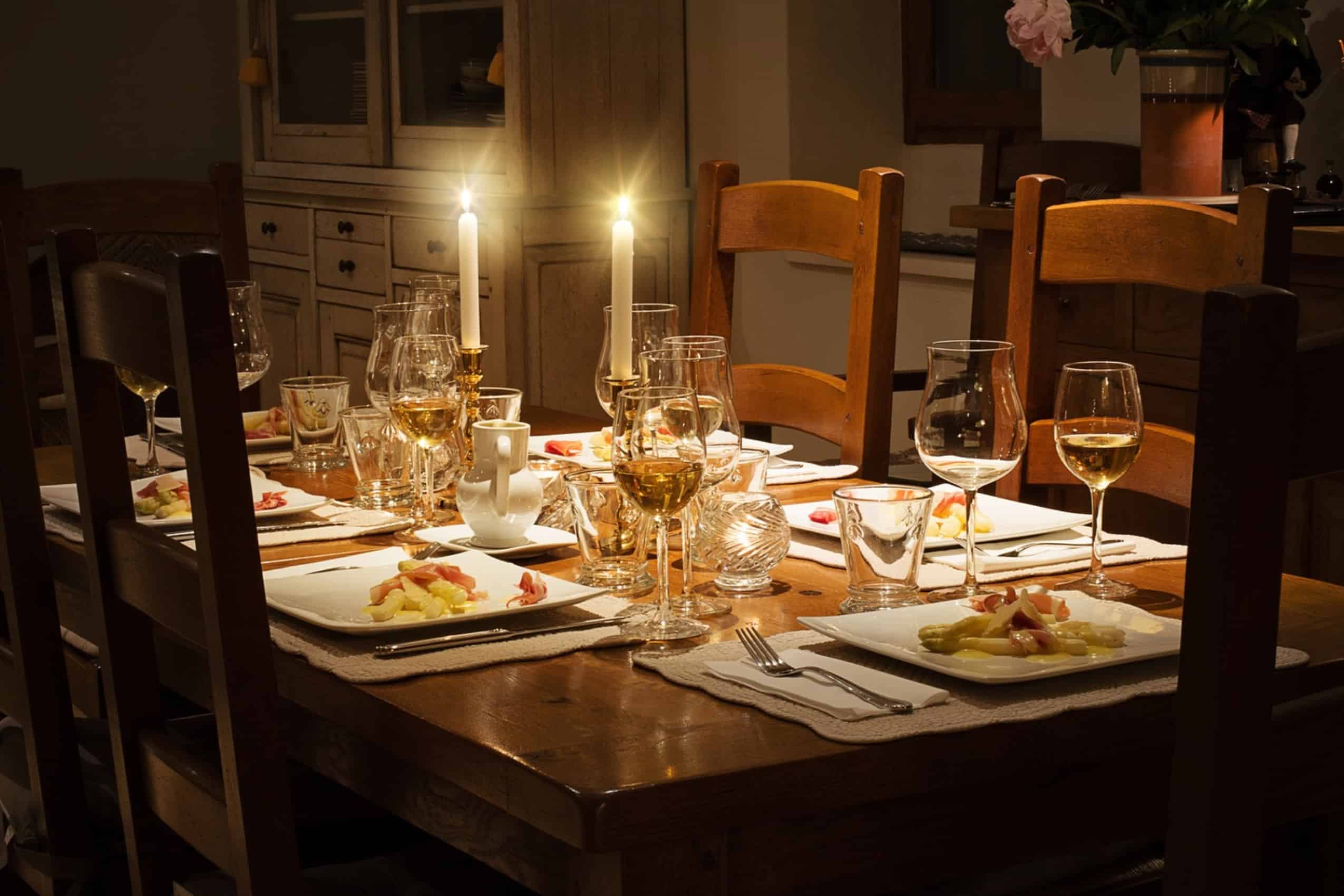 2. Be selective with attendees
A dinner party for 12 sounds lovely, but…is that what you really want? If your goal is for the whole group to engage in conversation together, aim for a maximum of 6–8 attendees (including you).
If you want everyone to fit around your table, how many places do you have? If the party is outdoors, how many people can comfortably fit on your deck? Get selective with attendees to ensure everyone has a good experience and you stay within your budget.
3. Get creative
If you end up with 20+ people on the list, it's time to get creative. Maybe you turn the party into a potluck, or instead host a happy hour with appetizers instead of a full meal. Or maybe it's the perfect excuse for a "BYOM" (bring your own meat) cookout. You supply the grill and sides, and guests bring the meat.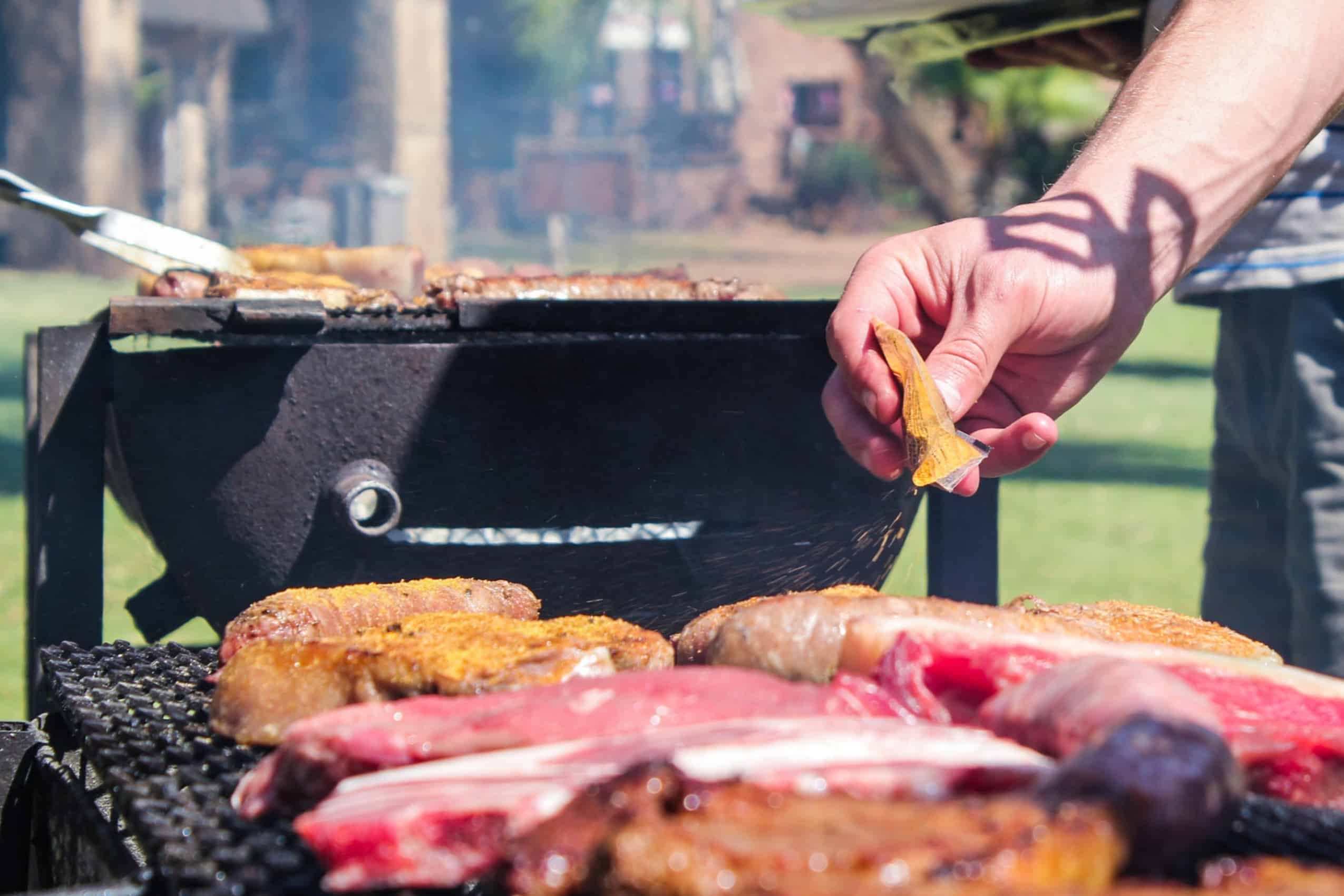 4. Borrow things from your neighbors
If you're hosting 14 people but your dining room table seats 10, ask a neighbor if they have a folding table and chairs that you can borrow. If you need a couple of coolers for drinks on the back deck, ask a friend to use theirs. If you're grilling for 20, ask a neighbor if you can wheel their grill over to your home for the evening. My mom keeps a set of 36 inexpensive glass champagne flutes in boxes so that they can be borrowed easily by family and friends (but they mostly get borrowed by me). 🙂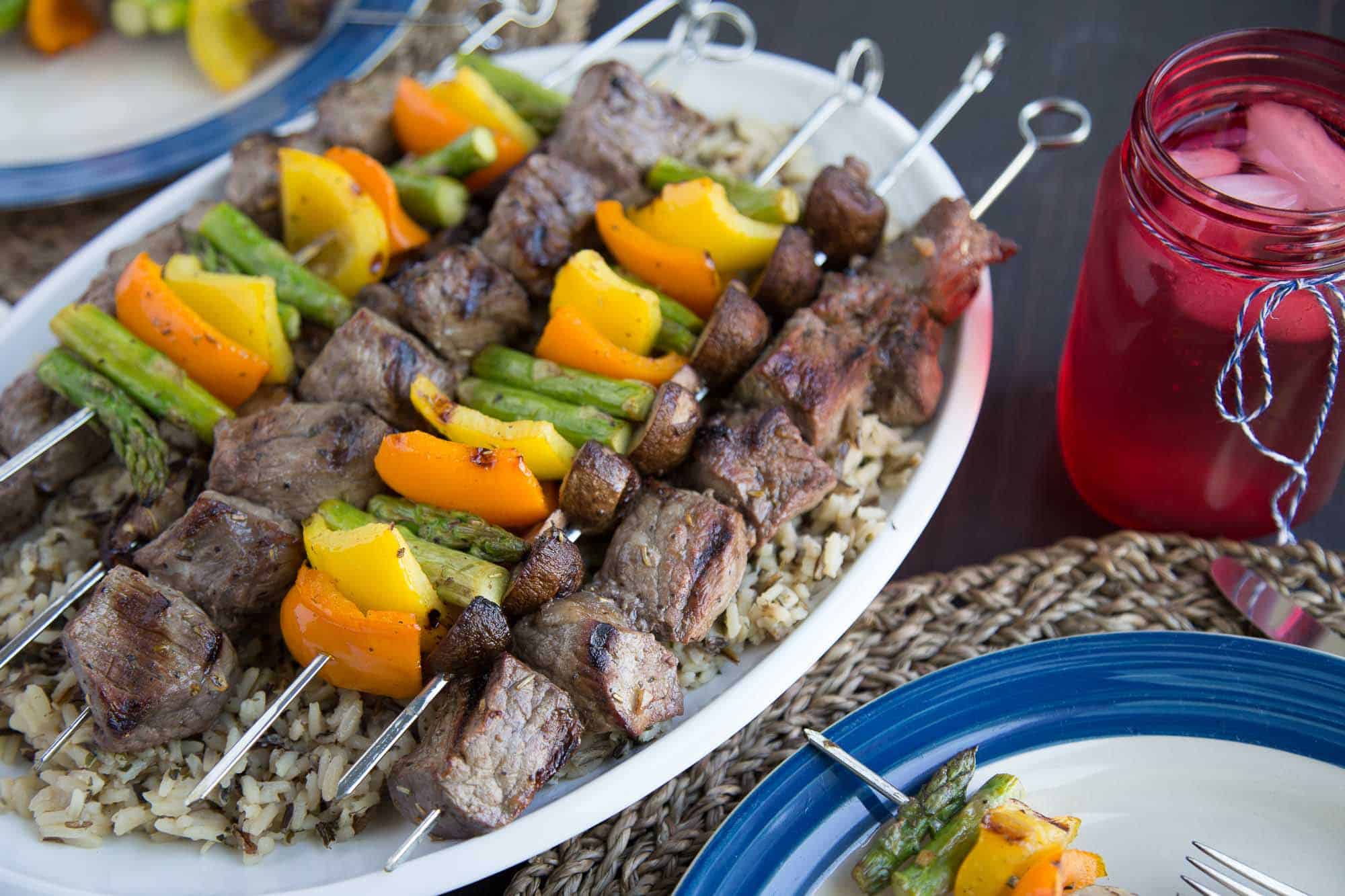 5. Choose one item to "splurge" on
Hosting dinner party does not mean you need to purchase filet mignon or prime rib for your guests. Most guests are excited to get a dinner invitation in the first place, so there's no need to spend tons of money on the highest price meat in the meat case.
That said, if I'm having meat eaters over for dinner, I usually splurge on meat. And by splurge, I mean on chicken breast or sirloin steak for these Italian Marinated Steak Kabobs or Chicken Souvlaki. Both pair well with two inexpensive side dishes: rice and salad.
6. Make what you love
Make what you love to eat! Are you great at grilling? Make beef or chicken kabobs. Do you have your grandmother's recipe for bolognese? Guests will love to try it over pasta. Does your family love your fajitas? Make those!
Guests will especially enjoy eating a family recipe, or anything a little out of the ordinary. While expensive items can be impressive, I'd bet your guests will love your tried-and-true recipe much more.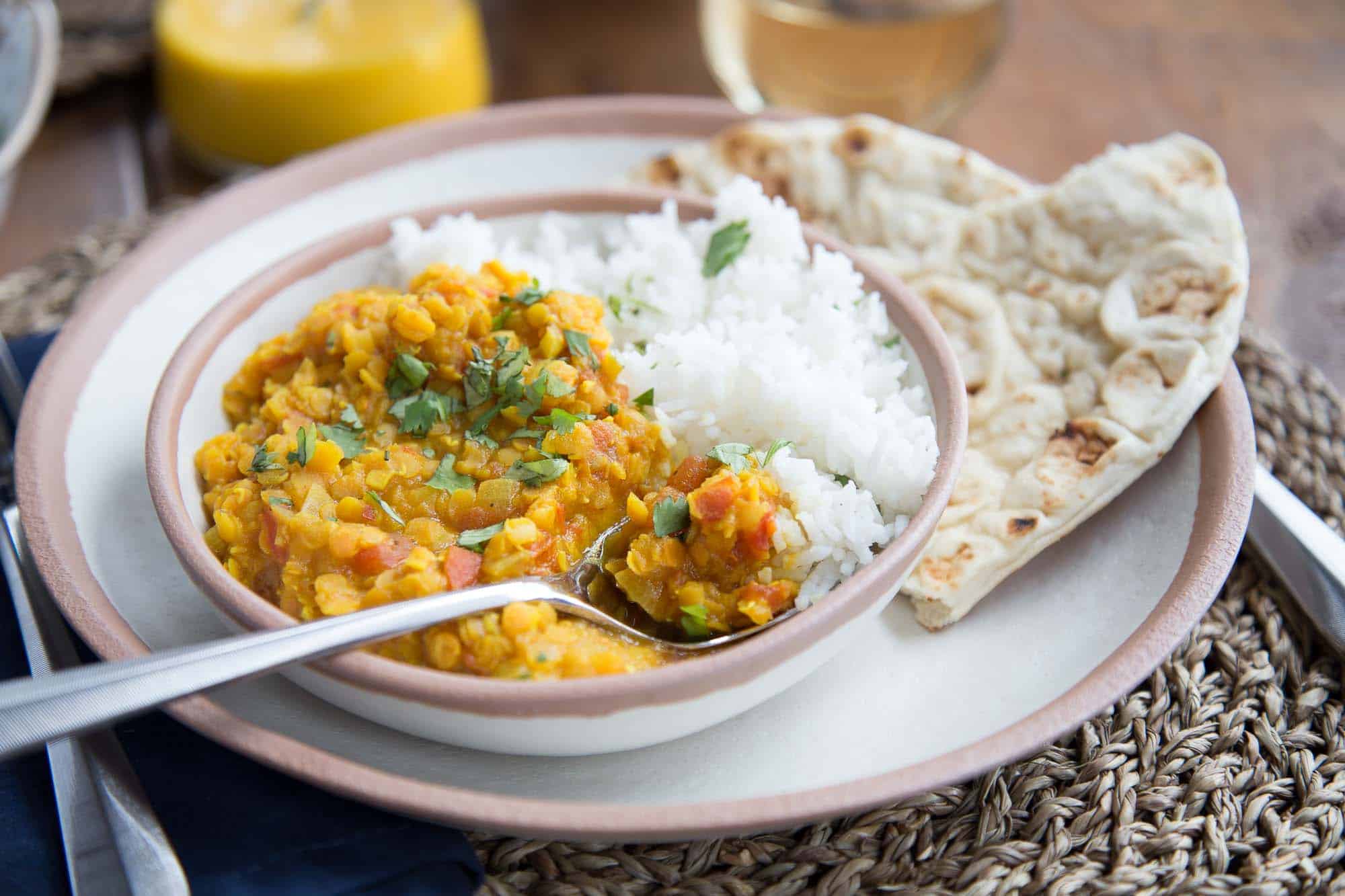 7. Consider dishes without lots of meat
Meat does not need to be the star of your dinner party. There are plenty of dishes where a little bit of meat will stretch to feed a crowd, or maybe you even go meatless. Everyone loves this Easy Red Pozole, which serves 12 people with less than $15 of pork shoulder. Red lentils are an inexpensive protein source, and this Vegetarian Red Lentil Dal (pictured above) is really hearty and delicious. This Lebanese-inspired Lemon Lentil Soup is always a hit, too.
Spinach Artichoke Stuffed Baked Potatoes are filling and meat-free, though you could add a little chopped chicken breast if you think meat eaters would protest a meat-free meal!
8. Plan for special diets
Do your guests have food intolerances? There's often no need to spend more money to make them a special meal. We had two gluten-free and dairy-free guests over once, and I made Chicken Souvlaki, Greek Salad (feta on the side), Roasted Asparagus, and Golden Rice. I served a gluten-free and dairy-free apple crumble for dessert. I did splurge on a pint of dairy-free ice cream for them (to top the warm crumble), but everyone ate the same meal and the other guests had no idea it didn't contain gluten or dairy!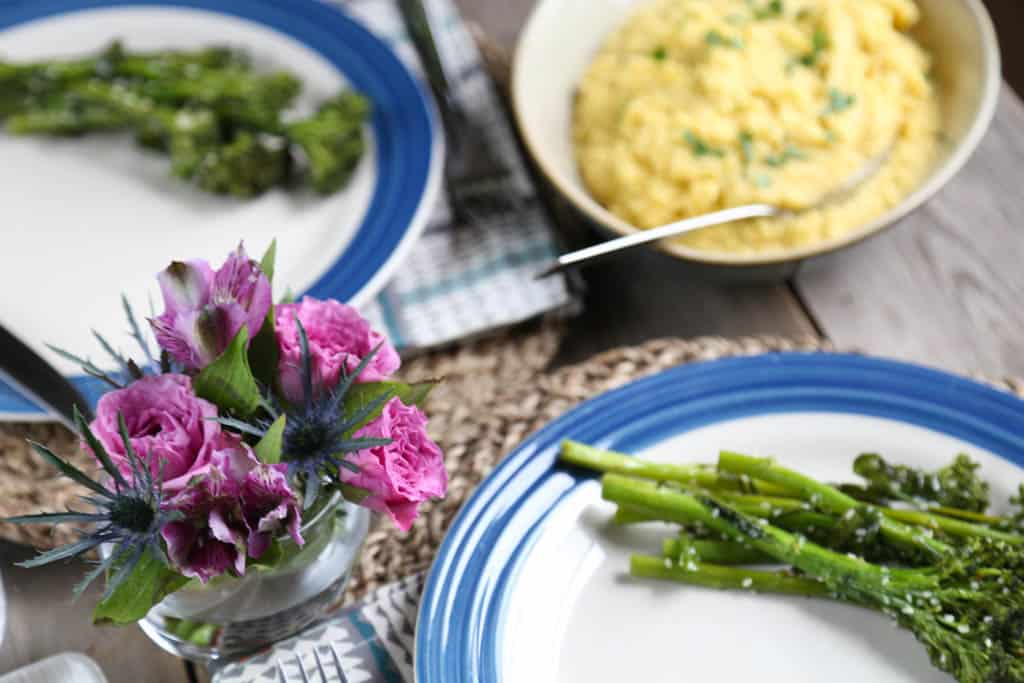 9. Set a simple dinner table
You don't need 12 settings of fine china to throw a dinner party. Use your everyday dishes or invest in some inexpensive ceramic dishes (these are $10 for 10 at Bed Bath & Beyond). Head to Goodwill or the Salvation Army for silverware. It won't necessarily match perfectly, but I think it looks more unique and fun that way. Same with glassware! If you're opposed to doing dishes, Chinet makes crystal cut glasses and plates that look nice. Here's a pack of 30 fancy-looking disposable dinner and 30 salad plates
for $25. That's a little less than $1/person.
Grocery store floral bouquets are an inexpensive way to set a beautiful table. Grab a bouquet and a pair of sharp scissors. Trim the stems and divide them among several mason jars or juice glasses. Place a few down the length of the table (see photo above for an example—that is half of a $3.99 bouquet from Trader Joe's). The food will fill in the rest of the holes on the table!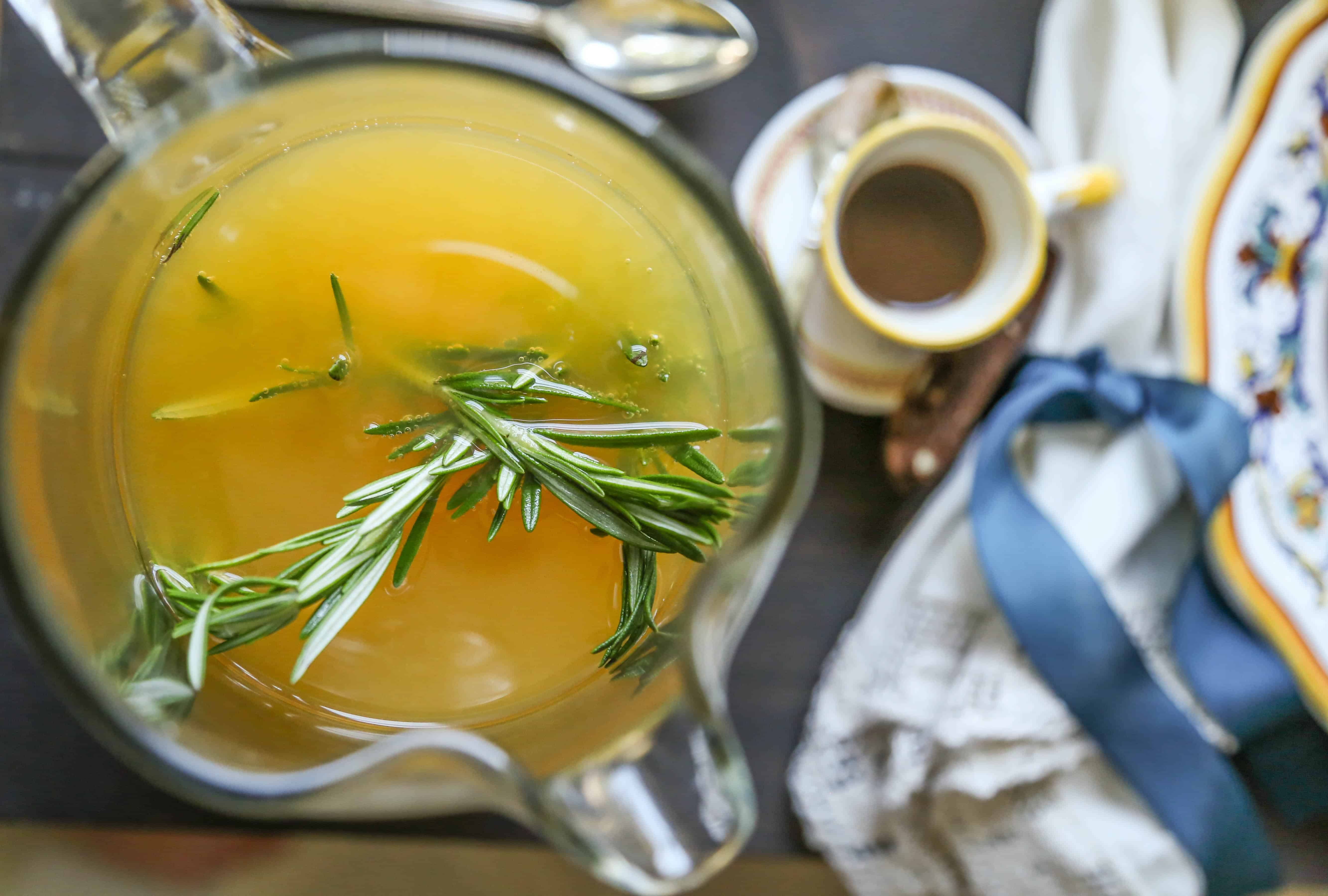 10. Make a batch cocktail (or mocktail)
If you're set on serving cocktails, choose one and serve that as your special cocktail of the evening. You'll avoid spending a lot of money on different varieties of alcohol trying to please everyone, and guests will love to drink something different than their usual drink of choice. I find that offering two options (a special cocktail and wine OR beer) is plenty. Make the cocktail ahead of time and put it in a pitcher for easy pouring.
Cocktail idea: Rosemary Clementine Cocktail (pictured above)
Mocktail idea: Hibiscus Iced Tea or Homemade Ginger Ale
11. Ask your guests to help
After I extend an invitation, nearly every single dinner guest has asked me, "what can I bring?". Sometimes I say "nothing!", but I often use this opportunity, especially with good friends, to let them help. If I'm short on time or the guest likes to bake, I ask him or her to bring dessert. If the guest loves wine or is a beer aficionado, I ask him or her to bring drinks. When the guest list is really long, I've even asked guests if they could bring plastic cutlery. Guests want to contribute and help, so let them!
What are your best tips for how to host a dinner party on a budget? I'd love to hear them in the comments below!
Budget Dinner Party Recipes
Here's a list of recipes listed above to give you menu ideas!
Sheet Pan Fajitas
Italian Marinated Steak Kabobs
Chicken Souvlaki with Golden Rice and Classic Greek Salad
Easy Red Pozole
Lemon Lentil Soup
Vegetarian Red Lentil Dal
Spinach Artichoke Stuffed Baked Potatoes
Rosemary Clementine Cocktail
Hibiscus Iced Tea
Homemade Ginger Ale