Tomato Jam is a fun and flavorful way to jazz up grilled bratwursts or Italian sausage. Think of it as a really delicious, chunky, homemade ketchup!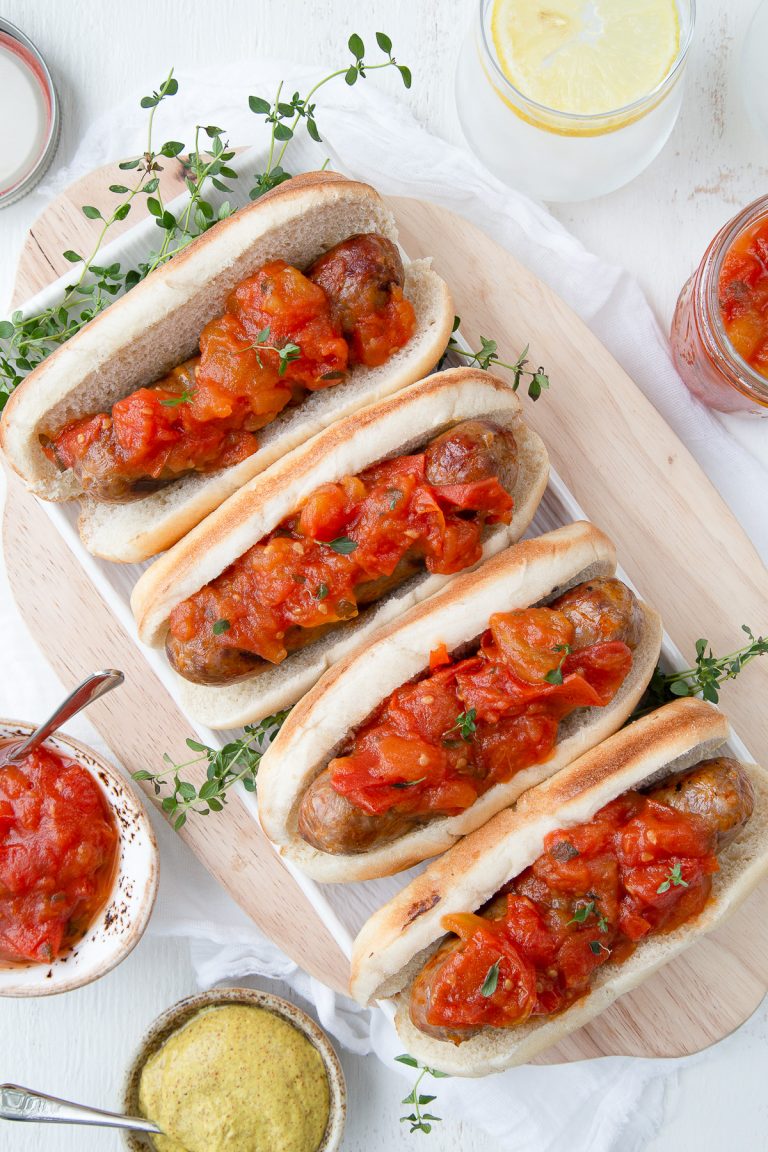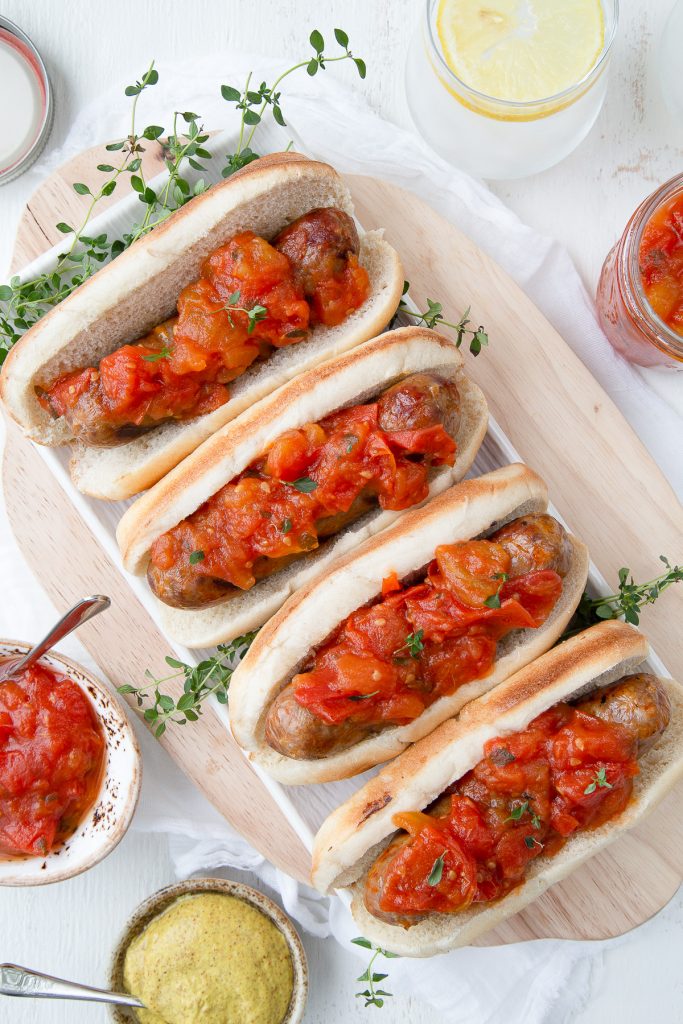 Sometimes you just need something easy to make for dinner, whether it's just family or for a few guests. Burgers and brats are my go-to for easy dinners in the summertime. They're quick to make, crowd-friendly, and the leftovers taste great.
I'm always looking for a way to jazz up a classic, and this Tomato Jam is a fun twist for topping either brats or burgers. Ketchup fans will love it, and ketchup haters (that's me) will adore it even more. Everyone will want to know what the red condiment is on the table along with the ketchup and mustard!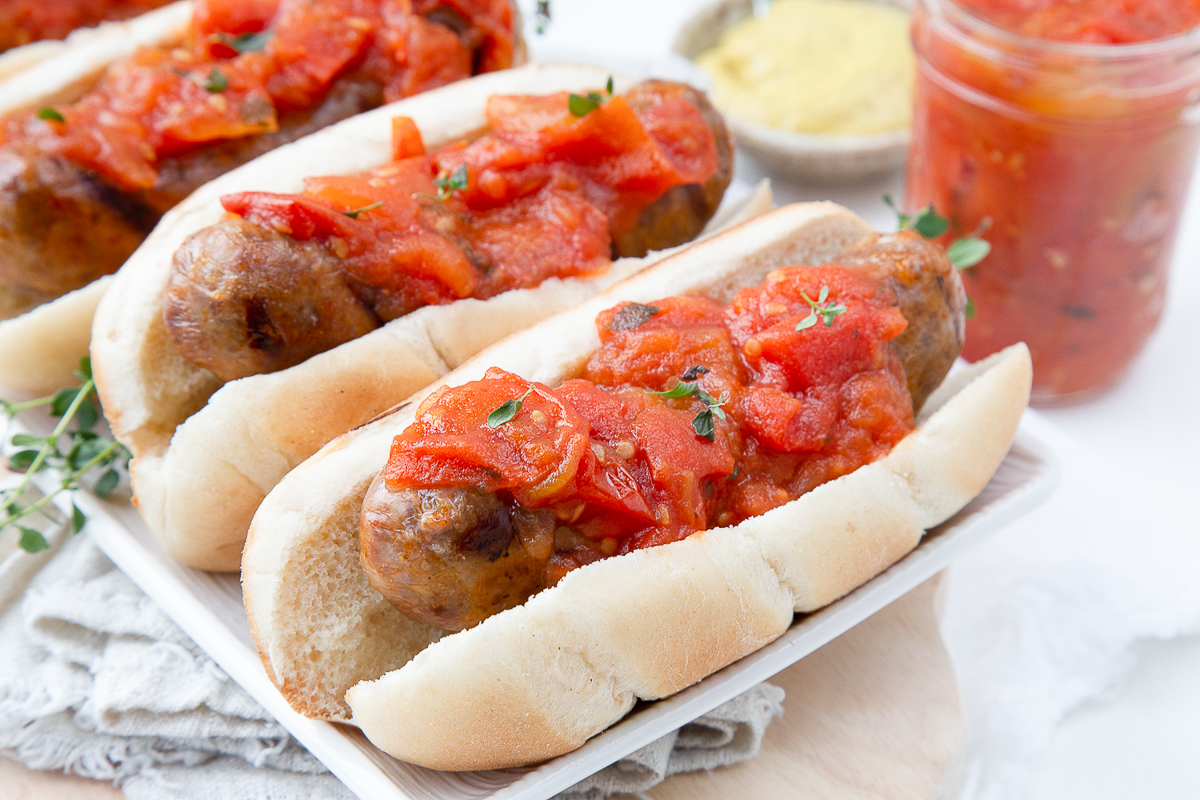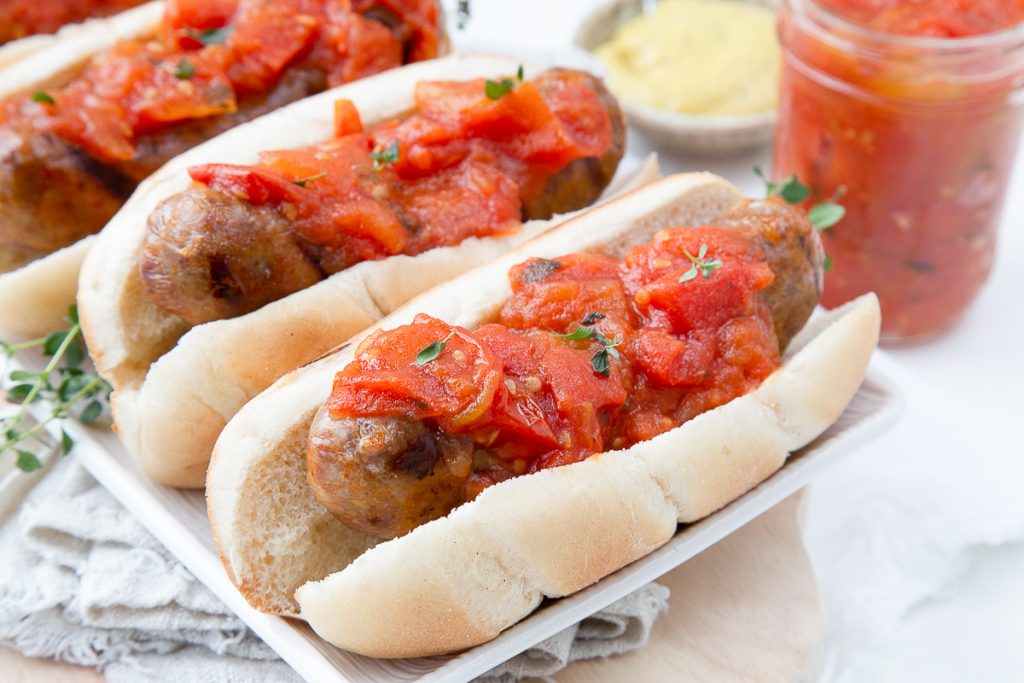 Ingredients for tomato jam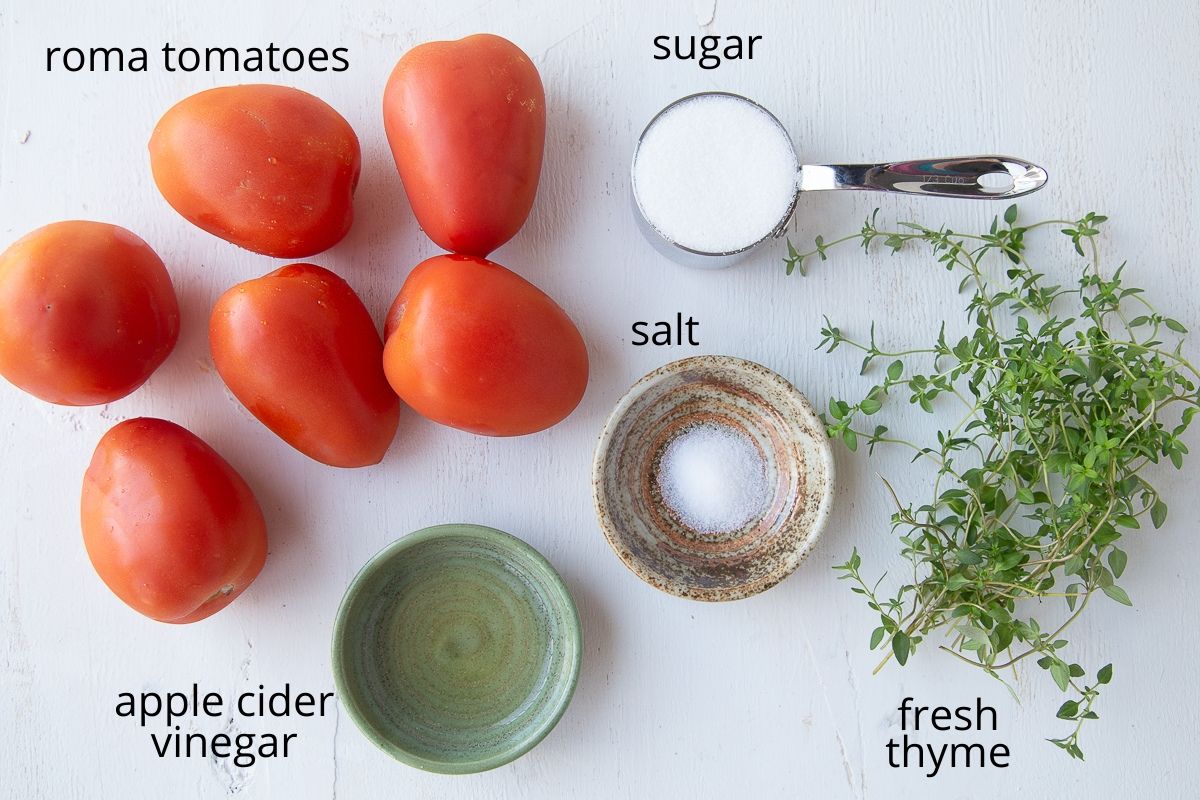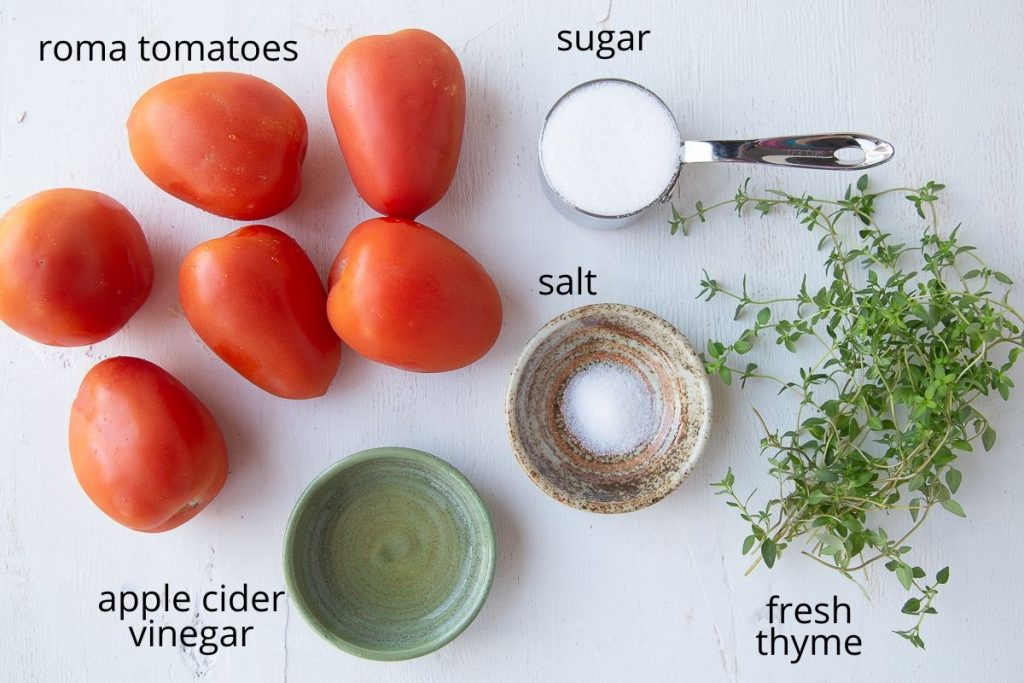 I used roma tomatoes for this. Tomatoes on the vine would work, too.
Fresh thyme adds a light, fresh herb flavor to the jam.
Sugar adds the perfect amount of sweetness to the tomatoes.
Apple cider vinegar adds a little bit of acidity. You could use white vinegar or white wine vinegar instead.
Step-by-step instructions
Combine the chopped tomatoes, sugar, vinegar, fresh thyme, and sea salt in a dutch oven or large pot. If you're thinking about investing in a dutch oven, you don't need to break the bank. I have one similar to this one (mine is from 8–10 years ago) and I have my eye on this gorgeous oval one!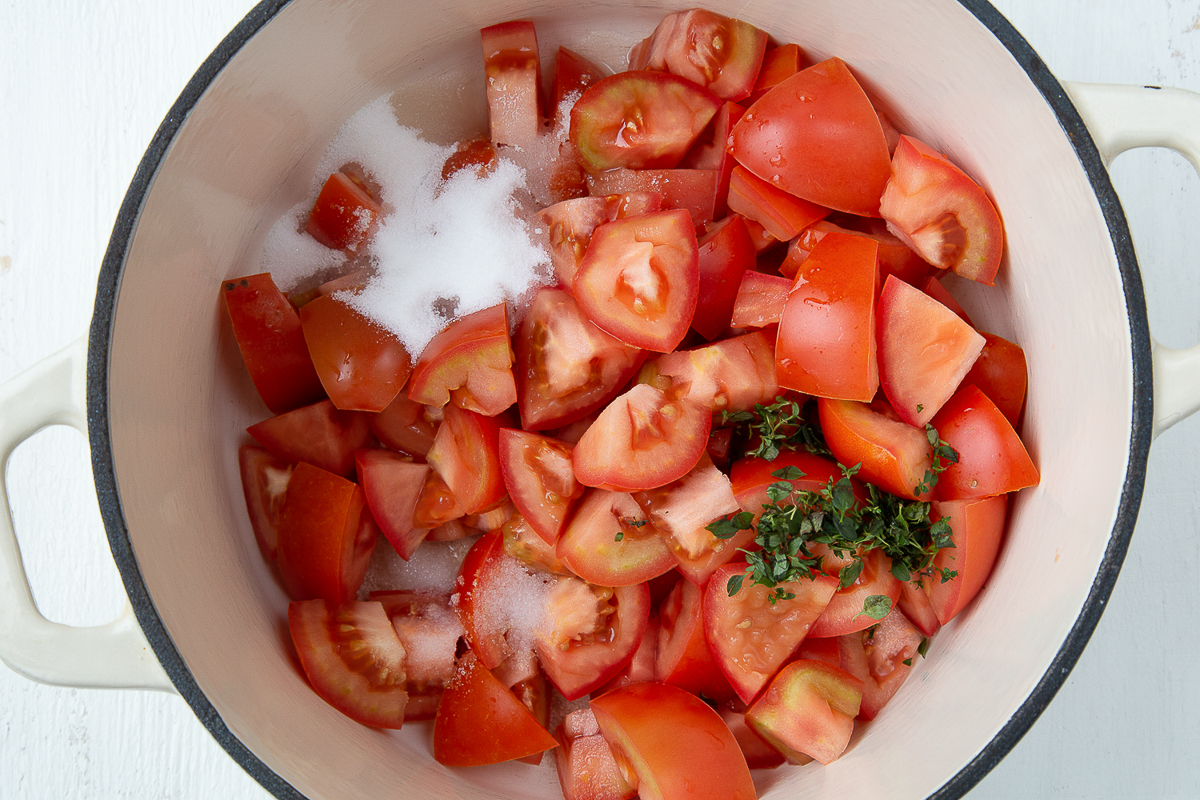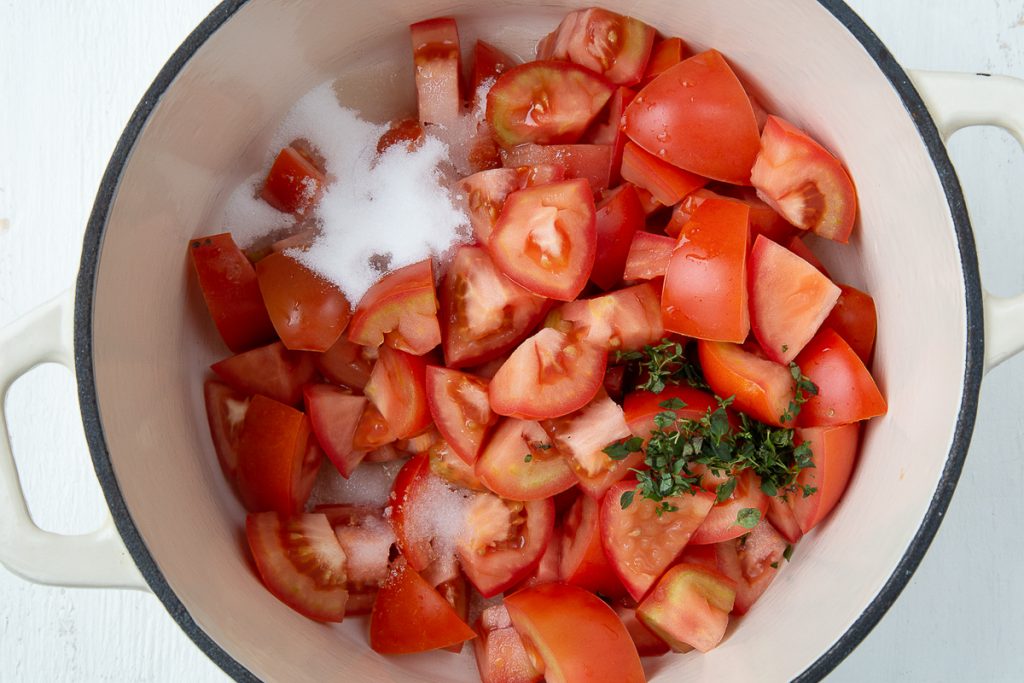 Cook the mixture on the stove for 40–50 minutes on medium low, or until the tomatoes turn into a rich, delicious jam-like consistency. The mixture should be thick but can be a little runny in places (it'll continue to thicken slightly as it cools).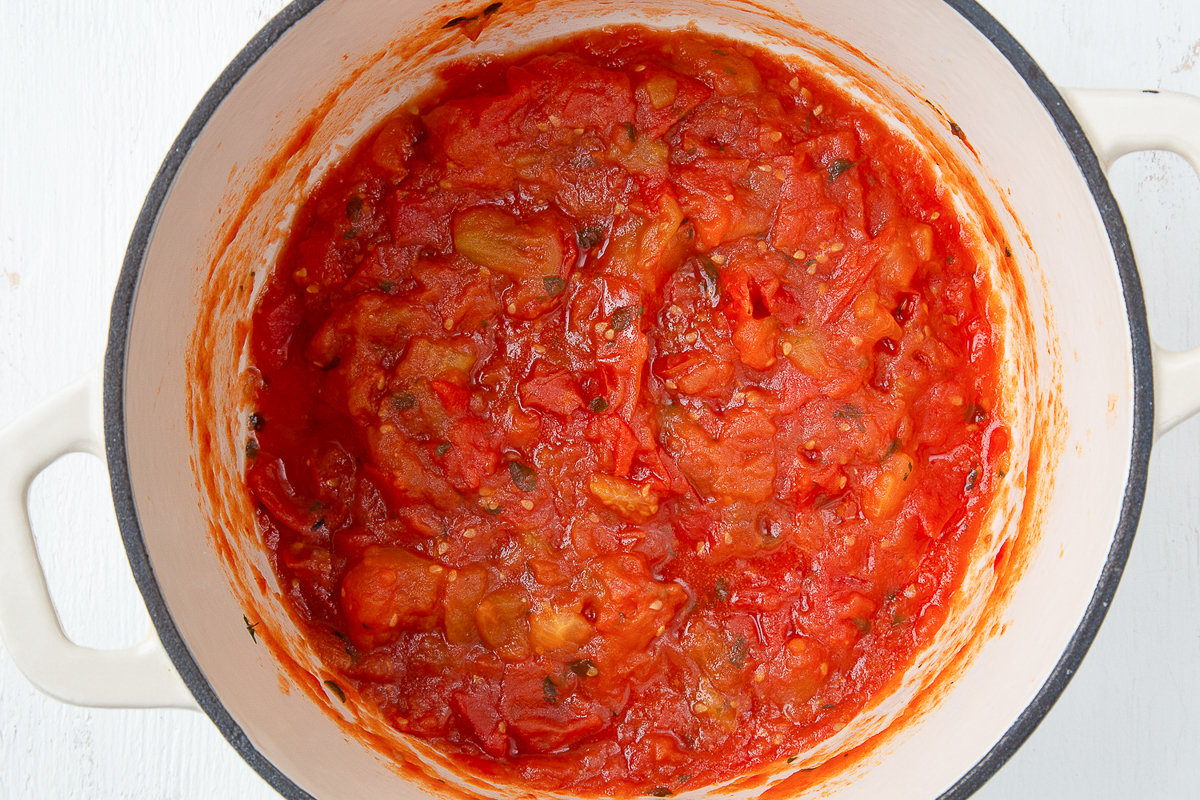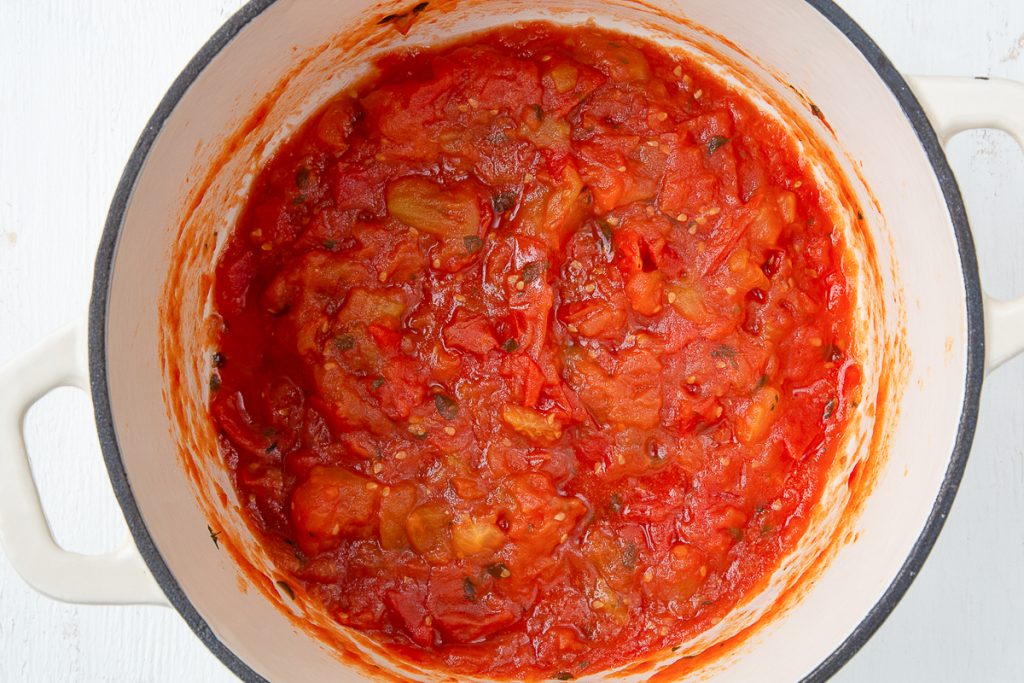 That's it! The tomato jam will keep in the refrigerator for up to 2 weeks.
What do you do with tomato jam?
Wondering how to use up all of that delicious tomato jam? Here are a few ideas:
Put it on bratwursts or spicy Italian sausage.
Spoon it on hamburgers.
Add it to a grilled cheese sandwich.
Serve it on top of grilled chicken or grilled fish.
I paired the tomato jam with spicy grilled bratwursts. The lightly sweet jam was the perfect complement to the kick of heat from the spicy brats! Mild or hot Italian sausage would be delicious, too.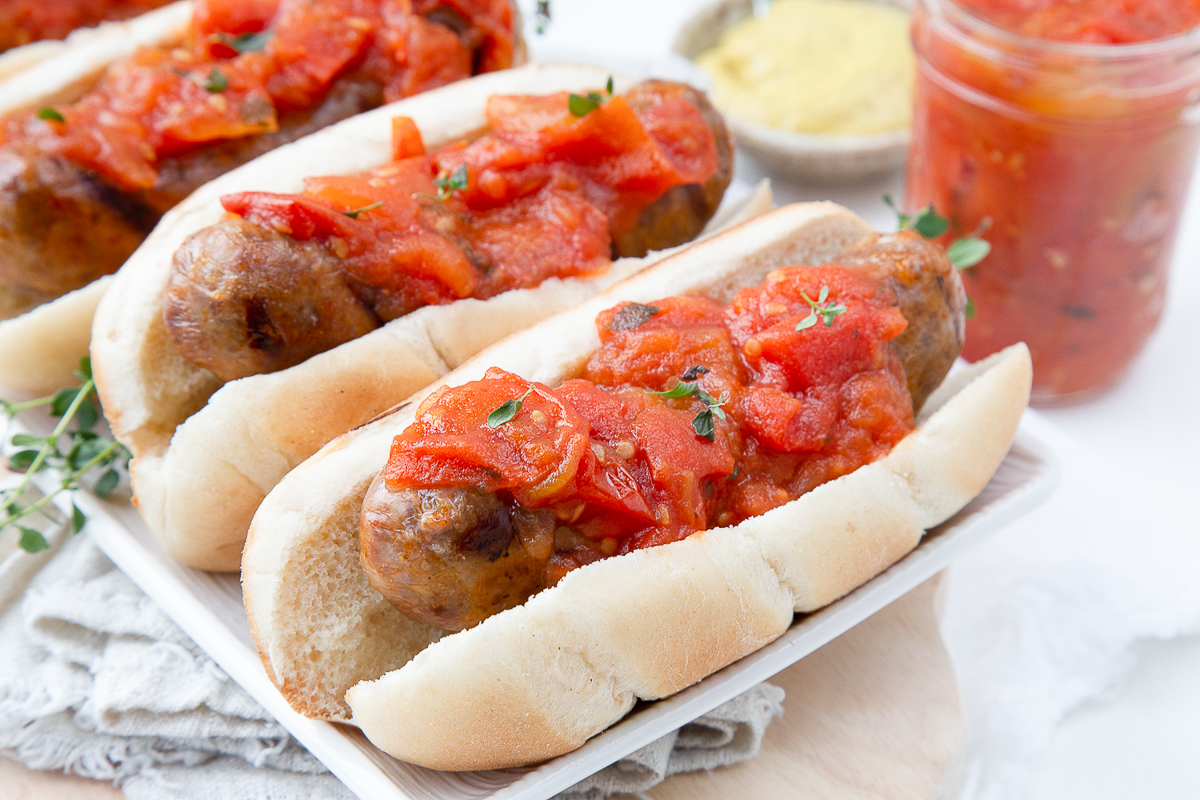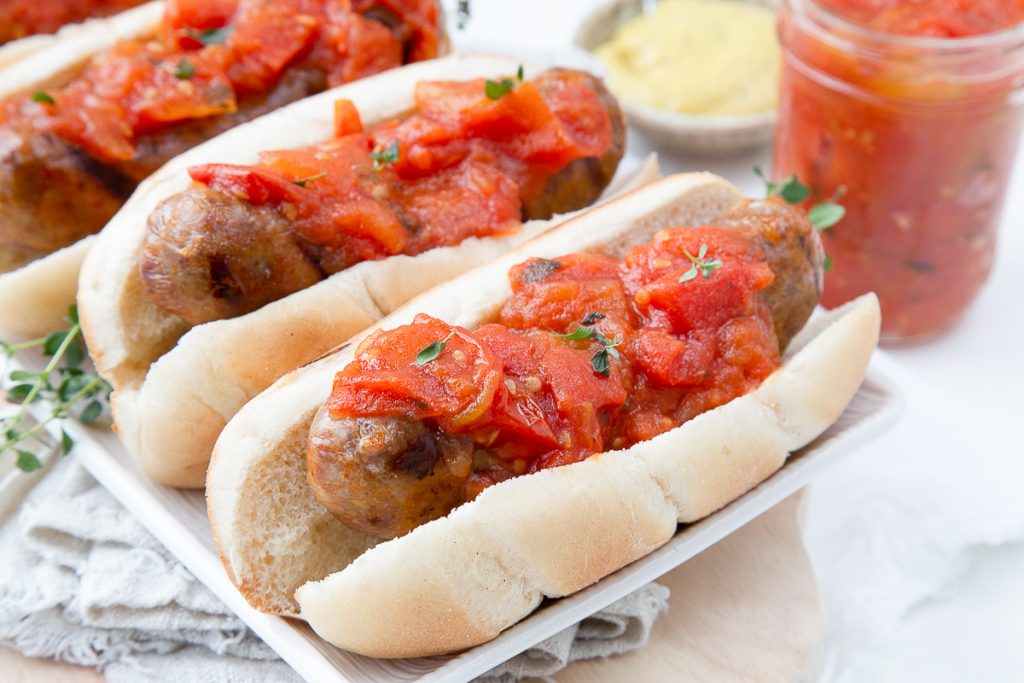 FAQs
Do I need to take the seeds out of the tomatoes?
There's no need to remove the seeds from the tomatoes, though you will want to remove the tough area where the stem meets the tomato.
Can I use another herb instead of thyme?
Yes—fresh basil would be tasty.
Do I have to use apple cider vinegar?
Nope! You could use white vinegar, red wine vinegar, white wine vinegar, or champagne vinegar.
Can I make this with out-of-season tomatoes?
Definitely. You'll still get loads of fresh tomato flavor even if it's not tomato season.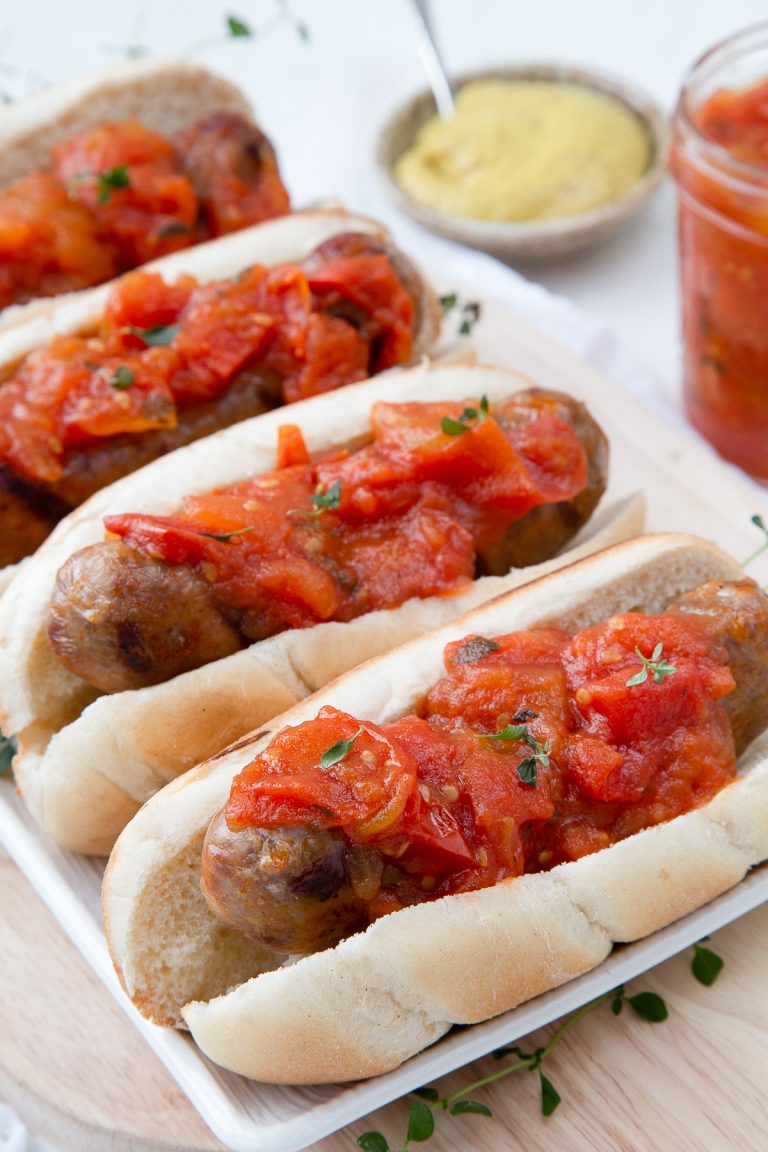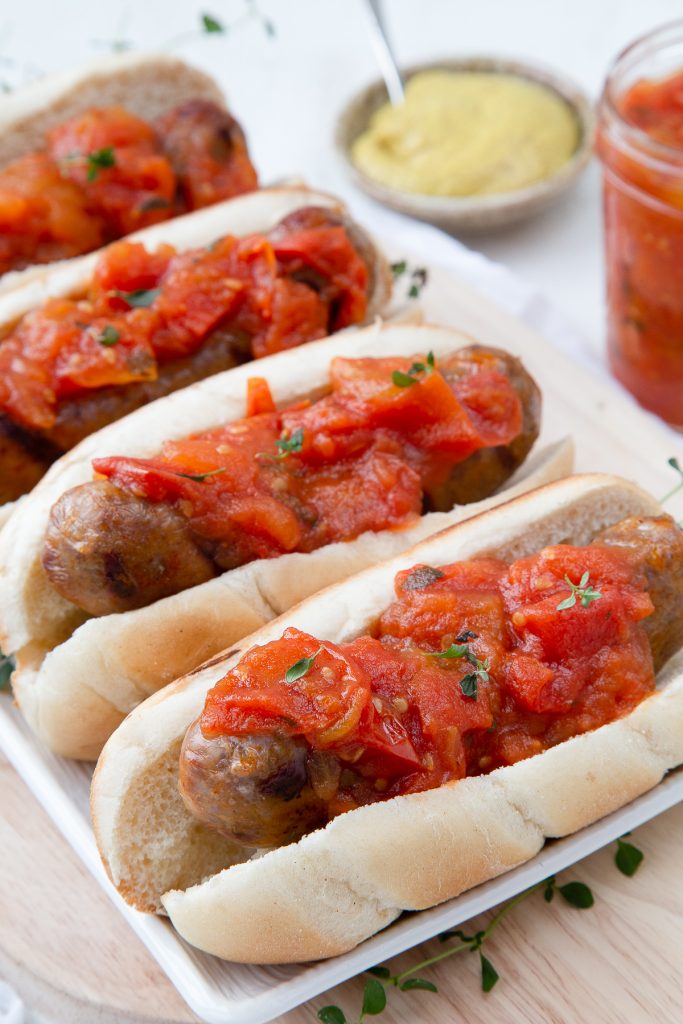 True confession: when I make burgers or brats for just my family, I serve frozen tater tots on the side. I'm such a sucker for them! I recently started using an air fryer to cook the tater tots—they get SO crispy in less than 15 minutes and I don't have to heat up the oven.
If I'm doing a cookout for guests, I'll stick with potato salad (Grandma's German Potato Salad is a favorite) or Tuna Pasta Salad. For a sweeter side dish, I love Taffy Apple Salad.
If you make the tomato jam, please leave me a comment below, or tag me on Instagram or Pinterest. I love hearing from you!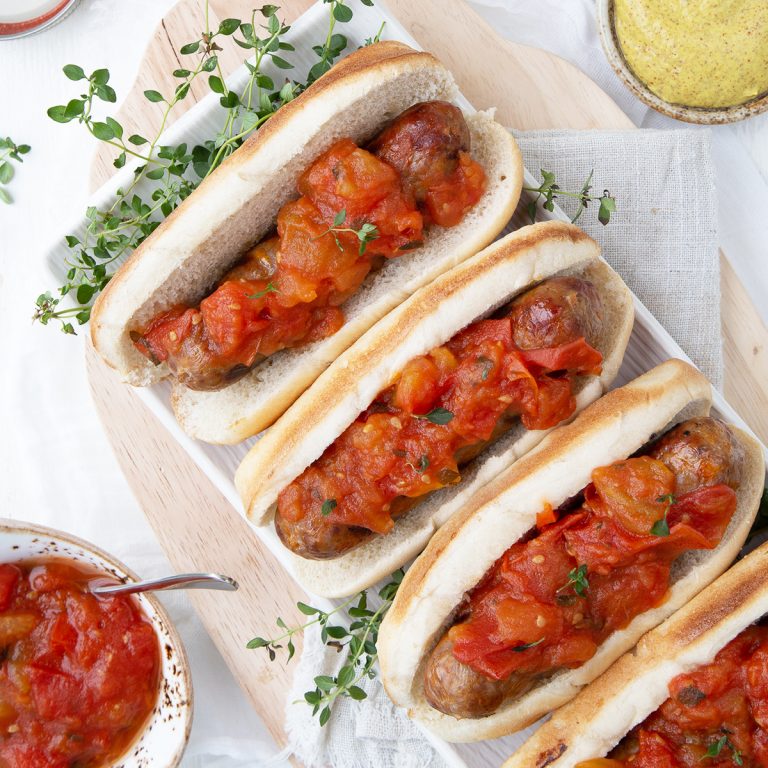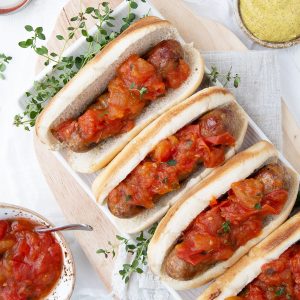 Grilled Bratwursts with Tomato Jam
Tomato jam is a fun way to jazz up burgers or brats. Try it with spicy brats or sausage—the sweetness complements the heat nicely!
Ingredients
5

uncooked bratwursts or Italian sausages

5

hoagie buns

2

lbs

roma tomatoes,

cored and chopped into ¾-inch pieces (about 6 large or 8 medium sized)

⅓

cup

granulated sugar

1

tablespoon

apple cider vinegar

2

teaspoons

finely chopped fresh thyme

½

teaspoon

sea salt
Instructions
Combine tomatoes, sugar, apple cider vinegar, thyme, and sea salt in a saucepan or dutch oven over medium heat.

Bring to a boil, stirring occasionally. Reduce heat to medium low and continue to cook until the liquid has mostly evaporated and the mixture is thick, about 40–50 minutes. Set aside to cool (it will continue to thicken as it cools).

Preheat a grill to medium heat. Place bratwursts on the grill and cook for 5–8 minutes per side, or until cooked through.

To serve, place the hoagie buns on a serving platter. Top each bun with a bratwurst and spoon tomato jam over the top.

Serve immediately.
Notes
The jam recipe makes enough for 8–10 servings. It will keep in the refrigerator for 7–10 days. Nutrition facts below are for the jam only. If you don't have roma tomatoes, you can make this with tomatoes on the vine. White vinegar can be substituted for the apple cider vinegar, if you'd like!
Nutrition
Serving:
1
/4 cup jam
Calories:
42
kcal
Carbohydrates:
10
g
Protein:
1
g
Fat:
0
g
Saturated Fat:
0
g
Polyunsaturated Fat:
0
g
Trans Fat:
0
g
Cholesterol:
0
mg
Sodium:
98
mg
Fiber:
1
g
Sugar:
10
g
This post contains affiliate links. Thank you for reading GiftofHospitality.com and helping me to provide quality content.