These five menu ideas are perfect for a date night at home!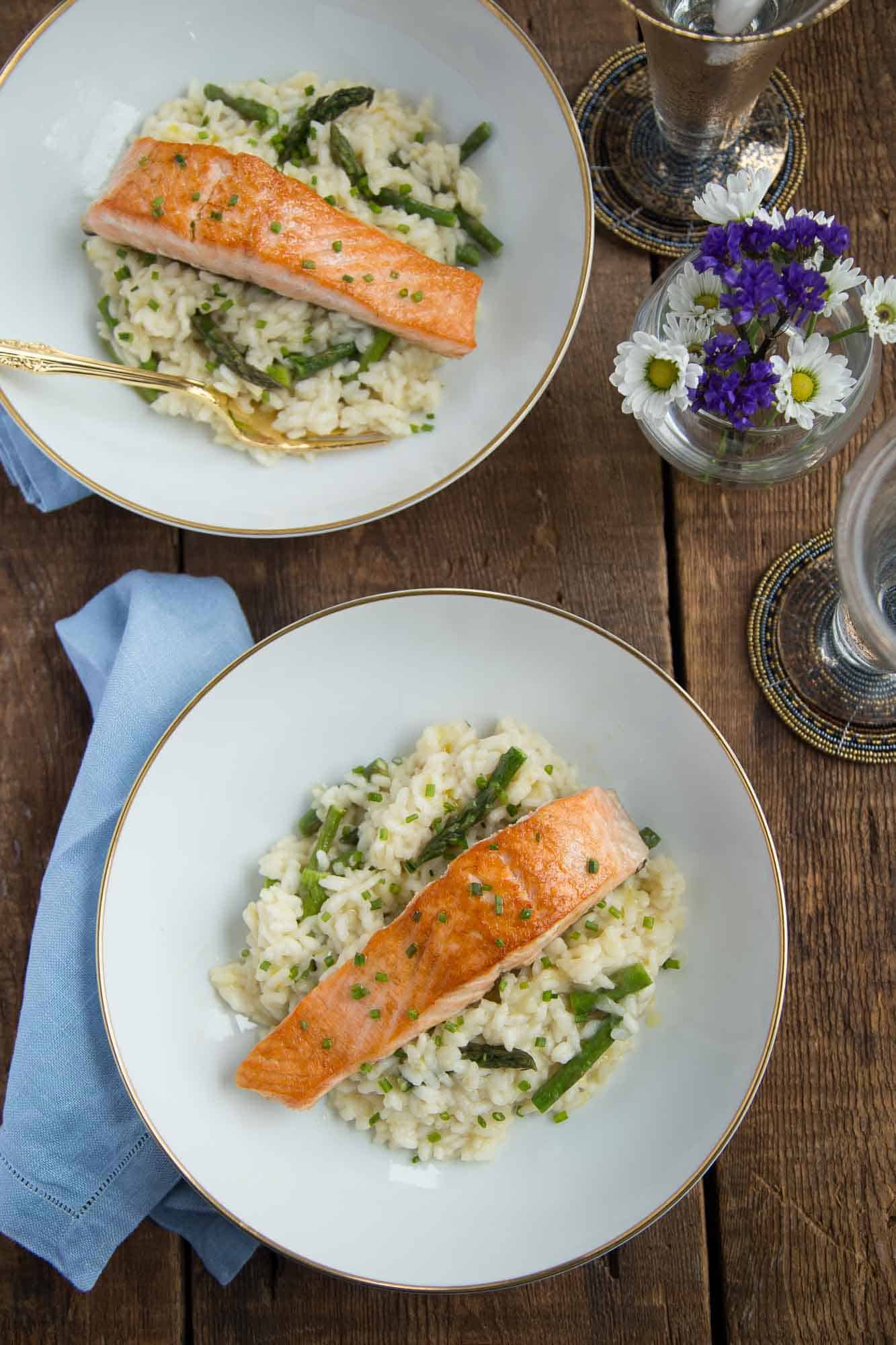 Looking for ideas for a date night at home? Here are five ideas, ranging from easy to slightly more time intensive (but nothing crazy, I promise). But first, a few tips!
Tips for cooking together
Designate a "head chef" and a "sous chef". Delegate the recipe reading to one person, and then they can assign tasks as necessary as the cooking begins.
If one partner doesn't enjoy cooking, setting the table, pouring wine, and making conversation are perfectly acceptable tasks to be completed.
Speaking of wine, make sure to have your drink of choice in hand while cooking! In the summer, I love a Mango Mojito. In the winter, it's red wine or my husband's favorite (very sweet) wine: Bartenura moscato.
Set the mood with music! We like the Dinner Soul Radio station on Pandora.
Put away your phones. 🙂
Five menu ideas for date night in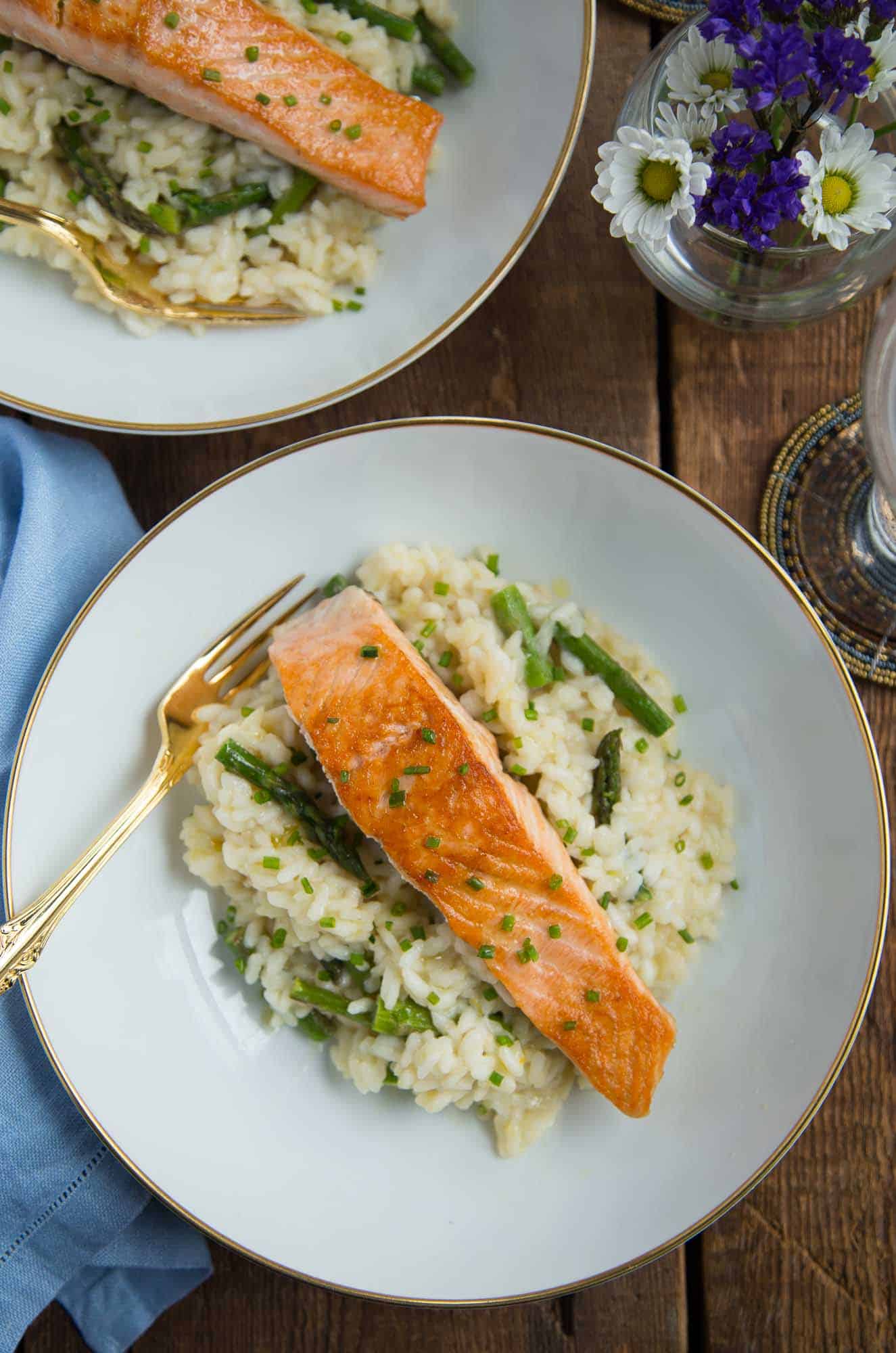 Meyer Lemon & Asparagus Risotto with Seared Salmon
Classy, elegant, and great for having two cooks in the kitchen. One partner can focus on the risotto while the other preps the salmon and a green salad for the side.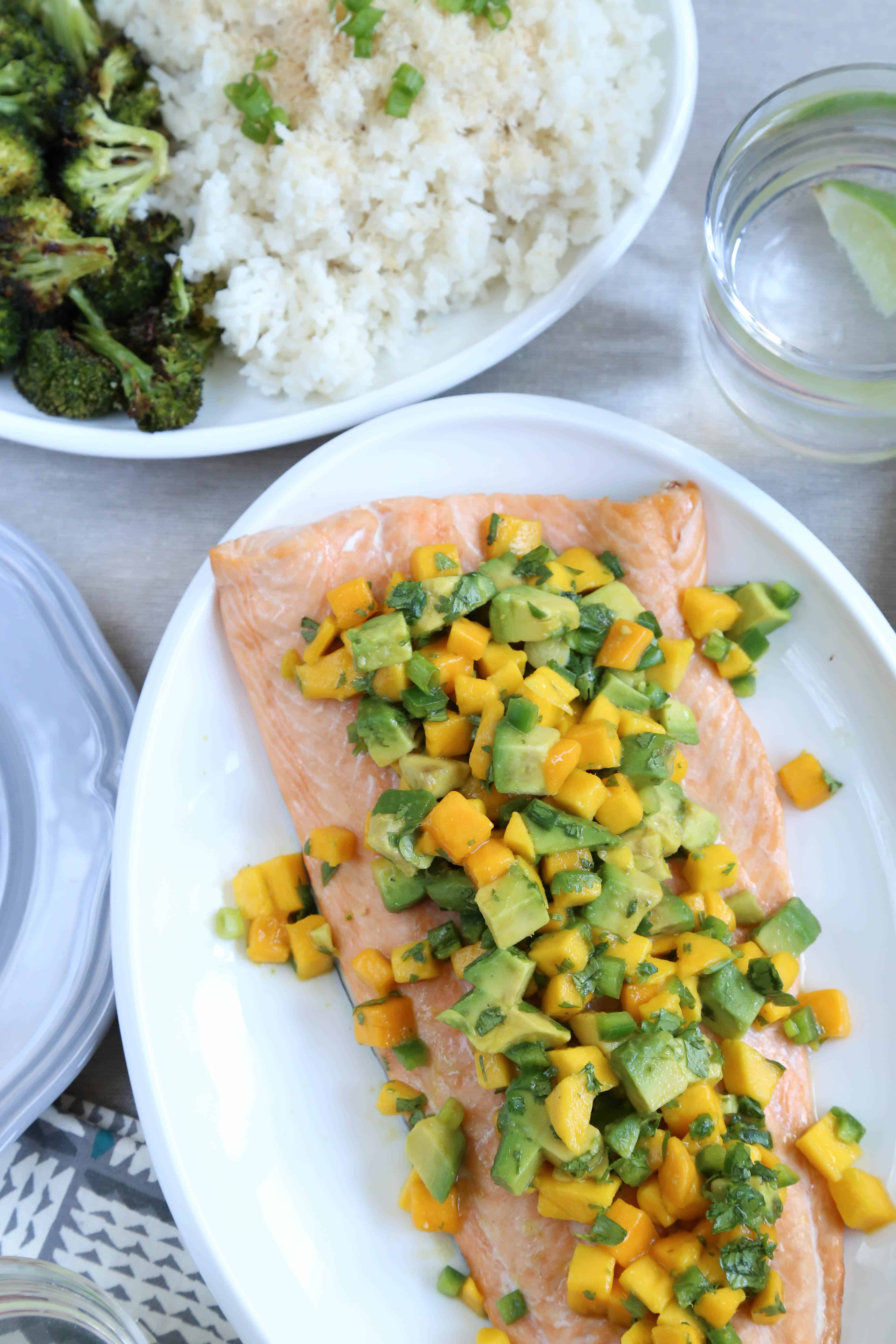 Roasted Salmon with Mango & Avocado Salsa
My brother and sister-in-law make this one frequently. It's healthy and colorful, and the salmon pairs really nicely with rice and roasted veggies.
You can jazz up regular rice by substituting canned coconut milk for the water. Either full fat or low fat canned coconut milk work great.
Tip from my brother and sister-in-law: scoop up any extra salsa with pretzel snaps (the square pretzel shapes).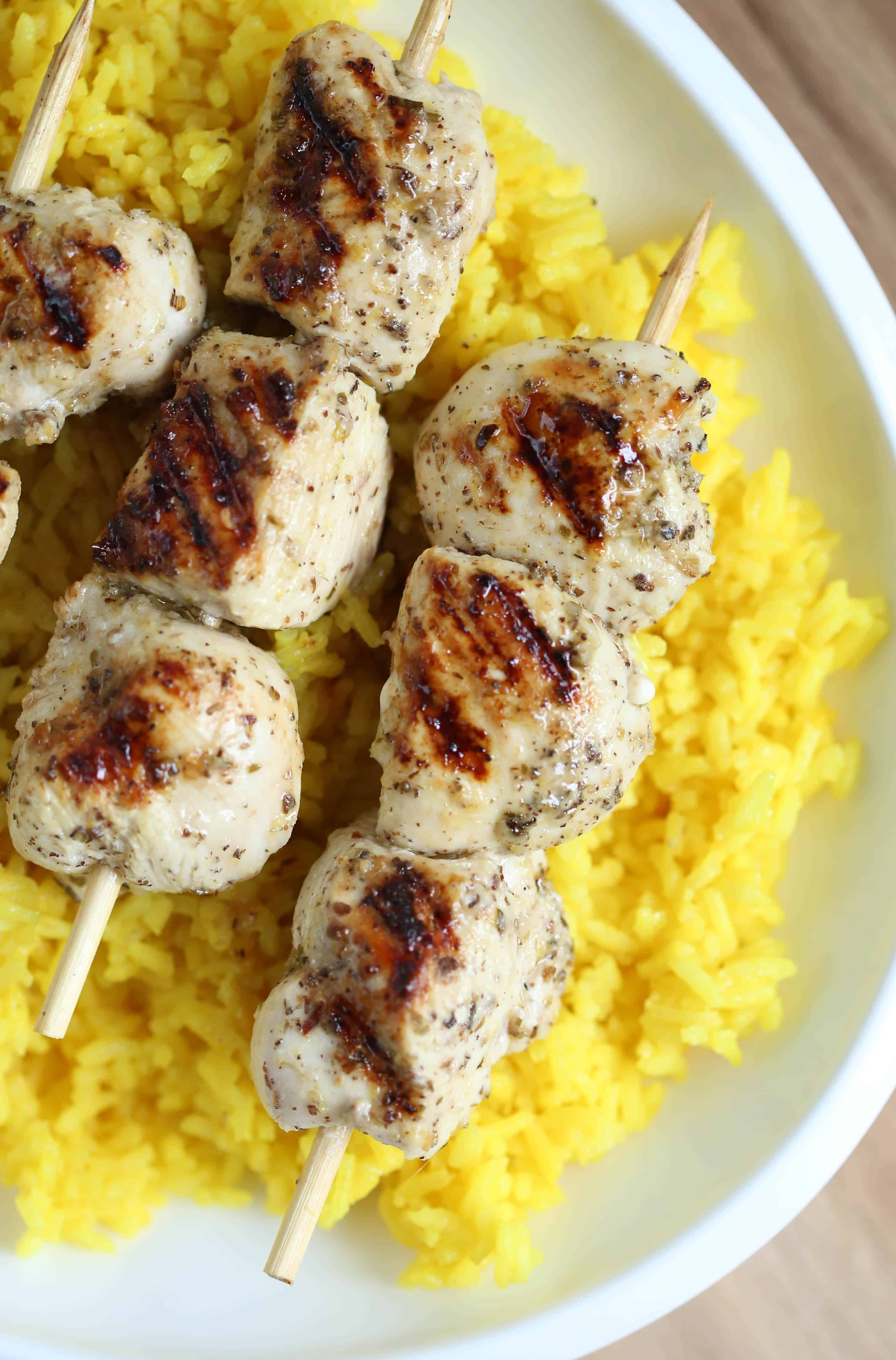 Chicken Souvlaki with Golden Rice
Classic Greek Salad
Longe and I enjoyed souvlaki and Greek salad on our honeymoon in Greece, and so it's fun to remember that time and enjoy the flavorful food. Everything is so colorful, and there are enough steps and ingredients that you won't be stepping on each other's toes in the kitchen.
Don't miss the tzatziki recipe that pairs with the Chicken Souvlaki!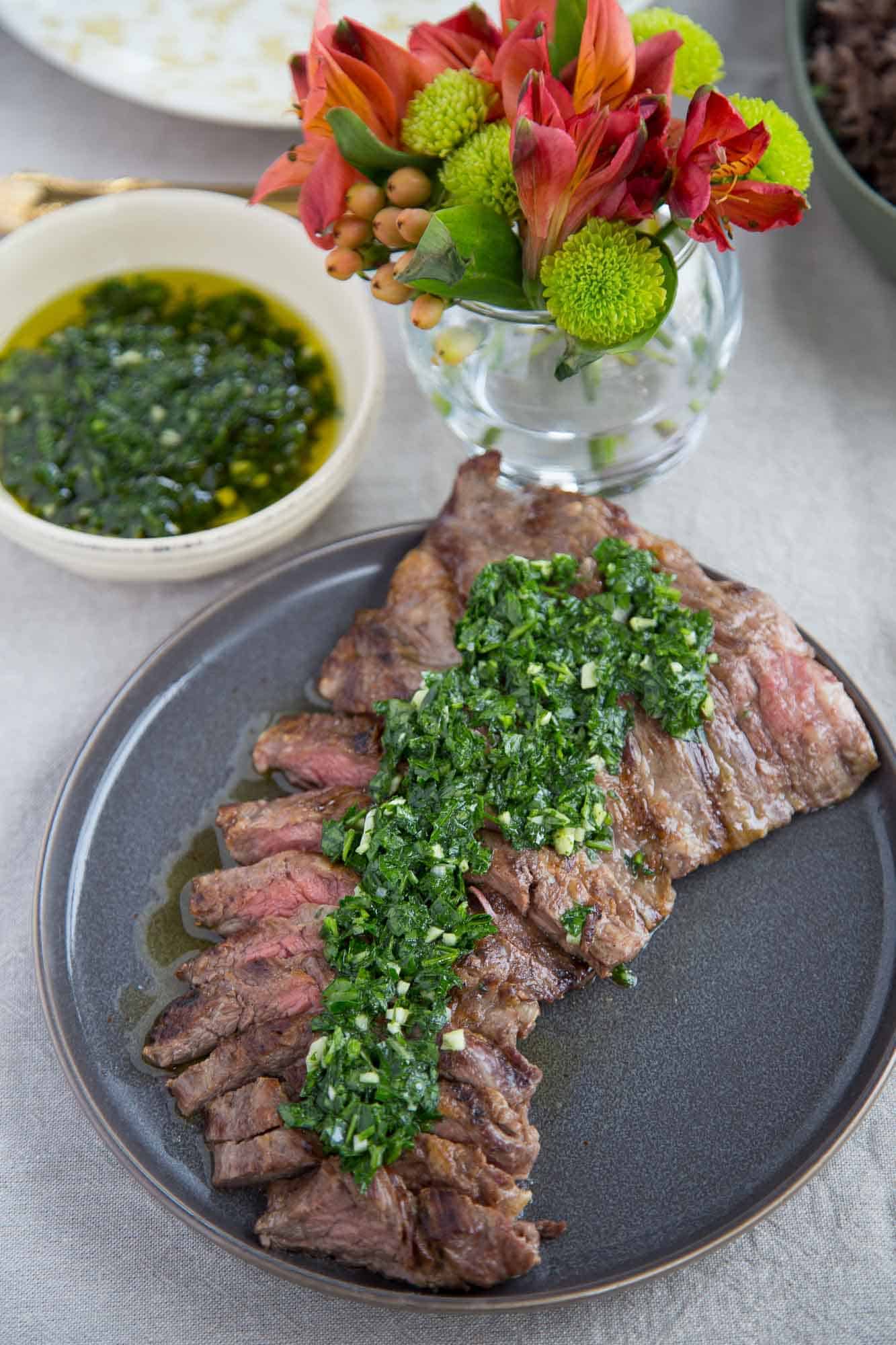 Cuban Skirt Steak with Chimichurri Sauce
Arroz Moro
Church Lady Salad (or a Simple Green Salad)
Longe and I had steak chimichurri at a Cuban restaurant called Havana in West Palm Beach, Florida. We loved it so much that I recreated it when we returned home.
A butcher recently enlightened me about using inside skirt steak for this recipe, which is more tender than outside skirt steak. I get inside skirt steak every time now!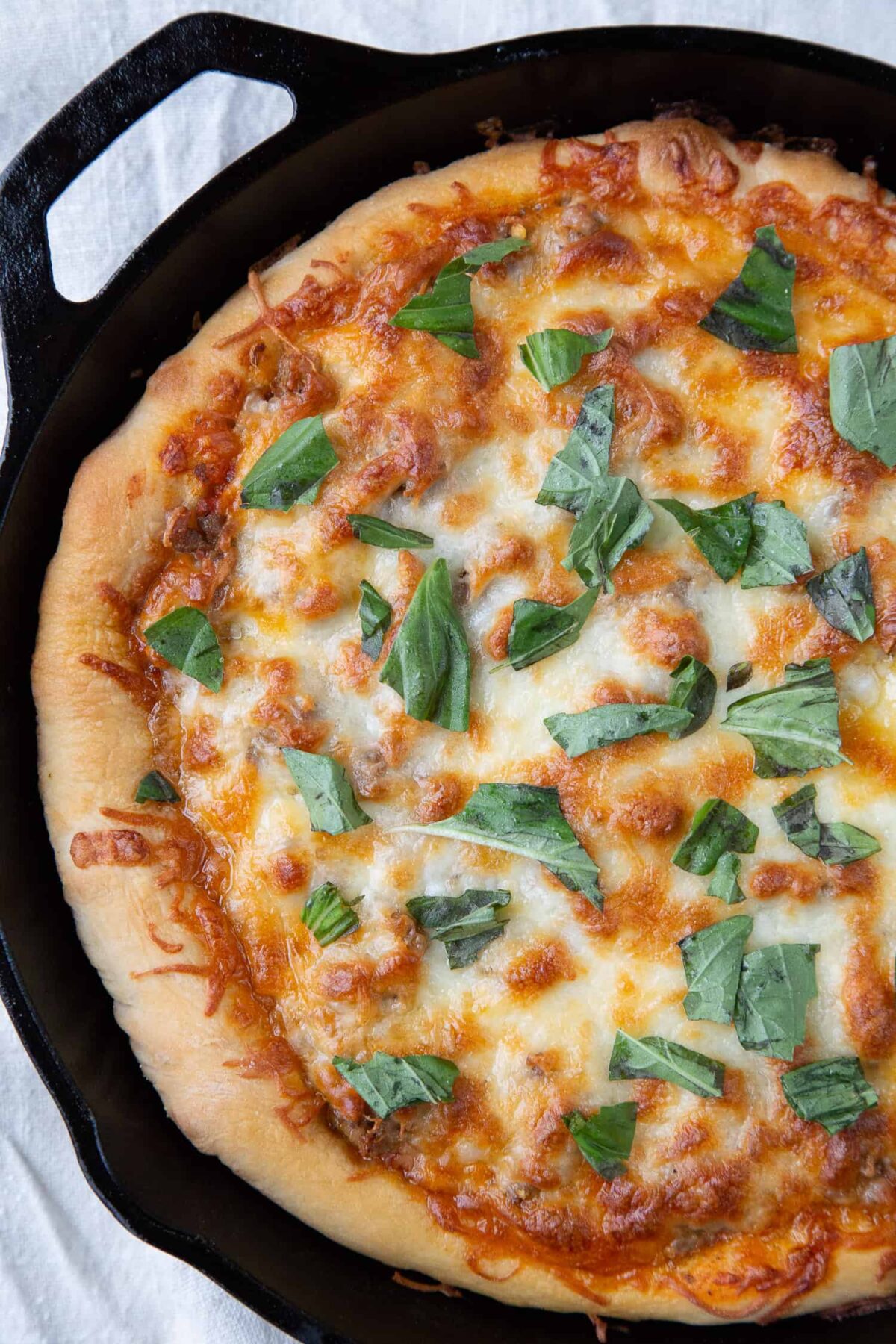 Pizza night gets an upgrade with Cast Iron Skillet Pizza! It's a fun way to make something simple and familiar together.
Add a leafy green salad and dinner is done!
Date Night dessert
Don't forget dessert for date night at home! I'm perfectly happy relying on a bakery to make a special treat like a mini cake or tart. I prefer to focus on the dinner food itself.
But if you're up for making another course, Bread Pudding for Two is the perfect dessert. Or scoop up some ice cream and top it with this 2-ingredient homemade hot fudge. Yum!
Get the recipes