Vegetarian Red Lentil Dal is hearty and comforting. It's the perfect easy dinner that you can make using pantry ingredients!
When I invite guests over for dinner, I ask if they have any dietary restrictions or allergies. Every once in awhile, I'll get requests for gluten free, dairy free, or vegetarian.
I made this recipe for Vegetarian Red Lentil Dal with a vegetarian in mind, though it happens to be gluten free and dairy free, too! It's a hearty, stick-to-your-ribs meal that guests (vegetarian or not) will love.
When I host a guest with dietary restrictions, I try to make the whole meal friendly to their allergy or restriction. I would hate for a dairy-free guest to LOVE bananas and have a dairy-filled banana cream pie staring them in the face when it comes time for dessert.
So when I'm planning a menu for someone with a dietary restriction, I brainstorm ingredients, dishes, and even cuisines that could fit their specifications. Here are a few examples:
Gluten Free Dinner Ideas
Rice-based main dishes are perfect for gluten-free guests, like this Seafood Paella or Chicken Souvlaki.
Twice Baked Potatoes or Roasted Garlic Mashed Potatoes are a great grain-free side dish for a beef roast or roast chicken. Fresh berries with whipped cream or most ice creams and sorbets are good gluten-free desserts.
Dairy Free Dinner Ideas
Many dishes in Indian and Mexican cuisine already don't contain dairy, or can be adapted to leave it out. Most curries and other Indian dishes are made with coconut milk (which is non-dairy).
Skip the cheese-laden Mexican dishes and stick with serving Sheet Pan Fajitas or a taco bar with cheese on the side.
Vegetarian Dinner Ideas
There are so many interesting and filling dishes made without meat for vegetarian guests. You could use lentils to make this Lemon Lentil Soup (one of the most popular on my blog!) or skip the lentils/beans altogether and serve this veggie-packed Vegetarian Spaghetti Squash Lasagna.
A DIY Pizza Bar is another vegetarian-friendly idea. Just be sure to check the label on the cheese for animal rennet!
Now that gluten-free and dairy-free lifestyles are so popular, there are so many recipes that have been adapted. So even if you're dying to serve your famous Southern biscuits and you have a gluten-free guest coming over, you'll be able to find a recipe for gluten-free biscuits to serve with them—there are over 6 million Google results for gluten free biscuits. Choose one with a few (good) reviews.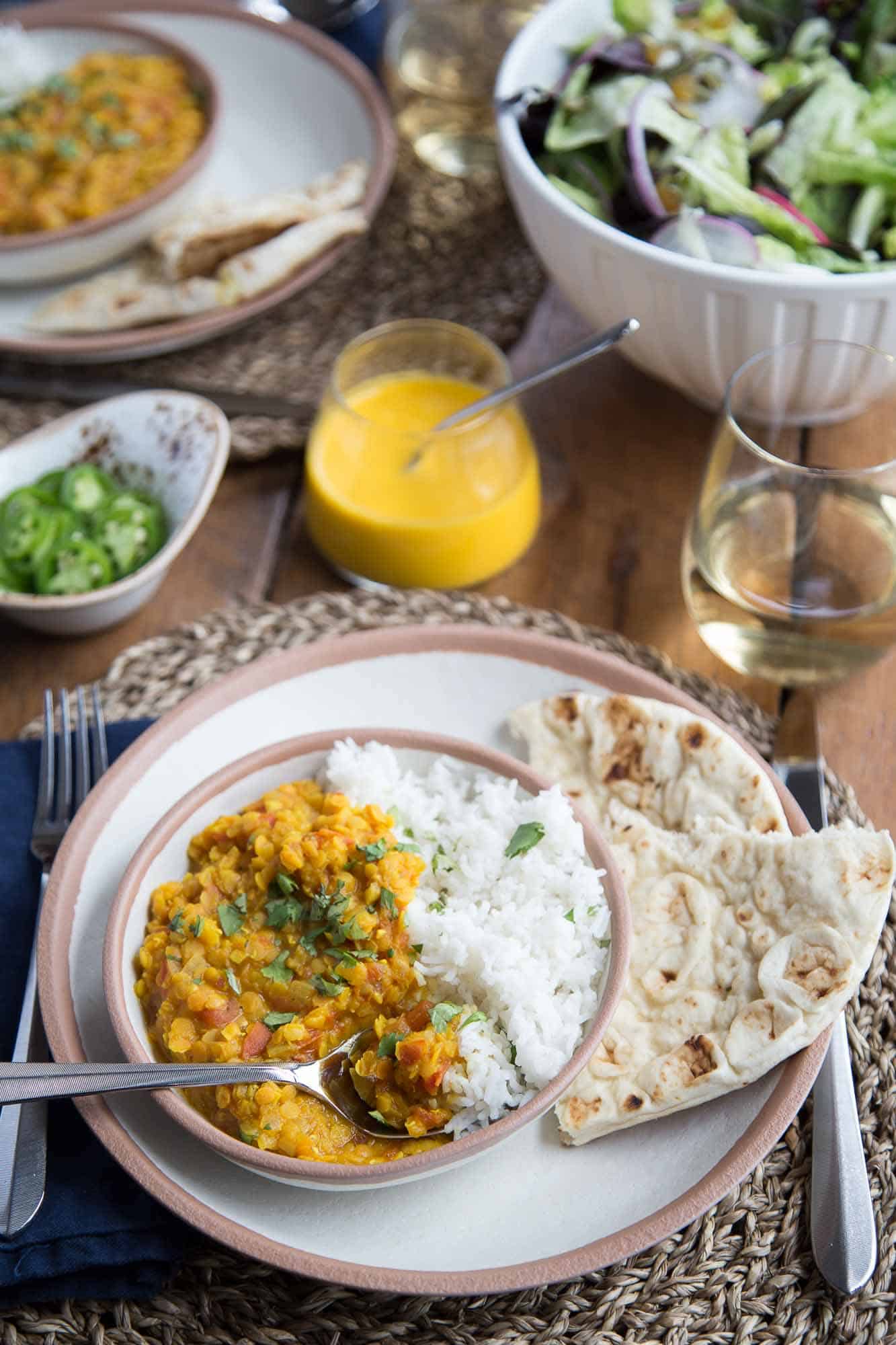 Back to the Vegetarian Red Lentil Dal! With its colorful hue and ginger-packed flavor, it's interesting enough to capture the attention and adoration of meat-loving guests, too.
Ingredients
Onion, garlic, and ginger pack the dal with lots of savory flavor.
You'll need cumin, turmeric, and crushed red pepper from your spice cabinet.
Red lentils are the star of this dish—they are usually located near the rice and dried beans at the grocery store.
A splash of lime juice at the end amps up the flavor.
To serve with it, I love both rice and naan. Choose one or the other, or both!
Cooking with fresh ginger
The recipe calls for a full tablespoon of fresh ginger. I prefer using fresh ginger, which can be found in the produce section of your local grocery store. Use a microplane
or a zester to grate it—it goes much faster than trying to chop ginger by hand!
You can definitely taste the ginger in the finished dish. If you don't love ginger, you can halve the amount and use 1–2 teaspoons instead.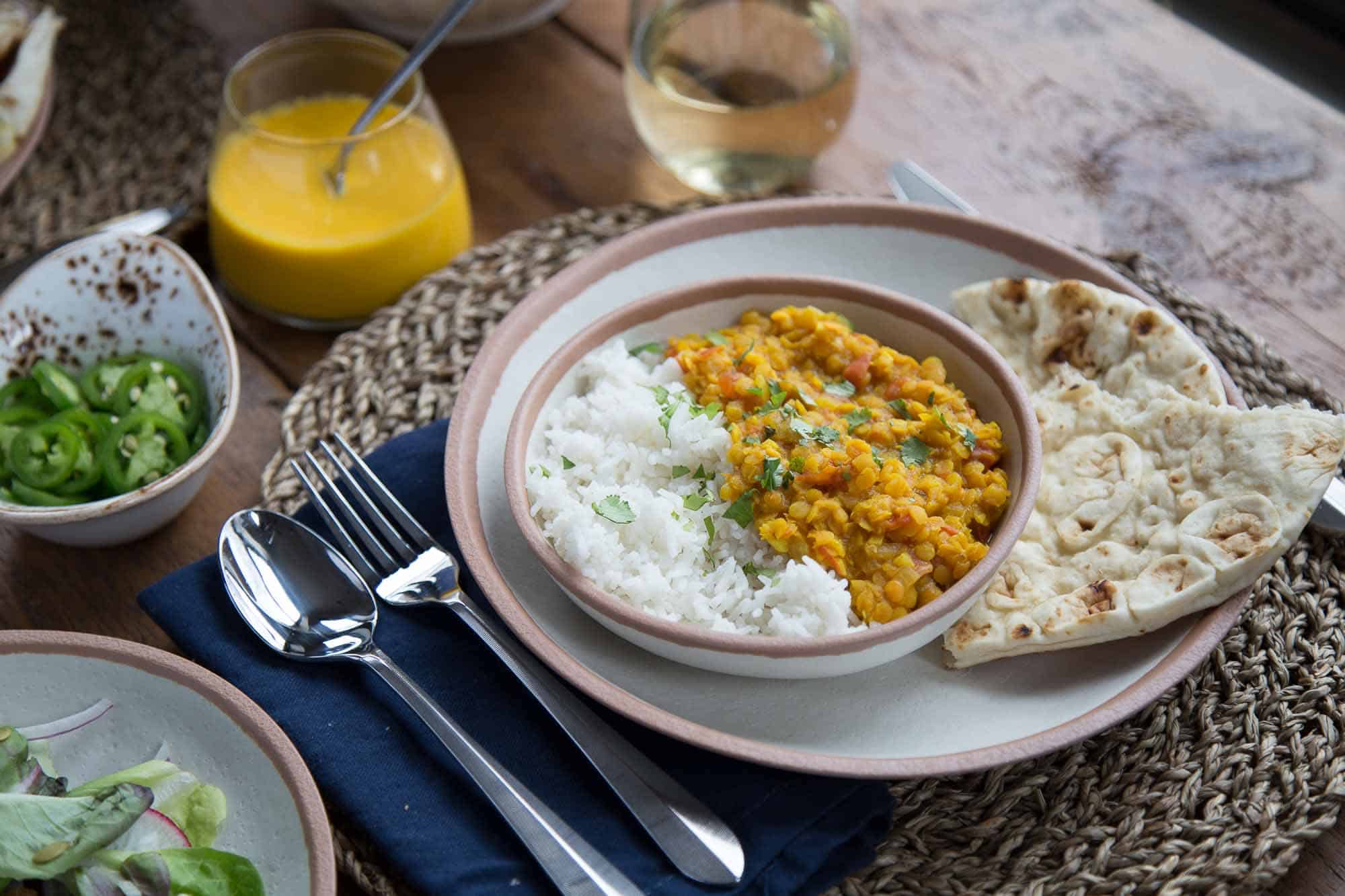 Serving the red lentil dal
Dal is delicious alongside rice and/or naan. Trader Joe's makes a garlic naan that you can find in their bakery section—it is SO fluffy and delicious. Many grocery stores also carry naan near the other bread.
For the topping, chopped cilantro complements the dal really nicely. If you like spice, add some fresh jalapeño slices for a kick!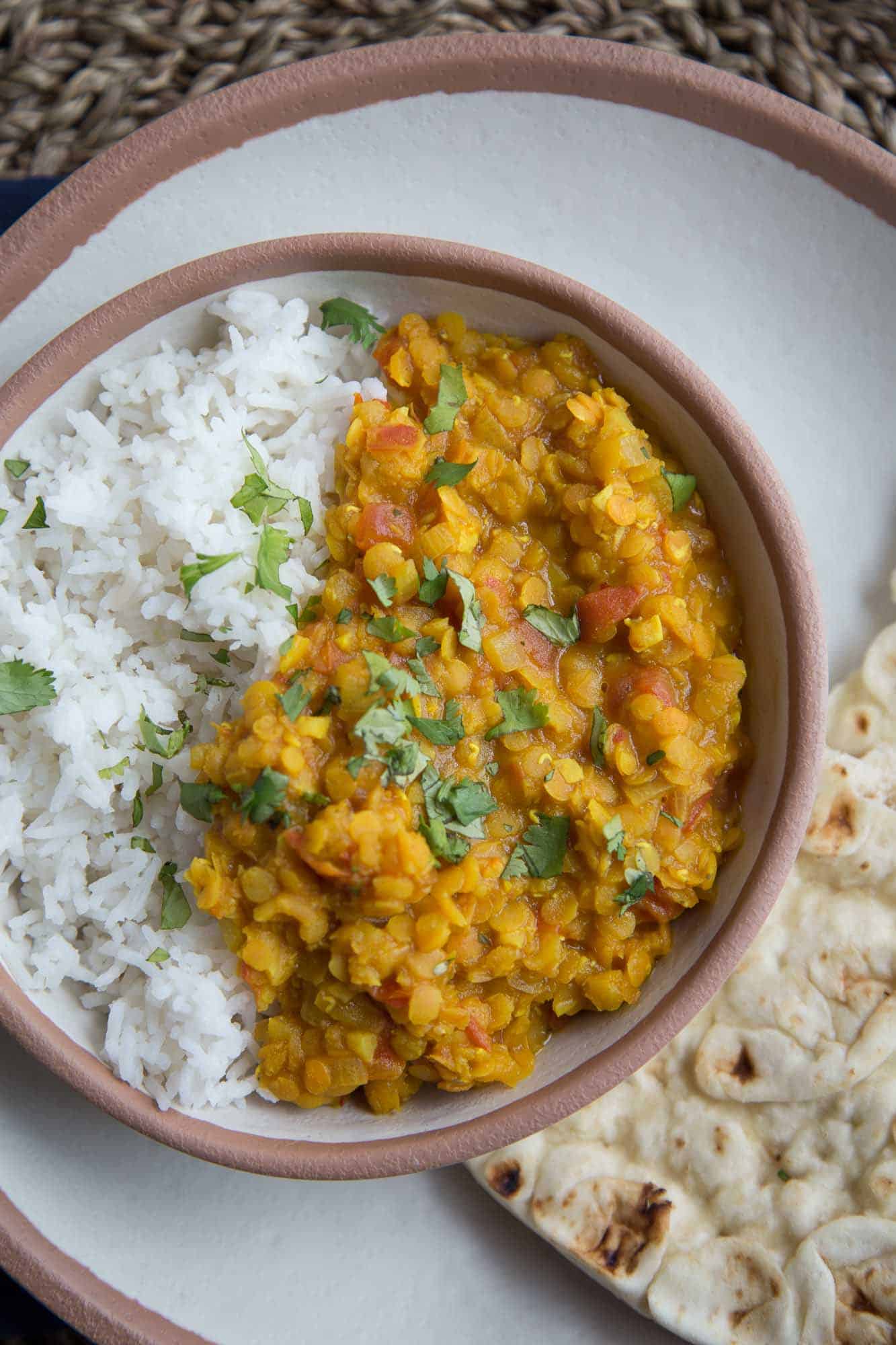 If you make this recipe, please leave me a comment below, or tag me on Instagram or Pinterest. I love hearing from you!
📖 Recipe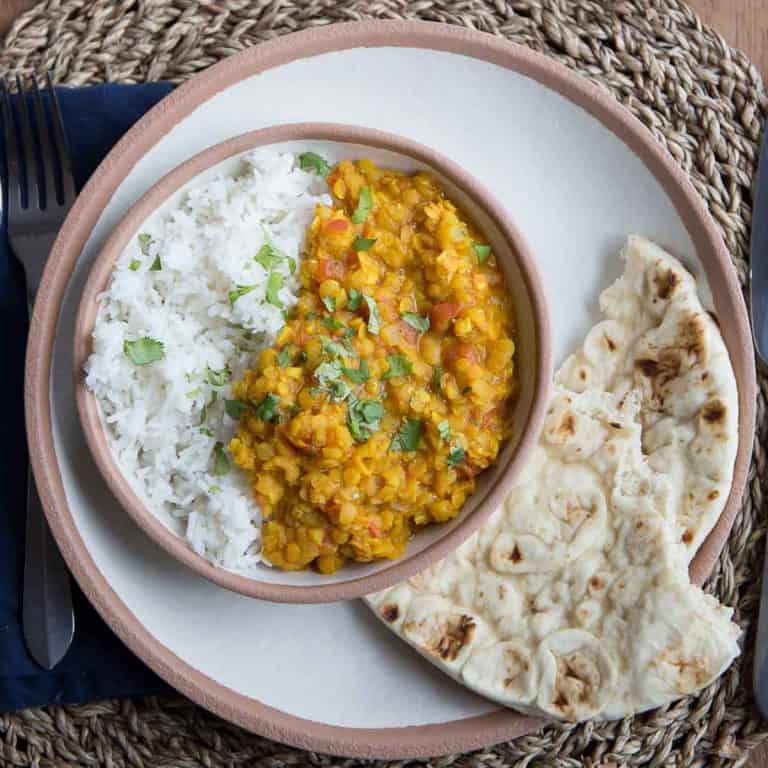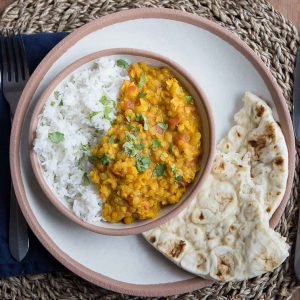 Vegetarian Red Lentil Dal
Ginger lovers will adore this flavor-packed dal!
Ingredients
1

tablespoon

olive oil

1

large yellow onion,

diced

1

tablespoon

minced fresh ginger

(can be halved if you don't love ginger)

2

garlic cloves,

minced

½

teaspoon

cumin

1

teaspoon

turmeric

½

teaspoon

crushed red pepper

2

plum tomatoes,

chopped

1

cup

red lentils

2¾

cups

vegetable stock

1

tablespoon

lime juice

1½

cups

basmati rice

To serve: chopped cilantro, sliced jalapeño, naan
Instructions
Heat the oil in a large skillet over medium heat. Add the onion and ginger. Sauté, stirring occasionally, until tender, about 5–6 minutes. Add the garlic, cumin, turmeric, and crushed red pepper. Stir and cook for an additional 30 seconds.

Add the plum tomatoes, lentils, and vegetable stock. Bring to a boil. Cook, stirring occasionally, until the lentils are tender, about 25 minutes. Stir in the lime juice.

Meanwhile, place the rice and 3 cups of water in a saucepan over medium high heat. Bring to a boil. Add ½ teaspoon kosher salt. Reduce heat to low and cover. Cook for 20 minutes. Uncover rice and fluff with a fork.

Serve the dal with cooked rice, chopped cilantro, sliced jalapeño, and naan.
Nutrition
Calories:
473
kcal
Carbohydrates:
89
g
Protein:
17
g
Fat:
5
g
Saturated Fat:
1
g
Sodium:
660
mg
Potassium:
636
mg
Fiber:
16
g
Sugar:
4
g
Vitamin A:
694
IU
Vitamin C:
9
mg
Calcium:
54
mg
Iron:
4
mg