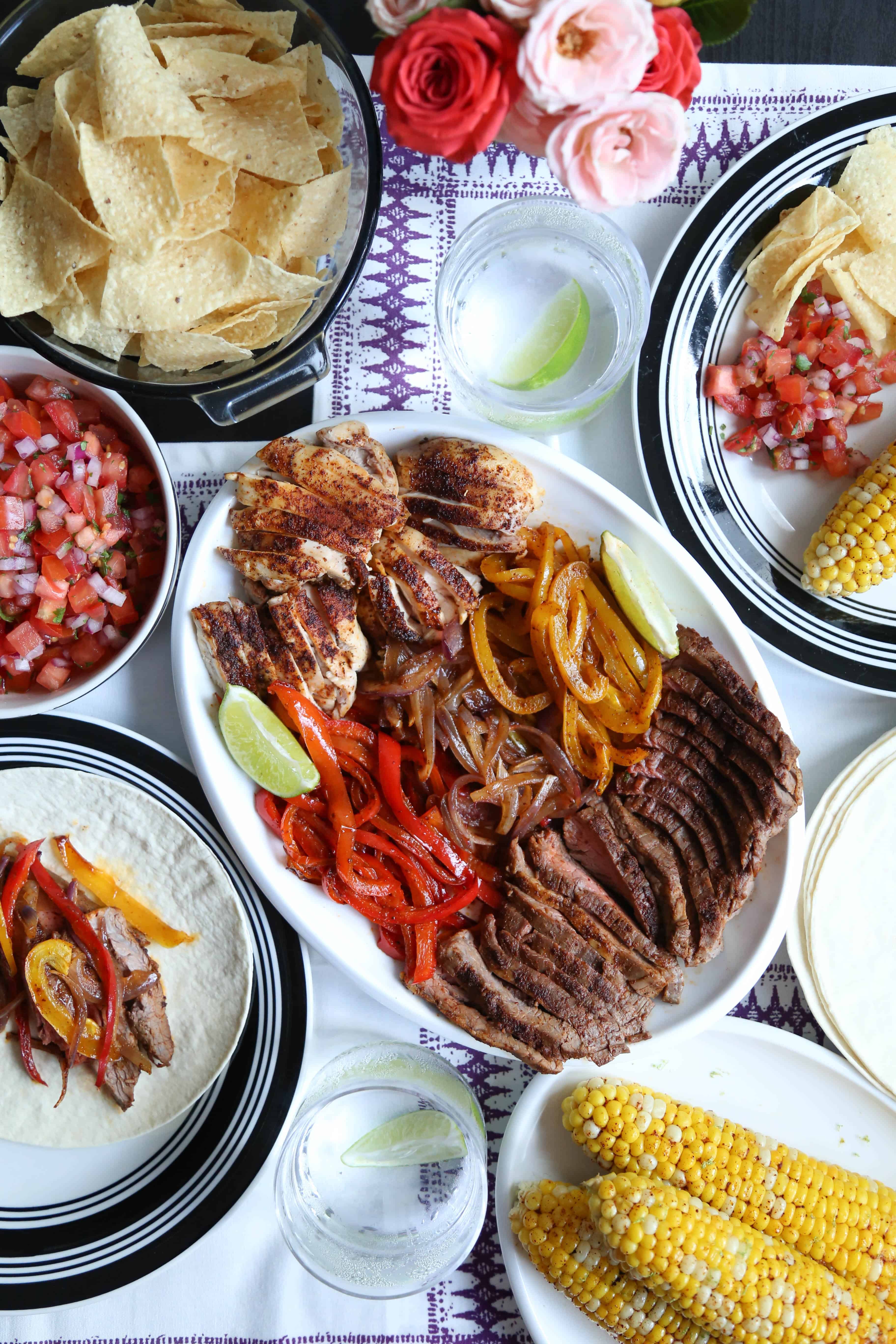 I love to host people for dinner or weekend brunch. But sometimes, hosting seems daunting. What am I going to cook for everyone? Do I have to clean again mid-week? Do the cloth napkins need ironing? Maybe I'd rather not…
But when I think about my "why" for hosting—connecting with friends, cooking a meal for someone, maybe even brightening someone's day—the little extra work suddenly becomes worth it.
The key word is "little" extra work. We host guests roughly once per week, so I've developed a few guidelines so I don't overexert myself and burn out on hosting. Here they are!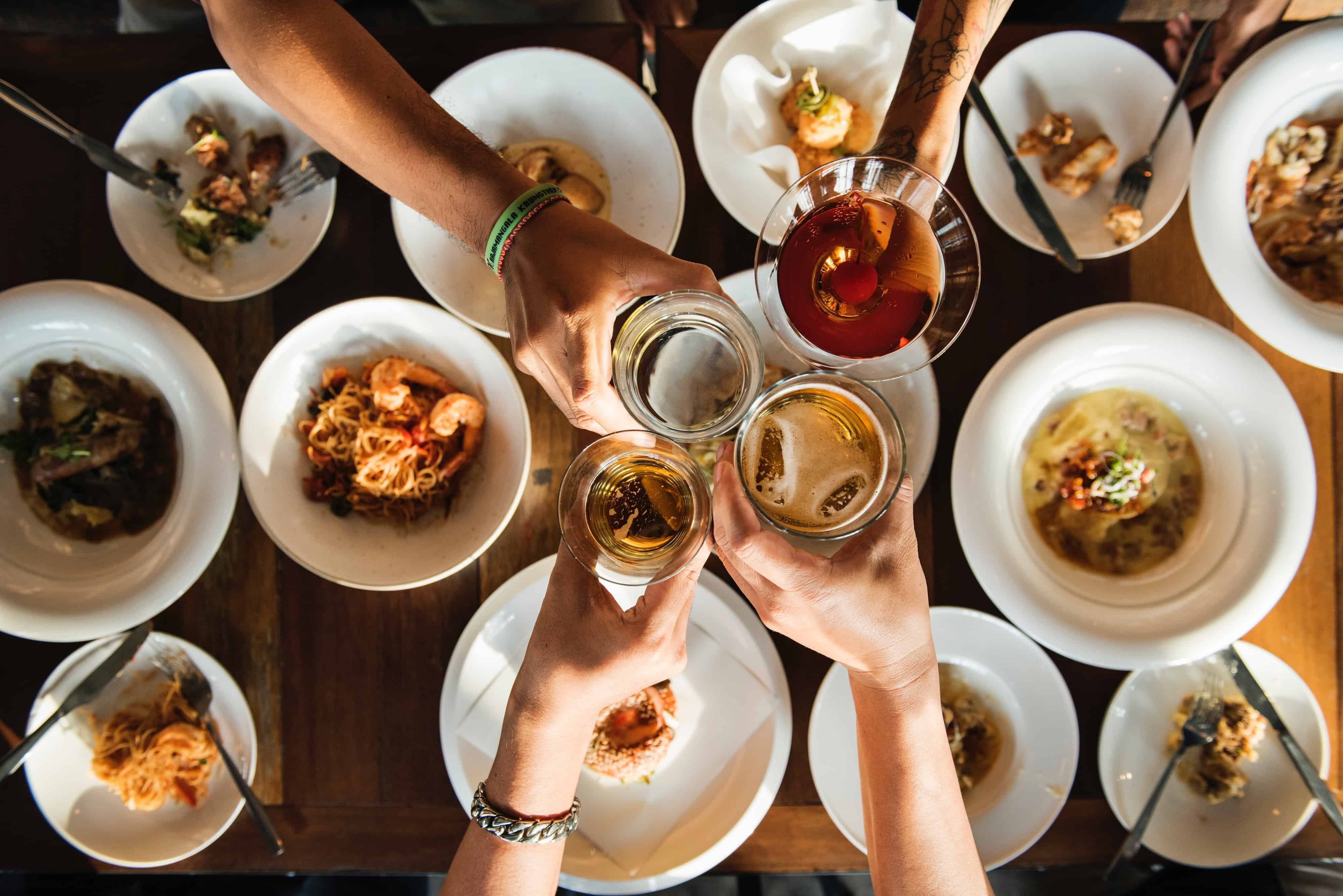 1. Host a Potluck
Or if not a potluck, at least get some help from your guests! Every time I invite someone over, they ask, "what can I bring?" This is a great opportunity to invite a guest to bring salad, a loaf of artisan bread, an appetizer, or dessert.
If it's a group of friends or family who wants to get together, propose the idea of a potluck at the beginning. Potlucks are an easy answer to big group dinners in particular, and they're budget-friendly for everyone involved. If I'm hosting, I usually offer to provide the main dish and guests bring the sides.
Side note: I rarely ask guests to bring wine, because that often sets them into a frenzy. Red or white? Do you like malbec? Your husband only drinks moscato, right? And then there's the internal struggle of, "how much do I spend on this bottle of wine?" Wine is such a personal choice, and so I don't burden my guests with it. Sometimes, guests will bring a bottle as a gift anyway.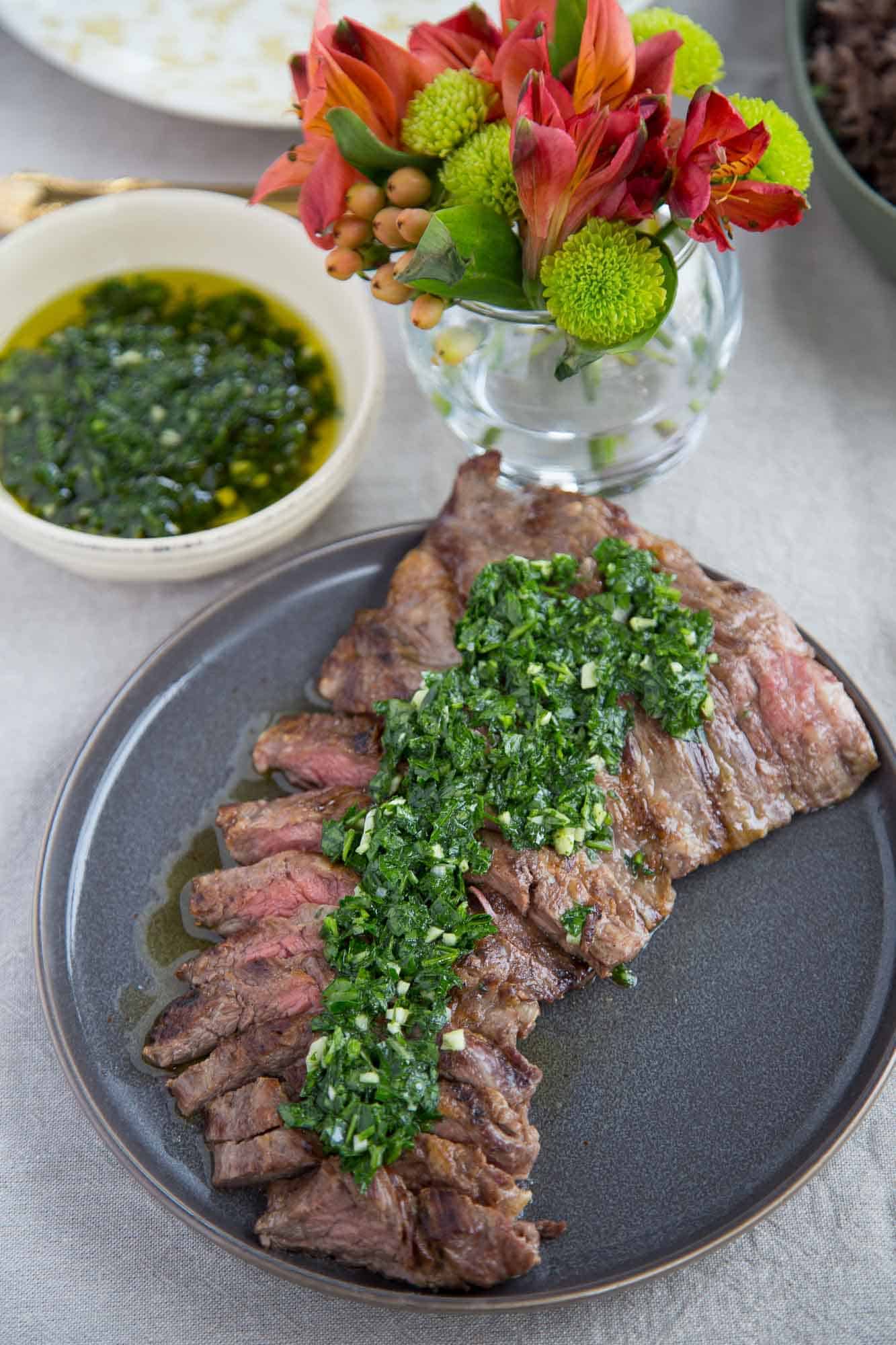 2. Have Several Go-To Menus
Does your family love your lasagna? You should make that for your guests. What do you eat for dinner when you stay in to cook? Think of recipes that you know already and that are proven favorites with a few close people, and then serve those to a larger group.
Here are a few of my go-to menus:
1. Grilled Steak with Chimichurri (shown above), Arroz Moro (Cuban Black Beans & Rice), and Church Lady Salad
2. Greek Chicken Souvlaki with Yellow Rice and Greek Salad
3. Red Lentil Dal, Warm Pita Bread, Church Lady Salad (Vegetarian)
4. Seafood Paella and Pan con Tomate
5. Weeknight Jambalaya, Cornbread (from a box—I like Trader Joe's), a simple green salad with dried cranberries, walnuts, and a store-bought raspberry vinaigrette
6. Sheet Pan Fajitas with Guacamole and Homemade Margaritas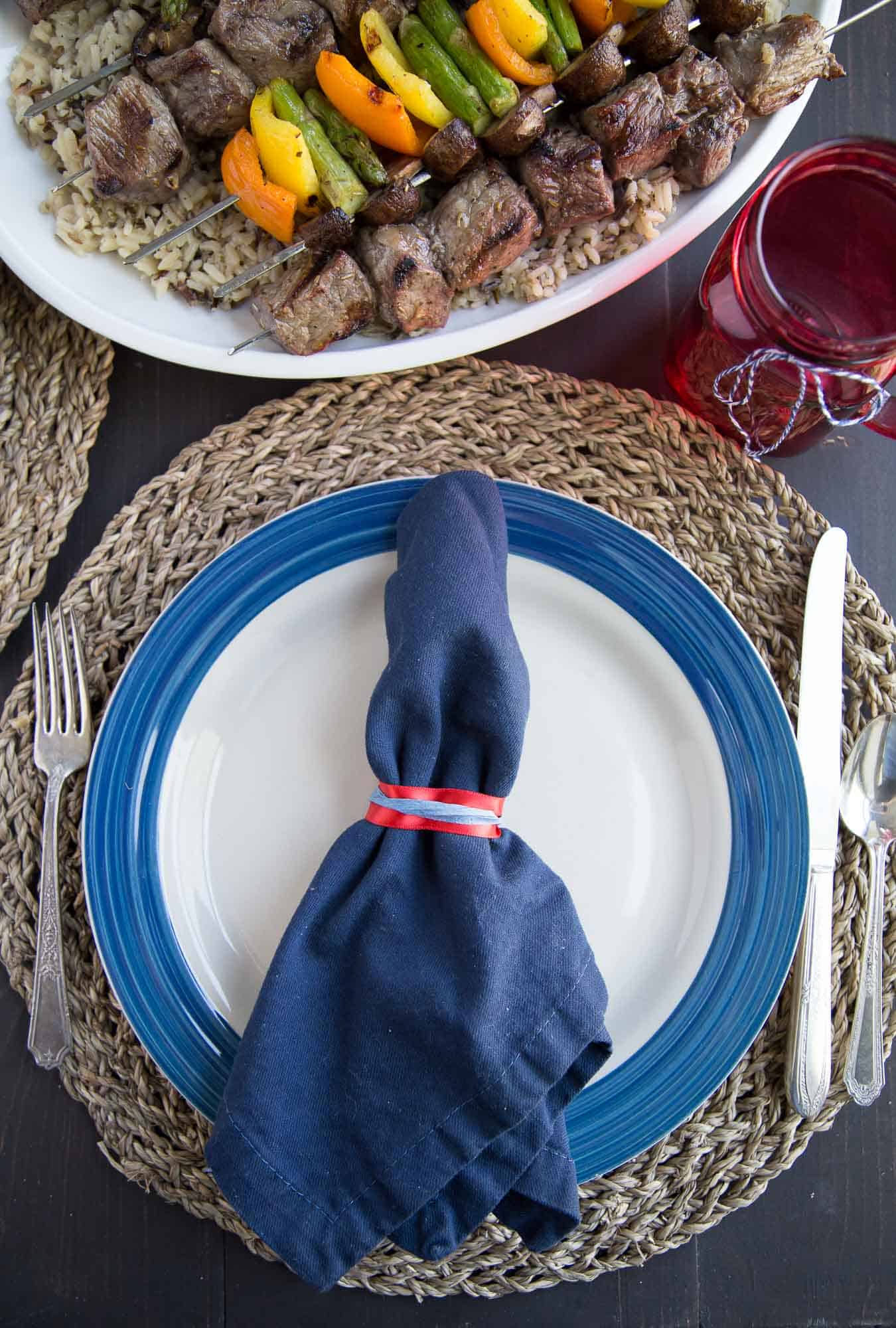 3. Have a Go-To Plan for the Table
I have a gray tablecloth that I put on the table for nearly every dinner that I host. I have a few table runners that I change out by season (Target is great for these—they are around $25). And I have a bunch of cloth napkins in different colors.
World Market has good quality napkins for the price ($9.99 for 6 napkins) and they come in a variety of colors. I do NOT iron cloth napkins. I remove them from the dryer when they're still warm and fold them immediately. They're not perfect, but the rustic look is trendy, right? 🙂
Finally, I use either our everyday dishes from Crate & Barrel or our wedding china, depending on the occasion.
All of this to say, my table looks roughly the same every time I host. I'd rather focus on the food, so to me, there's no sense in reinventing it every time. I don't do a centerpiece, because the food is the star! I serve the food family-style and it takes up the whole table anyway.
4. Enlist Help
Make a checklist of everything that needs to get done before guests arrive. Things like: make the food, set the table, wipe down the sinks, pick up clutter in the living room, light a candle or two, etc. Then divvy up the duties! My husband usually volunteers for spot cleaning/tidying duty while I focus on the food and table. But also—don't let cleaning hold you back from hosting. I bet you no one will notice that your floor needs vacuuming. And if they do, they won't care. Promise!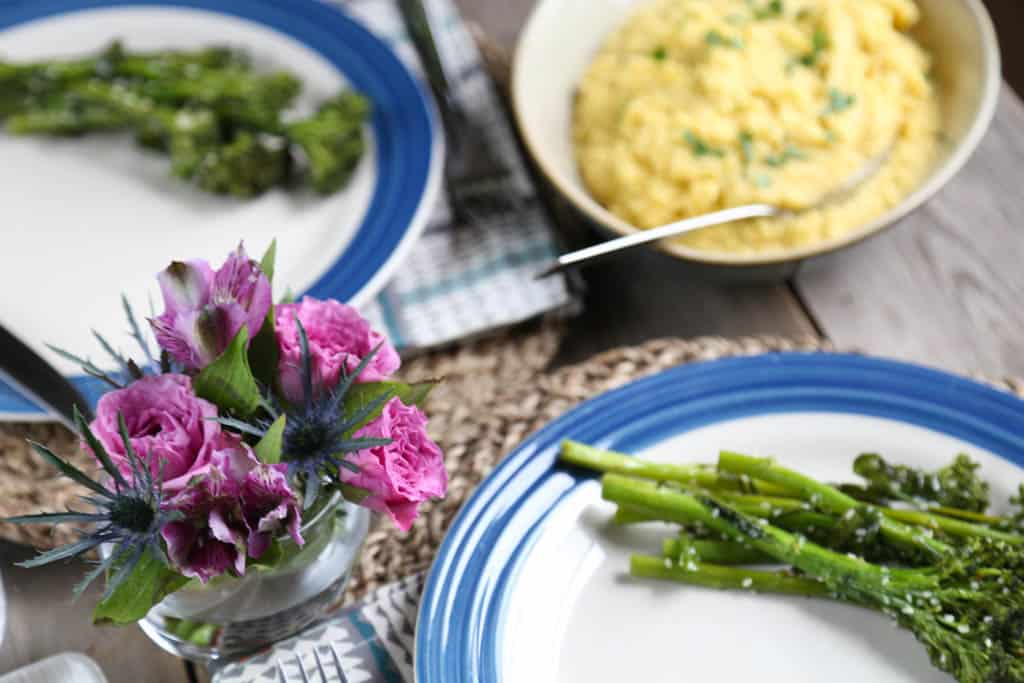 5. Let Go of Perfection
Finally, give up that idea of the perfect Instagram-able dinner party. You know all of those gorgeous "tablescapes" that you see on Instagram and Pinterest? They are certainly aspirational and beautiful, but no one eats on those—they usually get taken down right after. I've been a part of enough photo shoots to know!
So make the dinner, or brunch, or whatever you're serving represent YOU.
Maybe you have more guests than dishes. Serve dinner on good-quality paper goods.
Maybe you love the look of fresh flowers. Make a simpler dinner, and spend the extra time arranging little bouquets in miniature vases all over the table.
Or maybe you can't stand cooking at all. Order take-out, make a salad-in-a-bag from the grocery store, and have your friends over.
In the end, it's not about serving your guests the perfect 5-course dinner on a gorgeous table in an immaculately clean home. It's about taking the time to connect with people, share a meal, swap stories, and brighten someone's day (probably your own!).
This post contains affiliate links. Thank you for reading GiftofHospitality.com and helping me to provide quality content.